Urban Israelis are flocking to the Gaza border to tend farms left suddenly without workers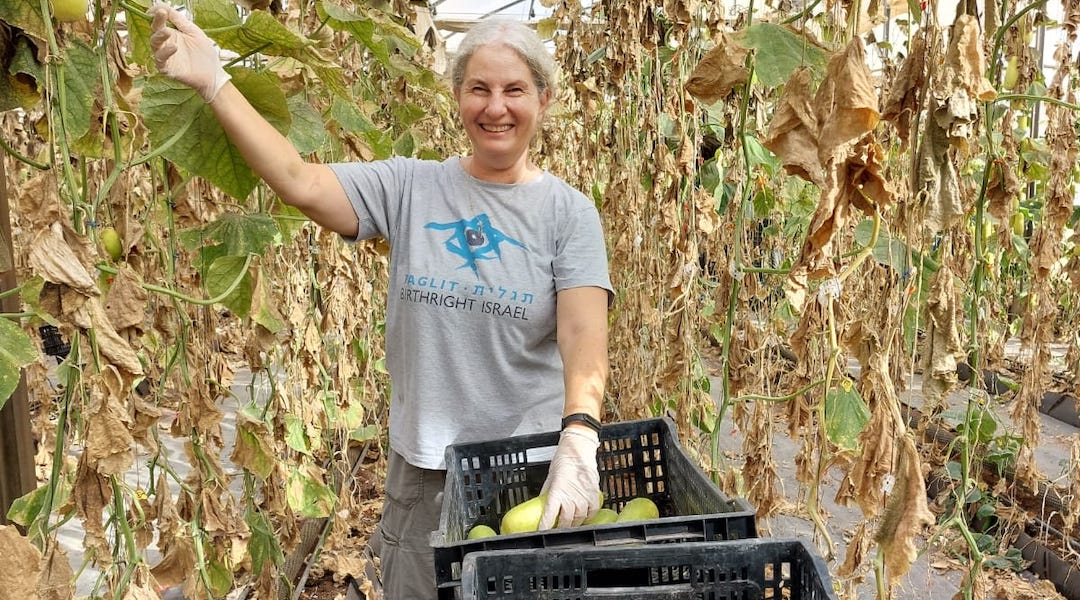 TEL AVIV (JTA) — By now, the dramatic rescue of Amir Tibon's family from Kibbutz Nahal Oz by his 62-year old father, retired IDF General Noam Tibon, has become one of the most widely shared stories of Oct. 7. 
Lesser known but also heroic is the tale of another of Tibon's family members, Dudik Laniyado, who put on his army uniform and sped into the line of fire to tend to the cows that were abandoned that day.
Laniyado, who is Noam Tibon's brother-in-law, is a dairy farmer at Kibbutz Kalya near the Dead Sea. Amid the news of the massacre, he heard from Tibon's rescue mission that the cows of Nahal Oz and other farms near the Gaza border were at risk.
"Dairy cows can live without being milked for one or two days," said Laniyado, but then they begin to dry out, a process that cannot be reversed. Going longer without being milked can cause injury and death.
When he arrived at the closed military area on Oct. 9, he found that Hamas terrorists had destroyed the milking area and the equipment used to feed the cows. Under fire from nearby gun battles, he opened all the gates on the farm and let the baby calves out of their cages, letting them move around for the first time in days and eat food that he gathered from a local agricultural center.
"We got to a place that is a war zone," he said. "There is enormous destruction to all the farms near the border area."
Laniyado was an early arrival to what has become a new passion for Israelis, one they say is nearly as vital to southern Israel's future as the country's war on Hamas in Gaza: tending the farms, animals and fields that have been left fallow by the massive disruption of Oct. 7 and its aftermath.
האיש הזה הוא גיבור. דודיק לניאדו. נשוי לדודה שלי, יעל תיבון. דודיק הוא רפתן וגר בקיבוץ קלי"ה בים המלח. הוא שמע שהפרות בעוטף נשארו בלי מי שיאכיל אותן. עלה על מדים ונסע להאכיל את הפרות בנחל עוז ומקומות נוספים. הציל אותן ואת העתיד של הקיבוצים. מעשה אדיר של אומץ, חסד ואהבה תחת אש. pic.twitter.com/yPLqeOJMDv
— Amir Tibon (@amirtibon) October 9, 2023
Thousands of Israelis have signed up to work the fields and pens, joining regional Whatsapp groups that place local farmers and volunteers where they are most needed. Slots fill within minutes as volunteers trek from their urban homes to pick crops whose regular workers are dead, departed or unable to enter the country. 
Popup farmers markets in city centers are packed with customers seeking to spend their money to help growers whose work they know has been upended. Help is even coming from overseas: Birthright Israel has even called upon its 850,000 alumni around the world to fly to Israel for volunteer opportunities that include picking fruit and vegetables. 
Like the hundreds of thousands of Israelis who have joined the military reserves, the volunteers are stepping in for a depleted workforce — and hoping that the region has a future after the guns stop blazing.
"What happened on [Oct. 7] was a kind of local Holocaust. Its effect could be a holocaust on the economy here," said Dudi Alon, who is the deputy head of the Gaza border's Eshkol Regional Council. He is among the few farmers and security staff remaining at his home of Moshav Yated, just east of the Kerem Shalom border crossing into Gaza.
"There are people who think we are all soldiers now and anyone who comes to help here is like a fighter," he added. "On the other hand, there are those who think it is a moral problem if you risk the lives of volunteers and farmers to work fields under fire."
Surveying his region, Alon believes Hamas aimed to destroy southern Israel's agriculture along with its population. Gaza-area farms, he said, produce 70% of Israel's tomatoes and 30% of its potatoes in addition to other vegetables and dairy products, and rely on a legion of foreign workers. 
Before Oct. 7, he said, the Eshkol Regional Council had 4,000 workers from Thailand who were experienced at farm work. Dozens of Thai workers were murdered on Oct. 7, and dozens more are hostages in Gaza. Most of the rest flew home to their country, leaving fewer than 1,000 now, a loss Alon calls "a death knell to agriculture here." (Guest workers from Gaza also contributed to the workforce.) Farms' planting cycles can last up to eight months, making it harder for them to restart production if they've been abandoned. 
"Hamas intentionally kidnapped and murdered foreign workers in order to frighten the foreign workers to ruin the economy here and they succeeded," said Alon. "Many incredible volunteers are coming to help and support us, [but] at the end of the day there is work that is physically difficult and requires special skills that cannot rely on volunteers." 
Many of the area's residents have been evacuated by the government to safer regions of the country, but a few have remained. Evie Atiya, who lives in Moshav Pri Gan and is still there, recounted that "10 terrorists entered on bikes and started to shoot at houses" on Oct. 7, killing four residents and trapping the entire village in their shelters for 48 hours before they were evacuated by the army. 
Shortly after leaving his shelter "terrified," Ataya learned that the Thai embassy had evacuated more than half of all the farm workers in the area and that only seven of his farm's 24 workers remained. 
"Everything has collapsed," he said. And while the government has long provided financial assistance to the area's farmers, the perceived insufficient response from the finance and agriculture ministries — matching the long hours residents waited in shelters before the army's arrival —  is symbolic of many Israelis' widespread disillusionment with the country's leadership following Oct. 7. 
"It seems like they weren't ready for this," he said, adding that it feels like "they are trying to help but that they are lost." 
Eitan Aharon, secretary of Moshav Mivtahim in the Eshkol Regional council, recently told the Israeli publication Zman Israel, "I am afraid farmers will commit suicide" before help arrives. 
On Wednesday, Israeli Prime Minister Benjamin Netanyahu defended his government's record on financial assistance to impacted communities. At a cabinet meeting, he announced that the government had budgeted nearly $3.4 billion in supplementary funds to help evacuees and local governments in the south and north in November and December. 
"I want to sharpen the point on the financial sum we are going to bring for the benefit of Israel's citizens," he said. "We have already spent many billions to help the evacuees, to help the families of the kidnapped and missing, to help the authorities in the north and south, the reservists, businesses. But we are going to bring much more."
Some government efforts are already being felt: On Thursday, the Ministry of Agriculture plans to convert Jerusalem's Cinema City mall into a market for farmers from the south and north.
Maaya Arfi works at HaShomer HaChadash, an Israeli organization helping connect Israelis to the land through agriculture. It was one of the first groups to raise the alarm about the labor need and continues to organize efforts to assist Israeli farmers. 
"In the next two weeks we can already be at 4,000 volunteers a day," Arfi said of her organization's initiative, which matches Israelis with farmers in need via a hotline and phone application. 
While the precise number of volunteers is unknown, a new poll of Israelis by Tel Aviv University and Ben-Gurion University of the Negev found that more than 40% of respondents had volunteered in some form in the third week of the war.
Some volunteers have come from other Israeli farming communities. Sara Goldsmith, a 57-year old tour guide from Kibbutz Sde Eliyahu, said volunteering to help farmers in the south was keeping her mind off her canceled business.
"October, November and December are peak season for tourism in Israel, and overnight I lost all my groups that I was supposed to be having," she said. "It's a very difficult time for all the tour guides across Israel and many are doing what I'm doing: helping out wherever we can. We don't know when our income is coming in but we have hands and the will to volunteer." 
On Monday, she traveled with a group of approximately 20 members of Kibbutz Sde Eliyahu — ranging in age from 15 to 80 — to help at Kibbutz Saad, which Sde Eliyahu had "adopted" following the outbreak of the war. Saad, which like Sde Eliyahu is a religious kibbutz, was fortunate to have its gate closed on Oct. 7 for Shabbat and was largely spared the worst of Hamas' attack. It instead endured its own kind of trauma, becoming a makeshift morgue, refuge and clinic for the victims of the massacre, especially those who escaped from the Nova music festival at the nearby community of Re'im.
At the kibbutz, Goldsmith helped pick cucumbers grown for their seeds, rather than for eating. Goldsmith's children have also enlisted in the war effort: Her daughter is serving in the military reserves and her son flew back from his home overseas to work full-time on a farm on the Gaza border.
"We are in a helpless situation," she said. "So when you do something you feel a little less helpless."
Another volunteer named Yael, who declined to share her last name out of privacy concerns, traveled from Tel Aviv to Moshav Yesha near Gaza last Saturday with a few friends and work colleagues from a Tel Aviv hospital to harvest tomatoes, passing military checkpoints and torched cars along the way. Working in the fields, she said, was particularly unnerving where there is "no safety gear and there are no shelters in the farms" to protect them from barrages of Hamas rockets, which largely target the south.
Her fear wasn't misplaced. During her shift, Yael heard "really big booms quite close" coming from Israeli airstrikes on Gaza. And at one point, she recalled, she looked around and "I just suddenly see people on the ground, and stood there frozen waiting for it to end." 
When her shift ended a few hours later, the farm owner showed her a crater from a rocket launched by Hamas that had just struck another part of the greenhouse, causing damage only to the tomato plants. 
Those dangers have led some people to flee the south. But Atiya says that no matter what happens, he is determined to stay and work the land. 
"Somebody needs to be here and make food from this land and this is what I do. It's not a choice if I am going back there," he said. "This is my land, this is my house, everything that I know."
Laniyado agrees that the government is flailing but said that conversations with the young soldiers in the area left him optimistic. According to some accounts, soldiers have tended greenhouses that were abandoned on Oct. 7.
"I joked with them and talked with them," Laniyado said. "I believe with complete faith that we will win the war, that we will re-establish the villages, the agriculture will return to what it was and we will learn a lesson and unite around the fact that we are all Jews and that we have no choice. We are dependent on each other."
—
The post Urban Israelis are flocking to the Gaza border to tend farms left suddenly without workers appeared first on Jewish Telegraphic Agency.
I was at Eyal Shani's Manhattan restaurant Shmoné when it won a Michelin star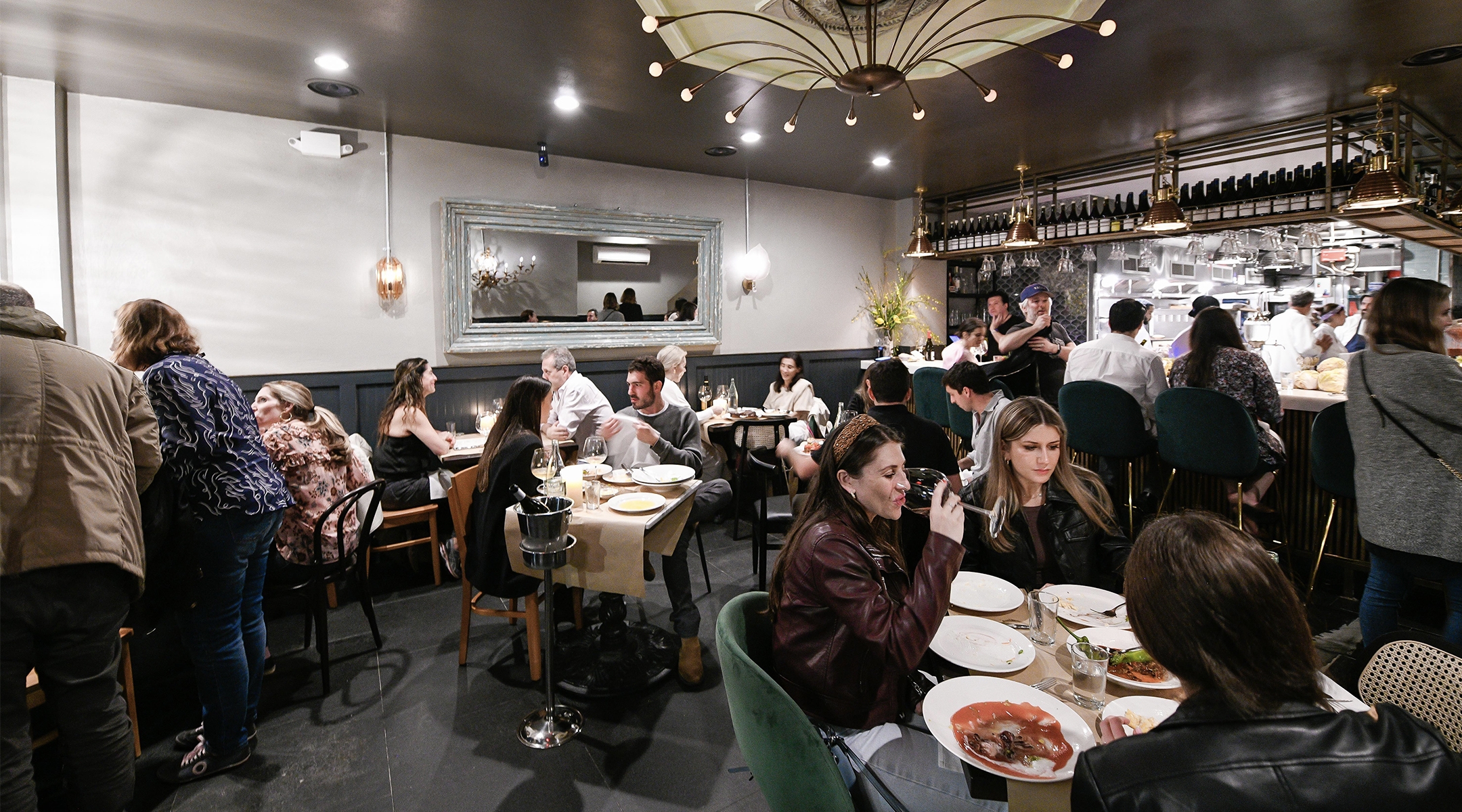 (New York Jewish Week) — Following a long period of back-and-forth, my friends and I had finally agreed on a date for a group dinner: Tuesday, Nov. 7.  With the date scheduled two months in advance, babysitters were booked, spouses were alerted, no work conferences were scheduled —  a true miracle for busy New Yorkers.
The next hurdle was securing a reservation. Thankfully, we all agreed that, following Hamas' Oct. 7 attack on Israel, dining at an Israeli restaurant was a top priority — not only did we want to support an Israeli business, we wanted to enjoy some Israeli comfort food during this fraught time.
That is how the five of us ended on Tuesday night at Shmoné,  a Greenwich Village restaurant from Israeli celebrity chef Eyal Shani that opened in May 2022. Truth be told, none of us knew much about this particular establishment, but what could be bad? Shani is a well-known TV personality in Israel and the chef behind the popular fast-casual chain Miznon, which boasts three outposts in New York City.  He operates more than 40 restaurants worldwide, including New York City's well-regarded HaSalon and Port Sa'id.
Shmoné landed Shani in the Michelin guide for the first time ever this spring — meaning it was in the running for a coveted star status. According to the Michelin Guide, the restaurant, whose menu changes daily, "punches way above its weight with dazzling Neo-Levantine cuisine."
Little did we know, however, that our long-anticipated group dinner was set to coincide with the Michelin awards ceremony, held Tuesday at Spring Studios in Tribeca. There, 13 New York City restaurants received one or more Michelin stars — including, yes, one star for Shmoné, Shani's first.
This news had yet to break as we kicked off our meal with appetizers: a Jerusalem bagel that came to the table piping hot and accompanied by za'atar to dip in, carefully cut cylinders of cucumber and tiny green olives — as well as figs with stracciatella, a creamy, stretchy cheese that tastes similar to burrata.
For our mains, we enjoyed a creamy lasagna also made with stracciatella; a deconstructed version of sabich, with half a roasted eggplant sitting atop a golden yogurt sauce; vegan mashed potatoes; spinach rigatoni and, finally, lamb kebab with roasted tomato and rice that, as the menu says, "reminds me of Jerusalem."
Sated and happy, we finished our meal with the burnt Basque cheesecake, and shots of arak.
As dinner was winding down and our group was figuring out our best routes home and how to split the bill, we heard a bell ring out from the open kitchen and a loud commotion. We all looked around, confused. One of my friends suggested, "I think it's a sports thing?"
But then, the news was shouted to the restaurant from within the kitchen: "We got a Michelin star!" Absolute joy burst forth from the staff: Chefs hugged each other, waiters and managers stopped in their tracks to take in the moment. About 10 minutes later,  Executive Chef Nadav Greenberg returned from the ceremony, and more celebratory clapping, singing and shouts ensued.
A bottle of champagne was opened for the restaurant's employees and customers cheered as they took selfies. It was quite a thing to witness, with everyone taking videos, shouting "mazal tov" and clapping.
Back in May, Shani had told the New York Jewish Week he was honored to be included in the Michelin guide, but that he was "not focusing on getting Michelin stars." Whether or not that's true, it's clear that his staff and his customers were overjoyed by the outcome: Shmoné, along with seven other establishments, joined the list of only 55 out of New York's 24,000 restaurants with a single Michelin star.
In a moment in which the news out of Israel is so abysmal, the experience of being in a packed Israeli restaurant amidst a night of accolades and celebration was a much-needed balm for the soul. And belly.
—
The post I was at Eyal Shani's Manhattan restaurant Shmoné when it won a Michelin star appeared first on Jewish Telegraphic Agency.
Orthodox Union pitching ads condemning antisemitism to more than 20 campus newspapers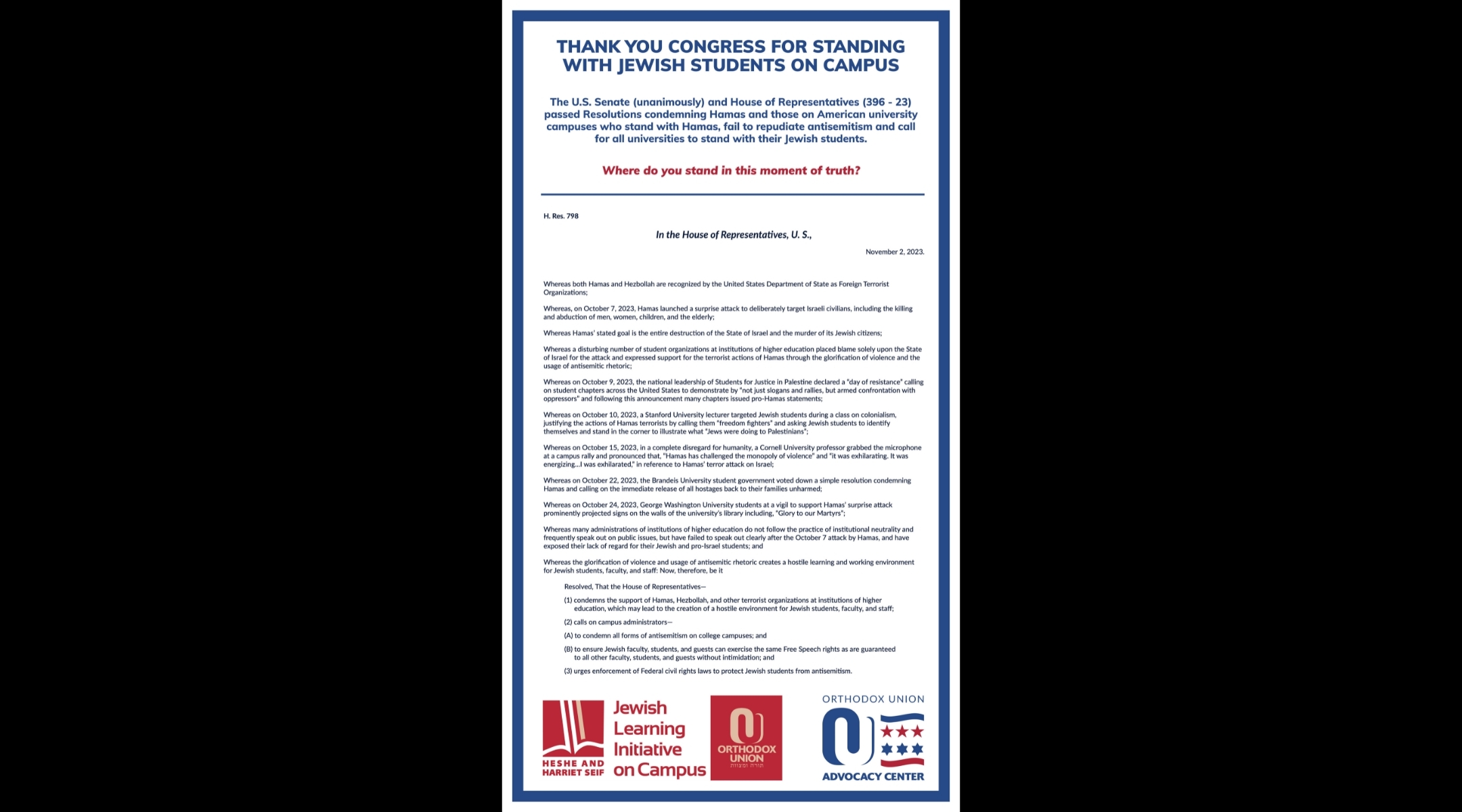 (JTA) — The Orthodox Union is seeking to run a full-page ad in more than 20 university newspapers across the United States reprinting the text from a congressional resolution denouncing antisemitism on college campuses.
"Thank you Congress for standing with Jewish students on campus," reads the all-caps headline of the ad, which is printed in red and blue text on a white background. Following a description of the resolution, it says, "Where do you stand in this moment of truth?"
The ad has so far been accepted for publication in five papers. It is running at a time when tensions are high on North American campuses in the month following Hamas' Oct. 7 attack on Israel and the launch of Israel's ensuing war against the terror group in Gaza. Jewish students have faced death threats on multiple campuses, and pro-Palestinian groups at schools across the country have celebrated or endorsed the Hamas attack.
In light of that climate, the O.U., an Orthodox umbrella group, said it wanted to send a message of reassurance to Jewish students — and an admonition to those who celebrated the Oct. 7 violence. So far, seven schools' papers have accepted the ad.
"With rising antisemitism across America's college campuses, we at the Orthodox Union felt it crucial to show Jewish students action was being taken to support them in these challenging times," Nathan Diament, the O.U.'s executive director of public policy, told the Jewish Telegraphic Agency in a statement.
"Purchasing ads in university newspapers that display the resolution passed nearly unanimously in Congress denouncing campus antisemitism also serves as a reminder to college students siding with Hamas that they are on the wrong side of history," he added. "American Jewish students have the right to live freely and safely, and we will continue protecting this right in whichever way possible."
The O.U. has reached out to more than 20 newspapers, including some on campuses whose names have become associated with inflammatory statements and actions, and where donors and professors have called on administrators to do more to protect Jews.
They include the University of Pennsylvania, which has lost donors who called for a more robust response to antisemitism; University of Massachusetts Amherst, where a student was arrested for punching a Jewish peer; Cornell University, where a student was arrested for threatening to "shoot up" the kosher dining hall; Columbia University, where someone was arrested for assaulting an Israeli student; and others.
The non-binding resolution, introduced by Rep. Burgess Owens, a Republican from Utah, passed last week 396-23. Among other clauses, the resolution states that the House of Representatives "condemns the support of Hamas, Hezbollah, and other terrorist organizations at institutions of higher education, which may lead to the creation of a hostile environment for Jewish students, faculty, and staff," and calls upon college administrators to condemn antisemitism on their campuses and protect their students.
The ad has been accepted for placement at Santa Monica College and Western University, which share a newspaper; the University of California, Los Angeles; the University of Maryland; Washington University in St. Louis; and Binghamton University.
Some papers did not respond to the O.U.'s inquiry. The University of Chicago, which had initially accepted an ad placement, later retracted that decision, saying they do not accept political advertisements, according to an email shared with JTA
Josef Katz, director of marketing and communications for the O.U., said the organization chose universities that already have an established Orthodox Union-Jewish Learning Initiative on Campus program, which aims to engage students in Orthodox Jewish life.
"We want to make sure that everyone feels safe and respected on these campuses, and do what we can to work with schools to make sure that these protests — it's getting worse than protests in some cases, where there's assaults, people fearing for their lives — are being addressed appropriately," Katz said.
—
The post Orthodox Union pitching ads condemning antisemitism to more than 20 campus newspapers appeared first on Jewish Telegraphic Agency.
Top official says White House antisemitism strategy is 'under pressure' due to Israel-Hamas war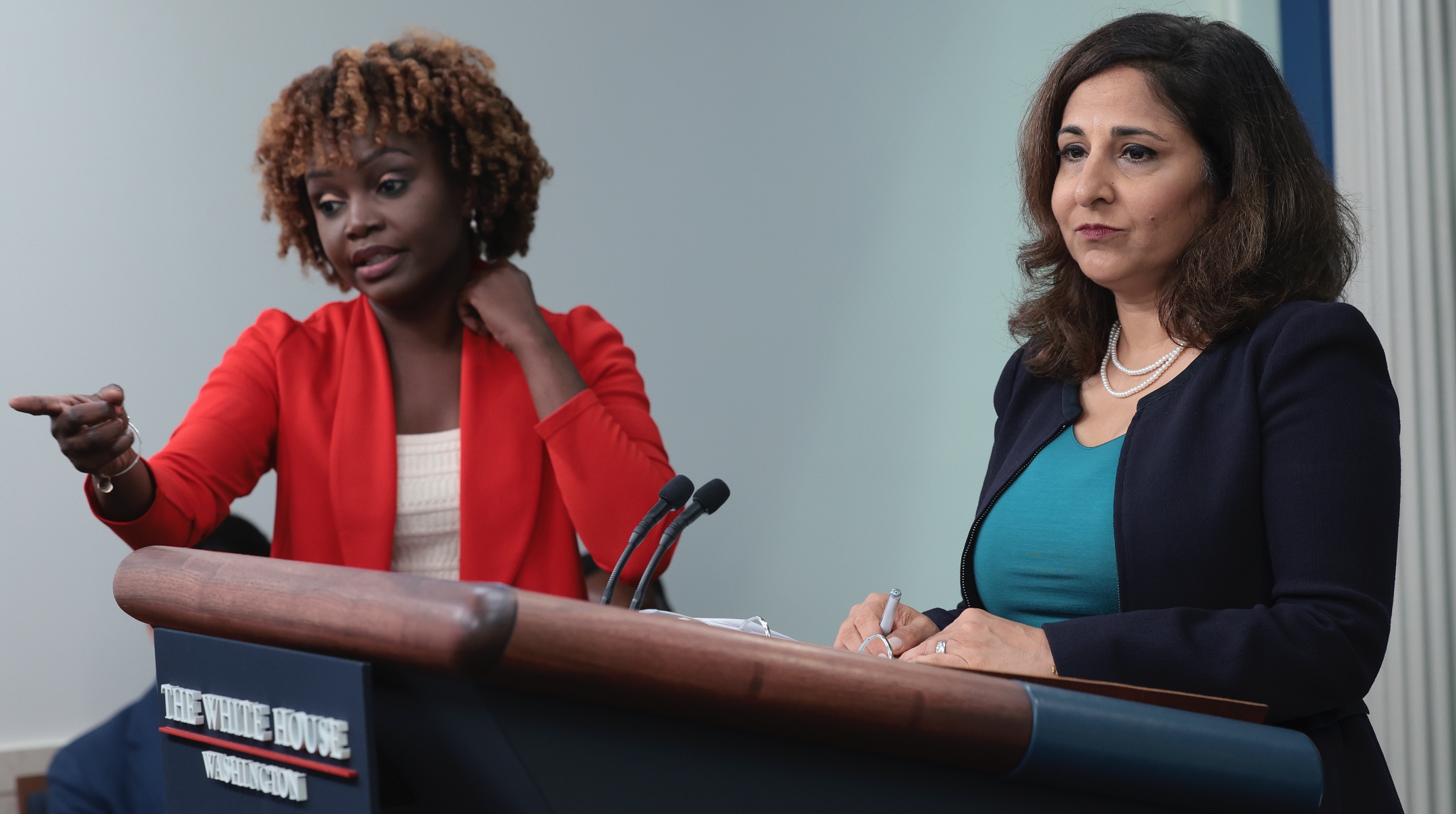 WASHINGTON (JTA) — The Biden administration's plan to combat antisemitism is "under a lot of pressure" because of the sharp rise in antisemitic incidents since the launch of the war between Israel and Hamas, a top White House official said.
Neera Tanden, President Joe Biden's top domestic policy adviser, held an online briefing with national Jewish communal leaders on Wednesday, about one month after Hamas' Oct. 7 invasion of Israel. She said the landmark strategy Biden launched in May to combat antisemitism created what she called a cross-department "architecture" to track and respond to reported incidents of antisemitism, especially on college campuses, but that that system is now being strained, she said.
"Unfortunately, that architecture is under a lot of pressure now with the rise of events" since Oct. 7, Tanden said. "The last several weeks we have seen, on campus and off, a real rise of targeting of Jewish people and antisemitic slurs, actions, threats of violence."
Jewish watchdogs have recorded a spike of antisemitic incidents worldwide and in the United States since Oct. 7, when Hamas terrorists invaded from the Gaza Strip, killing 1,400, wounding thousands, taking more than 200 captive and sparking an Israeli counterattack in Gaza. The Hamas-run Health Ministry in Gaza says more than 10,000 have been killed in the fighting.
This week, a Jewish man died after being wounded in an altercation with pro-Palestinian demonstrators this week near Los Angeles. Jews have also been assaulted and faced death threats on college campuses.
"We continue to see an alarming trend of antisemitic threats and attacks targeting Jewish communities across the country," White House Press Secretary Karine Jean-Pierre told reporters just before Tanden's briefing. "Disturbing acts like ripping down posters of Jewish hostages held by Hamas, vandalizing Jewish institutions, threatening to commit acts of violence against Jewish students, Jewish faith leaders and Jewish communities inflame tensions, stoke fear and are completely completely unacceptable."
In the webinar, Tanden said the White House was aware of how deep fears are running among American Jews. "We understand that people are scared in this moment, people are scared who have gone their whole loves without being scared," she said.
Just before the briefing, Jewish organizational leaders met with the top two U.S. law enforcement officials,  Attorney General Merrick Garland and FBI Director Chris Wray, to ask for greater protections against antisemitic harassment since the launch of the war, especially on campuses.
"We are comforted by the very active focus of the Department of Justice and the FBI in investigating and prosecuting the tsunami of increased cases since October 7 of hateful crimes against members of the Jewish community," said William Daroff, the CEO of the the Conference of Presidents of Major American Jewish Organizations, in a text immediately after the meeting ended at noon.
The meetings are among a flurry of efforts by American Jewish organizations to back Israel, fight antisemitism and advocate for the hostages. Jewish organizations are planning a mass rally next week in Washington to galvanize support for those goals.
Tanden said she and Education Secretary Miguel Cardona had met with Jewish students on campuses recently. "We spent a significant time hearing from kids, honestly, who are being threatened for who they are, for being Jewish," she said.
On Oct. 30, Jewish leaders had a meeting with Cardona, days before he warned federally funded colleges that they could lose funding if they failed to address harassment of religious and other minorities. Shelley Greenspan, the White House Jewish outreach director who was on the webinar, said the Education Department's Office of Civil Rights complaint form now had "antisemitism" designated as an area of harassment.
"There is an actual dropdown, so if you feel like you are being targeted at a university, you can actually click it's because of antisemitism," she said. "The department will then investigate."
Other organizations represented at the Justice Department meeting included the Anti-Defamation League, the Jewish Federations of North America, the American Jewish Committee and Hillel International. Julie Fishman Rayman, the AJC's managing director, said in an email that Wray also addressed FBI involvement in efforts to release the more than 200 hostages held by Hamas.
Nathan Diament, the Orthodox Union's executive director of public policy, said Jewish officials who spoke to the Justice Department officials stressed the threat to Jewish students on campus.
"We asked them to surge more resources into law enforcement agencies to protect our communities," he said in an email. "And we asked for a zero-tolerance policy — especially toward campus incidents. Federal authorities properly charged the student who made death threats at Cornell with a federal crime; that needs to be done across the board with others who act against Jewish students."
—
The post Top official says White House antisemitism strategy is 'under pressure' due to Israel-Hamas war appeared first on Jewish Telegraphic Agency.