Why ADL chief Jonathan Greenblatt is praising Elon Musk as advertisers flee X over antisemitism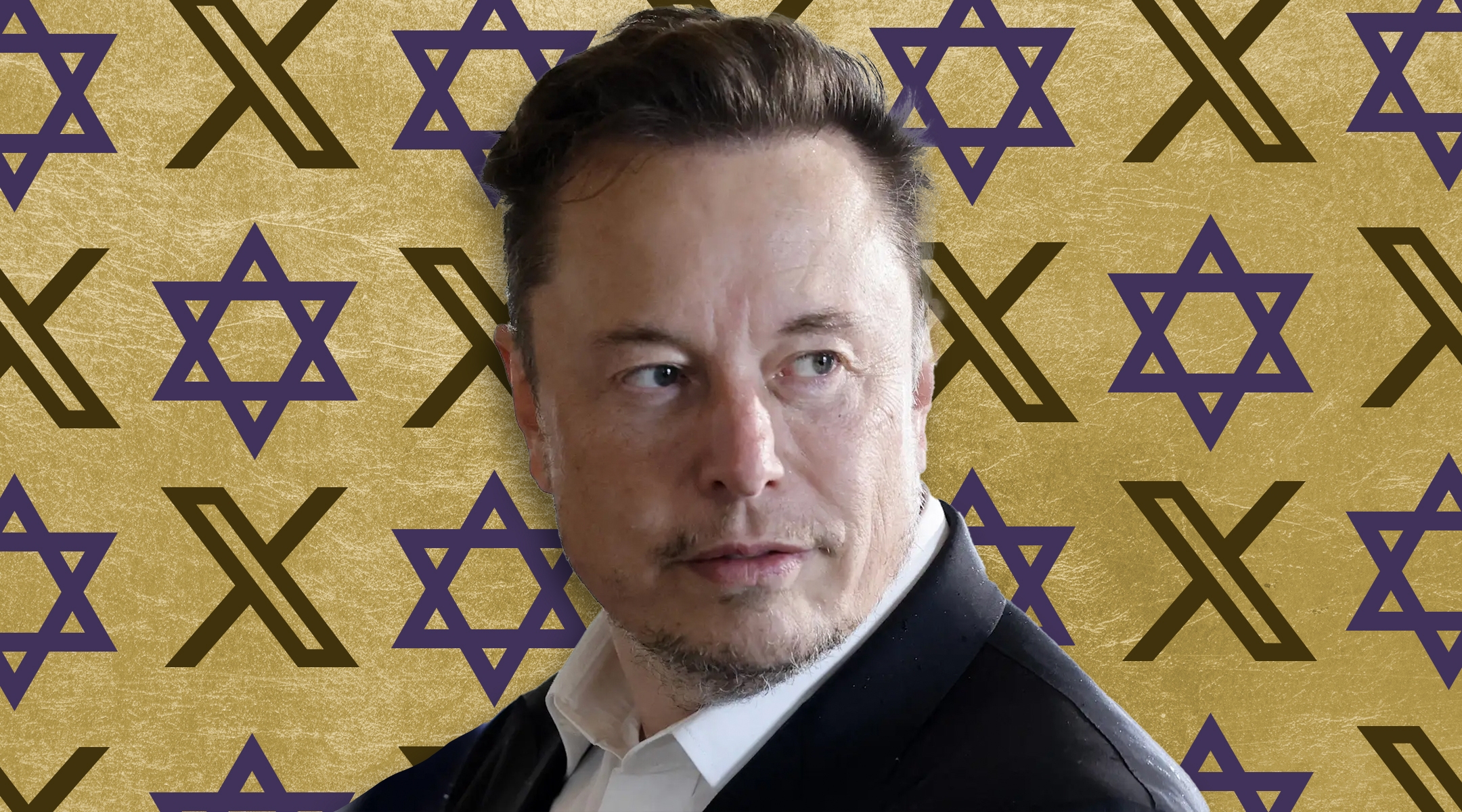 (JTA) – Advertisers have been dropping off the social network X this week after its owner, Elon Musk, called an antisemitic post "the actual truth."
It was the exact pressure tactic that the Anti-Defamation League had recommended almost exactly a year earlier to fight hate on the platform, then known as Twitter. And given the Jewish civil rights group's CEO's response to Musk's post endorsing the antisemitic "Great Replacement" conspiracy theory, one might have expected it to follow suit.
"It is indisputably dangerous to use one's influence to validate and promote antisemitic theories," ADL CEO Jonathan Greenblatt wrote on the platform.
Yet even as companies including IBM, Apple and Disney are pulling their ad dollars in protest, the ADL is continuing to buy ads on X — and Greenblatt has shifted to praising Musk, this time for what he says is a meaningful effort to fight antisemitism.
Musk had written another post, saying that two phrases common to pro-Palestinian protests — "decolonization," and "from the river to the sea" — "necessarily imply genocide." He added that users would be suspended if they posted "clear calls for extreme violence."
"This is an important and welcome move by @elonmusk," Greenblatt responded on X. "I appreciate this leadership in fighting hate."
Musk has been sparring publicly with the ADL for months, at one point blaming it for rising antisemitism and threatening to sue it for billions of dollars. Now, the latest whirlwind chapter in that saga — Greenblatt's quick shift from condemning to praising the billionaire social media mogul — has created a whiplash moment for the Jewish world.
On Monday the State Department's antisemitism envoy suggested that she opposed Greenblatt's stance, while a member of one of the ADL's advisory boards called the about-face "embarrassing."
"The damage was done," Ambassador Deborah Lipstadt remarked about Musk's first tweet during a Monday briefing with Jewish media. "The endorsement of the Great Replacement theory was very harmful."
Lipstadt added that she disapproved of what she saw as any attempt to "mitigate" Musk's earlier tweet, without criticizing Greenblatt directly. "You can try to mitigate, but once you open the pillow, it's like chasing the feathers," she said.
Greenblatt told the Jewish Telegraphic Agency he didn't regret his praise for Musk. Praising people when they take what the ADL sees as the right steps, he said, is part of his job fighting antisemitism. Musk's tweet and his own praise of it, Greenblatt told JTA, came following a private conversation between the two men in which Musk previewed his vow to suspend users who call for violence.
"I will call out Elon Musk and X, like every other platform, when they get it wrong. And I will credit Elon Musk and X and every other platform when they get it right," Greenblatt said Monday. "One doesn't negate the other. It was not that, 'this happened, therefore that wasn't bad,' or 'that was bad, therefore we can't see the value in this.' Quite the contrary."
During their conversation, Greenblatt said, he did not press Musk for an apology for the post the billionaire wrote on Wednesday, which Greenblatt had called "indisputably dangerous."
Musk was replying to a user who wrote, "Jewish communities have been pushing the exact kind of dialectical hatred against whites that they claim to want people to stop using against them. I'm deeply disinterested in giving the tiniest s— now about western Jewish populations coming to the disturbing realization that those hordes of minorities [they] support flooding their country don't exactly like them too much."
The post was an endorsement of the Great Replacement theory, which posits that Jews are orchestrating the replacement of white populations in Western countries via the mass immigration of people of color. It was the theory cited by the attacker in the 2018 Pittsburgh synagogue shooting.
Musk responded, "You have said the actual truth."
Greenblatt joined a loud chorus in condemning that post. Other Jewish groups, including the American Jewish Committee, harshly condemned it. Later in the same thread, Musk went after the ADL itself, saying the group "push[es] de facto anti-white racism."
Greenblatt acknowledged the attacks on his group. "I don't take any of that personally," he said. Despite Musk's public attitude about the ADL, Greenblatt called their meeting "extremely promising."
Greenblatt noted that he believed Musk "still has work to do. He is not, if you will, in the clear."
But, he added, "We saw a change in what he said on Friday, and that was noteworthy." He said the ADL was buying ads on X, and in response to major firms suspending their ad spending, said companies "need to make their own decisions about where they want their brands to be placed."
He said, "I hope that the other social media companies follow X's leadership on this."
His handling of Musk is not sitting well with some supporters of the ADL. Peter Fox, a member of the group's NextGen Advisory Board in New York, wrote in the Forward that Greenblatt's praise of Musk was "baffling and frankly embarrassing." He added, "Aligning with someone like Musk, who repeatedly dabbles in conspiracy theories and white nationalist rhetoric, is a misstep that undermines the ADL's credibility and core principles."
Following Musk's endorsement of the "Great Replacement" theory, more than 100 Jewish activists called out Musk for "spreading the kind of antisemitism that leads to massacres."
Michelle Goldberg, a Jewish columnist for the New York Times, noted that Israel's Diaspora minister, Amichai Chikli, also thanked Musk for denouncing the pro-Palestinian language. "It's hard to figure out who is behaving more cynically, Musk or the Jewish leaders who are koshering him," she wrote in a column on Monday.
Greenblatt acknowledged the criticism.
"At the end of the day, I understand that everyone might not agree with what I did," he said. But he told JTA that he wasn't concerned that his positions on Musk would harm the ADL's reputation.
"The ADL has been around for 110 years. We don't play for any particular team," he said. "Our job is to protect the Jewish people. I don't make the decisions I do based on how do I think this affects our, quote, 'reputation.' I do it based on, am I able to keep our community safe?"
Ron Kampeas contributed reporting.
—
The post Why ADL chief Jonathan Greenblatt is praising Elon Musk as advertisers flee X over antisemitism appeared first on Jewish Telegraphic Agency.
Protester Sets Self on Fire Outside Israeli Consulate in Atlanta
i24 News – A protester was in critical condition on Friday after setting themself on fire outside the Israeli consulate in Atlanta, Georgia, U.S. authorities said. A security guard who tried to intervene was also wounded.
A Palestinian flag found at the scene was part of the protest, Atlanta Police Chief Darin Schierbaum said at a news conference. He added that investigators did not believe there was any connection to terrorism and none of the consular staff was ever in danger.
JUST IN: A pro-Palestine protester is in critical condition after they set themselves on fire in "political protest" outside of the Israeli Consulate office in Atlanta.
The protester was reportedly draped in a Palestine flag.
The protester has severe burns and unfortunately, a… pic.twitter.com/B8nUQAj2nU
— Collin Rugg (@CollinRugg) December 1, 2023
"We do not see any threat here," he said. "We believe it was an act of extreme political protest that occurred." Everyone inside the consulate building was said to be safe.
Anat Sultan-Dadon, Consul General of Israel to the southeastern U.S., said: "We are saddened to learn of the self-immolation at the entrance to the office building. It is tragic to see the hate and incitement toward Israel expressed in such a horrific way."
"The sanctity of life is our highest value. Our prayers are with the security officer who was injured while trying to prevent this tragic act. We are grateful to the city of Atlanta's law enforcement and first responders for all they do to ensure safety."
The post Protester Sets Self on Fire Outside Israeli Consulate in Atlanta first appeared on Algemeiner.com.
Released Israeli Hostages Call for Captives to Be Freed
Israeli hostages released in the past week by Hamas in Gaza called on Saturday for the immediate release of fellow captives left behind, a day after a temporary truce that had allowed scores to come home broke down.
Tens of thousands gathered at a rally in Tel Aviv outside Israel's defense headquarters, where they cheered Yelena Trupanov, 50, standing on a stage just two days after being freed.
"I came to thank you because without you I wouldn't be here. Now we must bring back my (son) Sasha, and everyone. Now."
Similar pleas from other released hostages were shown on video.
A seven-day truce, during which Hamas had released more than 100 hostages, collapsed on Friday after Hamas breached the ceasefire.
Israel said on Saturday it had recalled a Mossad intelligence agency team from Qatar, host of indirect negotiations with Hamas, accusing the Palestinian faction of reneging on a deal that would have freed all children and women held hostage.
More than 240 people – Israelis and foreign nationals – were abducted to Gaza on Oct 7. by Hamas terrorists who burst through the border with Israel and killed 1,200 people.
The post Released Israeli Hostages Call for Captives to Be Freed first appeared on Algemeiner.com.
IDF Foils Stabbing Attack Near Nablus in West Bank, Eliminates Terrorist
i24 News – The Israel Defense Forces (IDF) reported thwarting a stabbing attack on Saturday afternoon against reserve Battalion 7037 at the X junction near Nablus in the West Bank.
According to the IDF spokesperson, the event unfolded when the forces at the roadblock became suspicious of an individual approaching the barricade.
During the questioning process, the suspect suddenly drew a knife and advanced towards the IDF personnel.
ניסיון פיגוע דקירה אירע לפני זמן קצר לעבר כוח צה"ל במילואים מגדוד 7037 שפעל בחסם בצומת האיקס סמוך לעיר שכם שבמרחב חטיבת שומרון.
הכוח חשד במחבל שהגיע לחסם והחל לתחקר אותו, המחבל שלף סכין והחל להתקדם לעבר הכוח.
הלוחמים חתרו למגע והגיבו בירי לעבר המחבל שחוסל. אין נפגעים לכוחותינו. pic.twitter.com/mEaJs58hpE
— דובר צה״ל דניאל הגרי – Daniel Hagari (@IDFSpokesperson) December 2, 2023
The soldiers, faced with the threat, engaged in contact procedures and ultimately responded by opening fire on the assailant. The spokesperson confirmed that the attacker was neutralized due to the IDF's action.
It was also noted that there were no casualties among the IDF forces involved in the incident. According to the spokesperson, the situation at the X junction has stabilized, and IDF continues to maintain vigilance in the area to prevent further attacks.
The post IDF Foils Stabbing Attack Near Nablus in West Bank, Eliminates Terrorist first appeared on Algemeiner.com.