Why Antisemitism, Anger and Intolerance Have Infected America's Ivy League Colleges — Part Two
We recently examined the alarming escalation in antisemitism seen on US college campuses — specifically at the Ivy League universities of Harvard, Yale, Cornell, and Columbia — since the outbreak of the Israel-Hamas war on October 7.
In this second part, we will look at the remaining four Ivy Leagues, charting how America's most elite educational establishments have become havens of intolerance, and why so many of their students harbor such hatred toward both Jews and the State of Israel.
University of Pennsylvania
Two weeks before Hamas' barbaric rampage through southern Israeli communities resulted in the biggest loss of Jewish life in a day since the Holocaust, the University of Pennsylvania was embroiled in an antisemitism scandal when notorious Jew-hating musician Roger Waters was invited to speak on campus during an anti-Israel festival.
Waters, who is best known as a founding member of the rock band Pink Floyd and for goose-stepping on-stage while dressed as a Nazi, was asked to address attendees at the "Palestine Writes Literature Festival" before he was banned from campus following a backlash by critics who had noted that the event was scheduled to coincide with the Jewish High Holiday period, thus reducing the likelihood of Jewish students protesting antisemitic speakers.
In the lead-up to the festival, which went ahead as scheduled with Waters speaking remotely, numerous incidents of antisemitism were recorded on campus, including a swastika that was drawn inside the school's Stuart Weitzman School of Design, and the arrest of a man who entered the Penn Hillel and screamed statements such as, "F—k the Jews" and "They killed JC," a reference to the myth that Jews are responsible for the crucifixion of Jesus.
In light of the Waters controversy, UPenn President Liz Magill belatedly announced her personal commitment to addressing antisemitism at the college, adding: "The University of Pennsylvania has a long and proud history of being a place for people of all backgrounds and faiths, and acts of antisemitism have no place at Penn."
How utterly hollow those words were.
In the days and weeks after Hamas terrorists murdered and kidnapped more than 1,200 Israeli civilians, UPenn has again allowed antisemitism to rear its head on campus.
The university administration's first statement to condemn the Hamas atrocity was more than a week after the massacre took place. On Sunday, October 15, Magill sent an email to the university community. "I want to leave no doubt about where I stand," it said. "I, and this university, are horrified by and condemn Hamas's terrorist assault on Israel and their violent atrocities against civilians. There is no justification — none — for these heinous attacks…"
However, the email apparently only came after Jon Huntsman Jr., the former governor of Utah and former US ambassador to China, Russia, and Singapore, told Magill that his charitable organization, the Huntsman Foundation, would be pulling donations from the university over the issue of antisemitism.
For some UPenn students, though, the email's failure to mention Palestinians was akin to not recognizing their "existence," and they organized a mass walkout of classes in response.
Videos and photos taken of the protest show students chanting slogans such as, "Intifada, Intifada," "From the river to the sea, Palestine will be free" and "Israel, Israel, you can't hide, we charge you with genocide." A handful of students reportedly harassed a rabbi who was manning a tefillin stand on the route marchers took.
Other wealthy UPenn donors have since followed Huntsman's lead and pulled funding from the college, including Marc Rowan, who contributed more than $50 million in 2018, and Steve Eisman, who demanded his name be removed from a university scholarship.
NEW Canary Mission profile. Tara Tarawneh, a student at @Penn & writer for Penn's student newspaper, glorified the massacre of Jews at a pro-Hamas rally: "I remember feeling so empowered and happy…I want all of you to hold that feeling in your hearts." https://t.co/38Lj7qBtQ5 pic.twitter.com/MxDrYMLGWx
— Canary Mission (@canarymission) November 5, 2023
Princeton University
In August of this year, Israeli Diaspora Affairs Minister Amichai Chikli wrote a letter to Princeton University's senior leadership about a book that was approved to go on the syllabus of the Near Eastern Studies Department's "Decolonizing Trauma Studies from the Global South" course.
The book, "The Healing Humanities: The Right to Maim," written by Jasbir Puar, falsely claims that Israel harvests the organs of Palestinians and that the country has a policy of trying to maim Palestinians.
Despite the text promoting a modern-day blood libel, Princeton's President Christopher L. Eisgruber refused to remove the text from the syllabus on the grounds that it would be "censoring" the curriculum.
"Those who disagree with a book, or a syllabus, are free to criticize it but not to censor it," he wrote. "Such arguments are the lifeblood of a great university, where controversies must be addressed through deliberation and debate, not administrative fiat."
However, one must question the sincerity of Eisgruber's view about fighting censorship, considering the fact that under his tenure, Princeton scrubbed the name of America's 28th President, Woodrow Wilson, from its public policy school on the basis that Wilson's "racist thinking and policies make him an inappropriate namesake for a school or college whose scholars, students and alumni must stand firmly against racism in all its forms."
Incidentally, as Michael Goldstein pointed out in the Jewish Journal, the inclusion of Puar's antisemitic tome in the curriculum actually marked the second time the "Israelis harvest Palestinian organs" blood libel had been legitimized on campus. Just months before the Puar controversy, professional Palestinian activist Mohammed El-Kurd, who has accused Israelis of eating Palestinian organs and lusting after their blood, was paid to give the Edward Said lecture at the university's English Department.
Many in Princeton's undergraduate student body have also been gunning to pass a resolution in support of the Boycott, Divestment, and Sanctions (BDS) campaign, which seeks to isolate and eventually dismantle the Jewish state.
What followed a March 2022 vote on BDS was reminiscent of something out of a banana republic. In total, 44 percent of students voted in favor, 40 percent voted against, and 16 percent abstained, which was supposed to mean the resolution immediately failed, because abstentions prevented a majority.
However, a dispute ensued about how abstentions would be counted, with Eric Periman, then-president of the Princeton Committee on Palestine (PCP), which sponsored the resolution, arguing the pro-BDS camp had won.
Around the same time that PCP was pushing for Princeton to support BDS, the group made crystal clear its real target when it held a protest outside the campus Center for Jewish Life (CJL), in which protestors held signs with phrases commonly used by Hamas such as, "from the river to the sea" and during which PCP President Periman suggested Princeton's Jewish students were complicit in human rights violations.
Dartmouth College
Two pro-Palestinian students were arrested at Dartmouth last month after they allegedly trespassed on the grounds of the university's Parkhurst Hall late at night and threatened to "escalate" and take "physical action" against college administrators in a document titled the "Dartmouth New Deal," which demands the school divest from "Israeli apartheid."
"You have until the first day of the winter term to publicly address our demands and outline a plan to meet them. If you fail to do so, we will escalate and take further action," the document reportedly warned.
The arrests followed at least one pro-Palestinian rally in which attendees reportedly chanted, "Israel is a terror state."
Breaking News:
Around 1AM today, Hanover Police arrested two pro-Palestinian protesters who were camped on Parkhurst Hall's front lawn, charging them with a misdemeanor for criminal trespassing. The two students were released on bail later in the morning. pic.twitter.com/PSNBncJ0SC
— The Dartmouth Review (@DartmouthReview) October 28, 2023
However, while Dartmouth has grappled with more isolated incidents of anti-Jewish hatred on campus, including a swastika being carved on the college green and a public menorah being shot at with pellets, it should be noted that the general response by the university leadership to the Israel-Hamas war last month has been commendable.
Spearheaded by a group of Middle Eastern academics at the college, two public forums were set up on October 9 that featured professors from Israel, Lebanon, and Egypt discussing the conflict, which were attended by hundreds of students in-person and online.
Encouraging students to attend the forums, the university's President Sian Leah said: "I watched with growing horror the Hamas attack on Israel this weekend, the escalating violence, and the devastating loss of life, especially among civilians… In every conflict, one of the most important roles a university can play is to help us understand it, and to make a space for dialogue and community."
Leah's dither-free response to the attacks, which was in stark contrast to the leaders of so many other colleges, was a welcome change from her predecessor Philip Hanlon, whose role in attempting to hire BDS-supporting Professor N. Bruce Duthu as Dean of the Faculty of Arts and Sciences had been criticized as another "chapter in the school's history of anti-Semitism."
Brown University
Brown's chapter of Students for Justice in Palestine (SJP), an organization that has a well-documented history of disseminating vicious anti-Israel propaganda and vilifying Jewish students, was already organizing pro-Palestinian campus protests as Hamas terrorists were still cutting their bloodsoaked path through southern Israel.
In addition to organizing several student walkouts, the group posted on October 12 a statement to its Instagram account in which it claimed Israel was responsible for the Hamas massacre, and stated that it stands in "solidarity with the Palestinian resistance against Israeli occupation."
At one such campus rally, an SJP member was captured on film telling the crowd: "Palestinians will die for justice and will die to return to our land. Glory to our martyrs from the river to the sea … Palestine is the hope of the world."
Apparently, explicitly supporting a proscribed terrorist organization that is sworn to the destruction of both Jews and Israel is not enough to get the group banned from Brown's campus.
Although Brown University's President Christina H. Paxson has opposed calls for the college to adopt a pro-BDS stance, the school's response to antisemitism among the Brown community has been criticized, particularly after several high-profile incidents at the college over the past two years, including swastikas drawn around campus and antisemitic threats directed toward Brown Hillel.
View this post on Instagram
It is not so difficult to explain why so many students — many of whom would proudly describe themselves as "anti-fascist" — are so intolerant toward Jews and Israel.
Wall Street Journal columnist Barton Swaim described the scenes on American campuses as a product of the Marxist theories that have been taught for decades in higher education establishments:
That's why they particularly hate Israel—a wealthy nation among neighbors whose poverty is relieved only by oil revenue. Israel is the one country in the Middle East where ordinary people stand a good chance of creating prosperity for themselves and their families. For modern progressive academics, weaned on the Marxian concept that wealth is the result of exploitation, that is precisely the reason for Israel's guilt. They can't behold its prosperity without concluding that the Jews have stolen their wealth from their neighbors."
And that is the crux of it: for American students, Israel and Jews are privileged, and privilege is the new original sin.
The author is a contributor to HonestReporting, a Jerusalem-based media watchdog with a focus on antisemitism and anti-Israel bias — where a version of this article
first appeared.
The post Why Antisemitism, Anger and Intolerance Have Infected America's Ivy League Colleges — Part Two first appeared on Algemeiner.com.
US Commodities Firm Fires Trader Kurush Mistry Over NYC Vandalism of Posters Broadcasting Plight of Hamas Hostages
A commodities trader caught on camera vandalizing posters in New York City that highlighted the plight of the more than 200 hostages seized by Hamas during its Oct. 7 pogrom in southern Israel has been fired from his job.
Kurush Mistry was terminated by the Stamford, CT-based firm Freepoint Commodities as a result of the video, which was filmed on Nov 9. — the 85th anniversary of the infamous "Kristallnacht" pogrom in Nazi Germany — on the corner of 68th Street and Riverside Drive on Manhattan's Upper West Side. The footage showed Mistry and his cohort, Shailja Gupta, wrapping tape around the posters to hide them as they showered the person filming them with foul-mouthed antisemitic abuse along with obscene gestures.
Mistry had been employed by Freepoint for nine years, according to the Financial Times. Previously, he worked for leading banks Morgan Stanley, Barclays, and Lehman Brothers.
In a statement confirming Mistry's dismissal, Freepoint said it was "aware of the recent antisemitic incident reported on social media, and the individual involved is no longer associated with Freepoint."
It added: "We welcome the diversity of views and opinions held by our employees, but Freepoint does not tolerate discrimination and hate speech directed against any group."
In the offending video, both Mistry and Gupta show no remorse for their actions while screaming abuse at the Jewish man who filmed them.
When Mistry was asked why he was vandalizing the posters, he responded by displaying his middle finger to the camera, while Gupta — who bills herself on LinkedIn as a "visual artist, film-maker and emerging tech strategic consultant" — tells the Jewish man, "none of your f—ing business dude, f—off."
Mistry then taunted the man by waving a poster he pulled from his bag that described Israel as an "apartheid state" carrying out a "genocide." Both Mistry and Gupta told the man that he should "go back to your country, go back to Israel." When the man replied that he was an American, an increasingly unhinged Gupta answered that she was "also a f—ing American, darling."
When the man pointed out that "you don't want my country to exist, so where should I go?" Gupta told him, "you don't want my f—ing country to exist." Asked what country she was referring to, Gupta — who like Mistry is an Indian-American — emphatically answered "Palestine."
When the man said he hadn't heard of "that country," Gupta called him a "f—ing uneducated prick." She then began laughing hysterically, asking rhetorically, "does he even know who is my Dad?" and accusing Jews of being "rapists."
"I've already proved it," she said, when challenged. "My papers have been published all over." It was not clear which "papers" she was referring to, or which journals have published her writings.
Commenting on the incident on on X/Twitter, Sonam Mahajan, an Indian-American political analyst, said she wanted to assure her "Jewish friends that Ms. Gupta does not speak for the vast majority of Hindus. She is a vile person who also frequently makes disparaging remarks about Hindus, targeting their religious beliefs."
She added: "We have no idea who these two are friends with or what their motivations are, but they appear pretty desperate and need to be made accountable for their actions."
The incident with Mistry and Gupta comes amid growing unease among top executives over hiring individuals who have participated in pro-Hamas demonstrations and activities since the Oct. 7 Hamas atrocities.
A report published by the Anti-Defamation League on Monday recorded 832 outrages targeting American Jews between Oct. 7 and Nov. 7 — an average of 28 incidents per day and a 316 percent increase on the same period in 2022.
.@kurushmistry is a #Nazi, here in the US on a work visa. pic.twitter.com/a4EG8R25jQ
— Irka (@IrkaLive) November 11, 2023
The post US Commodities Firm Fires Trader Kurush Mistry Over NYC Vandalism of Posters Broadcasting Plight of Hamas Hostages first appeared on Algemeiner.com.
BBC News Promotes False and Defamatory Lies About 'Genocide' and 'War Crimes' in Gaza
As previously noted here, on November 2, the BBC News website published a filmed report titled '"Israel-Gaza war: Three reasons Egypt tightly controls the Rafah crossing."
Presented by Amal Saeed of BBC Arabic in Cairo, that item does not confine itself to the topic of Egypt's policies concerning the crossing on its border with the Gaza Strip.
The Rafah border crossing between Gaza and Egypt opened on Wednesday to allow a number of civilians to leave Gaza for the first time since the war began on 7 October.
The crossing has been open and shut frequently over the years. Why is it so contentious for Egypt? And where does Egypt stand in the Israel-Palestinian conflict?
The BBC's Amal Saeed in Cairo explains.
Saeed opens with a reference to the "Israel-Gaza war," despite the fact that Israel is not at war with Gaza, but with the proscribed terrorist organization Hamas.
The three reasons cited by Saeed for Egypt's tight control of the Rafah border crossing are security (she mentions the ISIS "militants" in Sinai), refugees (she states that Egypt does not have the ability to accommodate large numbers of Gaza Strip residents), and the "Palestinian cause."
Saeed later presents viewers with her version of Egypt's "complex history with Israel and Gaza": "This goes back to 1948 when a war started between Israel and a handful of Arab countries, including Egypt, which ended in Egypt controlling Gaza." [emphasis added]
That portrayal clearly whitewashes the fact that the war was initiated by those Arab countries with the intention of annihilating the nascent Israeli state and that Egypt illegally occupied — rather than merely "controlled" — territory assigned by the League of Nations for the creation of a Jewish homeland. Saeed goes on:
In 1967 another war started between Israel and some Arab countries, including Egypt, ending with Israel taking over Gaza among other areas.
Once again Egypt's role in bringing about that second war intended to annihilate Israel is whitewashed by Saeed.
After erasing the fact that Israel withdrew from the Gaza Strip in 2005 as well as the violent nature of Hamas' coup against the Palestinian Authority two years later, Saeed goes on: "In 2007 Hamas took over Gaza and the situation on the border between Egypt and Hamas became more complex."
Viewers are not given any explanation of what "more complex" means, and are told nothing about topics such as Hamas' cooperation with the Muslim Brotherhood in Egypt, Egypt's imprisonment of Hamas operatives, or the 2008 infiltration of the border by tens of thousands of Palestinians from the Gaza Strip.
Saeed fails to make any mention whatsoever of Hamas' October 7 infiltration of Israel and the murderous rampages that sparked the current war throughout her entire almost four-minute-long report. Neither does she refer to the terror attack perpetrated by an Egyptian policeman against Israeli tourists in Alexandria the following day, before going on to tell viewers about opinions on the Egyptian street that include "condemning what Israel did with the harsh bombardment of civilians." [her words]
A particularly notable part of Saeed's report refers to al Azhar Institute: "On the ground you find al Azhar, which is the highest religious institute in Egypt, called what Israel is doing in Gaza a 'genocide' and a 'war crime.' Al Azhar is widely followed by Egyptians."
Al Azhar — which is funded both by the Egyptian government and the UAE — is also widely followed by other Sunni Muslims elsewhere in the world, as the BBC surely knows full well. It is therefore particularly significant that BBC Arabic chose to amplify that institution's redundant allegations of "genocide"and "war crime."
As recently reported by the INSS:
The establishment that Egypt used to present as a beacon of "religious moderation" and the standard bearer of the ideological struggle against Islamic extremism has been revealed to be a supporter of terror. Since the outbreak of the war, al-Azhar has conducted a campaign designed to foment hostility in Arab-Muslim public opinion against Israel and its supporters in the West. […]
An initial response published by al-Azhar on the day of the October 7 attack, which saw the cold blooded murder of 1,400 innocent civilians and soldiers, Israelis and foreign nationals, and Jews and Arabs, as well as the rape of women and the abduction of elderly people, men, women, and children from their homes, stated that it "salutes with absolute pride the resistance efforts of the Palestinian people." Al-Azhar also sought to "strengthen the proud Palestinian people who have breathed spirit and faith into us and restored us to life." […]
…on October 18 al-Azhar issued a fatwa stating that "Zionist civilians on occupied land are not [at all] worthy of the description of 'civilians,' but they are occupiers of the land, usurpers of rights, deviants from the way of the prophets, who attack the historical holy places of Jerusalem." The al-Azhar ruling that there are no "innocent' Israeli citizens in effect makes it permissible to kill them.
Nevertheless, the BBC chose to provide worldwide amplification on its website for hate speech put out by that institution.
Saeed's report closes with a tepid portrayal of anti-Israel demonstrations in Egypt: "There were also protests in Cairo and other Egyptian cities, with people raising the Palestinian flag, wearing the Palestinian scarf and chanting 'free Palestine, victory for Gaza, open the border.'"
Saeed did not bother to inform BBC audiences that those demonstrations also included calls for Israel's elimination. The topic of the Egyptian president's unusual encouragement of demonstrations — and, relatedly, the upcoming presidential election in Egypt — was not addressed in Saeed's account.
The BBC Cairo office's uncritical amplification of talking points that are part of a propaganda campaign run by "the highest religious institute in Egypt" and the promotion of that messaging to world-wide audiences via the BBC News website and on BBC social media channels once again raises very serious questions about how the BBC interprets terms such as "trusted journalism" and "commitment to impartiality," which it uses in response to criticism of its reporting.
A media organization that is on the one hand squeamish about using the term terrorism in entirely appropriate circumstances — but on the other hand has no problem irresponsibly bandying about words such as "genocide" and "war crimes" (and Saeed is far from the only BBC employee to have done so) — cannot expect to win public trust.
Hadar Sela is the co-editor of CAMERA UK — an affiliate of the Committee for Accuracy in Middle East Reporting and Analysis (CAMERA), where a version of this article first appeared.
The post BBC News Promotes False and Defamatory Lies About 'Genocide' and 'War Crimes' in Gaza first appeared on Algemeiner.com.
Jewish MLB star Ryan Braun headlines International Jewish Sports Hall of Fame's 2024 inductees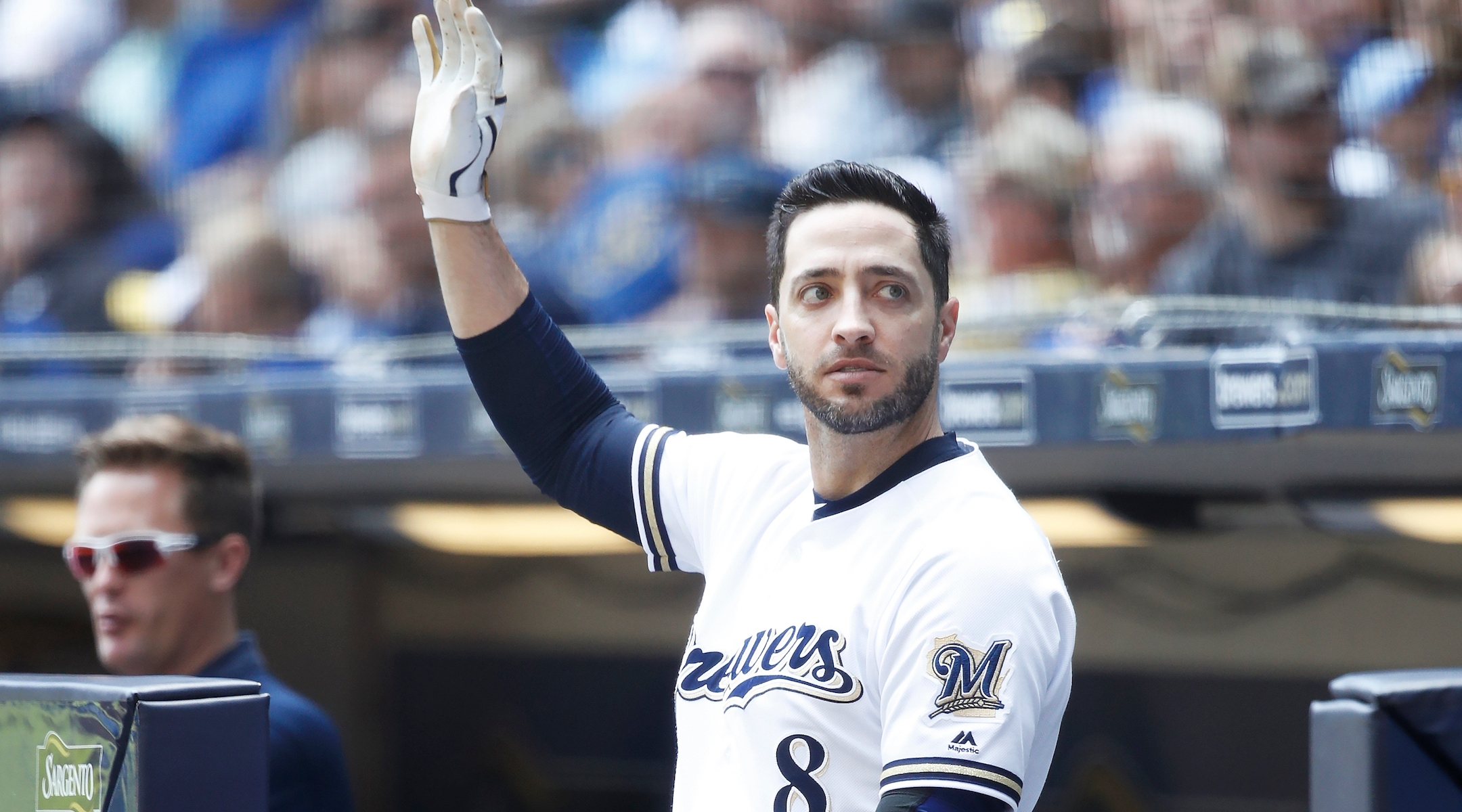 (JTA) — Ryan Braun has no shortage of career accolades. The 14-year MLB veteran, who retired in 2021, won an MVP award and slugged 352 home runs.
Now the longtime Milwaukee Brewer and all-time Jewish home run leader can add another accomplishment to his resume: the 39-year-old is among the 15 sports figures in the 2024 induction class of the International Jewish Sports Hall of Fame.
The new class features athletes, coaches and media members representing sports ranging from baseball and soccer to fencing, swimming, ice and field hockey and more. Honorees hail from the United States, Israel, Canada and Argentina.
"I'm very excited about the class, how classy they are, their accomplishments," said Jed Margolis, chairman of the hall of fame. "It really speaks so well to what an impact people have made in the world of sports. And at this venture in time, we really need some good news as Jewish people."
Housed at the Wingate Institute for Physical Education and Sport in Netanya, Israel, the hall is one of many Jewish sports halls of fame around the United States and Israel seeking to celebrate Jewish success in sports and push back against stereotypes about Jewish athleticism — such as the infamous "Airplane!" scene.
Margolis said the 15 inductees were chosen from more than 150 nominees. Margolis narrows the list to around 25 finalists, who are then voted on by a selection committee of sports experts from around the world. Longtime Israeli athlete, sports leader and broadcaster Gilad Weingarten is this year's recipient of the hall's award of excellence.
The 2024 class brings the hall's total to 463 members since its inauguration in 1981. The group will be honored at an induction ceremony in July 2025. Inductees are announced annually, but the ceremony itself is held every four years, when the Maccabiah Games take place in Israel.
At the 2025 ceremony, Margolis said, the hall will also mark the 80th anniversary of the liberation of the concentration camps by honoring athletes who were murdered in the Holocaust and those who survived and went on to enjoy Olympic-level sports careers.
"We have so many world record holders, so many gold medalists at the Olympics and champions in their sport, like a Ryan Braun, who even had more home runs than Hank Greenberg," said Margolis. Braun was also suspended in 2013 over a performance-enhancing drugs scandal.
"There's just so much good stuff going on for our people, that it's an opportunity to recognize the accomplishments of some very incredible people," Margolis added, "and we have so much to be proud of."
Margolis, who has worked in sports with organizations such as Maccabi USA and the JCC network for nearly 50 years, said he tries to personally call each inductee to share the news — which is often received with similar reactions of gratitude.
Margolis recounted that when he spoke to Braun, who is also a member of the Southern California Jewish Sports Hall of Fame, the former outfielder was out with his children.
"I said, 'I'm sorry for bothering you during your quality time with your children,'" Margolis recalled. "He said, 'This is very worthwhile. My father was born in Israel. It means so much to me. And I'm very touched by it.' And that's been the general reaction from people. They're very excited, very touched."
Read on to meet the International Jewish Sports Hall of Fame's 2024 class, listed alphabetically.
Aleksandr Averbukh, track and field
Born in the Soviet Union, Alex Averbukh is a decorated decathlete who won multiple international gold medals in pole vault. Averbukh, 49, began representing Israel in 1999, beginning a 14-year run where he won gold medals at the the 2000 European Indoor Championships, the 2002 and 2006 European Championships and the 2013 Maccabiah Games. His 2013 win in Israel came four years after Averbukh had officially retired from the sport. He also competed at the Olympics in 2000, 2004 and 2008.
Skip Bertman, baseball
Stanley "Skip" Bertman, 85, is one of the best baseball coaches in NCAA history. In 18 years as the head coach of Louisiana State University's baseball team, Bertman led the Tigers to five College World Series championships and seven Southern Conference titles. Bertman earned 870 career wins, and his .754 winning percentage in NCAA tournaments is an all-time college baseball record. Bertman — who had Russian and Estonian immigrant parents — also coached at the 1988 and 1996 Olympics, where he led the U.S. team to a bronze medal in the latter tournament, and at the 1999 Pan American Maccabi Games.
Ron Bolotin, swimming
After losing one of his legs as a result of a landmine explosion he experienced during his service in the Israel Defense Forces, the Jerusalem native went on to a successful career as a paralympic swimmer. Bolotin earned 11 medals at six Paralympic Games between 1980 and 2000, winning three gold medals, five silvers and three bronze. Bolotin also won the 1976 Israeli National Championship for the butterfly stroke, as well as three European Championships gold medals between 1979 and 1990. At the 1979 European Championship, Bolotin set a world record for the 100-meter butterfly.
Ryan Braun, baseball
Ryan Braun is one of the best Jewish baseball players of all time. A six-time All-Star with an MVP and Rookie of the Year to his name, Braun finished his 14-year career with 352 home runs, 21 more than Hall of Famer Hank Greenberg. Braun's father was born in Israel and lost family in the Holocaust. He is also one of many former and current Jewish players to speak out in support of Israel since war broke out last month. His legacy comes with an asterisk.
Michael Cammalleri, ice hockey
Mike Cammalleri played for five NHL teams over a 15-year career from 2002 to 2018. Cammalleri, whose maternal grandparents were Holocaust survivors, scored at least 25 goals six times, with 294 total career goals and 348 career assists. He represented his native Canada four times, winning bronze and silver medals at the 2001 and 2002 World Junior Championships, respectively, and a gold medal at the 2007 Men's World Ice Hockey Championships.
Linda Cohn, sportscaster
Linda Cohn is a longtime ESPN broadcaster who has anchored the network's flagship program "SportsCenter" since 1992. She made history with ABC in 1987 when she became the first American woman to anchor a national radio network full-time. At ESPN, she has hosted national coverage of baseball, hockey, and men's and women's basketball. The former collegiate ice hockey goalie has won numerous media awards and is also in the SUNY Oswego sports hall of fame. In her 2008 memoir "Cohn-Head: A No-Holds-Barred Account of Breaking Into the Boys' Club," Cohn writes about her decision to play a hockey game on Yom Kippur — much to her mother's disappointment.
Eli Dershwitz, fencing
This summer, Eli Dershwitz, 28, became the first American man to win an individual world championship in sabre fencing. The two-time Olympian is the grandson of Holocaust survivors and won two gold medals at the 2017 Maccabiah Games in Israel. The Boston-area native and Harvard University alum has also won four gold medals at the Pan American Championships, three at the Pan American Games and one at the Junior World Championships. He became the youngest-ever winner of the U.S. senior men's sabre championship when he won the title in 2014. He is currently ranked No. 1 in the USA and third in the world in men's senior sabre.
Jonathan Erlich, tennis
Jonathan "Yoni" Erlich is a former Israeli tennis star who was best known as doubles partners with fellow inductee Andy Ram. Together they became known as "Andyoni" and are the only Israeli team to ever win a grand slam tournament — the 2008 Australian Open men's doubles title. Erlich earned his career-high doubles ranking that year, at No. 5. He reached 44 doubles finals in his career, winning half of them. Erlich also competed with Novak Djokovic at the 2010 Queen's Club Championships, which is Djokovic's only career doubles title. Erlich and Ram represented Israel at the 2004 and 2008 Olympics, reaching the quarterfinals in 2004.
Abigail Hoffman, track and field
Abby Hoffman, 76, is a four-time Olympic runner who won gold medals at numerous international tournaments, including the Pan American Games and the British Empire and Commonwealth Games. Hoffman won Canada's national 800-meter championship eight times and set several Canadian and North American records in the 800- and 1,500-meter events. She won two gold medals at the 1969 Maccabiah Games, and she is a member of Canada's Sports Hall of Fame and the Jewish Canadian Sports Hall of Fame. Hoffman was also the first woman to lead Sport Canada, a federal government sports agency, and in 1981 was elected the first woman to serve on the executive committee of the Canadian Olympic Committee.
Giselle Kañevsky, field hockey
Giselle Kañevsky, 38, is an Argentine professional field hockey player and longtime national team member who has won numerous international competitions, including the 2010 World Cup. The Buenos Aires native trained at the Hacoaj sport club, where several Jewish Argentine athletes, including tennis star Diego Schwartzman, have also played. Kañevsky was a member of national teams that won bronze medals at the 2006 World Cup and the 2008 Olympics. She has also played professionally in the Netherlands.
Aaron Krickstein, tennis
Aaron Krickstein, 56, became the youngest player to reach the top 10 in the Association of Tennis Professionals (ATP) rankings when he accomplished the feat in 1985. He reached his career-high ranking five years later at No. 6. Krickstein won nine ATP tournaments and reached the semifinals at the 1989 U.S. Open. In 1983, Krickstein set an ATP record as the youngest player to win a singles title, which he earned at 16 years old in Tel Aviv. Both of his ATP records still stand. Krickstein told the Jerusalem Post last year that "For me, Jewish tradition means a lot."
Andy Ram, tennis
The other half of "Andyoni," Andy Ram, 43, was the first Israeli to win a Grand Slam event, in doubles at Wimbledon in 2006. He also won the 2007 French Open in doubles and the 2008 Australian Open in doubles with Erlich. His career-high ranking in doubles was No. 5 in the world, in 2008. He won 19 ATP doubles tournaments and was a runner-up in another 18. Ram competed in the 2004, 2008 and 2012 Olympics and in every Davis Cup tournament from 2000 to 2014.
Mitchell Schwartz, football
Mitchell Schwartz, 34, is a former Super Bowl Champion offensive tackle who played nine seasons in the NFL with the Cleveland Browns and Kansas City Chiefs. He was drafted 37th overall by the Browns in 2012 and was named to the NFL's All-Rookie team that season. He did not miss a snap for 121 consecutive games over eight seasons, which at the time was a record. Scwhartz and his brother Geoff were the first Jewish brothers to play pro football since Ralph and Arnold Horween in 1923. In 2016, they also published a book "Eat My Schwartz: Our Story of NFL Football, Food, Family, and Faith," which put their Jewish background front and center. "My size comes from a childhood that included an excess of matzah ball soup, latkes and tons of white rice," the 6-foot-6, 340-pound player once told the Jewish Telegraphic Agency.
Ellen Weinberg-Hughes, ice hockey
Ellen Weinberg-Hughes, 55, a three-sport star at the University of New Hampshire, won a silver medal with the U.S. women's national team at the 1992 Women's World Championship. She is also a member of the UNH Athletic Hall of Fame. Weinberg-Hughes additionally worked in broadcasting, including as a sideline reporter for ESPN during the 1999 FIFA Women's World Cup. Her husband Jim is also a former hockey player who has worked for multiple NHL teams. Her three sons — Jack, Quinn and Luke — are all current stars in the NHL, where they made history as the first three American siblings to get drafted in the first round.
Sara Whalen, soccer
Sara Whalen, 47, is one of the more accomplished Jewish women in U.S. soccer history. She was a key player on the U.S. Women's National Teams that won the 1999 FIFA World Cup and a silver medal at the 2000 Olympics. Whalen was a three-time All-American at the University of Connecticut, where she also won the 1997 player of the year award from the United Soccer Coaches association and in her senior season won the Honda Sports Award as the nation's top soccer player. She was a founding player in the now-defunct Women's United Soccer Association.
—
The post Jewish MLB star Ryan Braun headlines International Jewish Sports Hall of Fame's 2024 inductees appeared first on Jewish Telegraphic Agency.