'A battle of Jews against Jews'? Arab Israelis debate whether and how to join Israel's democracy protests
TAYIBE, Israel (JTA) — Prominent figures among Israel's Arab minority are calling on its members to join the mass protests against the Netanyahu government's judicial overhaul plan, arguing that Arabs will be the first victims of any weakening of the Supreme Court.
"If the government succeeds it will make our chances for equality and a just peace more remote," said Suheil Diab, former deputy mayor of Nazareth, Israel's largest Arab city, and one of the organizers of a nonpartisan push to get Arabs to demonstrate alongside their Jewish counterparts.
"If we don't repel the attack on the judiciary, we can't go forward with our agenda," Diab went on. "I want Arabs to participate and to know that participating is in their interest."
The proposed reforms would give the Knesset — now controlled by a right-wing coalition — the power to override Israel's Supreme Court, in a move that proponents say is needed because, in their view, the court has grown too liberal and out of step with popular sentiment. Leaders of some of the parties in the coalition have called for curbing rights of LGBTQ Israelis, non-Orthodox Jews and Arab Israelis. At least one of them has openly suggested that Arab citizens who are "disloyal" should be deported.
Diab and other Arab leaders fear that without the protection of the Supreme Court, the Arab minority might face measures limiting funding, access to jobs and opportunities and even their political representation. Even expulsion feels like a realistic concern given the far-right influence in the government, he said.
"We need to convince a distinct share of the Jewish majority that both of us are threatened," Diab told the Jewish Telegraphic Agency. "The only way is a shared Jewish-Arab struggle."
But while massive protests including tech entrepreneurs, army reservists, academics and others have shown the extent of determination among Jews to stop the government's bid to legislate what it terms "judicial reform," Arab Israelis, who make up one-fifth of the population, have hardly turned out.
This dynamic has been true in the Knesset as well as in the streets. Mansour Abbas, the leader of the Arab Ra'am Party, has said he opposes the changes, but when he was invited to participate in a press conference with other leaders of the political opposition, he declined.
A push to get Arabs to participate in the protests began Friday with publication of a petition calling for public activism, inked by more than 200 Arab personalities, including retired judges. A gathering here on Saturday sought to work through thorny questions about what Arab participation might look like, and what demands it might make.
Getting Israeli Arabs to the protests that have become a recurring feature of life in cities across Israel every Saturday night won't necessarily be easy. The push is likely to run up against perceived disenfranchisement on the part of Arab Israelis, whose political parties have rarely been part of governing coalitions and whose participation in electoral politics has been portrayed in the past as illegitimate by Prime Minister Benjamin Netanyahu and his allies.
Another likely obstacle is a narrow focus for the protest organizers, almost all Jewish.
In the first weeks of the protests in January, Palestinian flags raised by protesters drew criticism from right-wing and pro-government pundits. National Security minister Itamar Ben-Gvir called for a ban on the flag in public and warned that those waving Palestinian flags in future demonstrations would be arrested. Fewer Palestinian flags were seen in the following weeks, and issues relating to the Israeli occupation of the West Bank or to the new government's attitude toward the Israeli-Palestinian conflict were all but dropped from the agenda. An Israeli activist who asked to carry a Palestinian flag while speaking was declined.
The organizers do not seem interested thus far in broadening the agenda, and only a few Arab speakers have been featured in the demonstrations. Just hours after the Tayibe meeting on Saturday, Reem Hazzan, a leader of the predominantly Arab Hadash party in Haifa, was told by organizers who reviewed a copy of her planned speech to make changes to it. She refused and there was no Arab speaker.
Haaretz quoted unidentified organizers as saying the problem was that Hazzan refused to call in her speech for the Arab public to turn out for the protests. But Hazzan, in remarks to JTA, said  she sees a deeper problem.
"We want to change the rules of the game, not just preserve what exists. What exists is not good," she said. "We need to speak about the occupation and about discrimination. If you want Arabs to participate you must take into account that Arabs have an agenda."
Exactly what that agenda should be was under debate during the gathering in Tayibe, a sprawling town in central Israel that like many Arab municipalities suffers from spiraling crime and violence.
"People say it's a battle of Jews against Jews; others say they don't want us there so why should we go and others point to times when the court sided against us," said Mohammed Ali Taha, 82, former head of the Arab Writers Association, who spoke at the Tayibe gathering.
"It's all true," he continued. "But still we must join the protests because we will be the primary losers. When the far right rises, it strikes against the weak. We are the weak."
With no constitution, Israel lacks any explicit guarantee of equality for all its citizens. Some laws, including those ensuring the right for immigration, advantage Jews. To the extent that Arabs have been able to challenge discrimination in recent decades, it has been largely through the Supreme Court inferring equality on them based on liberal legislation such as the Basic Law: Human Dignity and Freedom, passed in 1992, which specifies, "Every human being is entitled to protection of his life, body and dignity." Critics of the proposed reforms warn that they could result in the rollback of that basic law.
The court has also at times ruled against Arab Israeli interests, such as when it refused to consider petitions against the 2018 Nation State Law, which enshrines Jewish settlement as a national value, declares that national self-determination in the state of Israel  is "unique to the Jewish people" and demotes Arabic from an official language.
Tayibe's deputy mayor, Malik Azzem, said that despite its mixed record, an independent Supreme Court is essential for Israeli Arabs.
"The High Court is our last defense for our rights as a minority," he said. "The struggle for our rights is not separate from this struggle. We need to mobilize the public."
He added that as an elected official, he fears that without the court's oversight, the government would simply cut the budgets of Arab municipalities.
"People need to raise their voices and join," Azzem said. "We should be at the center of the demonstrations. We are already late in dealing with this."
Taha, the writer, whose works often focus on the Nakba, an Arabic term meaning catastrophe that is used to describe the plight of Palestinians after Israel's 1948 War of Independence and which he lived through as a child, told the gathering: "Without Jewish-Arab cooperation we cannot achieve anything. This is an opportunity for cooperation."
He said he believes Arab Israelis are today more vulnerable than they have been at any time since the period that they lived under military rule, from 1948 to 1966. At that time they were so restricted that they could not travel within Israel without permits. The danger today, he says, is due to the clout of far-right ministers Ben-Gvir and Bezalel Smotrich, who have expressed anti-Arab views and, in Ben-Gvir's case, even called for the expulsion of "disloyal" citizens.
"If they succeed it will be worse for us than military rule was," Taha said. To avert this, he argued, Arabs need to join the protests alongside Jews even if it means not raising Palestinian flags.
"It's not the time and place for a protest about a Palestinian state," he said. "This could cause conflict among the protesters."
But to others, the idea of protesting without highlighting the need to end both the occupation and inequality is akin to denying one's very identity.
"I'm against participating in any demonstration that is embarrassed to talk about context and the occupation. I support something broader," said Sondos Saleh, a former member of Knesset for the Arab Ta'al party.
Merav Ben-Ari, a legislator for the largest opposition party, Yesh Atid, told JTA she would welcome greater Arab participation in the protests. "Anything that strengthens the protests is excellent," she said.
But she showed little enthusiasm for talking about many of the topics that animate Israeli Arabs in the political sphere, including the core one that liberal critics of the protest movement say is being given short shrift.
"How is the occupation connected?" Ben-Ari asked. "What is needed is to talk about the reform. Everyone who loves the country and cares about it has to fight against the reform and the harm to the Supreme Court."
—
The post 'A battle of Jews against Jews'? Arab Israelis debate whether and how to join Israel's democracy protests appeared first on Jewish Telegraphic Agency.
Focus group Oct. 11 at Simkin Centre for people concerned about personal care homes

As Manitobans have gone to the polls and with a new legislative assembly about to begin a new four-year term, the challenges of long-term and continuing care homes need to be communicated.
MARCHE, the Manitoba Association of Residential and Community Care Homes for the Elderly will be holding a focus group on Wednesday, October 11 that is intended to provide the community at large a forum to express thoughts and provide ideas and recommendations for the future.
Please join us on Wednesday, October 11th at the Saul & Claribel Simkin Centre. We look forward to hearing from you.
See poster below for more information and how to register to attend.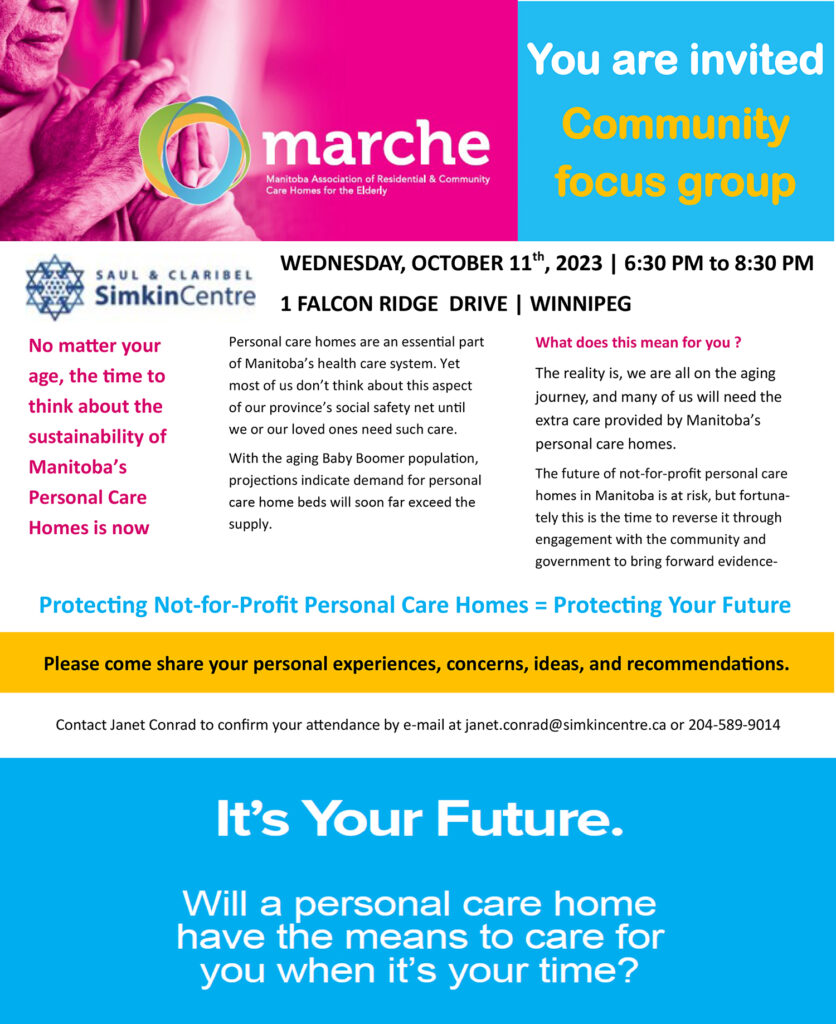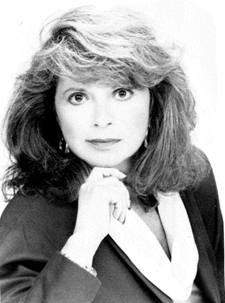 Phyllis Pollock died at home Sunday September 3, 2023 in Winnipeg, after a courageous lifetime battle with cancer.
Phyllis was a mother of four: Gary (Laura), daughter Randi, Steven (deceased in 2010) (Karen), and Robert. Phyllis also had two grandchildren: Lauren and Quinn.
Born in Fort Frances, Ontario on February 7, 1939, Phyllis was an only child to Ruby and Alex Lerman. After graduating high school, Phyllis moved to Winnipeg where she married and later divorced Danny Pollock, the father of her children. She moved to Beverly Hills in 1971, where she raised her children.
Phyllis had a busy social life and lucrative real estate career that spanned over 50 years, including new home sales with CoastCo. Phyllis was the original sales agent for three buildings in Santa Monica, oceanfront: Sea Colony I, Sea Colony II, and Sea Colony. She was known as the Sea Colony Queen. She worked side by side with her daughter Randi for about 25 years – handling over 600 transactions, including sales and leases within the three phases of Sea Colony alone.
Phyllis had more energy than most people half her age. She loved entertaining, working in the real estate field, meeting new and interesting people everyday no matter where she went, and thrived on making new lifelong friends. Phyllis eventually moved to the Sea Colony in Santa Monica where she lived for many years before moving to Palm Desert, then Winnipeg.
After battling breast cancer four times in approximately 20 years, she developed metastatic Stage 4 lung cancer. Her long-time domestic partner of 27 years, Joseph Wilder, K.C., was the love of her life. They were never far apart. They traveled the world and went on many adventures during their relationship. During her treatment, Phyllis would say how much she missed work and seeing her clients. Joey demonstrated amazing strength, love, care, and compassion for Phyllis as her condition progressed. He was her rock and was by her side 24/7, making sure she had the best possible care. Joey's son David was always there to support Phyllis and to make her smile. Joey's other children, Sheri, Kenny, Joshua and wife Davina, were also a part of her life. His kids would Facetime Phyllis and include her during any of their important functions. Phyllis loved Joey's children as if they were her own.
Thank you to all of her friends and family who were there to support her during these difficult times. Phyllis is now, finally, pain free and in a better place. She was loved dearly and will be greatly missed. Interment took place in Los Angeles.
Gwen Centre Creative Living Centre celebrates 35th anniversary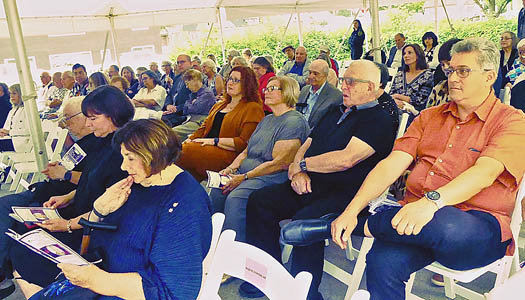 By BERNIE BELLAN Over 100 individuals gathered at the Gwen Secter Centre on Tuesday evening, July 18 – under the big top that serves as the venue for the summer series of outdoor concerts that is now in its third year at the centre.
The occasion was the celebration of the Gwen Secter Centre's 35th anniversary. It was also an opportunity to honour the memory of Sophie Shinewald, who passed away at the age of 106 in 2019, but who, as recently as 2018, was still a regular attendee at the Gwen Secter Centre.
As Gwen Secter Executive Director Becky Chisick noted in her remarks to the audience, Sophie had been volunteering at the Gwen Secter Centre for years – answering the phone among other duties. Becky remarked that Sophie's son, Ed Shinewald, had the phone number for the Gwen Secter Centre stored in his phone as "Mum's work."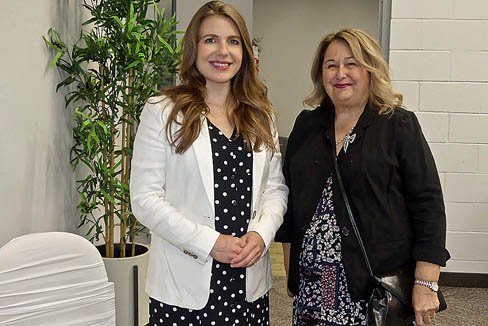 Remarks were also delivered by Raquel Dancho, Member of Parliament for Kildonan-St. Paul, who was the only representative of any level of government in attendance. (How times have changed: I remember well the steadfast support the former Member of the Legislature for St. John's, Gord Mackintosh, showed the Gwen Secter Centre when it was perilously close to being closed down. And, of course, for years, the area in which the Gwen Secter Centre is situated was represented by the late Saul Cherniack.)
Sophie Shinewald's granddaughter, Alix (who flew in from Chicago), represented the Shinewald family at the event. (Her brother, Benjamin, who lives in Ottawa, wasn't able to attend, but he sent a pre-recorded audio message that was played for the audience.)
Musical entertainment for the evening was provided by a group of talented singers, led by Julia Kroft. Following the concert, attendees headed inside to partake of a sumptuous assortment of pastries, all prepared by the Gwen Secter culinary staff. (And, despite my asking whether I could take a doggy bag home, I was turned down.)