A Jewish journalist takes sides in America's 'slow civil war'
(JTA) — Jeff Sharlet admits up front that his book about what he and others call the "Trumpocene" epoch is not objective.
"Transparent subjectivity is a virtue for this kind of reporting," he said. "I am trying to understand the proliferation, which is very real, of fascist flags [across America]. I don't like it when I see a movement [creating] fascist folk art."
In "The Undertow: Scenes from a Slow Civil War," the religion reporter and writing professor chronicles his recent journeys across America interviewing QAnon acolytes, Christian nationalists, proud misogynists, unrepentant January 6ers, armed militia men and strict anti-abortion activists — all still in thrall to Donald Trump.
It's a familiar story of an America on the edge, but Sharlet adds the perspective of a journalist who has long covered religion. He was among the first to note that Trump rallies were less political events than religious revivals. And like many religions, he says, Trumpism is resistant to the kinds of "civil discourse" that many people propose as an antidote to polarization.
"We cannot fact check a myth, right?" Sharlet told me in a video interview from his home in Vermont. "It's not going to work to say, 'That's not true.'"
I wanted to speak to Sharlet to discuss what he calls the "gospel of Trump" and how it differs from partisan politics as usual. And I wanted to know more about his own Jewish background and how that has informed his project.
Sharlet, a professor of writing at Dartmouth College, shapes his narrative largely around the story of Ashli Babbitt, the 35-year-old woman who was killed by a Capitol police officer during the Jan. 6 riot. He talks to those who lionize Babbitt, standing on porches under flags reading "F— Biden" and "No Surrender." He describes the ways she has become a martyr on the far-right, part of a mythology that inverts what happened on that day.
Babbitt, he suggests, was a victim of the "undertow" of the book's title: a sense of "grief and loss and mourning" that animated protesters like her. Trump spoke directly to this "erosion of white power, which was felt more severely down the socio-economic ladder," Sharlet said. "Ashli Babbitt experiences it as a loss, but she can't name the structural details – like the fact that there's such a lack of banking regulation that she ends up with a loan that literally nobody can pay back."
So she joined the mob charging the Capitol. "Unprocessed grief curdles into rage, rage that just sits there until along comes Trump," said Sharlet. The result is a stew that he unhesitantly calls fascism, which he has defined as a right-wing cult of personality that takes pleasure in violence, disdains democracy and considers its opponents decadent.
Sharlet visits churches where the same rage is heard in the pulpit and where Trump is regarded as a prophet, leading outsiders to wonder how faithful Christians could embrace Trump despite his own lack of Christian values.
On the latter assertion, Sharlet notes that Trump does have Christian values, rooted in the teachings of his childhood pastor, Norman Vincent Peale. The author of "The Power of Positive Thinking" and a proponent of the "prosperity gospel," Peale saw material wealth as a sign of divine providence, and "applied Christianity" as a way to achieve it.
"Politicians have long borrowed from religion the passion and the righteousness, but no other major modern figure [before Trump] had channeled the tension that makes Scripture endure, the desire, the wanting that gives rise to the closest analogue to Trumpism: the prosperity gospel, the American religion of winning," he writes.
He also speaks to pastors and followers who would read Trump's words "like Scripture": "Every tweet, every misspelling, every typo, every strange capitalization — especially the capitalizations, said [one pastor] — had meaning." Sharlet compares this to Gnosticism, the heretical Christian movement that believed in "a form of exclusive knowledge reserved for the faithful, a 'truth' you must have the eyes to see."
Sharlet, whose earlier book "The Family" was about a fundamentalist ministry influential among the Washington political elite, said Christian nationalists who are drawn to dictators and flawed strongmen often cite the story of King David. The Old Testament king gains God's favor despite killing his rival Uriah and, depending how you look at it, seducing or raping Uriah's wife Bathsheba. "They're very invested in this idea of chosenness, and King David is chosen," said Sharlet.
All this mixing of religion, power and grievance made me wonder if liberal denominations have an adequate response to the stirrings on the far right.
"In the book I go to Glad Tidings, a church in Yuba City, California. And you walk in and there's no crosses, because the pastor thinks the cross is a weak symbol of sacrifice. Instead the pulpit is made of swords," said Sharlet. "That's not to say that liberal religion is always weak — I mean, you have Reverend William Barber of the Forward Together Moral Movement in North Carolina, and liberal, religiously motivated activists who put themselves in the position of abortion clinic defenders."
Rage also curdles into conspiracy theories. Many of his interviewees share the dark fantasies of QAnon, which imagines that the U.S. government is secretly controlled by Satan-worshiping pedophiles. As outlandish as these ideas sound, he said, "It's hard to find Republicans now who have not absorbed some element of QAnon. People have never even heard of QAnon, but are worried about pedophiles in the schools, 'grooming' their children, apocalyptic visions of cities as battlegrounds of crime. This is straight out of QAnon."
I ask Sharlet if his sample is selective, and if he only looked for and included people on the fringe to prove a point.
He countered by recalling his conversation with a woman who believed that the deadly Las Vegas shooting, by a high-stakes gambler who left 58 dead in 2017, was actually an attempt by ISIS on the life of Trump (who wasn't in Vegas at the time). Sharlet was convinced the idea was hers alone. But a Google search told him that the theory was gaining traction on the far right, and that Tucker Carlson had invited a former congressman and retired brigadier general to talk about the "Vegas mystery" on his Fox News show.
Before his abrupt ouster last week, "Tucker Carlson had an audience of 4 million and a reach they say of more around 70 million – which is immeasurably greater than mine," noted Sharlet. "So who is fringe? Me or Carlson?"
QAnon, he said, agrees with those who say QAnon draws on classic antisemitism. "It infuses QAnon," he said. "You know, the blood of children being used to keep a secret elite, a secret cabal, directed by [Jewish financier and philanthropist George] Soros, and all the 'globalist' language. I was asked on a podcast what they mean by globalists and my answer was simple: the Jews. That's what they mean, even when they don't know that they mean it."
Sharlet, the son of a Jewish dad and a Christian mom, describes himself as "a weird Jew, a secular Jew."
"I was maybe more forcibly aware of this Jewishness when I grew up in a small town called Scotia, New York, and I got beat up for being a Jew," he said.
After getting a degree in American history at Hampshire College, he went to work at the Yiddish Book Center in Amherst, Massachusetts, where he edited Pakn Treger, its literary magazine.
"I don't like to say that my Jewishness is formed by antisemitism," he said. "My Jewish education is working for the Yiddish Book Center and all the complications of Yiddish."
He says the anger he encountered on the road has come to his small town in "a very blue area." "The folks opposed to fascism still outnumber those who are coming to praise it," he said. "But my kid goes to a school district that is facing legal threat from far-right people, including Jews, who think that it is too supportive of kids like my queer kid and they want the school to be reporting any instances of kids showing up not wearing the right gender clothes and so on."
That experience has also shaped his response to those who ask if he is elevating a fringe through his writing.
"I have a queer nonbinary child who is being criminalized in about 20 states now. This is where I keep coming back to," said Sharlet. "To the folks who say, 'It's just terrible what they're doing to the trans kids,' I want to say that they really haven't learned from history. They think that fascism is like, 'Well, we got our victim. We're all done here now.' No. It comes for everybody."
If there is a solution to this unraveling, Sharlet says it will come from liberals who learn from their right-wing counterparts and create institutions that fight for their values.
"The prime example is higher education," he said. "For a long time liberals want to insist that higher education is neutral." And while the left is insisting on neutrality, the right is creating colleges — Regent University in Virginia Beach, the evangelical Liberty University, Oral Roberts University, Hillsdale College in southern Michigan — dedicated to its ideas. In Florida, Gov. Ron DeSantis is diverting state funding to transform a small liberal arts college, New College of Florida, into a conservative-leaning school.
"We have to build out cultural institutions and we have to recognize and own up to the fact that colleges are places of values," he said. "They do not sit with fascism. So own that space, defend that space, be proud of that space. I think every synagogue in America whether it wants to accept this or not and even some of the politically conservative ones have to ask, which side are you on? Neutrality isn't an option. As Jews especially, we don't have a choice."
—
The post A Jewish journalist takes sides in America's 'slow civil war' appeared first on Jewish Telegraphic Agency.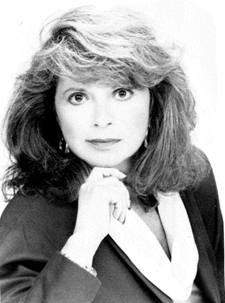 Phyllis Pollock died at home Sunday September 3, 2023 in Winnipeg, after a courageous lifetime battle with cancer.
Phyllis was a mother of four: Gary (Laura), daughter Randi, Steven (deceased in 2010) (Karen), and Robert. Phyllis also had two grandchildren: Lauren and Quinn.
Born in Fort Frances, Ontario on February 7, 1939, Phyllis was an only child to Ruby and Alex Lerman. After graduating high school, Phyllis moved to Winnipeg where she married and later divorced Danny Pollock, the father of her children. She moved to Beverly Hills in 1971, where she raised her children.
Phyllis had a busy social life and lucrative real estate career that spanned over 50 years, including new home sales with CoastCo. Phyllis was the original sales agent for three buildings in Santa Monica, oceanfront: Sea Colony I, Sea Colony II, and Sea Colony. She was known as the Sea Colony Queen. She worked side by side with her daughter Randi for about 25 years – handling over 600 transactions, including sales and leases within the three phases of Sea Colony alone.
Phyllis had more energy than most people half her age. She loved entertaining, working in the real estate field, meeting new and interesting people everyday no matter where she went, and thrived on making new lifelong friends. Phyllis eventually moved to the Sea Colony in Santa Monica where she lived for many years before moving to Palm Desert, then Winnipeg.
After battling breast cancer four times in approximately 20 years, she developed metastatic Stage 4 lung cancer. Her long-time domestic partner of 27 years, Joseph Wilder, K.C., was the love of her life. They were never far apart. They traveled the world and went on many adventures during their relationship. During her treatment, Phyllis would say how much she missed work and seeing her clients. Joey demonstrated amazing strength, love, care, and compassion for Phyllis as her condition progressed. He was her rock and was by her side 24/7, making sure she had the best possible care. Joey's son David was always there to support Phyllis and to make her smile. Joey's other children, Sheri, Kenny, Joshua and wife Davina, were also a part of her life. His kids would Facetime Phyllis and include her during any of their important functions. Phyllis loved Joey's children as if they were her own.
Thank you to all of her friends and family who were there to support her during these difficult times. Phyllis is now, finally, pain free and in a better place. She was loved dearly and will be greatly missed. Interment took place in Los Angeles.
Gwen Centre Creative Living Centre celebrates 35th anniversary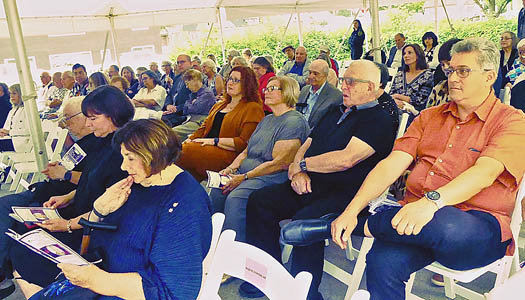 By BERNIE BELLAN Over 100 individuals gathered at the Gwen Secter Centre on Tuesday evening, July 18 – under the big top that serves as the venue for the summer series of outdoor concerts that is now in its third year at the centre.
The occasion was the celebration of the Gwen Secter Centre's 35th anniversary. It was also an opportunity to honour the memory of Sophie Shinewald, who passed away at the age of 106 in 2019, but who, as recently as 2018, was still a regular attendee at the Gwen Secter Centre.
As Gwen Secter Executive Director Becky Chisick noted in her remarks to the audience, Sophie had been volunteering at the Gwen Secter Centre for years – answering the phone among other duties. Becky remarked that Sophie's son, Ed Shinewald, had the phone number for the Gwen Secter Centre stored in his phone as "Mum's work."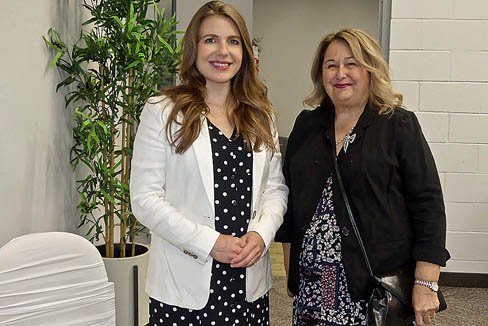 Remarks were also delivered by Raquel Dancho, Member of Parliament for Kildonan-St. Paul, who was the only representative of any level of government in attendance. (How times have changed: I remember well the steadfast support the former Member of the Legislature for St. John's, Gord Mackintosh, showed the Gwen Secter Centre when it was perilously close to being closed down. And, of course, for years, the area in which the Gwen Secter Centre is situated was represented by the late Saul Cherniack.)
Sophie Shinewald's granddaughter, Alix (who flew in from Chicago), represented the Shinewald family at the event. (Her brother, Benjamin, who lives in Ottawa, wasn't able to attend, but he sent a pre-recorded audio message that was played for the audience.)
Musical entertainment for the evening was provided by a group of talented singers, led by Julia Kroft. Following the concert, attendees headed inside to partake of a sumptuous assortment of pastries, all prepared by the Gwen Secter culinary staff. (And, despite my asking whether I could take a doggy bag home, I was turned down.)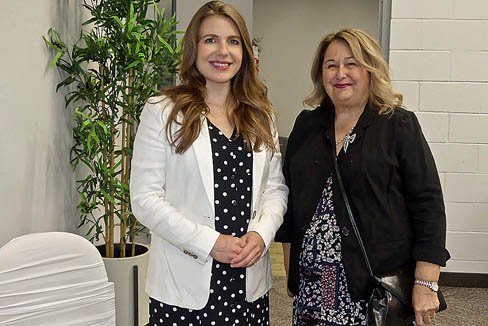 Palestinian gunmen kill 4 Israelis in West Bank gas station
This is a developing story.
(JTA) — Palestinian gunmen killed four people and wounded four in a terror attack at a gas station near the West Bank settlement of Eli, the Israeli army reported.
An Israeli civilian returning fire at the scene of the attack on Tuesday killed one of the attackers, who emerged from a vehicle, and two others fled.
Kan, Israel's public broadcaster, said one of those wounded was in serious condition. The gunmen, while in the vehicle, shot at a guard post at the entry to the settlement, and then continued to the gas station which is also the site of a snack bar. A nearby yeshiva went into lockdown.
Israeli Defense Minister Yoav Gallant announced plans to convene a briefing with top security officials within hours of the attack. Kan reported that there were celebrations of the killing in major West Bank cities and in the Gaza Strip, initiated by terrorist groups Hamas and Palestinian Islamic Jihad. Hamas said the shooting attack Tuesday was triggered by the Jenin raid.
The shooting comes as tensions intensify in the West Bank. A day earlier, Israeli troops raiding the city of Jenin to arrest accused terrorists killed five people.
The Biden administration spoke out over the weekend against Israel's plans to build 4,000 new housing units for Jewish settlers in the West Bank. Israeli Prime Minister Benjamin Netanyahu also finalized plans to  transfer West Bank building decisions to Bezalel Smotrich, the extremist who is the finance minister. Smotrich has said he wants to limit Palestinian building and expand settlement building.
Kan reported that the dead terrorist was a resident of a village, Urif, close to Huwara, the Palestinian town where terrorists killed two Israeli brothers driving through in February. Settlers retaliated by raiding the village and burning cars and buildings.
—
The post Palestinian gunmen kill 4 Israelis in West Bank gas station appeared first on Jewish Telegraphic Agency.