American rabbis, wrestling with Israel's behavior, weigh different approaches from the pulpit
(JTA) — Rabbi Sharon Brous began a sermon at her Los Angeles synagogue last month with a content warning. "I have to say some things today that I know will upset some of you," she began. 
That same morning, across the country in New York City, Rabbi Angela Buchdahl was confessing something to her congregants, too: The sermon they were about to hear "kept me up at night."
Both women — among the most prominent and influential Jewish clergy in the United States — went on to sharply criticize Israel's new right-wing government, which includes far-right parties that aim to curb the rights of LGBTQ Israelis, Arabs and non-Orthodox Jews.
In taking aim at Israel's government from the pulpit, the rabbis were veering close to what many in their field consider a third rail. "You have a wonderful community and you love them and they love you, until the moment you stand up and you give your Israel sermon," Brous told the Jewish Telegraphic Agency. The phenomenon even has an informal name, she said: "Death by Israel sermon."
Brous would know: A decade ago, she was the target of sharp criticism after she encouraged her congregants at IKAR, a nondenominational congregation, to pray for Palestinians as well as Jews during a period of conflict in Israel. The incident didn't end her pulpit, but she has come to understand why many rabbis choose what she called "the path of silence" when it comes to Israel.
Now, she said, American Jews must depart from that path. "I want you to hear me," she said in her sermon. "There is a revolution that is happening, and this moment demands an awakening on both sides of the sea, an honest reckoning."
All over the country, non-Orthodox rabbis are making similar calculations in response to Israel's new governing coalition, which has drawn widespread protests over its policy moves. (Orthodox communities, including their rabbis, tend to be more politically conservative and skew to the right of non-Orthodox communities on Israel issues.) Israel's government is advancing an overhaul of the legal system that would sap the power of the Supreme Court, and is also contending with an escalating wave of violence.
Some rabbis feel more emboldened to speak aloud what they have long believed. Others are finding themselves reconsidering their own relationship to Israel — and bringing their congregants along on their journey. A few still feel that criticizing Israel from the pulpit is a misguided and even dangerous venture, one that could splinter American Jewish communities.
What cuts across the spectrum is a belief that Israel has been discussed too little from the synagogue pulpit. Brous said the tendency of liberal rabbis not to talk about Israel lest they anger their more conservative congregants has resulted in a painful reality: "American Jews have not developed the muscle that we now need to respond to this regime."
Rabbi Ammiel Hirsch, meanwhile, believes today's rabbis must be vocal in fending off the influence of "competing values" about Zionism from "various organizations that are either cool on Israel or don't like Israel or just downright anti-Zionist."
Last year, angered by a letter signed by dozens of rabbinical students denouncing Israel's actions during its 2021 conflict with Hamas in Gaza, Hirsch launched an initiative based at his New York City Reform synagogue to equip rabbis with tools to counter what he said was "the growing influence of an anti-Zionist element" in the next generation of Jewish clergy.
The initiative, Amplify Israel, is housed at his Stephen Wise Free Synagogue, and employs another rabbi, Tracy Kaplowitz, to work full-time to galvanize leaders from across the Reform movement to support Israel. Kaplowitz jokes that her new job won't be complete "until every Reform Jew is a Zionist."
Hirsch knows the new coalition is complicating his task. "The new government is going to make our promotion of Israel more difficult in the United States," he said, noting that the government "has elements in it that are deeply problematic and even offensive to most American Jews." 
He and Kaplowitz contend that it is possible, in their view, for rabbis to criticize aspects of the Israeli government from the pulpit while still remaining broadly supportive of the Jewish state and encouraging their congregants to be the same. They also say the need to build Zionist sentiment within the American rabbinate transcends any particular moment, including this one.
"If we have to transform how we connect to Israel each time there's an election, we'll be driving ourselves a little bit batty," Kaplowitz said.
Hirsch sits on the advisory board of another new pro-Israel initiative, the Zionist Rabbinic Coalition. Helmed by Stuart Weinblatt, senior rabbi at Conservative Congregation B'nai Tzedek in Potomac, Maryland, the group is an interdenominational network of more than 200 rabbis who advocate to "strengthen the ties between American Jewry and the State of Israel."
Weinblatt hews to an early generation's view of how rabbis should approach Israel from the pulpit. He told JTA that he believes his colleagues should always be supportive of Israel in public, even if they choose to pressure the Israeli government and advocate against certain policies in private — which, he says, is "the appropriate vehicle" for voicing concerns. "My position has always been that support for Israel should be unconditional," he said.
"If we as rabbis are sharply critical of Israel, the result can often lead to a distancing from Israel, which ultimately may diminish the connection people feel to Judaism and the Jewish people," he added. "People do not always distinguish and differentiate between opposition to a particular policy and broader criticisms of Israel which can do lasting damage."
Asked whether the Israeli government could ever conceivably take a step that would necessitate a public response from American rabbis, Weinblatt ruminated for days. He ultimately told JTA that the current debate around proposed changes to the Law of Return, the Israeli policy that allows anyone with at least one Jewish grandparent to claim citizenship, would be such an example, as that is a policy that would have a direct effect on Diaspora Jews.
Tightening who is eligible under the Law of Return is in fact a goal of some elements of Israel's governing coalition, although the Diaspora minister assured an audience in the United States that, unlike with the proposed changes to the government's judicial system — which have earned criticism across the political spectrum — there would be an effort to build consensus and no changes would happen overnight.
Still, the prospect of such a change so alarmed Rabbi Hillel Skolnick of Congregation Tifereth Israel in Columbus, Ohio, that he traveled to Jerusalem to address the Knesset, Israel's lawmaking body.
"The members of my congregation and my movement have a spiritual connection with Judaism and also a political connection because we live in a democracy, so they see a Jewish democracy as an ideal that they can look to as a light unto the nations," he said, in a speech he delivered as a representative of the Conservative/Masorti movement. 
"By even questioning the idea of the Law of Return," he went on, Israel "takes away from both the Jewish connection and the democratic connection they have with this country."
Skolnick suggested that he was unsure of how to speak to his congregation about the new government and its agenda. "My question to you is, what message can I go home with?" he asked.
This week, hundreds of American rabbis will be returning to their congregations with messages honed by a week in Israel. The Reform movement just concluded its biennial convention, which was held there for the first time since before the pandemic. Their visit coincided with major developments in the country's twin crises: The Knesset advanced the judicial reform legislation, and three people were killed in a Palestinian shooting and subsequent settler riot in the West Bank.
In a sign of the balancing act that American rabbis are navigating, the Reform movement's leader, Rabbi Rick Jacobs, who has been among the earliest and most outspoken critics of the new Israeli government, will also be a featured speaker at Amplify Israel's conference this May aiming to encourage Zionist sentiment among Reform Jews. 
At the convention, the leader of the Central Conference of American Rabbis called for Reform clergy to move away from defining Israel in stark black-and-white terms — an apparent reference to Jews who speak of "pro-Israel" and "anti-Israel" forces.
"In order to connect better with those in our communities around Israel in a nuanced and meaningful way, we must be able to move beyond the pro/con dichotomy which only serves to divide us in ways that are a distraction to the actual issues at hand," Rabbi Hara Person told the attendees. During the conference, the rabbis attended and voiced support for Israeli protests against their government.
"We are seeing a shift for the better, in my opinion, about how Jews are feeling comfortable critiquing Israel's policies," Rabbi Sarah Brammer-Shlay told JTA last fall, before the Israeli elections. Brammer-Shlay was a signer of the 2021 rabbinical students' letter who graduated from the Reconstructionist Rabbinical College and today is a rabbi and chaplain at Grinnell College. 
That kind of shift has Weinblatt worried. "Sometimes, rabbis are actually out of sync and out of touch with their congregations, who do want to hear messages of support of Israel," he said.
That may well be the case, particularly at synagogues with aging populations, but survey data suggests that American Jews are moving to the left on Israel at the same time that Israel itself has shifted to the right. The most recent Pew Research Center survey of American Jews, in 2021, found that most have a negative opinion of Israel Prime Minister Benjamin Netanyahu; only one-third think Israel is making a sincere effort to achieve peace with Palestinians; and 10% support the Boycott, Divestment, Sanctions movement against Israel.
While rabbis typically consider what they think their congregants want to hear, they aren't bound to say it. And some rabbis say this moment is a time to take a stand, even if there is blowback.
Rabbi Jeremy Kalmanofsky of Congregation Ansche Chesed, a Conservative congregation on Manhattan's Upper West Side, announced in December that his congregation would no longer recite the Prayer for the State of Israel, part of most congregations' Shabbat morning liturgy since 1948. He said the extremism of Israel's leadership meant the words no longer applied, and replaced the prayer with the more generally worded Prayer for Peace in Jerusalem.
"I couldn't just say, 'God, please guide our leaders well,'" Kalmanofsky said, pointing specifically to the fact that extremist politicians Itamar Ben-Gvir and Bezalel Smotrich were now government ministers who would be the beneficiaries of such prayer. "The things that they're saying cannot possibly represent the Israel that I want to support." 
Kalmanofsky had not previously been outspoken as a critic of Israeli policy. He said he has faced some tough feedback from some in his community, including from those who believe this is a moment that demands more, not less, prayer for Israel — "not an unreasonable response," he said. But a month into the liturgy change, he said he is confident he has made the right decision.
"Something really meaningful had changed in the public life of the state of Israel," he said. "That deserved real recognition, and a real response."
Continuing to focus on preserving a Jewish connection with Israel without "dealing like grown-ups" with its "very serious problems" would render the rabbinical voice irrelevant, Kalmanofsky said. "At best, we're kind of like, 'blind love, blind loyalty.' And at worst, we're totally obtuse, and have nothing meaningful to say about the real world."
"If you're going to have a pulpit," Kalmanofsky added, "you're going to have to use it once in a while."
—
The post American rabbis, wrestling with Israel's behavior, weigh different approaches from the pulpit appeared first on Jewish Telegraphic Agency.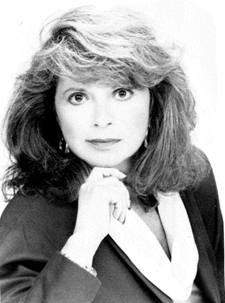 Phyllis Pollock died at home Sunday September 3, 2023 in Winnipeg, after a courageous lifetime battle with cancer.
Phyllis was a mother of four: Gary (Laura), daughter Randi, Steven (deceased in 2010) (Karen), and Robert. Phyllis also had two grandchildren: Lauren and Quinn.
Born in Fort Frances, Ontario on February 7, 1939, Phyllis was an only child to Ruby and Alex Lerman. After graduating high school, Phyllis moved to Winnipeg where she married and later divorced Danny Pollock, the father of her children. She moved to Beverly Hills in 1971, where she raised her children.
Phyllis had a busy social life and lucrative real estate career that spanned over 50 years, including new home sales with CoastCo. Phyllis was the original sales agent for three buildings in Santa Monica, oceanfront: Sea Colony I, Sea Colony II, and Sea Colony. She was known as the Sea Colony Queen. She worked side by side with her daughter Randi for about 25 years – handling over 600 transactions, including sales and leases within the three phases of Sea Colony alone.
Phyllis had more energy than most people half her age. She loved entertaining, working in the real estate field, meeting new and interesting people everyday no matter where she went, and thrived on making new lifelong friends. Phyllis eventually moved to the Sea Colony in Santa Monica where she lived for many years before moving to Palm Desert, then Winnipeg.
After battling breast cancer four times in approximately 20 years, she developed metastatic Stage 4 lung cancer. Her long-time domestic partner of 27 years, Joseph Wilder, K.C., was the love of her life. They were never far apart. They traveled the world and went on many adventures during their relationship. During her treatment, Phyllis would say how much she missed work and seeing her clients. Joey demonstrated amazing strength, love, care, and compassion for Phyllis as her condition progressed. He was her rock and was by her side 24/7, making sure she had the best possible care. Joey's son David was always there to support Phyllis and to make her smile. Joey's other children, Sheri, Kenny, Joshua and wife Davina, were also a part of her life. His kids would Facetime Phyllis and include her during any of their important functions. Phyllis loved Joey's children as if they were her own.
Thank you to all of her friends and family who were there to support her during these difficult times. Phyllis is now, finally, pain free and in a better place. She was loved dearly and will be greatly missed. Interment took place in Los Angeles.
Gwen Centre Creative Living Centre celebrates 35th anniversary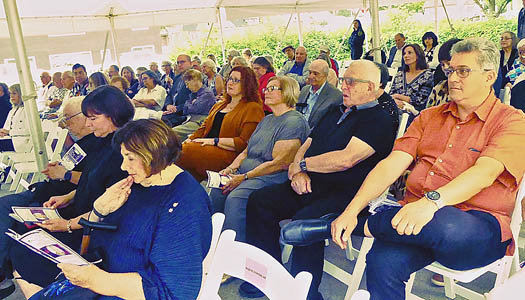 By BERNIE BELLAN Over 100 individuals gathered at the Gwen Secter Centre on Tuesday evening, July 18 – under the big top that serves as the venue for the summer series of outdoor concerts that is now in its third year at the centre.
The occasion was the celebration of the Gwen Secter Centre's 35th anniversary. It was also an opportunity to honour the memory of Sophie Shinewald, who passed away at the age of 106 in 2019, but who, as recently as 2018, was still a regular attendee at the Gwen Secter Centre.
As Gwen Secter Executive Director Becky Chisick noted in her remarks to the audience, Sophie had been volunteering at the Gwen Secter Centre for years – answering the phone among other duties. Becky remarked that Sophie's son, Ed Shinewald, had the phone number for the Gwen Secter Centre stored in his phone as "Mum's work."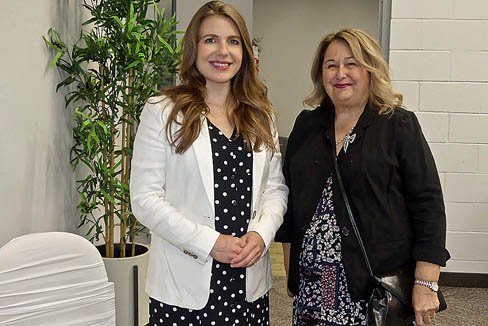 Remarks were also delivered by Raquel Dancho, Member of Parliament for Kildonan-St. Paul, who was the only representative of any level of government in attendance. (How times have changed: I remember well the steadfast support the former Member of the Legislature for St. John's, Gord Mackintosh, showed the Gwen Secter Centre when it was perilously close to being closed down. And, of course, for years, the area in which the Gwen Secter Centre is situated was represented by the late Saul Cherniack.)
Sophie Shinewald's granddaughter, Alix (who flew in from Chicago), represented the Shinewald family at the event. (Her brother, Benjamin, who lives in Ottawa, wasn't able to attend, but he sent a pre-recorded audio message that was played for the audience.)
Musical entertainment for the evening was provided by a group of talented singers, led by Julia Kroft. Following the concert, attendees headed inside to partake of a sumptuous assortment of pastries, all prepared by the Gwen Secter culinary staff. (And, despite my asking whether I could take a doggy bag home, I was turned down.)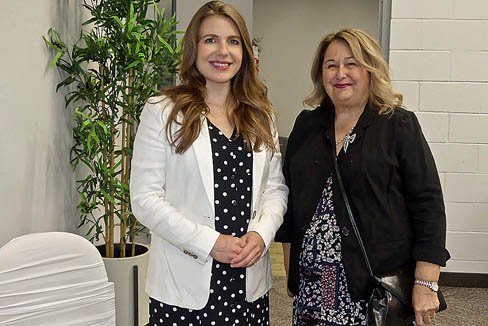 Palestinian gunmen kill 4 Israelis in West Bank gas station
This is a developing story.
(JTA) — Palestinian gunmen killed four people and wounded four in a terror attack at a gas station near the West Bank settlement of Eli, the Israeli army reported.
An Israeli civilian returning fire at the scene of the attack on Tuesday killed one of the attackers, who emerged from a vehicle, and two others fled.
Kan, Israel's public broadcaster, said one of those wounded was in serious condition. The gunmen, while in the vehicle, shot at a guard post at the entry to the settlement, and then continued to the gas station which is also the site of a snack bar. A nearby yeshiva went into lockdown.
Israeli Defense Minister Yoav Gallant announced plans to convene a briefing with top security officials within hours of the attack. Kan reported that there were celebrations of the killing in major West Bank cities and in the Gaza Strip, initiated by terrorist groups Hamas and Palestinian Islamic Jihad. Hamas said the shooting attack Tuesday was triggered by the Jenin raid.
The shooting comes as tensions intensify in the West Bank. A day earlier, Israeli troops raiding the city of Jenin to arrest accused terrorists killed five people.
The Biden administration spoke out over the weekend against Israel's plans to build 4,000 new housing units for Jewish settlers in the West Bank. Israeli Prime Minister Benjamin Netanyahu also finalized plans to  transfer West Bank building decisions to Bezalel Smotrich, the extremist who is the finance minister. Smotrich has said he wants to limit Palestinian building and expand settlement building.
Kan reported that the dead terrorist was a resident of a village, Urif, close to Huwara, the Palestinian town where terrorists killed two Israeli brothers driving through in February. Settlers retaliated by raiding the village and burning cars and buildings.
—
The post Palestinian gunmen kill 4 Israelis in West Bank gas station appeared first on Jewish Telegraphic Agency.