Can a Jewish fan watch the Super Bowl with a clean conscience? The rabbis had thoughts.
(JTA) — In January, 24-year-old Damar Hamlin of the Buffalo Bills collapsed on the field after experiencing cardiac arrest. His team and the entire NFL community rallied around him. His first words upon awakening: "Who won?"  
Although Hamlin's medical crisis was a rare on-field occurrence, the trauma surrounding his collapse stirred up age-old questions for me, and for many of us, about the toll football takes on the bodies of its players. What are we allowing to happen to these young men, in the name of sportsmanship, entertainment and national identity? When the Super Bowl airs on Sunday, what is our responsibility as spectators?
While still a newcomer to football, I turned to Jewish texts to help me find answers, and fascinatingly, I found a striking parallel between the rabbis of old and two contemporary journalists.
In 2009, in a scathing critique in The New Yorker, Malcolm Gladwell denounced the game for the serious and long-lasting damage it does to players — especially traumatic brain injuries and debilitating neurological disorders resulting from repeated blows to the head — and placed the blame squarely on the fans. "There is nothing else to be done, not so long as fans stand and cheer," he wrote. "We are in love with football players, with their courage and grit, and nothing else — neither considerations of science nor those of morality — can compete with the destructive power of that love."
William C. Rhoden wrote a heartfelt piece after Hamlin's collapse, where he reflected on his own experience as a professional sports reporter of over 40 years. "We're used to ferocious collisions and mostly happy endings. We applaud the player as he walks off the field, then sit back down in our seats, in our suites, in our press boxes and focus on the next play," he wrote. "I realized, with sadness, the extent to which I had become desensitized to the real-life violence of our national pastime."  
Gladwell and Rhoden both recognize that football has inherent violence, and that as spectators we have an obligation to contend with it. Gladwell is pointing to the fans' desire for violence, which makes them culpable in the destructive nature of the sport. Rhoden asks fans to notice their own callousness as they behold the effects of that violence.  
This same dichotomy is reflected in the rabbis' understanding as well. Indeed, many of the rabbis of the Talmud lived in the Greco-Roman world, when gladiators would battle with one another to the death, for thousands of people to watch. One of the most extolled rabbinic figures, Rabbi Shimon Ben Lakish, is said to have himself been a mighty gladiator who eventually escaped that life to become a great sage. 
In the Tosefta, an ancient Jewish legal code contemporaneous to the Talmud, a question is raised about whether one is allowed to attend Roman amphitheaters and stadiums. For some of these venues, the concerns center around viewing and possibly participating in forbidden idol worship, or associating with foolishness and taking time away from more serious pursuits. 
However, by far the greatest concern is that of attending events in stadiums where violence is prevalent. Indeed, the text goes as far as to say that "one who sits in a Stadium, is one who sheds blood." (Tosefta Avoda Zarah 2.2) Here we see the same concerns that Gladwell raised, that by being a spectator of this violence, you are yourself more than a bystander. Indeed, if there were no fans, there would be no audience for these violent spectacles — making fans directly culpable in these acts of bloodshed.
The Tosefta then quotes another perspective: "Rabbi Natan permits [going to Roman stadiums] because of two things: because of crying and saving a life and because of testifying for a woman that would remarry." 
Rabbi Natan here desires to find justifications for why one could attend these events. He refers to the idea that during a gladiator event, the crowd could cheer for the losing fighter, and beg for mercy so that he would not be killed. A Jew is therefore permitted to attend because they could potentially save a life. An additional reason: They could also provide eyewitness testimony to a person's death, thus causing the victim's wife to become free to remarry. 
Recently, while learning this text with my colleagues at The Jewish Education Project, we understood Rabbi Natan as showing a keen understanding of the reality of his time. People will attend these games, and these games are a part of the Jewish community's life. Rather than forbidding them from going, he explains that there are positive motivations for their attendance. 
In many ways, this matches the Rhoden position as well. He assumes we will continue to watch sports, report on games and enter fantasy football leagues. Yet, what should our motivations be as we watch these games? Do we voyeuristically cheer for the violence, enjoying the hard hits? Or can we re-sensitize ourselves and remind ourselves that these are human beings with families, and futures after their playing days are over?
I am still thinking about those awful moments in Buffalo, when Hamlin fell to the ground. All that time he spent training, the myriad ways he has broken his body for our viewing pleasure, and the lengthy rehabilitation ahead of him.
For those of us who will watch the hard hits this Sunday, I offer a charge: Do not allow yourself to ignore the pain and violence you see. Actively re-sensitize yourself to the humanity of these players. Commit to understanding what the policies are that will make this sport safer, and demand their implementation. Watch this game as Rabbi Natan teaches: with the intention to call out for justice wherever you can.
—
The post Can a Jewish fan watch the Super Bowl with a clean conscience? The rabbis had thoughts. appeared first on Jewish Telegraphic Agency.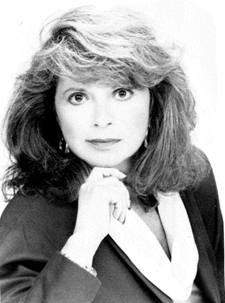 Phyllis Pollock died at home Sunday September 3, 2023 in Winnipeg, after a courageous lifetime battle with cancer.
Phyllis was a mother of four: Gary (Laura), daughter Randi, Steven (deceased in 2010) (Karen), and Robert. Phyllis also had two grandchildren: Lauren and Quinn.
Born in Fort Frances, Ontario on February 7, 1939, Phyllis was an only child to Ruby and Alex Lerman. After graduating high school, Phyllis moved to Winnipeg where she married and later divorced Danny Pollock, the father of her children. She moved to Beverly Hills in 1971, where she raised her children.
Phyllis had a busy social life and lucrative real estate career that spanned over 50 years, including new home sales with CoastCo. Phyllis was the original sales agent for three buildings in Santa Monica, oceanfront: Sea Colony I, Sea Colony II, and Sea Colony. She was known as the Sea Colony Queen. She worked side by side with her daughter Randi for about 25 years – handling over 600 transactions, including sales and leases within the three phases of Sea Colony alone.
Phyllis had more energy than most people half her age. She loved entertaining, working in the real estate field, meeting new and interesting people everyday no matter where she went, and thrived on making new lifelong friends. Phyllis eventually moved to the Sea Colony in Santa Monica where she lived for many years before moving to Palm Desert, then Winnipeg.
After battling breast cancer four times in approximately 20 years, she developed metastatic Stage 4 lung cancer. Her long-time domestic partner of 27 years, Joseph Wilder, K.C., was the love of her life. They were never far apart. They traveled the world and went on many adventures during their relationship. During her treatment, Phyllis would say how much she missed work and seeing her clients. Joey demonstrated amazing strength, love, care, and compassion for Phyllis as her condition progressed. He was her rock and was by her side 24/7, making sure she had the best possible care. Joey's son David was always there to support Phyllis and to make her smile. Joey's other children, Sheri, Kenny, Joshua and wife Davina, were also a part of her life. His kids would Facetime Phyllis and include her during any of their important functions. Phyllis loved Joey's children as if they were her own.
Thank you to all of her friends and family who were there to support her during these difficult times. Phyllis is now, finally, pain free and in a better place. She was loved dearly and will be greatly missed. Interment took place in Los Angeles.
Gwen Centre Creative Living Centre celebrates 35th anniversary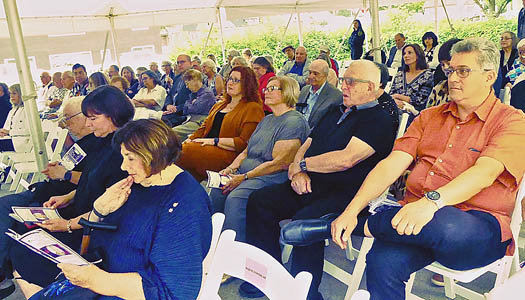 By BERNIE BELLAN Over 100 individuals gathered at the Gwen Secter Centre on Tuesday evening, July 18 – under the big top that serves as the venue for the summer series of outdoor concerts that is now in its third year at the centre.
The occasion was the celebration of the Gwen Secter Centre's 35th anniversary. It was also an opportunity to honour the memory of Sophie Shinewald, who passed away at the age of 106 in 2019, but who, as recently as 2018, was still a regular attendee at the Gwen Secter Centre.
As Gwen Secter Executive Director Becky Chisick noted in her remarks to the audience, Sophie had been volunteering at the Gwen Secter Centre for years – answering the phone among other duties. Becky remarked that Sophie's son, Ed Shinewald, had the phone number for the Gwen Secter Centre stored in his phone as "Mum's work."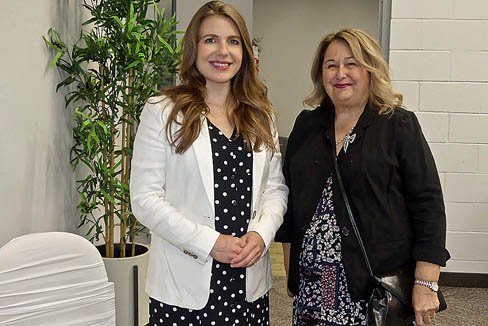 Remarks were also delivered by Raquel Dancho, Member of Parliament for Kildonan-St. Paul, who was the only representative of any level of government in attendance. (How times have changed: I remember well the steadfast support the former Member of the Legislature for St. John's, Gord Mackintosh, showed the Gwen Secter Centre when it was perilously close to being closed down. And, of course, for years, the area in which the Gwen Secter Centre is situated was represented by the late Saul Cherniack.)
Sophie Shinewald's granddaughter, Alix (who flew in from Chicago), represented the Shinewald family at the event. (Her brother, Benjamin, who lives in Ottawa, wasn't able to attend, but he sent a pre-recorded audio message that was played for the audience.)
Musical entertainment for the evening was provided by a group of talented singers, led by Julia Kroft. Following the concert, attendees headed inside to partake of a sumptuous assortment of pastries, all prepared by the Gwen Secter culinary staff. (And, despite my asking whether I could take a doggy bag home, I was turned down.)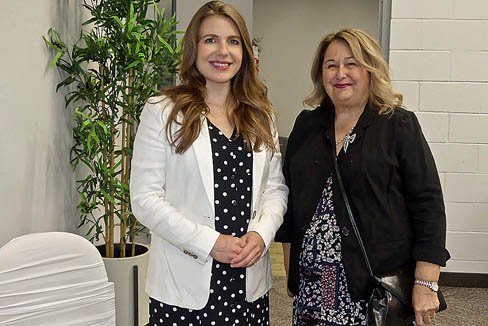 Palestinian gunmen kill 4 Israelis in West Bank gas station
This is a developing story.
(JTA) — Palestinian gunmen killed four people and wounded four in a terror attack at a gas station near the West Bank settlement of Eli, the Israeli army reported.
An Israeli civilian returning fire at the scene of the attack on Tuesday killed one of the attackers, who emerged from a vehicle, and two others fled.
Kan, Israel's public broadcaster, said one of those wounded was in serious condition. The gunmen, while in the vehicle, shot at a guard post at the entry to the settlement, and then continued to the gas station which is also the site of a snack bar. A nearby yeshiva went into lockdown.
Israeli Defense Minister Yoav Gallant announced plans to convene a briefing with top security officials within hours of the attack. Kan reported that there were celebrations of the killing in major West Bank cities and in the Gaza Strip, initiated by terrorist groups Hamas and Palestinian Islamic Jihad. Hamas said the shooting attack Tuesday was triggered by the Jenin raid.
The shooting comes as tensions intensify in the West Bank. A day earlier, Israeli troops raiding the city of Jenin to arrest accused terrorists killed five people.
The Biden administration spoke out over the weekend against Israel's plans to build 4,000 new housing units for Jewish settlers in the West Bank. Israeli Prime Minister Benjamin Netanyahu also finalized plans to  transfer West Bank building decisions to Bezalel Smotrich, the extremist who is the finance minister. Smotrich has said he wants to limit Palestinian building and expand settlement building.
Kan reported that the dead terrorist was a resident of a village, Urif, close to Huwara, the Palestinian town where terrorists killed two Israeli brothers driving through in February. Settlers retaliated by raiding the village and burning cars and buildings.
—
The post Palestinian gunmen kill 4 Israelis in West Bank gas station appeared first on Jewish Telegraphic Agency.