Comedians are just as capable of antisemitic incitement as political figures. So let's take Dave Chappelle seriously.
(JTA) — Last week saw Dave Chappelle deliver a brilliant monologue on "Saturday Night Live" addressing the antisemitism controversies surrounding Kanye West and Kyrie Irving.
Unfortunately, "brilliant" doesn't inherently mean "moral" or "good." Chappelle's monologue was a masterclass in how to normalize and embolden antisemitic discourse, delivered in plain sight and with just enough "wink wink, nudge nudge" plausible deniability — mixed in with a sprinkle of real commentary — that one would easily almost not realize that … wait, did Chappelle denounce anything exactly?
He opened the monologue by pretending to read from the kind of apology being demanded of Kanye West, the rapper who in recent weeks had exposed various antisemitic tropes. "I denounce antisemitism in all its forms, and I stand with my friends in the Jewish community," Chappelle "read," mocking the boilerplate apologies that often arise in these moments. At face value, it's a great piece of satire. But then he follows up with the punchline: "And that, Kanye, is how you buy yourself some time."
He isn't holding West to account. He's clearing the way and setting the stage for the finest bout of antisemitic dogwhistling probably ever featured on "SNL."
There is legitimate commentary to be made about the often disproportionate and racialized vitriol directed at  Black Americans who engage in antisemitism, coming from a society that revels in Black pain and punishment. Jews of color, and especially Black Jews like me, have been addressing this reality across social media for decades, noting the lack of intensity and accountability when the shoe is on the other foot — when Jewish figures espouse anti-blackness.
But this monologue by a Black comedian is making no such argument. And it comes as more bold and brazen bad-faith actors are acting out in more and more violent ways. Comedians are just as capable of incitement as political figures.
Chappelle is wildly adept at structuring complex jokes. For years he deftly delivered biting, raw and real socio-racial commentary, from his standup routines to "The Chappelle Show," and since the 2000s has positioned himself as an astute teller of hard truths. If you doubt the man's intelligence, watch what he does late in the "SNL" routine when he talks about Donald Trump.
With backhanded praise, Chappelle attributes Trump's popularity and appeal to his skill at being an "honest liar." Never before, said Chappelle, had voters seen a billionaire "come from inside the house and tell the commoners, 'Inside that house we're doing everything you think we're doing.' And then he went right back inside the house and started playing the game again."
Chappelle took notes on Trump's knack for saying exactly what he means and telling people exactly what he planned to do.
When Chappelle says there are two words you should never say together — "the" and "Jews" — he's not speaking against antisemitic conspiracy theories that treat Jews as a scheming monolith. He's insinuating instead that there is a "The Jews" that should never be challenged. (Chappelle goes on to repeatedly use the phrase "The Jews" in his monologue.) The one time he uses "the Jewish community" is to introduce the straw man argument that Black Americans should not be blamed for the terrible things that have happened to "the Jewish community" all over the world — a declaration so baffling that only one person in the audience responds. After all, no one was blaming West or Irving, the NBA star who shared on Twitter a link to a wildly antisemitic film, for the terrible things that happened to Jews. They were just being asked not to promote the ideas of people who had done those terrible things.
Also on full display is Chappelle's deft, almost "1984"-esque doublespeak. Chappelle notes that when he first saw the controversy building around West's antisemitism, he thought "Let me see what's going to happen first" — a strange and telling equivocation. Chappelle diminishes the significance of the film shared by Irving, "Hebrews to Negroes: Wake Up Black America," by describing it as "apparently having some antisemitic tropes or something," but then jokes that Irving probably doesn't think the Holocaust happened — a trope presented in said movie.
Chappelle is reluctant to call Kanye "crazy" but acknowledges he is "possibly not well," but has no problem referring to Georgia Senate candidate Herschel Walker as "observably stupid."
Ultimately and persistently, Chappelle suggests that Kanye erred not in being antisemitic, but in being antisemitic out loud.
Most insidious in this regard was his seeming rejection of the notion, promoted by West, that Jews control Hollywood. Said Chappelle: "It's a lot of Jews [in Hollywood]. Like a lot. But that doesn't mean anything, you know what I mean? There's a lot of Black people in Ferguson, Missouri. It doesn't mean we run the place." He refers to the idea that Jews control Hollywood as a "delusion."
And then, rather than let this necessary distinction set in, he undercuts it, saying, "It's not a crazy thing to think. But it's a crazy thing to say out loud in a climate like this." The problem, Chappelle is suggesting, is not harboring dangerous delusions, but saying them in public and risking being called on it. The "climate" is not one of dangerous antisemitism, but the danger of speaking one's mind.
Chappelle telegraphed this sentiment with an earlier quip: West, he said "had broken the show business rules. You know, the rules of perception. If they're Black, then it's a gang. If they're Italian, it's a mob, but if they're Jewish, it's a coincidence and you should never speak about it."
The "perception" is that only Jews can't be spoken of in derogatory terms. Kanye wasn't wrong for thinking antisemitic thoughts, Chappelle suggests, but, again, speaking about them.
There are lots of jokes made in Hollywood at the expense of Jews. This, however, was not a case of Jews being unable to laugh at ourselves. There's a difference between laughing at ourselves and having someone who isn't Jewish use "wink wink" antisemitic tropes. It's not that Chappelle's monologue wasn't funny on its face, it's that it was harmful. This isn't happening in a vacuum: It's happening in a specific context, particularly one in which antisemitism has already been riled up and emboldened by Kanye and Irving. ("Hebrews to Negroes" became a bestseller on Amazon after Irving tweeted about it.)
It just takes the wrong kind of person to hear this monologue for us to experience, God forbid, another Tree of Life shooting. I didn't particularly relish the wake of the first shooting when, as the rabbi of a congregation in Rockland County, New York, I met with county officials and negotiated police presences, and discussed mass-shooter evasion tactics to ensure the safety of my congregants.
For anyone who thinks Chappelle's monologue was "just jokes" or that I am reading too much into it, consider his last line — a bravura complaint about cancel culture and the unspoken forces behind it: "I'll be honest with you. I'm getting sick of talking to a crowd like this. I love you to death and I thank you for your support. And I hope they don't take anything away from me. [ominous voice] Whoever 'they' are."
—
The post Comedians are just as capable of antisemitic incitement as political figures. So let's take Dave Chappelle seriously. appeared first on Jewish Telegraphic Agency.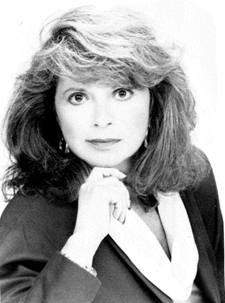 Phyllis Pollock died at home Sunday September 3, 2023 in Winnipeg, after a courageous lifetime battle with cancer.
Phyllis was a mother of four: Gary (Laura), daughter Randi, Steven (deceased in 2010) (Karen), and Robert. Phyllis also had two grandchildren: Lauren and Quinn.
Born in Fort Frances, Ontario on February 7, 1939, Phyllis was an only child to Ruby and Alex Lerman. After graduating high school, Phyllis moved to Winnipeg where she married and later divorced Danny Pollock, the father of her children. She moved to Beverly Hills in 1971, where she raised her children.
Phyllis had a busy social life and lucrative real estate career that spanned over 50 years, including new home sales with CoastCo. Phyllis was the original sales agent for three buildings in Santa Monica, oceanfront: Sea Colony I, Sea Colony II, and Sea Colony. She was known as the Sea Colony Queen. She worked side by side with her daughter Randi for about 25 years – handling over 600 transactions, including sales and leases within the three phases of Sea Colony alone.
Phyllis had more energy than most people half her age. She loved entertaining, working in the real estate field, meeting new and interesting people everyday no matter where she went, and thrived on making new lifelong friends. Phyllis eventually moved to the Sea Colony in Santa Monica where she lived for many years before moving to Palm Desert, then Winnipeg.
After battling breast cancer four times in approximately 20 years, she developed metastatic Stage 4 lung cancer. Her long-time domestic partner of 27 years, Joseph Wilder, K.C., was the love of her life. They were never far apart. They traveled the world and went on many adventures during their relationship. During her treatment, Phyllis would say how much she missed work and seeing her clients. Joey demonstrated amazing strength, love, care, and compassion for Phyllis as her condition progressed. He was her rock and was by her side 24/7, making sure she had the best possible care. Joey's son David was always there to support Phyllis and to make her smile. Joey's other children, Sheri, Kenny, Joshua and wife Davina, were also a part of her life. His kids would Facetime Phyllis and include her during any of their important functions. Phyllis loved Joey's children as if they were her own.
Thank you to all of her friends and family who were there to support her during these difficult times. Phyllis is now, finally, pain free and in a better place. She was loved dearly and will be greatly missed. Interment took place in Los Angeles.
Gwen Centre Creative Living Centre celebrates 35th anniversary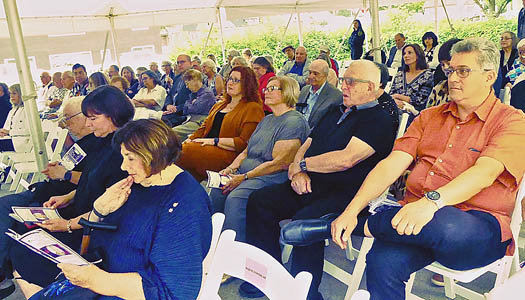 By BERNIE BELLAN Over 100 individuals gathered at the Gwen Secter Centre on Tuesday evening, July 18 – under the big top that serves as the venue for the summer series of outdoor concerts that is now in its third year at the centre.
The occasion was the celebration of the Gwen Secter Centre's 35th anniversary. It was also an opportunity to honour the memory of Sophie Shinewald, who passed away at the age of 106 in 2019, but who, as recently as 2018, was still a regular attendee at the Gwen Secter Centre.
As Gwen Secter Executive Director Becky Chisick noted in her remarks to the audience, Sophie had been volunteering at the Gwen Secter Centre for years – answering the phone among other duties. Becky remarked that Sophie's son, Ed Shinewald, had the phone number for the Gwen Secter Centre stored in his phone as "Mum's work."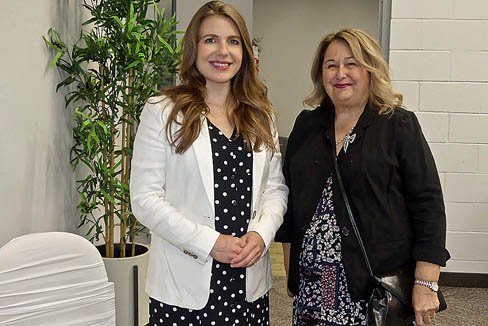 Remarks were also delivered by Raquel Dancho, Member of Parliament for Kildonan-St. Paul, who was the only representative of any level of government in attendance. (How times have changed: I remember well the steadfast support the former Member of the Legislature for St. John's, Gord Mackintosh, showed the Gwen Secter Centre when it was perilously close to being closed down. And, of course, for years, the area in which the Gwen Secter Centre is situated was represented by the late Saul Cherniack.)
Sophie Shinewald's granddaughter, Alix (who flew in from Chicago), represented the Shinewald family at the event. (Her brother, Benjamin, who lives in Ottawa, wasn't able to attend, but he sent a pre-recorded audio message that was played for the audience.)
Musical entertainment for the evening was provided by a group of talented singers, led by Julia Kroft. Following the concert, attendees headed inside to partake of a sumptuous assortment of pastries, all prepared by the Gwen Secter culinary staff. (And, despite my asking whether I could take a doggy bag home, I was turned down.)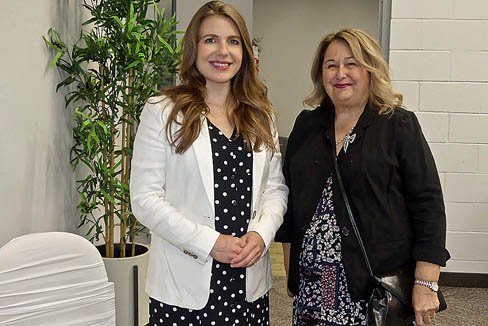 Palestinian gunmen kill 4 Israelis in West Bank gas station
This is a developing story.
(JTA) — Palestinian gunmen killed four people and wounded four in a terror attack at a gas station near the West Bank settlement of Eli, the Israeli army reported.
An Israeli civilian returning fire at the scene of the attack on Tuesday killed one of the attackers, who emerged from a vehicle, and two others fled.
Kan, Israel's public broadcaster, said one of those wounded was in serious condition. The gunmen, while in the vehicle, shot at a guard post at the entry to the settlement, and then continued to the gas station which is also the site of a snack bar. A nearby yeshiva went into lockdown.
Israeli Defense Minister Yoav Gallant announced plans to convene a briefing with top security officials within hours of the attack. Kan reported that there were celebrations of the killing in major West Bank cities and in the Gaza Strip, initiated by terrorist groups Hamas and Palestinian Islamic Jihad. Hamas said the shooting attack Tuesday was triggered by the Jenin raid.
The shooting comes as tensions intensify in the West Bank. A day earlier, Israeli troops raiding the city of Jenin to arrest accused terrorists killed five people.
The Biden administration spoke out over the weekend against Israel's plans to build 4,000 new housing units for Jewish settlers in the West Bank. Israeli Prime Minister Benjamin Netanyahu also finalized plans to  transfer West Bank building decisions to Bezalel Smotrich, the extremist who is the finance minister. Smotrich has said he wants to limit Palestinian building and expand settlement building.
Kan reported that the dead terrorist was a resident of a village, Urif, close to Huwara, the Palestinian town where terrorists killed two Israeli brothers driving through in February. Settlers retaliated by raiding the village and burning cars and buildings.
—
The post Palestinian gunmen kill 4 Israelis in West Bank gas station appeared first on Jewish Telegraphic Agency.