Converting to Judaism has defined my high school experience
This article was produced as part of JTA's Teen Journalism Fellowship, a program that works with Jewish teens around the world to report on issues that affect their lives.
(JTA) — During the pandemic, my mom decided to start baking; my friend Reagan learned Osage, a Native American language; my brother taught himself how to skateboard. 
I decided to channel my free time and energy into converting to Judaism. 
Growing up in the Bible Belt, I was only ever exposed to Christian theology. Almost everyone around me was a Baptist. Although my parents intentionally raised my brother and me without a focus on religion, I grew up going to Christian preschool, Christian summer camps, and being surrounded by other Christians–just because there weren't other options. While this wasn't necessarily a bad thing, I always knew that Christianity wasn't right for me.
At first, the idea of eternal life and an all-knowing God provided comfort, but as I got older I started to feel disconnected from Christianity. Concepts like the Holy Trinity never made sense to me, and by age 12 I thought I had given up on religion entirely.
I first started looking into Judaism towards the end of 2020. I'm not really sure what led me to this; I just stumbled upon it and found that its emphasis on making the ordinary holy, repairing the world, and the pursuit of knowledge was a perfect fit for my already existing beliefs. My parents were a little bit shocked but ultimately supportive when I told them that I wanted to convert. My mom's main concern was that I would become the target of antisemitism. "I'm happy for you and try not to think about the what-ifs," she said while driving me to the Jewish community center so that I could board the bus headed to the BBYO Jewish youth group's International Convention. 
In the spring of 2021, I emailed the rabbi at a local synagogue about my potential conversion. During our first conversation, he asked me if I'd heard about the custom of rabbis turning away potential candidates three times. I told him I had, but that if he turned me away I would just keep coming back. After the meeting, I signed up for conversion classes and started attending services regularly — and I wasn't alone. 
According to a 2021 Tablet survey, 43% of American rabbis are seeing more conversion candidates than before. The reasons for conversion are diverse. Some candidates fell down an internet rabbit hole that led to a passion for Judaism. Others took an ancestry test and wanted to reconnect with their Jewish heritage. Many were raised as Reform Jews but weren't Jewish according to stricter halachic, or Jewish legal, standards and decided to convert under Conservative or Orthodox auspices. Despite the common stereotype that Jews by choice must be converting for the sake of marriage, many rabbis said that converts are less likely than ever to be converting for a Jewish partner. 
After meeting with a rabbi about the potential conversion, candidates are expected to learn everything they can about Judaism. In my case, that meant 21 weeks of hour-long, weekly conversion classes in addition to independent study on Jewish mysticism, traditions, and ideas. Candidates are also expected to become active members of their local Jewish community and attend services regularly. 
Once the candidate and the rabbi feel they are ready to convert, a beit din, or a court usually made up of three rabbis, is assembled. They will conduct an interview, asking the candidate about what brought them to Judaism and basic questions about what was taught during conversion classes. When the beit din has guaranteed that the candidate genuinely wants to convert, the candidate immerses in the mikveh, a pool used for ritual purification. After submerging in the mikveh, the convert is considered to be officially Jewish and is typically called up for an aliyah, ascending the platform where the Torah is read. 
According to Rabbi Darah Lerner, who served in Bangor, Maine before her retirement last year, the main difference between teens converting alone and teens converting with their family is the parental approval that's needed, but otherwise the process is very similar. "I treated them pretty much as I did with adults," she said. For me, the only parental approval needed was my mom telling my rabbi that she and my dad were fine with me starting the conversion process. She also noted that it was easier for teens to integrate into the Jewish community because people were excited to see young people interested in Judaism. 
She said that the Jewish community gave the teens a place where they could ask questions and not be shut down. "If they have a pushback, or a curiosity, or a problem we allow them to ask it and we give them real answers or resources," she said. 
"I feel extremely privileged when youth come to me with these questions and these desires," Rabbi Rachael Jackson, from Hendersonville, North Carolina. Jackson has worked with three teens in the conversion process over the past two years. Like Lerner, she doesn't require teens to wait until they turn 18 to begin the conversion process. However, it's not unusual for rabbis to recommend that teens wait until they turn 18 to begin their conversion.
My conversion process has defined my high school experience. I've been able to connect with other Jews at my school through BBYO, which has helped me find a community at school and meet people who I might not have met otherwise. Although it's made me feel farther from the Christian community I was once a part of, Judaism has given me spiritual fulfillment, a love for Israel, and a sense of community — both in my synagogue and my BBYO chapter. 
Others who have gone through the process feel much the same way. "I wouldn't even recognize myself," said Haven Lail, 17, from Hickory, North Carolina. "My whole personality is based on being Jewish. That's what I love." Adopted into a Jewish family at age 12, Lail felt drawn to Judaism because of the loving and accepting community she found. 
Raised as a nondenominational Christian, Lail attended church regularly with her biological parents, but not for the religious aspect. "It was all hellfire and brimstone," she said. Neglected by her birth parents, she only went to church because she knew there would be food there. 
Lail started the conversion process at age 12 through a Hebrew high school, and four years later, she submerged in the mikveh and signed a certificate finalizing her conversion. The process was simple, but she was shocked that so few Jews knew about the conversion process. "It was a little weird," she said. 
The Talmud says that because "the Jewish people were themselves strangers, they are not in a position to demean a convert because he is a stranger in their midst." However, it isn't uncommon for converts to feel alienated from the rest of the Jewish community. "There's this fear of going to college and still being othered because you still won't quite fit in with the people who have been raised Jewish," said one high school senior from North Carolina.
He was shocked by how alienated he felt after making his conversion public, and wanted to stay anonymous because he worries that once people find out that he converted, they'll see him differently. "I didn't ever really explain it to anybody except for the people really close to me," he said. But after his rabbi called him up for an aliyah — a blessing recited during the reading of the Torah — one woman from the congregation began to bring it up to him every time she saw him. "People don't realize that it can be a touchy thing and very, very othering," he said.
I usually don't mind personal questions about my conversion, but asking someone why they converted or pointing out that someone is a convert is frowned upon by Jewish law. I used to feel like everyone could tell that I wasn't raised Jewish, but after one of my BBYO advisors thought that my conversion was just a rumor and couldn't believe that it was true, I realized that wasn't the case.
All of my friends and peers who were raised Jewish have memories of Jewish summer camps, Shabbat dinners with family, and a lifetime of other experiences. I often struggle with not feeling "Jewish enough" or like I missed out, especially because so many Jewish customs revolve around the home and family. My parents will often come with me to Shabbat services, but don't participate in Jewish customs or celebrate Jewish holidays with me. "Anything that is a ritual in the home, they don't really have the ability to have that autonomy," said Rabbi Rachael Jackson of Agudas Israel Congregation in Hendersonville, North Carolina.
Grace Hamilton, a student at Muskingum University in New Concord, Ohio, has struggled with imposter syndrome during her conversion. Ever since she started college, she's been questioning her place in the Jewish community and hasn't been practicing Judaism as much as she used to. "I haven't prayed in a really long time," she said. She used to tell herself that once she finalized her conversion she would finally feel Jewish enough, but after a conversation with her rabbi, she realized that wasn't the case. 
According to Rabbi Rochelle Tulik at Temple B'rith Kodesh in Rochester, New York, many converts feel like they will never be Jewish enough. "That, no matter how hard they try, how many books they read or put on their shelves, no matter how often they come to services, or how many menorahs they light, somehow they'll be caught," she said in a Rosh Hashanah sermon she named "You Are Not an Imposter."
Despite the struggles that many converts face, others like Rabbi Natasha Mann, who now serves as a rabbi at New London Synagogue in England, immediately felt at home within the Jewish community. "I felt like people were excited to have me there and wanted to hear what I had to say," she said. After a family member mentioned that she might have Jewish ancestry, Mann began exploring out of curiosity. "I started looking into it, just because I felt that it was another piece of the puzzle," she said. 
Coming from an interreligious and intercultural family, she wanted to explore another aspect of her heritage, but ended up connecting with Judaism in a way that she hadn't connected with any other religion. After two years of study, she decided to officially start her conversion process.
The Jewish community gave Mann a place where her ideas were taken seriously and she could have religious discussions, even as a teen. "I don't know what my life would have looked like if I hadn't found somewhere to really express and delve into that," she said. "And luckily, I never have to."
—
The post Converting to Judaism has defined my high school experience appeared first on Jewish Telegraphic Agency.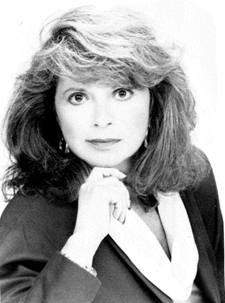 Phyllis Pollock died at home Sunday September 3, 2023 in Winnipeg, after a courageous lifetime battle with cancer.
Phyllis was a mother of four: Gary (Laura), daughter Randi, Steven (deceased in 2010) (Karen), and Robert. Phyllis also had two grandchildren: Lauren and Quinn.
Born in Fort Frances, Ontario on February 7, 1939, Phyllis was an only child to Ruby and Alex Lerman. After graduating high school, Phyllis moved to Winnipeg where she married and later divorced Danny Pollock, the father of her children. She moved to Beverly Hills in 1971, where she raised her children.
Phyllis had a busy social life and lucrative real estate career that spanned over 50 years, including new home sales with CoastCo. Phyllis was the original sales agent for three buildings in Santa Monica, oceanfront: Sea Colony I, Sea Colony II, and Sea Colony. She was known as the Sea Colony Queen. She worked side by side with her daughter Randi for about 25 years – handling over 600 transactions, including sales and leases within the three phases of Sea Colony alone.
Phyllis had more energy than most people half her age. She loved entertaining, working in the real estate field, meeting new and interesting people everyday no matter where she went, and thrived on making new lifelong friends. Phyllis eventually moved to the Sea Colony in Santa Monica where she lived for many years before moving to Palm Desert, then Winnipeg.
After battling breast cancer four times in approximately 20 years, she developed metastatic Stage 4 lung cancer. Her long-time domestic partner of 27 years, Joseph Wilder, K.C., was the love of her life. They were never far apart. They traveled the world and went on many adventures during their relationship. During her treatment, Phyllis would say how much she missed work and seeing her clients. Joey demonstrated amazing strength, love, care, and compassion for Phyllis as her condition progressed. He was her rock and was by her side 24/7, making sure she had the best possible care. Joey's son David was always there to support Phyllis and to make her smile. Joey's other children, Sheri, Kenny, Joshua and wife Davina, were also a part of her life. His kids would Facetime Phyllis and include her during any of their important functions. Phyllis loved Joey's children as if they were her own.
Thank you to all of her friends and family who were there to support her during these difficult times. Phyllis is now, finally, pain free and in a better place. She was loved dearly and will be greatly missed. Interment took place in Los Angeles.
Gwen Centre Creative Living Centre celebrates 35th anniversary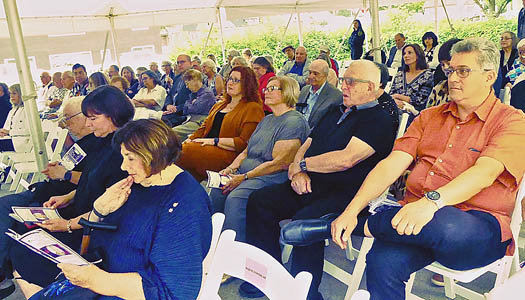 By BERNIE BELLAN Over 100 individuals gathered at the Gwen Secter Centre on Tuesday evening, July 18 – under the big top that serves as the venue for the summer series of outdoor concerts that is now in its third year at the centre.
The occasion was the celebration of the Gwen Secter Centre's 35th anniversary. It was also an opportunity to honour the memory of Sophie Shinewald, who passed away at the age of 106 in 2019, but who, as recently as 2018, was still a regular attendee at the Gwen Secter Centre.
As Gwen Secter Executive Director Becky Chisick noted in her remarks to the audience, Sophie had been volunteering at the Gwen Secter Centre for years – answering the phone among other duties. Becky remarked that Sophie's son, Ed Shinewald, had the phone number for the Gwen Secter Centre stored in his phone as "Mum's work."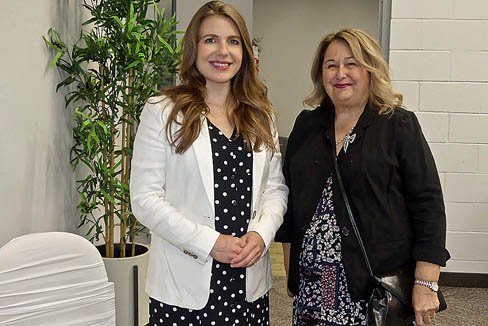 Remarks were also delivered by Raquel Dancho, Member of Parliament for Kildonan-St. Paul, who was the only representative of any level of government in attendance. (How times have changed: I remember well the steadfast support the former Member of the Legislature for St. John's, Gord Mackintosh, showed the Gwen Secter Centre when it was perilously close to being closed down. And, of course, for years, the area in which the Gwen Secter Centre is situated was represented by the late Saul Cherniack.)
Sophie Shinewald's granddaughter, Alix (who flew in from Chicago), represented the Shinewald family at the event. (Her brother, Benjamin, who lives in Ottawa, wasn't able to attend, but he sent a pre-recorded audio message that was played for the audience.)
Musical entertainment for the evening was provided by a group of talented singers, led by Julia Kroft. Following the concert, attendees headed inside to partake of a sumptuous assortment of pastries, all prepared by the Gwen Secter culinary staff. (And, despite my asking whether I could take a doggy bag home, I was turned down.)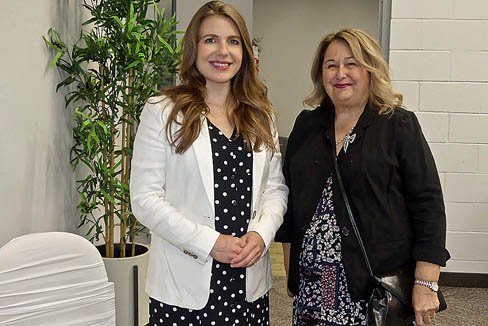 Palestinian gunmen kill 4 Israelis in West Bank gas station
This is a developing story.
(JTA) — Palestinian gunmen killed four people and wounded four in a terror attack at a gas station near the West Bank settlement of Eli, the Israeli army reported.
An Israeli civilian returning fire at the scene of the attack on Tuesday killed one of the attackers, who emerged from a vehicle, and two others fled.
Kan, Israel's public broadcaster, said one of those wounded was in serious condition. The gunmen, while in the vehicle, shot at a guard post at the entry to the settlement, and then continued to the gas station which is also the site of a snack bar. A nearby yeshiva went into lockdown.
Israeli Defense Minister Yoav Gallant announced plans to convene a briefing with top security officials within hours of the attack. Kan reported that there were celebrations of the killing in major West Bank cities and in the Gaza Strip, initiated by terrorist groups Hamas and Palestinian Islamic Jihad. Hamas said the shooting attack Tuesday was triggered by the Jenin raid.
The shooting comes as tensions intensify in the West Bank. A day earlier, Israeli troops raiding the city of Jenin to arrest accused terrorists killed five people.
The Biden administration spoke out over the weekend against Israel's plans to build 4,000 new housing units for Jewish settlers in the West Bank. Israeli Prime Minister Benjamin Netanyahu also finalized plans to  transfer West Bank building decisions to Bezalel Smotrich, the extremist who is the finance minister. Smotrich has said he wants to limit Palestinian building and expand settlement building.
Kan reported that the dead terrorist was a resident of a village, Urif, close to Huwara, the Palestinian town where terrorists killed two Israeli brothers driving through in February. Settlers retaliated by raiding the village and burning cars and buildings.
—
The post Palestinian gunmen kill 4 Israelis in West Bank gas station appeared first on Jewish Telegraphic Agency.