Dramatic stories of survival, endurance and escape reign as Ukrainian Jews mark 1 year of war
(JTA) — Most of the passengers on the flight from Chisinua, Moldova, to Tel Aviv earlier this month were subdued.
Some had just witnessed scene after scene of hardship on a tour of war-torn Ukraine organized by the International Fellowship of Christians and Jews. Others, about 90 in all, were Ukrainians in the process of moving permanently to Israel, talking in hushed tones about being on a plane for the first time, their uncertain future and the loved ones they left behind.
Alexei Shkurat was not subdued.
Bespectacled and bearded, he was standing in his seat, making wisecracks that caused the elderly woman in the seat next to him to guffaw despite herself.
"I like joking and communicating. It's my life, why waste it being nervous?" Shkurat told the Jewish Telegraphic Agency in English.
"And anyway, I'm happy, happy, happy I will soon see my sons again," he added.
Switching to Russian, Shkurat's brow furrowed and his voice lowered when he recounted how, on Feb. 28, 2022, he had risked his life to transport his sons, 14 and 12, to the border with Poland with their mother and grandmother. From there they would move to Israel.
Shkurat could not go with them. The borders were closed for military-aged men, so Shkurat was forced to drive back to his hometown of Odessa. What happened next, as he recounts it, was harrowing: As he passed an empty field near Lviv, he encountered two Ukrainian soldiers, their AK-74 rifles trained on him. Shkurat raised his hands and was told to step out of his vehicle. He knew that if he made one false move, he would be shot.
The soldiers searched the car and interrogated him, asking him why he was traveling alone after curfew and even asking if he was a Russian spy. Shkurat later learned that 40 Russian paratroopers had recently landed in the area and had stolen ambulances and police cars. He answered the soldiers in Russian, which only raised their suspicions. Ukrainian is the dominant language in western Ukraine, but as a Jew from Odessa, Shkurat's native tongue is Russian.
"I was terrified. I know that they were only doing their job, but the situation was so scary. Everything I ever knew in life had changed," he said.
Catch up on all of JTA's coverage of the Ukraine War here.
By a considerable stroke of luck, Shkurat, a street artist, was able to prove his identity by showing the soldiers his Instagram page, filled with posts of his art in locations all over Odessa.
But according to Shkurat, the story was far from over. The next chapter of his life was far more hair-raising, he said. Pressed on the details, Shkurat grinned and switched back to English.
"I can't tell you a thing," he said. "I want to sell the story to Netflix."
Whatever cinematic experience Shkurat might have had, his fellow passengers surely had made-for-the-movies stories of their own. They had made it through nearly a year of war before deciding to move to Israel, making them the latest of 5,000 new immigrants from Ukraine facilitated by the International Fellowship of Christians and Jews, working in collaboration with Israeli government entities such as Nativ and the Ministry of Aliyah and Integration. Approximately 15,000 Ukrainians in total have immigrated, or made aliyah, in the last year.
According to the group's vice president, Gidi Schmerling, if there is any upside to the war from Israel's perspective, it's that many middle-class Ukrainians — doctors, engineers and high-tech employees — who wouldn't have otherwise made aliyah are now choosing to do so.
But IFCJ's mandate also includes the Jews who stayed behind. Since Russian tanks first rumbled across the border a year ago, the group has raised more than $30 million dollars — primarily from evangelical Christians from North America and Korea — for the main Jewish organizations in Ukraine including the American Jewish Joint Distribution Committee, or JDC, and Chabad. (Both groups do extensive fundraising of their own.) This week, the anniversary of Russia's invasion, it announced another $4 million in planned spending.
In Odessa, more than 7,000 people currently receive aid from IFJC via local Jewish groups. The Jewish community, once 50,000 strong, now stands at 20,000, according to the city's chief rabbi, Avraham Wolff. Seven thousand food packages are distributed every month in Chabad centers. Many of the beneficiaries are older — among them some 187 Holocaust survivors — but not all. Several hundred are people who were displaced from surrounding cities, such as Mykolaiv, which was hit much harder by Russian shells, and some are the so-called new poor, those for whom the war has plunged into poverty from loss of income and rising inflation.
Ala Yakov Livne, an 86-year-old widow, is one of many who lined up recently to receive a box with oil, flour and other basic necessities. For Livne, the part that stings most about the last year is the sense of betrayal.
"[The Russians] were our neighbors. Many of them were our friends," she said.
"Times have changed but some things never change," Livne went on. "Back then, we were under occupation under the Nazis, back then, they tried to kill us, and now again, we are under occupation and they are trying to destroy us."
It was a refrain that would be repeated several times over the ensuing days. In a trembling voice, 85-year-old Holocaust survivor Yelena Kuklova, who as a child was hidden by her non-Jewish neighbors in a suitcase in a closet, echoed the sentiment.
"They killed us then because we were Jews. They are killing us today because we are Ukrainian," she said, a slow cascade of tears spilling over her cheekbones. "We started our lives in war and we're finishing them in war."
And so it was in battle-scarred Mykolaiv, 140 kilometers northeast of Odessa. "What the Germans never managed to do, the Russians did," said Eli Ben Mendel Hopstein, standing in front of his building, pockmarked from the shrapnel of a Russian missile.
Inside his home, Hopstein rifled through decades-old photos of himself in the navy. "I know danger," he said, "and I don't feel it now." He describes himself as a proud Jew. "First, I am a Jew, then I am Ukrainian, and I never once hid this from anyone."
Mykolaiv, pro-Russia before the war and now a vanguard of the south, has become a source of pride for its residents because of Russia's failure to occupy it. Even before the war, Mykolaiv was a desperately poor city. But now, following eight months of daily explosions, destruction is everywhere and the city's critical infrastructure has been badly damaged.
Like Odessa, the city has no electricity for up to 22 hours a day. For more than half a year, large swaths of the city had no water at all. Today, residents can turn on the tap and get a murky brown liquid known as technical water, but it is far from potable. For drinking and cooking, they are forced to collect safe water in plastic gallon bottles at water stations all over the city, many of which were installed by the Israeli nonprofit IsraAID.
Scenes of people placing buckets outside their houses in the hope of catching rainwater became ubiquitous in Mykolaiv. For its Jewish contingent, Chabad provides truckloads of bottled water. Hopstein credits the IFCJ and Chabad for keeping him alive.
"If it wasn't for their help, I would have nothing," he said.
Across the road from Hopstein, 82-year-old Galina Petrovna Mironenko, who is not Jewish, is not so lucky. A Russian S300 missile that appeared to be targeting a nearby university missed its mark and struck Mironenko's home, decimating her every earthly possession. Mironenko said the only help she gets is a weekly loaf of bread from the government. Standing in her charred kitchen, her red and blue checkered headscarf offering the only color, Mironenko's expression is almost childlike — a jarring contrast to the words she utters.
"I have died three times in my life," she said. "Once when my father died, again when my son died and a third time after the 20 minutes it took for my house to burn."
Back in Odessa, the sun has set and the city is cloaked in darkness, a cue that soon it will be time to head indoors for the nightly curfew. But first, a visit to the Orlikovsky family who are packing their suitcases ahead of their emigration the next day. On the couch in the tiny living room sit four generations of Jews: Alina; her daughter, Marina; her grandson Andrey; and Andrey's wife and daughter Viktoria and Sofiya.
Andrey recalls Feb. 24, 2022. "I couldn't believe my eyes and ears. I heard a terrible blast and grabbed my daughter and told my wife, 'Let's get out!' I thought my house was going to collapse like a doll's house."
But it would take nearly a year to finally make the move, because of Viktoria's late mother who was sick and because, in Andrey's words, "you get used to the bombs."
"We live without power, we live without heating, very often there is no hot water. We are living like insects," Alina said. "My children told me, mama, we need to go."
When the family finished speaking, the electricity came back and the lights turned on. Sofiya, 5 years old, laughed into her mother's chest.
The first anniversary of the war marks two weeks since Alexei Shkurat and the other 89 new arrivals were greeted on the tarmac of Ben Gurion Airport by Israel's new immigration minister, Ofir Sofer. Shkurat is on the lookout for a permanent home in a place where he can sell his art.
"I am getting to know the country and looking for new friends," he said. "I want to do a lot of beautiful and bright projects. I want to draw a lot," he said.
He deeply misses Odessa, which he called an amazing city, but being reunited with his sons has soothed the pain.
"Meeting with my children was the best event of the last year," he said.
—
The post Dramatic stories of survival, endurance and escape reign as Ukrainian Jews mark 1 year of war appeared first on Jewish Telegraphic Agency.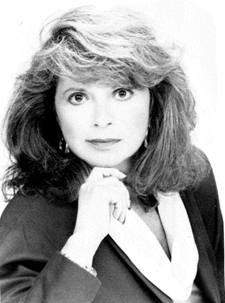 Phyllis Pollock died at home Sunday September 3, 2023 in Winnipeg, after a courageous lifetime battle with cancer.
Phyllis was a mother of four: Gary (Laura), daughter Randi, Steven (deceased in 2010) (Karen), and Robert. Phyllis also had two grandchildren: Lauren and Quinn.
Born in Fort Frances, Ontario on February 7, 1939, Phyllis was an only child to Ruby and Alex Lerman. After graduating high school, Phyllis moved to Winnipeg where she married and later divorced Danny Pollock, the father of her children. She moved to Beverly Hills in 1971, where she raised her children.
Phyllis had a busy social life and lucrative real estate career that spanned over 50 years, including new home sales with CoastCo. Phyllis was the original sales agent for three buildings in Santa Monica, oceanfront: Sea Colony I, Sea Colony II, and Sea Colony. She was known as the Sea Colony Queen. She worked side by side with her daughter Randi for about 25 years – handling over 600 transactions, including sales and leases within the three phases of Sea Colony alone.
Phyllis had more energy than most people half her age. She loved entertaining, working in the real estate field, meeting new and interesting people everyday no matter where she went, and thrived on making new lifelong friends. Phyllis eventually moved to the Sea Colony in Santa Monica where she lived for many years before moving to Palm Desert, then Winnipeg.
After battling breast cancer four times in approximately 20 years, she developed metastatic Stage 4 lung cancer. Her long-time domestic partner of 27 years, Joseph Wilder, K.C., was the love of her life. They were never far apart. They traveled the world and went on many adventures during their relationship. During her treatment, Phyllis would say how much she missed work and seeing her clients. Joey demonstrated amazing strength, love, care, and compassion for Phyllis as her condition progressed. He was her rock and was by her side 24/7, making sure she had the best possible care. Joey's son David was always there to support Phyllis and to make her smile. Joey's other children, Sheri, Kenny, Joshua and wife Davina, were also a part of her life. His kids would Facetime Phyllis and include her during any of their important functions. Phyllis loved Joey's children as if they were her own.
Thank you to all of her friends and family who were there to support her during these difficult times. Phyllis is now, finally, pain free and in a better place. She was loved dearly and will be greatly missed. Interment took place in Los Angeles.
Gwen Centre Creative Living Centre celebrates 35th anniversary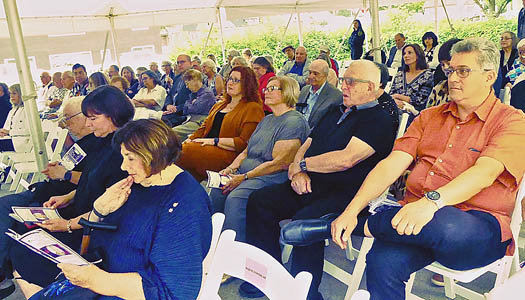 By BERNIE BELLAN Over 100 individuals gathered at the Gwen Secter Centre on Tuesday evening, July 18 – under the big top that serves as the venue for the summer series of outdoor concerts that is now in its third year at the centre.
The occasion was the celebration of the Gwen Secter Centre's 35th anniversary. It was also an opportunity to honour the memory of Sophie Shinewald, who passed away at the age of 106 in 2019, but who, as recently as 2018, was still a regular attendee at the Gwen Secter Centre.
As Gwen Secter Executive Director Becky Chisick noted in her remarks to the audience, Sophie had been volunteering at the Gwen Secter Centre for years – answering the phone among other duties. Becky remarked that Sophie's son, Ed Shinewald, had the phone number for the Gwen Secter Centre stored in his phone as "Mum's work."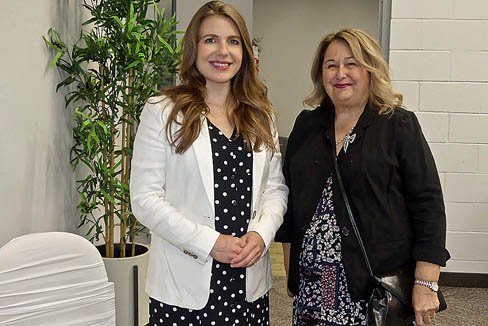 Remarks were also delivered by Raquel Dancho, Member of Parliament for Kildonan-St. Paul, who was the only representative of any level of government in attendance. (How times have changed: I remember well the steadfast support the former Member of the Legislature for St. John's, Gord Mackintosh, showed the Gwen Secter Centre when it was perilously close to being closed down. And, of course, for years, the area in which the Gwen Secter Centre is situated was represented by the late Saul Cherniack.)
Sophie Shinewald's granddaughter, Alix (who flew in from Chicago), represented the Shinewald family at the event. (Her brother, Benjamin, who lives in Ottawa, wasn't able to attend, but he sent a pre-recorded audio message that was played for the audience.)
Musical entertainment for the evening was provided by a group of talented singers, led by Julia Kroft. Following the concert, attendees headed inside to partake of a sumptuous assortment of pastries, all prepared by the Gwen Secter culinary staff. (And, despite my asking whether I could take a doggy bag home, I was turned down.)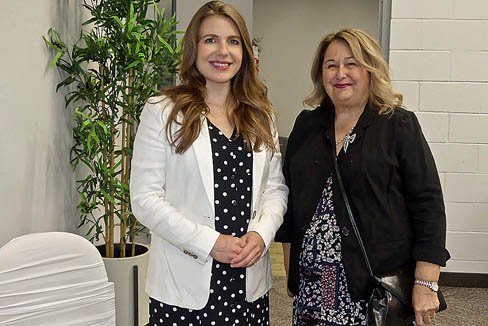 Palestinian gunmen kill 4 Israelis in West Bank gas station
This is a developing story.
(JTA) — Palestinian gunmen killed four people and wounded four in a terror attack at a gas station near the West Bank settlement of Eli, the Israeli army reported.
An Israeli civilian returning fire at the scene of the attack on Tuesday killed one of the attackers, who emerged from a vehicle, and two others fled.
Kan, Israel's public broadcaster, said one of those wounded was in serious condition. The gunmen, while in the vehicle, shot at a guard post at the entry to the settlement, and then continued to the gas station which is also the site of a snack bar. A nearby yeshiva went into lockdown.
Israeli Defense Minister Yoav Gallant announced plans to convene a briefing with top security officials within hours of the attack. Kan reported that there were celebrations of the killing in major West Bank cities and in the Gaza Strip, initiated by terrorist groups Hamas and Palestinian Islamic Jihad. Hamas said the shooting attack Tuesday was triggered by the Jenin raid.
The shooting comes as tensions intensify in the West Bank. A day earlier, Israeli troops raiding the city of Jenin to arrest accused terrorists killed five people.
The Biden administration spoke out over the weekend against Israel's plans to build 4,000 new housing units for Jewish settlers in the West Bank. Israeli Prime Minister Benjamin Netanyahu also finalized plans to  transfer West Bank building decisions to Bezalel Smotrich, the extremist who is the finance minister. Smotrich has said he wants to limit Palestinian building and expand settlement building.
Kan reported that the dead terrorist was a resident of a village, Urif, close to Huwara, the Palestinian town where terrorists killed two Israeli brothers driving through in February. Settlers retaliated by raiding the village and burning cars and buildings.
—
The post Palestinian gunmen kill 4 Israelis in West Bank gas station appeared first on Jewish Telegraphic Agency.