Eric Adams wants to combat hate in NYC through interfaith dinners. Can that accommodate Orthodox Jews?
(New York Jewish Week) — Mayor Eric Adams is famous for his love of the city's nightlife, and that mood was on display last Thursday as he hobnobbed with more than 100 people at the 40/40 Club, an upscale bar and restaurant in the Barclays Center, while dining on lamp-warmed samosas and chicken skewers.
The gathering came with a goal: to jumpstart a program, called "Breaking Bread, Building Bonds," that aims to bring together leaders of the city's diverse ethnic and religious communities over food. The attendees, mostly city workers and nonprofit employees, were there to experience what such a dinner could feel like, and to learn how to host one of their own.
"We are going to finish with 1,000 dinners," Adams said, speaking to the crowd. "Ten thousand people will become ambassadors for our city. Then those 10,000 people will branch out and do their dinners, turn into 100,000. We will continue to multiply until this city becomes a beacon of possibility." 
The dinner initiative was conceived with the Jewish community at its center — launching at a JCC in partnership with one of the city's biggest Jewish nonprofits. Now, it faces an additional hurdle: Engaging the large haredi Orthodox communities in Brooklyn that have experienced a series of street attacks — and that observe a set of strict religious laws surrounding food that could hinder their participation in some interfaith meals.
Some haredi New Yorkers have attended the "Breaking Bread" dinners, and members of at least one large Hasidic community are planning to host one of the meals. But other haredi activists in the city told the New York Jewish Week that they're skeptical the program can be sufficiently sensitive to their dietary and religious restrictions, which include close adherence to kosher laws and, for some, gender separation at public events.
Speaking on the sidelines of last week's dinner, Adams said the initiative does account for the needs of observant Jews. When he held similar dinners as Brooklyn borough president in 2020, he said, the meals were always "considerate of Shabbos."
"We allow the dinners to happen throughout the week," Adams told the New York Jewish Week. "Those who can't come on a Friday night or until sundown, we do that. If they eat kosher, we do that. We keep the meals simple, nothing complicated, so that everyone can feel at home at the same time." 
But the event where Adams was speaking did not, in fact, include kosher food, according to Rabbi Shlomo Nisanov, who leads Kehilat Sephardim of Ahavat Achim, a Bukharian community synagogue in Kew Gardens Hills, Queens.
"It was a mistake," Nisanov said. "I didn't eat the food, I only had the drinks. I was complaining about it." 
However, three of the dinners hosted so far have been certified kosher, and many local Jewish activists — including Orthodox leaders — said they support the initiative and believe it can accommodate a broad portion of the city's Jewish spectrum. 
Devorah Halberstam, an adherent of the Chabad-Lubavitch Hasidic movement and longtime campaigner against antisemitism, said she plans to host a dinner in the future. 
"It's actually not that complicated," said Halberstam, who serves as director of foundation and government at the Jewish Children's Museum in Brooklyn. "You invite people to a table and you have conversations. If it's Muslims, we'll have halal stuff covered. Kosher food is in another setting. Ultimately, it ends up working." 
The initiative aims to hold 1,000 dinners across the city that bring together community leaders in the hope that eating together will foster mutual understanding that will trickle down to rank-and-file New Yorkers of different backgrounds. At the kickoff event at the Marlene Meyerson JCC on the Upper West Side in late January, Adams called the dinners a "potent weapon" against hate.
Breaking Bread is supported by multiple city agencies and Jewish organizations, including the UJA-Federation of New York; the Jewish Community Relations Council of New York; The People's Supper, a non-profit that facilitates meals between people of different identities that began holding similar dinners in 2017; and the New York City Office of the Prevention Of Hate Crimes, which is overseen by the mayor. UJA is partially funding the program by reimbursing up to $150 per dinner. 
The Adams administration, and organizations supporting Breaking Bread, declined to provide key pieces of information about the initiative, including a budget, list of hosts or people who had signed up or a list of scheduled dinners. 
The initiative is designed around dinners of roughly 10 people each. The host is given a guide that includes instructions on how to facilitate a dinner and sample questions to ask fellow diners. One question asks attendees to describe "a time, recent or long passed, in which you were made to feel… fully seen, heard and like you fully belonged." 
Rabbi Bob Kaplan, who is the executive director of the Center for a Shared Society at the Jewish Community Relations Council of New York, told the New York Jewish Week that the organization is "taking this program very seriously." 
"We will be looking to encourage as much of this as we can throughout the city," Kaplan said. "We really think that Breaking Bread opportunities are incredible ways of bringing together leadership and community leaders to really talk to each other." 
The few dinners hosted thus far have included religious leaders, city officials and leaders of nonprofit organizations. Anyone can sign up to host or attend a dinner via a city website. Hassan Naveed, executive director of the OPHC, told the New York Jewish Week that thus far, nearly 500 people have signed up as hosts or participants. 
"There is so much interest happening," Naveed said. "We want this to be something that is movement-building, that brings folks together from different parts of the city, to really build a relationship between communities." 
There have been several dinners in the weeks since Breaking Bread launched, including one that Naveed attended last month at Talia's Steakhouse, a kosher restaurant on the Upper West Side, where the mayor himself made a brief appearance. Diners ate Jamaican cuisine, served by chef Kwame Williams, in honor of Black History Month. Other attendees ranged from a senior city official to Tenzin Tseyang, a community liaison for Queens City Councilmember Julie Won; UJA's Rabbi Menachem Creditor and others. 
Other dinners have taken place at the Manhattan JCC and at Manhattan College, both of which were also kosher. The JCC dinner included the executive director of the New York City Anti-Violence Project and a representative of the Asian-American Foundation, in addition to Jewish leaders and cosponsors of the initiative. 
"Those who are seated around the table with one another will be able to call on one another for both simple and hard things," said Rabbi Linda Shriner-Cahn of Congregation Tehillah in the Bronx neighborhood of Riverdale, who hosted the Manhattan College dinner. "When we strengthen our own communities, we're more able to reach out to other communities." 
Bringing New Yorkers together to break bread is one of the best ways we can talk through differences and defeat the pipeline of hate.
Last night's Breaking Bread Building Bonds event at Talia's Steakhouse on the Upper West Side did just that. pic.twitter.com/Meugkqdt7Q
— Mayor Eric Adams (@NYCMayor) February 17, 2023
Nisanov, the Bukarian rabbi from Queens, said he believes in the concept and has hosted his own dinners with neighborhood Muslim leaders. 
"We sat together at my synagogue with people from the Muslim faith because people didn't know each other," Nisanov told the New York Jewish Week. "Now, they know that kosher is the same as halal." (Jewish and Muslim dietary laws are similar, but they are not the same.)
The initiative has not yet involved some large segments of the Brooklyn haredi community, including a major Satmar Hasidic organization. Moishe Indig, a prominent activist affiliated with another faction of Satmar, and a close confidante of the mayor, has also not attended. City Council member Lincoln Restler, who is Jewish and represents South Williamsburg, which is home to a large number of Satmar Jews, told the Jewish Week in a statement that he is "in touch with City Hall and eager to convene Breaking Bread gatherings" in his district.
"This is a wonderful new initiative building on the mayor's work as borough president," Restler said. "We will never arrest our way out of hate violence, so we need to deepen cross-cultural understanding to address our collective safety." 
Adams does have a close relationship with the Hasidic community. The mayor appointed Joel Eiserdorfer to the role of advisor in his administration, the first Hasidic Jew to hold that title. Adams received considerable Hasidic support in his 2021 election victory. 
But despite that relationship, some Orthodox leaders and activists still have their doubts that the dinner initiative will successfully engage the haredi community.  Some spoke to the New York Jewish Week anonymously, out of a fear that their criticism could hurt their community's relationship with the mayor. 
One Orthodox leader who works in government told the New York Jewish Week that "at this moment, it feels like this initiative doesn't exist."
"Personally everyone is rooting for the mayor on this," the leader said, but he added that the initiative was "not comprehensive" in terms of reaching out to major Orthodox groups.
"Most of us haven't heard of it," another Orthodox community activist said. "The mayor's head is in the right place. I'm sure this program is well-intentioned." But he added, referring to kosher restrictions and norms of gender separation, that "on a practical level, it's hard to see how it will work in this community."
He added that he believes leaders in the Hasidic community may participate, but "we don't need to bring together leadership… We need people on the street to understand each other."
Nisanov believes the Breaking Bread dinners can help accomplish that task by helping community leaders influence their constituents.
"It starts from the leaders and it goes down to the regular people," he said. "It's going to take a while, but at least when the elders do it, it will trickle down to the young.  We will have to include young people to show and explain."
He said that there are some people within the Jewish community who "would like to live in a secluded world."
"That's not possible," Nisanov said. "There will always be restrictions. God will not change. We will always have that, but we have to learn to coexist."
Motti Seligson, a Hasidic communal leader and Chabad spokesman, told the New York Jewish Week that "there are dinners already planned in neighborhoods like Crown Heights that will certainly have participation from the Hasidic Jews." He added, "Building these bonds is something that Mayor Adams has not only seen and experienced first hand… he also created many of them through events like the Breaking Bread dinners in Brooklyn, which he organized."
Deborah Lauter, the inaugural director of the OPHC, said Breaking Bread "has enormous potential" but acknowledged that navigating the range of haredi groups takes time.
"There are so many different factions within the haredi community," Lauter said. "Some will be more inclined to participate than others. There's a lot more work to get people on the ground to know each other."
—
The post Eric Adams wants to combat hate in NYC through interfaith dinners. Can that accommodate Orthodox Jews? appeared first on Jewish Telegraphic Agency.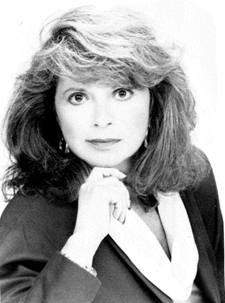 Phyllis Pollock died at home Sunday September 3, 2023 in Winnipeg, after a courageous lifetime battle with cancer.
Phyllis was a mother of four: Gary (Laura), daughter Randi, Steven (deceased in 2010) (Karen), and Robert. Phyllis also had two grandchildren: Lauren and Quinn.
Born in Fort Frances, Ontario on February 7, 1939, Phyllis was an only child to Ruby and Alex Lerman. After graduating high school, Phyllis moved to Winnipeg where she married and later divorced Danny Pollock, the father of her children. She moved to Beverly Hills in 1971, where she raised her children.
Phyllis had a busy social life and lucrative real estate career that spanned over 50 years, including new home sales with CoastCo. Phyllis was the original sales agent for three buildings in Santa Monica, oceanfront: Sea Colony I, Sea Colony II, and Sea Colony. She was known as the Sea Colony Queen. She worked side by side with her daughter Randi for about 25 years – handling over 600 transactions, including sales and leases within the three phases of Sea Colony alone.
Phyllis had more energy than most people half her age. She loved entertaining, working in the real estate field, meeting new and interesting people everyday no matter where she went, and thrived on making new lifelong friends. Phyllis eventually moved to the Sea Colony in Santa Monica where she lived for many years before moving to Palm Desert, then Winnipeg.
After battling breast cancer four times in approximately 20 years, she developed metastatic Stage 4 lung cancer. Her long-time domestic partner of 27 years, Joseph Wilder, K.C., was the love of her life. They were never far apart. They traveled the world and went on many adventures during their relationship. During her treatment, Phyllis would say how much she missed work and seeing her clients. Joey demonstrated amazing strength, love, care, and compassion for Phyllis as her condition progressed. He was her rock and was by her side 24/7, making sure she had the best possible care. Joey's son David was always there to support Phyllis and to make her smile. Joey's other children, Sheri, Kenny, Joshua and wife Davina, were also a part of her life. His kids would Facetime Phyllis and include her during any of their important functions. Phyllis loved Joey's children as if they were her own.
Thank you to all of her friends and family who were there to support her during these difficult times. Phyllis is now, finally, pain free and in a better place. She was loved dearly and will be greatly missed. Interment took place in Los Angeles.
Gwen Centre Creative Living Centre celebrates 35th anniversary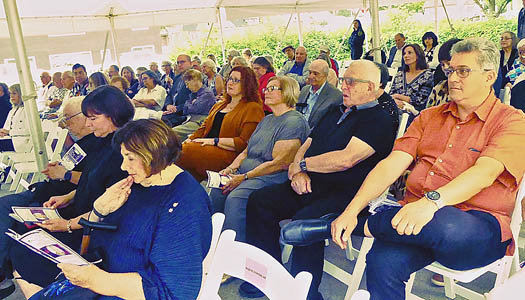 By BERNIE BELLAN Over 100 individuals gathered at the Gwen Secter Centre on Tuesday evening, July 18 – under the big top that serves as the venue for the summer series of outdoor concerts that is now in its third year at the centre.
The occasion was the celebration of the Gwen Secter Centre's 35th anniversary. It was also an opportunity to honour the memory of Sophie Shinewald, who passed away at the age of 106 in 2019, but who, as recently as 2018, was still a regular attendee at the Gwen Secter Centre.
As Gwen Secter Executive Director Becky Chisick noted in her remarks to the audience, Sophie had been volunteering at the Gwen Secter Centre for years – answering the phone among other duties. Becky remarked that Sophie's son, Ed Shinewald, had the phone number for the Gwen Secter Centre stored in his phone as "Mum's work."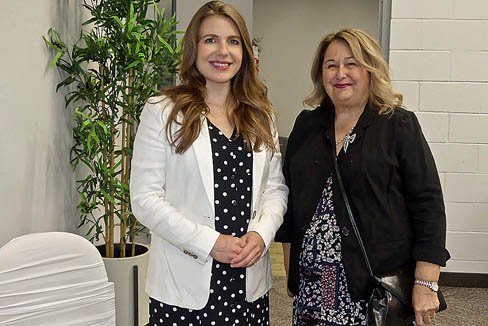 Remarks were also delivered by Raquel Dancho, Member of Parliament for Kildonan-St. Paul, who was the only representative of any level of government in attendance. (How times have changed: I remember well the steadfast support the former Member of the Legislature for St. John's, Gord Mackintosh, showed the Gwen Secter Centre when it was perilously close to being closed down. And, of course, for years, the area in which the Gwen Secter Centre is situated was represented by the late Saul Cherniack.)
Sophie Shinewald's granddaughter, Alix (who flew in from Chicago), represented the Shinewald family at the event. (Her brother, Benjamin, who lives in Ottawa, wasn't able to attend, but he sent a pre-recorded audio message that was played for the audience.)
Musical entertainment for the evening was provided by a group of talented singers, led by Julia Kroft. Following the concert, attendees headed inside to partake of a sumptuous assortment of pastries, all prepared by the Gwen Secter culinary staff. (And, despite my asking whether I could take a doggy bag home, I was turned down.)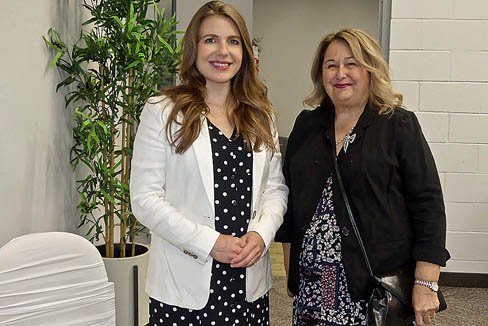 Palestinian gunmen kill 4 Israelis in West Bank gas station
This is a developing story.
(JTA) — Palestinian gunmen killed four people and wounded four in a terror attack at a gas station near the West Bank settlement of Eli, the Israeli army reported.
An Israeli civilian returning fire at the scene of the attack on Tuesday killed one of the attackers, who emerged from a vehicle, and two others fled.
Kan, Israel's public broadcaster, said one of those wounded was in serious condition. The gunmen, while in the vehicle, shot at a guard post at the entry to the settlement, and then continued to the gas station which is also the site of a snack bar. A nearby yeshiva went into lockdown.
Israeli Defense Minister Yoav Gallant announced plans to convene a briefing with top security officials within hours of the attack. Kan reported that there were celebrations of the killing in major West Bank cities and in the Gaza Strip, initiated by terrorist groups Hamas and Palestinian Islamic Jihad. Hamas said the shooting attack Tuesday was triggered by the Jenin raid.
The shooting comes as tensions intensify in the West Bank. A day earlier, Israeli troops raiding the city of Jenin to arrest accused terrorists killed five people.
The Biden administration spoke out over the weekend against Israel's plans to build 4,000 new housing units for Jewish settlers in the West Bank. Israeli Prime Minister Benjamin Netanyahu also finalized plans to  transfer West Bank building decisions to Bezalel Smotrich, the extremist who is the finance minister. Smotrich has said he wants to limit Palestinian building and expand settlement building.
Kan reported that the dead terrorist was a resident of a village, Urif, close to Huwara, the Palestinian town where terrorists killed two Israeli brothers driving through in February. Settlers retaliated by raiding the village and burning cars and buildings.
—
The post Palestinian gunmen kill 4 Israelis in West Bank gas station appeared first on Jewish Telegraphic Agency.