How the late actor Topol turned Tevye into a Zionist
(JTA) — ​​If you were born anytime before, say, 1975, you might remember Israel not as a source of angst and tension among American Jews but as a cause for celebration. In the 1960s and '70s, most Jews embraced as gospel the heroic version of Israel's founding depicted in Leon Uris' 1958 novel "Exodus" and the 1960 movie version. The1961 Broadway musical "Milk and Honey," about American tourists set loose in Israel, ran for over 500 performances. And that was before Israel's lightning victory in the Six-Day War turned even fence-sitting suburban Jews into passionate Zionists. 
That was the mood when the film version of "Fiddler on the Roof" came out in 1971. The musical had already been a smash hit on Broadway, riding a wave of nostalgia by Jewish audiences and an embrace of ethnic particularism by the mainstream. The part of Tevye, the put-upon patriarch of a Jewish family in a "small village in Russia," was originated on Broadway by Zero Mostel, a Brooklyn-born actor who grew up in a Yiddish-speaking home. Ashkenazi American Jews tended to think of "Fiddler" as family history — what Alisa Solomon, author of the 2013 book "Wonder of Wonders: A Cultural History of Fiddler on the Roof," describes as the "Jewish American origin story." 
But Mostel didn't star in the film, which landed in theaters while the afterglow of Israel's victory in its second major war of survival had yet to fade. Famously – or notoriously – the part went to Chaim Topol, a young Israeli actor unknown outside of Israel except for his turns in the London productions of "Fiddler." With an Israeli in the lead, a musical about the perils and dilemmas of Diaspora became a film about Zionism. When Topol played Tevye in London, Solomon writes,"'Fiddler' became a site for celebration, drawing Jews as well as gentiles to the theater — some for repeat viewings — to bask in Jewish perseverance and to pay homage to Jewish survival. The show didn't change, but the atmosphere around it did."
Topol died this week at 87, still best known as Tevye, and his death reminded me of the ways "Fiddler" is — and isn't — Zionist. When Tevye and his fellow villagers are forced out of Anatevke by the czarist police, they head for New York, Chicago and Krakow. Only Yente, the matchmaker, declares that she is going to the "Holy Land." Perchik, the presumably socialist revolutionary who marries one of Tevye's daughters, wants to transform Russian society and doesn't say a word about the political Zionists who sought to create a workers' utopia in Palestine.
"There is nothing explicitly or even to my mind implicitly Zionist about it," Solomon told me a few years back. And yet, she said, "any story of Jewish persecution becomes from a Zionist perspective a Zionist story."
When the Israeli Mission to the United Nations hosted a performance of the Broadway revival of "Fiddler" in 2016, that was certainly the perspective of then-Ambassador Dani Danon. Watching the musical, he said, he couldn't help thinking, "What if they had a place to go [and the Jews of Anatevke could] live as a free people in their own land? The whole play could have been quite different." 
Israelis always had a complicated relationship with "Fiddler," Solomon told me. The first Hebrew production was brought to Israel in 1965 by impresario Giora Godik. American Jews were enthralled by its resurrection of Yiddishkeit, the Ashkenazi folk culture that their parents and grandparents had left behind and the Holocaust had all but erased. Israelis were less inclined to celebrate the "Old Country." 
"Israelis were — what? — not exactly ashamed or hostile, but the Zionist enterprise was about moving away from that to become 'muscle Jews,' and even denouncing the stereotype of the pasty, weakling Eastern European Jews," said Solomon, warning that she was generalizing.
That notion of the "muscle Jew" is echoed in a review of Topol's performance by New Yorker critic Pauline Kael, who wrote that he is "a rough presence, masculine, with burly, raw strength, but also sensual and warm. He's a poor man but he's not a little man, he's a big man brought low — a man of Old Testament size brought down by the circumstances of oppression." 
Mostel, by contrast, was plump, sweaty and vaudevillian — a very different kind of masculinity. The congrast between the two Tevyes shows up in, of all places, a parody of "Fiddler" in Mad magazine. In that 1976 comic, Mostel's Tevye is reimagined as a neurotic, nouveau riche suburban American Jew with a comb-over, spoiled hippy children and a "spendthrift" wife; Topol's Tevye arrives in a dream to blame his descendants for turning their backs on tradition and turning America into a shallow, consumerist wasteland. A kibbutznik couldn't have said (or sung) it better.
Composer Jerry Bock, lyricist Sheldon Harnick and book writer Joseph Stein set out to write a hit musical, not a political statement. But others have always shaped "Fiddler" to their needs.
In the original script, Yente tells Tevye's wife Golde, "I'm going to the Holy Land to help our people increase and multiply. It's my mission." In a 2004 Broadway revival, staged in the middle of the second intifada, the "increase and multiply" line was excised. In a review of Solomon's "Wonder of Wonders," Edward Shapiro conjectured that the producers of the revival didn't want Yente to be seen as "a soldier in the demographic war between Jews and Arabs." 
Topol himself connected "Fiddler" to Israel as part of one long thread that led from Masada — the Judean fortress where rebellious Jewish forces fell to the Romans in the first century CE — through Russia and eventually to Tel Aviv. "My grandfather was a sort of Tevye, and my father was a son of Tevye," Topol told The New York Times in 1971. "My grandfather was a Russian Jew and my father was born in Russia, south of Kiev. So I knew of the big disappointment with the [Russian] Revolution, and the Dreyfus trial in France, and the man with the little mustache on his upper lip, the creation of the state of Israel and 'Masada will never fall again.' It's the grandchildren now who say that. It's all one line — it comes from Masada 2,000 years ago, and this Tevye of mine already carries in him the chromosomes of those grandchildren." 
The recent all-Yiddish version of "Fiddler on the Roof" — a Yiddish translation of an English-language musical based on English translations of Yiddish short stories — readjusted that valence, returning "Fiddler" solidly to the Old Country. It arrived at a time when surveys suggested that Jews 50 and older are much more emotionally attached to Israel than are younger Jews. For decades, "Exodus"-style devotion to Israel and its close corollary — Holocaust remembrance — were the essence of American Jewish identity. Among younger generations with no first-hand memories of its founding or victory in the 1967 war, that automatic connection faded. 
Meanwhile, as Israeli politics have shifted well to the right, engaged liberal Jews have rediscovered the allure of pre-Holocaust, pre-1948, decidedly leftist Eastern European Jewish culture. A left-wing magazine like Jewish Currents looks to the socialist politics and anti-Zionism of the Jewish Labor Bund; symposiums on Yiddish-speaking anarchists and Yiddish-language classes draw surprisingly young audiences. A Yiddish "Fiddler" fits this nostalgia for the shtetl (as does the "Fiddler" homage in the brand-new "History of the World, Part II," which celebrates the real-life radical Fanny Kaplan, a Ukrainian Jew who tried to assassinate Lenin).
Topol's Tevye was an Israeli Tevye: young, manly, with a Hebrew accent. Mostel's Tevye was an American Tevye: heimish, New York-y, steeped in Yiddishkeit. It's a testament to the show's enduring appeal — and the multitudes contained within Jewish identity — that both performances are beloved.
—
The post How the late actor Topol turned Tevye into a Zionist appeared first on Jewish Telegraphic Agency.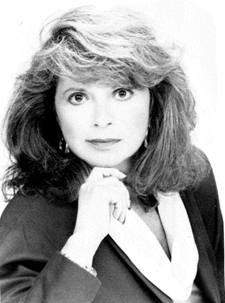 Phyllis Pollock died at home Sunday September 3, 2023 in Winnipeg, after a courageous lifetime battle with cancer.
Phyllis was a mother of four: Gary (Laura), daughter Randi, Steven (deceased in 2010) (Karen), and Robert. Phyllis also had two grandchildren: Lauren and Quinn.
Born in Fort Frances, Ontario on February 7, 1939, Phyllis was an only child to Ruby and Alex Lerman. After graduating high school, Phyllis moved to Winnipeg where she married and later divorced Danny Pollock, the father of her children. She moved to Beverly Hills in 1971, where she raised her children.
Phyllis had a busy social life and lucrative real estate career that spanned over 50 years, including new home sales with CoastCo. Phyllis was the original sales agent for three buildings in Santa Monica, oceanfront: Sea Colony I, Sea Colony II, and Sea Colony. She was known as the Sea Colony Queen. She worked side by side with her daughter Randi for about 25 years – handling over 600 transactions, including sales and leases within the three phases of Sea Colony alone.
Phyllis had more energy than most people half her age. She loved entertaining, working in the real estate field, meeting new and interesting people everyday no matter where she went, and thrived on making new lifelong friends. Phyllis eventually moved to the Sea Colony in Santa Monica where she lived for many years before moving to Palm Desert, then Winnipeg.
After battling breast cancer four times in approximately 20 years, she developed metastatic Stage 4 lung cancer. Her long-time domestic partner of 27 years, Joseph Wilder, K.C., was the love of her life. They were never far apart. They traveled the world and went on many adventures during their relationship. During her treatment, Phyllis would say how much she missed work and seeing her clients. Joey demonstrated amazing strength, love, care, and compassion for Phyllis as her condition progressed. He was her rock and was by her side 24/7, making sure she had the best possible care. Joey's son David was always there to support Phyllis and to make her smile. Joey's other children, Sheri, Kenny, Joshua and wife Davina, were also a part of her life. His kids would Facetime Phyllis and include her during any of their important functions. Phyllis loved Joey's children as if they were her own.
Thank you to all of her friends and family who were there to support her during these difficult times. Phyllis is now, finally, pain free and in a better place. She was loved dearly and will be greatly missed. Interment took place in Los Angeles.
Gwen Centre Creative Living Centre celebrates 35th anniversary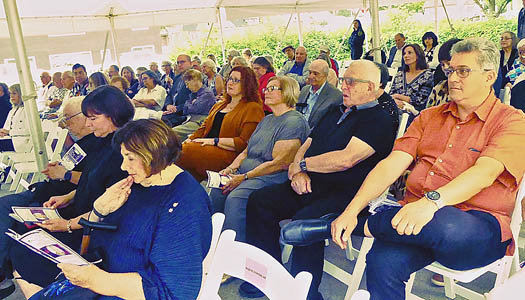 By BERNIE BELLAN Over 100 individuals gathered at the Gwen Secter Centre on Tuesday evening, July 18 – under the big top that serves as the venue for the summer series of outdoor concerts that is now in its third year at the centre.
The occasion was the celebration of the Gwen Secter Centre's 35th anniversary. It was also an opportunity to honour the memory of Sophie Shinewald, who passed away at the age of 106 in 2019, but who, as recently as 2018, was still a regular attendee at the Gwen Secter Centre.
As Gwen Secter Executive Director Becky Chisick noted in her remarks to the audience, Sophie had been volunteering at the Gwen Secter Centre for years – answering the phone among other duties. Becky remarked that Sophie's son, Ed Shinewald, had the phone number for the Gwen Secter Centre stored in his phone as "Mum's work."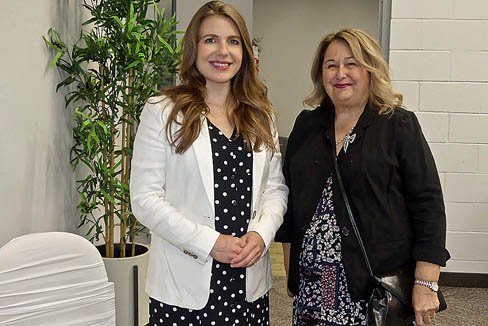 Remarks were also delivered by Raquel Dancho, Member of Parliament for Kildonan-St. Paul, who was the only representative of any level of government in attendance. (How times have changed: I remember well the steadfast support the former Member of the Legislature for St. John's, Gord Mackintosh, showed the Gwen Secter Centre when it was perilously close to being closed down. And, of course, for years, the area in which the Gwen Secter Centre is situated was represented by the late Saul Cherniack.)
Sophie Shinewald's granddaughter, Alix (who flew in from Chicago), represented the Shinewald family at the event. (Her brother, Benjamin, who lives in Ottawa, wasn't able to attend, but he sent a pre-recorded audio message that was played for the audience.)
Musical entertainment for the evening was provided by a group of talented singers, led by Julia Kroft. Following the concert, attendees headed inside to partake of a sumptuous assortment of pastries, all prepared by the Gwen Secter culinary staff. (And, despite my asking whether I could take a doggy bag home, I was turned down.)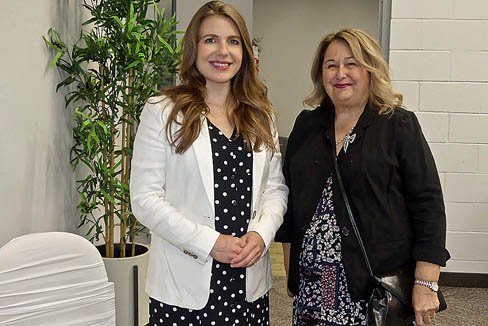 Palestinian gunmen kill 4 Israelis in West Bank gas station
This is a developing story.
(JTA) — Palestinian gunmen killed four people and wounded four in a terror attack at a gas station near the West Bank settlement of Eli, the Israeli army reported.
An Israeli civilian returning fire at the scene of the attack on Tuesday killed one of the attackers, who emerged from a vehicle, and two others fled.
Kan, Israel's public broadcaster, said one of those wounded was in serious condition. The gunmen, while in the vehicle, shot at a guard post at the entry to the settlement, and then continued to the gas station which is also the site of a snack bar. A nearby yeshiva went into lockdown.
Israeli Defense Minister Yoav Gallant announced plans to convene a briefing with top security officials within hours of the attack. Kan reported that there were celebrations of the killing in major West Bank cities and in the Gaza Strip, initiated by terrorist groups Hamas and Palestinian Islamic Jihad. Hamas said the shooting attack Tuesday was triggered by the Jenin raid.
The shooting comes as tensions intensify in the West Bank. A day earlier, Israeli troops raiding the city of Jenin to arrest accused terrorists killed five people.
The Biden administration spoke out over the weekend against Israel's plans to build 4,000 new housing units for Jewish settlers in the West Bank. Israeli Prime Minister Benjamin Netanyahu also finalized plans to  transfer West Bank building decisions to Bezalel Smotrich, the extremist who is the finance minister. Smotrich has said he wants to limit Palestinian building and expand settlement building.
Kan reported that the dead terrorist was a resident of a village, Urif, close to Huwara, the Palestinian town where terrorists killed two Israeli brothers driving through in February. Settlers retaliated by raiding the village and burning cars and buildings.
—
The post Palestinian gunmen kill 4 Israelis in West Bank gas station appeared first on Jewish Telegraphic Agency.