How the Lower East Side has changed since the 1988 rom-com 'Crossing Delancey'
(New York Jewish Week) — The classic and very Jewish 1988 film "Crossing Delancey" is one of those movies that feels both extremely of its time and also completely timeless. 
Director Joan Micklin Silver's film has all the classic rom-com trappings: A woman who's torn between two men (and to that end, two worlds); complaints about how hard it is to meet a man in New York City (as true in 1988 as it is in 2022), and a "mother" figure who knows better (here, a Jewish grandmother known as Bubbe, and in this case, she actually does know better). You could pluck all these specifics and drop them into a present-day film — and, if told with the heart and care of "Crossing Delancey," still have a pretty good movie.
Yet there's one thing about the "Crossing Delancey" that fully anchors it in the past, and that is  its late-1980s Lower East Side setting. While our heroine, Izzy (Amy Irving), lives and works on the Upper West Side, she pays frequent visits to her Bubbe (Yiddish theater actress Reizl Bozyk), her grandmother, downtown. From the moment that Izzy steps off the train at Delancey Street, she's transported to another world: a bustling Jewish enclave with market-goers shopping for produce, friends and neighbors in the streets kibbitzing and a Hasidic child sitting outside the subway, enjoying a treat from a local bakery.  
This dichotomy between the "Old World" of the Lower East Side and the "New World" uptown is the central conflict of the film: Izzy's inability to reconcile her Jewish roots with her desire to live a secular, intelligentsia lifestyle, as represented by her two love interests (Sam the Pickle Man and Anton, the self-important author). 
However, rewatching the film in the present day, I can't help but wonder: Would Izzy run from the shtetl if she knew that in a few years, it wouldn't exist anymore? That due to rising rents and a shift in population, many Jewish businesses would meet their end — or, somewhat ironically, be part of the flight to Brooklyn that began in the early-to-mid 2000s? In some ways, 1988 itself was the beginning and the end: It marked the opening of the Lower East Side Tenement Museum, an effort to preserve the neighborhood's immigrant past, and it was the very same year that Mayor Koch created a new redevelopment proposal for the Seward Park Extension, a canary in the coal mine for the sea change of development the city would see over the next 30 years.
Re-watching the film in 2022, it struck me how the Lower East Side's bustling Jewish enclave  — the same place where my grandparents were born and raised — has since been lost to time, gentrification and re-zoning plans. These days, the neighborhood paints a different picture entirely: giant buildings hog entire city blocks, with construction promising even more sky-high buildings. There's no specific character to the neighborhood, no story to tell, few places more integral to the city's fabric than the Delancey-Essex McDonald's.
Of course, if you've lived in the city long enough, you know there's no getting comfortable. New Yorkers have to, in essence, harden their hearts. We must accept that the local business you love that's here today very well could be gone tomorrow — even if that business is a Duane Reade. The Lower East Side of today is not the neighborhood of 1988, or 1968 or 1928.
But amongst all of the present-day residential developments, upscale clothing stores and fast food chains, old-school Jewish businesses like The Pickle Guys, Kossar's Bagels and Bialys and Yonah Schimmel's Knish Bakery are still thriving. (And, I'd like to think that if you look hard enough, you'll find some meddling but well-meaning bubbes and yentas, too.)
While we might not be able to fully experience the Lower East Side as the cast and crew of "Crossing Delancey," here are four places from "Crossing Delancey" that you can still visit, and four that are sadly gone forever.
What Remains Today
Bubbe's Apartment
154 Broome Street
The interior shots of Bubbe's apartment, where Izzy fulfills all of her granddaughterly duties, like singing with her grandmother in Yiddish and plucking her chin hairs, were filmed at 154 Broome Street. The 181-unit building sits at the mouth of the Williamsburg Bridge — which is why Bubbe has that spectacular view — and is part of the New York City Housing Authority's Seward Park Housing Extension. So while you still can visit the exterior of Bubbe's apartment building today, don't linger too long — it might weird out the current tenants.
Essex Market
108 Essex Street
This one is a little complicated. The original Essex Market, where Bubbe shows off her Korean-language skills, still stands today. (If you get off at the subway at Delancey Street, you can't really miss it.) But that iteration of the market closed its doors in 2019 — in order to relocate to a building across the street so big and so glassy it would make Michael Bloomberg blush. In addition to apartments, office space and a movie theater (it's a truly mixed-use building for our modern times!), Essex Market does boast local, independent vendors, such as Essex Olive & Spice, Porto Rico Importing Co. and Puebla Mexicana food. Per the New York Times, only one of the market's vendors decided to forgo the move, opting instead for retirement. But you  might want to pay a visit to the original Essex Market while you still can — even if only to give it one last look. Following the move, Essex Market initially housed some avant-garde art installations, but it has since seemingly closed its doors for good. According to Gothamist, it's to be razed to create — what else? — more condos.
Seward Park Handball Court
Essex Street between Grand and Hester Streets
From the moment Sam and Izzy meet, he makes no effort to hide his ardor. In fact, I'd say he uses every weapon in his arsenal to demonstrate his interest — even going so far as to try to impress her with his handball skills when she unexpectedly drops by the court. (You might also clock his CUNY sweatshirt, as I most certainly did.) The handball court is still there, should you decide you want to play a pickup game, but sadly the court's colorful mural depicted in the film has since been painted over.
Bonus: Gray's Papaya
2090 Broadway
While this article is focused on the film's Lower East Side locations, and with good reason, we'd be remiss if we didn't point out that one important New York institution Izzy visits triumphantly remains: The Upper West Side Gray's Papaya. There, Izzy celebrates her birthday with a friend and a hot dog — the right way to do it, in my opinion — when a woman bursts in singing "Some Enchanted Evening," for everyone and no one in particular. It's one of many of the film's classic New York moments.
What's Been Replaced
Steinberg's Dairy
21 Essex Street
When Izzy emerges from that train at Delancey Street, director Silver takes great care to immerse us in this world. The camera stays on Izzy as she walks from the subway to Bubbe's apartment, passing a host of local businesses along the way. Among them is Steinberg's Dairy, which once lived at 21 Essex Street. Steinberg's Dairy, which also had an Upper West Side location, offered staples like herring, egg salad and vegetarian chopped liver for less than a dollar back in 1941. Today, if you're in the area, you can grab a drink at the punk rock bar Clockwork, which opened in 2013.
Zelig Blumenthal
13 Essex Street
Izzy also takes us by Zelig's Blumenthal (also known as Z & A Kol Torah), where three older women sit outside, enjoying the sights and sounds around them. Once a popular Judaica store, it unexpectedly closed its Lower East Side doors in 2010 after 60 years in business. At the time, then-owner Mordechai Blumenthal made the decision to relocate the store to Flatbush due to a dwindling Orthodox population and foot traffic in the area, and a landlord who made clear he "wanted him gone." It's unclear if the Flatbush location remains open today, but a vintage clothing store called Country Of has taken up its original spot.
Posner's Pickles (AKA Guss' Pickles)
35 Essex Street
Posner's Pickles, as run by Sam the Pickle Man in the film, was never exactly a real place to begin with. Filming took place at the world-famous Guss' Pickles, which first opened on Hester Street in 1920, before relocating to Essex Street, where there were once over 80 pickle vendors for locals to choose from. After a stint on Orchard Street, Guss' Pickles followed in the footsteps of so many others by then, leaving Manhattan to open up shop in Brooklyn's Dekalb Market in 2017. While Guss' Pickles is today based out of the Bronx, their delicious pickles are available to order no matter where you are in the country, via Goldbelly. Today, 35 Essex Street is home to Delancey Wine —  appropriately named, but  doesn't offer possibilities for a slogan like "a joke and a pickle for only a nickel," as Posner's Pickles did in the film.
Schapiro's Kosher Wines
124 Rivington Street
For 100 years, Schapiro's Kosher Wines proudly served the Jewish community as the only kosher winery in New York City. It's where Bubbe chides Izzy for her lack of interest in Sam, and while today the pair couldn't have this conversation outside Schapiro's, they could grab brunch at the restaurant Essex. Home to New York City's "longest-running Brunch Party," Essex salutes its Lower East Side roots with dishes like potato pancakes and Israeli couscous.
—
The post How the Lower East Side has changed since the 1988 rom-com 'Crossing Delancey' appeared first on Jewish Telegraphic Agency.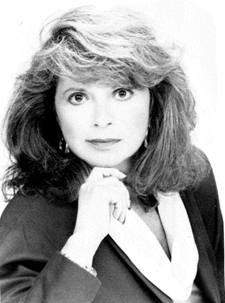 Phyllis Pollock died at home Sunday September 3, 2023 in Winnipeg, after a courageous lifetime battle with cancer.
Phyllis was a mother of four: Gary (Laura), daughter Randi, Steven (deceased in 2010) (Karen), and Robert. Phyllis also had two grandchildren: Lauren and Quinn.
Born in Fort Frances, Ontario on February 7, 1939, Phyllis was an only child to Ruby and Alex Lerman. After graduating high school, Phyllis moved to Winnipeg where she married and later divorced Danny Pollock, the father of her children. She moved to Beverly Hills in 1971, where she raised her children.
Phyllis had a busy social life and lucrative real estate career that spanned over 50 years, including new home sales with CoastCo. Phyllis was the original sales agent for three buildings in Santa Monica, oceanfront: Sea Colony I, Sea Colony II, and Sea Colony. She was known as the Sea Colony Queen. She worked side by side with her daughter Randi for about 25 years – handling over 600 transactions, including sales and leases within the three phases of Sea Colony alone.
Phyllis had more energy than most people half her age. She loved entertaining, working in the real estate field, meeting new and interesting people everyday no matter where she went, and thrived on making new lifelong friends. Phyllis eventually moved to the Sea Colony in Santa Monica where she lived for many years before moving to Palm Desert, then Winnipeg.
After battling breast cancer four times in approximately 20 years, she developed metastatic Stage 4 lung cancer. Her long-time domestic partner of 27 years, Joseph Wilder, K.C., was the love of her life. They were never far apart. They traveled the world and went on many adventures during their relationship. During her treatment, Phyllis would say how much she missed work and seeing her clients. Joey demonstrated amazing strength, love, care, and compassion for Phyllis as her condition progressed. He was her rock and was by her side 24/7, making sure she had the best possible care. Joey's son David was always there to support Phyllis and to make her smile. Joey's other children, Sheri, Kenny, Joshua and wife Davina, were also a part of her life. His kids would Facetime Phyllis and include her during any of their important functions. Phyllis loved Joey's children as if they were her own.
Thank you to all of her friends and family who were there to support her during these difficult times. Phyllis is now, finally, pain free and in a better place. She was loved dearly and will be greatly missed. Interment took place in Los Angeles.
Gwen Centre Creative Living Centre celebrates 35th anniversary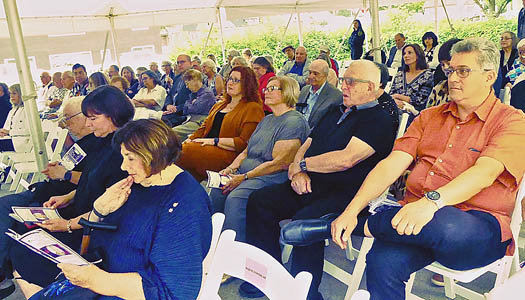 By BERNIE BELLAN Over 100 individuals gathered at the Gwen Secter Centre on Tuesday evening, July 18 – under the big top that serves as the venue for the summer series of outdoor concerts that is now in its third year at the centre.
The occasion was the celebration of the Gwen Secter Centre's 35th anniversary. It was also an opportunity to honour the memory of Sophie Shinewald, who passed away at the age of 106 in 2019, but who, as recently as 2018, was still a regular attendee at the Gwen Secter Centre.
As Gwen Secter Executive Director Becky Chisick noted in her remarks to the audience, Sophie had been volunteering at the Gwen Secter Centre for years – answering the phone among other duties. Becky remarked that Sophie's son, Ed Shinewald, had the phone number for the Gwen Secter Centre stored in his phone as "Mum's work."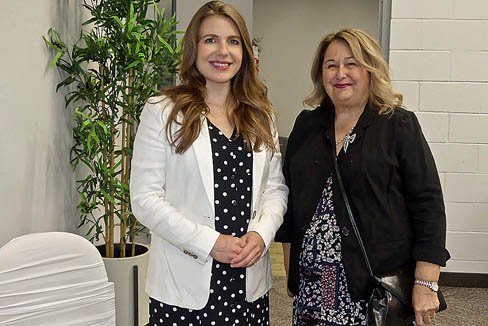 Remarks were also delivered by Raquel Dancho, Member of Parliament for Kildonan-St. Paul, who was the only representative of any level of government in attendance. (How times have changed: I remember well the steadfast support the former Member of the Legislature for St. John's, Gord Mackintosh, showed the Gwen Secter Centre when it was perilously close to being closed down. And, of course, for years, the area in which the Gwen Secter Centre is situated was represented by the late Saul Cherniack.)
Sophie Shinewald's granddaughter, Alix (who flew in from Chicago), represented the Shinewald family at the event. (Her brother, Benjamin, who lives in Ottawa, wasn't able to attend, but he sent a pre-recorded audio message that was played for the audience.)
Musical entertainment for the evening was provided by a group of talented singers, led by Julia Kroft. Following the concert, attendees headed inside to partake of a sumptuous assortment of pastries, all prepared by the Gwen Secter culinary staff. (And, despite my asking whether I could take a doggy bag home, I was turned down.)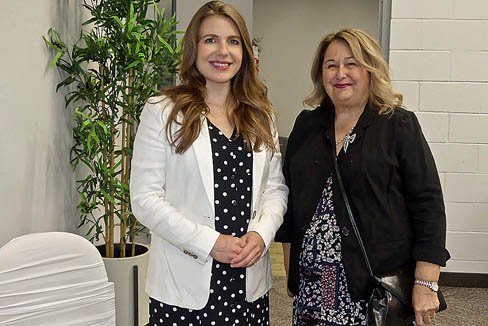 Palestinian gunmen kill 4 Israelis in West Bank gas station
This is a developing story.
(JTA) — Palestinian gunmen killed four people and wounded four in a terror attack at a gas station near the West Bank settlement of Eli, the Israeli army reported.
An Israeli civilian returning fire at the scene of the attack on Tuesday killed one of the attackers, who emerged from a vehicle, and two others fled.
Kan, Israel's public broadcaster, said one of those wounded was in serious condition. The gunmen, while in the vehicle, shot at a guard post at the entry to the settlement, and then continued to the gas station which is also the site of a snack bar. A nearby yeshiva went into lockdown.
Israeli Defense Minister Yoav Gallant announced plans to convene a briefing with top security officials within hours of the attack. Kan reported that there were celebrations of the killing in major West Bank cities and in the Gaza Strip, initiated by terrorist groups Hamas and Palestinian Islamic Jihad. Hamas said the shooting attack Tuesday was triggered by the Jenin raid.
The shooting comes as tensions intensify in the West Bank. A day earlier, Israeli troops raiding the city of Jenin to arrest accused terrorists killed five people.
The Biden administration spoke out over the weekend against Israel's plans to build 4,000 new housing units for Jewish settlers in the West Bank. Israeli Prime Minister Benjamin Netanyahu also finalized plans to  transfer West Bank building decisions to Bezalel Smotrich, the extremist who is the finance minister. Smotrich has said he wants to limit Palestinian building and expand settlement building.
Kan reported that the dead terrorist was a resident of a village, Urif, close to Huwara, the Palestinian town where terrorists killed two Israeli brothers driving through in February. Settlers retaliated by raiding the village and burning cars and buildings.
—
The post Palestinian gunmen kill 4 Israelis in West Bank gas station appeared first on Jewish Telegraphic Agency.