Novel about Chinese rescuer of Jews raises questions about facts vs. fiction in Holocaust stories
TAIPEI (JTA) — Ho Feng-Shan, the Chinese diplomat stationed in Vienna who helped thousands of Jews escape from Europe during World War II, never met Adolf Eichmann.
But in "Night Angels," a novel based on his life, Feng-Shan comes face to face with Eichmann several times — and his wife Grace's Jewish tutor, Lola, tries to kill the architect of the Holocaust.
That detail is one of many that has spurred Ho Manli, Feng-Shan's daughter, to speak out against "Night Angels," the fourth novel by the Chinese-American author Weina Dai Randel. Manli says the book distorts elements of her father's story, which was unknown before she spent decades documenting his heroic efforts to issue visas allowing Jews to escape to Shanghai.
"What I have found in doing this story is it's very difficult to try to maintain the historical integrity of the facts," Manli told the Jewish Telegraphic Agency. "Countless people … want to use this for their own means, whether it be commercial like this novelist, whether it be political, or whatever. So over the two decades that I have been doggedly trying to uncover more and more, I've been constantly fending off these sorts of opportunistic assaults."
The dispute is casting a shadow over the novel, released this month, and reinvigorating longstanding debates over the importance of truth in historical fiction — particularly in stories about the Holocaust.
"Night Angels" follows Feng-Shan and his wife, Grace, as they risk their lives by issuing visas that allow thousands of Jews escape Germany and Austria to Shanghai. Grace, one of the novel's narrators and main characters, is based on Feng-Shan's real second wife with the same name who was no longer in Vienna after the Anschluss — Nazi Germany's annexation of Austria in 1938, and the period in which the novel is set. By that time, Feng-Shan had already sent Grace away to Boston. She never witnessed Nazi rule or Feng-Shan's efforts to save Jews, Manli writes. 
Several other events in the book, including Grace's friendship with a Jewish woman who attempts to assassinate Eichmann and her development of a morphine addiction, are fully fictional.
Manli first took aim at the book in a column last month in China Daily. The novel, she wrote, "exploits real names, real people, real events and places, in what is essentially a Holocaust-themed melodrama."
"In online reviews, readers say that they are thrilled to learn of my father and this history — except of course, what they have learned is not really history, my father's, or anyone else's," she wrote.
Randel and her publisher, Amazon Publishing, did not respond to multiple requests for comment. 
Randel dedicated the novel to "Ho Feng-Shan, his family, and all the angels in Vienna and beyond." The book includes a disclaimer disclosing that its contents are a work of fiction and a product of the author's imagination. 
But that's not satisfactory to some readers, including Tina Kanagaratnam, co-founder of the heritage group Historic Shanghai, whose book group read a previous Randel story set in Shanghai.
"If you're talking about a historical character, you have to get the history right. Otherwise, just create a fictional character," Kanagaratnam told JTA. "This is written for people who don't know the history, but as Manli said, that's dangerous, because then that's what they remember. That's what they take away."
"Night Angels" has accumulated thousands of positive reviews on Amazon and has been promoted by Jewish organizations across the country. On Wednesday, the Jewish Book Council, in collaboration with Tablet Magazine and the Jewish Museum in New York City, will hold an event with Randel and journalist Jonathan Freedland that will explore "fact, fic­tion, and the some­times blurred line between them."
Randel's book adds to a long list of Holocaust stories occupying that blurry territory, dating from the genre's early days. Many readers believed, for example, that "The Painted Bird," the pivotal work of Holocaust fiction from the 1960s, was based on author Jerzy Koszinski's experience during the Holocaust; it was not. Scholars and booksellers have long agonized over whether to call Elie Wiesel's "Night" a memoir or a novel, and whether the distinction matters when it is taught in American classrooms.
The fight has extended to questions over who can tell which stories from Holocaust. In 2014, Haaretz journalist Judy Maltz filed a lawsuit against Penguin Canada and author Jenny Witterick alleging that Witterick's novel, "My Mother's Secret," copied Maltz's documentary film about her family's rescue during World War II. The court ruled in favor of Witterick on the grounds that copyright protection does not apply to historical events. 
"An author is only ever responsible to their own fiction. They have creative license. And fictionalization of other people against their will is part of the history of literature," said Helen Finch, a professor at the University of Leeds who studies representations of the Holocaust in German literature. "But that doesn't absolve the writer from criticism."
Manli — a journalist who has worked for the Boston Globe and helped found the China Daily, a state-backed media outlet, in 1981 — has made it her mission to set the record straight on Feng-Shan's story. She began researching her father after his death in 1997, while writing his obituary. One line in his memoir from 1990 that recalled "saving who knows how many Jews" piqued her interest and led to a 25-year quest to document the extent of what her father did during the war. 
His story of defying both his own government and the government of Germany to write Shanghai visas for thousands of persecuted Jews had been previously unknown, even to the refugees themselves — most of whom never met Feng-Shan. 
Manli's research led to Feng-Shan's recognition by Yad Vashem, Israel's Holocaust museum and memorial authority, in 2000 as "Righteous Among the Nations," an honor given to those who risked their own lives to help Jews during World War II. Since then, greater attention has been paid to his story, and memorials across the world, from Israel to China to Italy, bear his name today.
Manli said Randel reached out to her several times before her book was published but after it had already been written. According to Manli, Randel sought out her blessing on the book by phone and email, saying that "the Holocaust history and your father's history is now being forgotten" and adding that she wanted to help spread that history. Manli, who is working on a book of her own about her father, said she refused to answer, "just from the tone of her letter and what she wanted."
"I have been burned before by this," Manli told JTA. "I knew immediately that this was not something that I wanted to participate in and certainly that I wasn't going to endorse."
In an email shared with JTA in response to Manli's editorial, Randel wrote that she has "great respect for Dr. Ho Fenghan[sic] and his family. I'm surprised to hear such strong negative criticism. I'm puzzled to see my gesture of respect is viewed in such a hostile way. If Ms. Manli Ho wishes to speak to me, I'm here."
Randel, according to a biography on her website, came to the United States from China at 24 and became "the first Asian American novelist who intertwined Chinese history with the Jewish diaspora in Shanghai during WWII."
Her previous novel, "The Last Rose of Shanghai," follows a Chinese woman who falls in love with a German Jewish refugee living in the Shanghai Ghetto, the restricted area in which over 20,000 displaced Jews lived during World War II, under brutal oversight by Japanese officials who occupied the area. In interviews before the book's 2021 release, Randel recalled hearing about Jewish refugees while she was living near the district that housed the ghetto. 
After moving to the United States, she married an American Jew and is raising her children with both cultures in Boston. She has said "The Last Rose of Shanghai" was inspired by her interest in the history she saw in Shanghai and a desire to pay homage to her Jewish side of the family.
"I think it's apt to say the survival of Shanghai Jews is also a story of how we as different races and as human beings shine and triumph over war and adversity," she said in a January 2022 interview with World Literature Today. 
But other researchers and authors deeply familiar with Feng-Shan's story and Jewish history in Shanghai told JTA that "The Last Rose of Shanghai" also contained historical inaccuracies, including misrepresentation of real people who appear as characters, such as Victor Sassoon, a Jewish businessman and member of the dynasty known as the "Rothschilds of the East," and Laura Margolis, the first female Joint Distribution Committee representative. 
The book also includes a character named Goya, described as "a shameless Jew … who somehow had won the Japanese's trust."
The Jewish character is based on the real Kanoh Ghoya, who was not Jewish, but a notoriously cruel Japanese officer who had dubbed himself "king of the Jews" and "was infamous for his inhumane treatment of ghetto inhabitants," according to the USC Shoah Foundation.
According to Publisher's Marketplace, "The Last Rose of Shanghai" was sold to Lake Union Publishing — an imprint of Amazon Publishing — in 2021 as half of a two-book deal worth between $100,000 and $250,000. It was a finalist for a Jewish National Book Award that year. (The Jewish Book Council, which confers those awards, did not respond to multiple requests for comments about the "Night Angels" event.)
Kanagaratnam said Historic Shanghai's book group read "The Last Rose of Shanghai" in 2021 and hosted Randel for an event. The group was unsatisfied by Randel's response when factual issues were brought to her attention, particularly the characterization of Ghoya as Jewish, Randel dismissed them, Kanagaratnam said.
Randel's novel is only part of a growing consciousness among the general public of the Shanghai Jewish refugee story. In recent decades, especially following the normalization of Israel-China relations in 1992 and Feng-Shan's recognition by Yad Vashem, both governments have promoted the history, sometimes distorting facts to push different narratives about their wartime past. 
New books and other media adaptations about the Shanghai Jewish refugee story have proliferated, such as the musical "Shanghai Sonatas" (2022) and the novels "Someday We Will Fly" (2019),"The Lives Before Us" (2019), and "The World and All It Holds" (2023). Other films and books are forthcoming.
"The audience of people who are interested in, if you will, an 'exotic' Jewish story, I think has meant that we're seeing more and more of these. Everyone's heard the Holocaust story. But now here's one in an exotic setting," said Kanagaratnam. "I think authors need to take responsibility. But honestly, I also blame the publishing industry, because where are the fact-checkers? A lot of the stuff in this can be really easily googled."
Finch said novels that are set during that period are "always a work of fiction about the present."
"So the question is, why is this author writing this book now? What does that say about the current moment when she's writing? And what is with Randel trying to reflect either consciously or unconsciously in contemporary politics as well?"
—
The post Novel about Chinese rescuer of Jews raises questions about facts vs. fiction in Holocaust stories appeared first on Jewish Telegraphic Agency.
Focus group Oct. 11 at Simkin Centre for people concerned about personal care homes

As Manitobans have gone to the polls and with a new legislative assembly about to begin a new four-year term, the challenges of long-term and continuing care homes need to be communicated.
MARCHE, the Manitoba Association of Residential and Community Care Homes for the Elderly will be holding a focus group on Wednesday, October 11 that is intended to provide the community at large a forum to express thoughts and provide ideas and recommendations for the future.
Please join us on Wednesday, October 11th at the Saul & Claribel Simkin Centre. We look forward to hearing from you.
See poster below for more information and how to register to attend.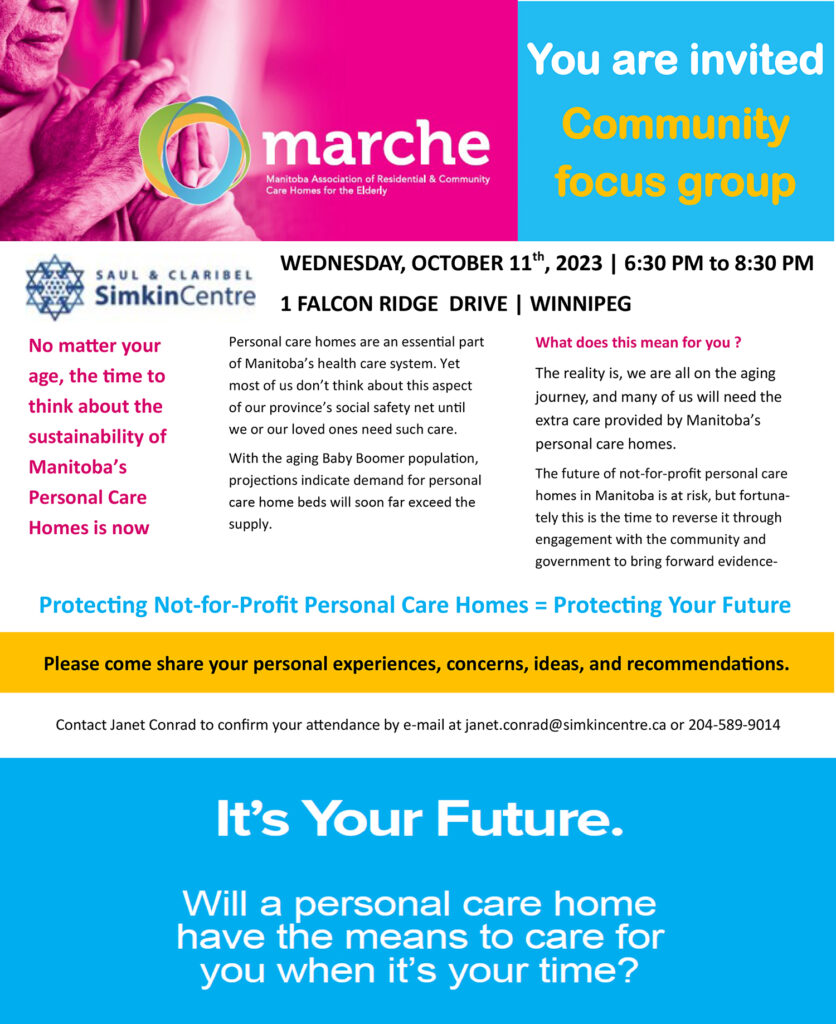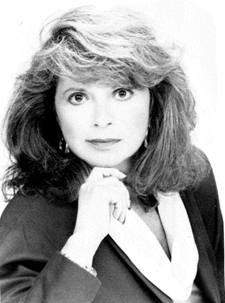 Phyllis Pollock died at home Sunday September 3, 2023 in Winnipeg, after a courageous lifetime battle with cancer.
Phyllis was a mother of four: Gary (Laura), daughter Randi, Steven (deceased in 2010) (Karen), and Robert. Phyllis also had two grandchildren: Lauren and Quinn.
Born in Fort Frances, Ontario on February 7, 1939, Phyllis was an only child to Ruby and Alex Lerman. After graduating high school, Phyllis moved to Winnipeg where she married and later divorced Danny Pollock, the father of her children. She moved to Beverly Hills in 1971, where she raised her children.
Phyllis had a busy social life and lucrative real estate career that spanned over 50 years, including new home sales with CoastCo. Phyllis was the original sales agent for three buildings in Santa Monica, oceanfront: Sea Colony I, Sea Colony II, and Sea Colony. She was known as the Sea Colony Queen. She worked side by side with her daughter Randi for about 25 years – handling over 600 transactions, including sales and leases within the three phases of Sea Colony alone.
Phyllis had more energy than most people half her age. She loved entertaining, working in the real estate field, meeting new and interesting people everyday no matter where she went, and thrived on making new lifelong friends. Phyllis eventually moved to the Sea Colony in Santa Monica where she lived for many years before moving to Palm Desert, then Winnipeg.
After battling breast cancer four times in approximately 20 years, she developed metastatic Stage 4 lung cancer. Her long-time domestic partner of 27 years, Joseph Wilder, K.C., was the love of her life. They were never far apart. They traveled the world and went on many adventures during their relationship. During her treatment, Phyllis would say how much she missed work and seeing her clients. Joey demonstrated amazing strength, love, care, and compassion for Phyllis as her condition progressed. He was her rock and was by her side 24/7, making sure she had the best possible care. Joey's son David was always there to support Phyllis and to make her smile. Joey's other children, Sheri, Kenny, Joshua and wife Davina, were also a part of her life. His kids would Facetime Phyllis and include her during any of their important functions. Phyllis loved Joey's children as if they were her own.
Thank you to all of her friends and family who were there to support her during these difficult times. Phyllis is now, finally, pain free and in a better place. She was loved dearly and will be greatly missed. Interment took place in Los Angeles.
Gwen Centre Creative Living Centre celebrates 35th anniversary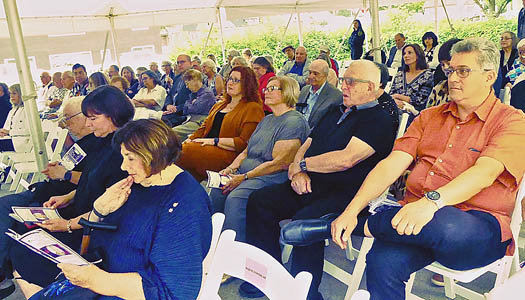 By BERNIE BELLAN Over 100 individuals gathered at the Gwen Secter Centre on Tuesday evening, July 18 – under the big top that serves as the venue for the summer series of outdoor concerts that is now in its third year at the centre.
The occasion was the celebration of the Gwen Secter Centre's 35th anniversary. It was also an opportunity to honour the memory of Sophie Shinewald, who passed away at the age of 106 in 2019, but who, as recently as 2018, was still a regular attendee at the Gwen Secter Centre.
As Gwen Secter Executive Director Becky Chisick noted in her remarks to the audience, Sophie had been volunteering at the Gwen Secter Centre for years – answering the phone among other duties. Becky remarked that Sophie's son, Ed Shinewald, had the phone number for the Gwen Secter Centre stored in his phone as "Mum's work."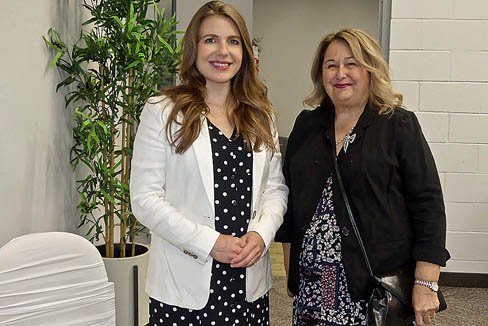 Remarks were also delivered by Raquel Dancho, Member of Parliament for Kildonan-St. Paul, who was the only representative of any level of government in attendance. (How times have changed: I remember well the steadfast support the former Member of the Legislature for St. John's, Gord Mackintosh, showed the Gwen Secter Centre when it was perilously close to being closed down. And, of course, for years, the area in which the Gwen Secter Centre is situated was represented by the late Saul Cherniack.)
Sophie Shinewald's granddaughter, Alix (who flew in from Chicago), represented the Shinewald family at the event. (Her brother, Benjamin, who lives in Ottawa, wasn't able to attend, but he sent a pre-recorded audio message that was played for the audience.)
Musical entertainment for the evening was provided by a group of talented singers, led by Julia Kroft. Following the concert, attendees headed inside to partake of a sumptuous assortment of pastries, all prepared by the Gwen Secter culinary staff. (And, despite my asking whether I could take a doggy bag home, I was turned down.)