NYC's Celebrate Israel Parade set to draw big crowds — and protests — amid Israel's political turmoil
(New York Jewish Week) — For the first time in a dozen years, Ameinu, the former Labor Zionist Alliance, will be marching in the Celebrate Israel Parade, the annual gathering that draws tens of thousands of marchers and spectators along Manhattan's Fifth Avenue.
"It was becoming harder to identify with the overall vibe of the march," Kenneth Bob, the national president of the liberal organization, said about why the group stopped participating. "It didn't reflect our more nuanced values about Israel. And because of restrictions on what we could put on our signs, it made it difficult for us to express our brand of Zionism."
But this year, Ameinu will be back, wearing T-shirts that read in Hebrew on the front, "Zionism = Democracy," and on the back in English, "Marching for Democracy." At a time of turmoil in Israel, when hundreds of thousands of Israelis are taking to the streets in protest of efforts by Israel's right-wing government to transform its judiciary, Ameinu's participation — and objections voiced by at least one pro-Israel activist group — are signs of the political currents swirling around the largest Zionist solidarity event outside of Israel.
"We will be reminding other participants and those watching the parade that we are marching in solidarity with our brothers and sisters in Israel and around the world who are fighting for the future of the state," the organization said on its website.
Despite or perhaps because of those political currents, Jewish organizations across the political spectrum are gearing up for what organizers say will be one of the largest Celebrate Israel parades ever on Sunday, June 4, to mark Israel's 75th birthday. Several groups are marching for the first time, and Long Island has the most marchers in a decade.
Organizers says more than 40,000 people are expected to march — some in sympathy with the Israeli protesters, others who support the government's proposed overhaul, and still others who say the 75th anniversary of the Jewish state should be an occasion for Jewish solidarity no matter who heads its government or the policies they promote.
To underscore that last message, the Jewish Community Relations Council of New York, the parade's sponsor, generated, for the second year, a letter signed by area rabbis from all denominations urging participation in the parade.
"Events like the parade bridge the divide between us, whether political, religious, or cultural," the letter reads. "It's a chance for us to gather as Jews and walk together, showing the world that we are one community even when we disagree."
Plans by Israel's acting consul general in New York, Israel Nitzan, may test that proposition. Nitzan will lead an Israeli delegation of as many as 18 cabinet ministers and other Knesset members, which would be the most ever to attend the parade. They include the minister of economy and industry, Nir Barkat, and the minister of Diaspora affairs, Amichai Chikli, as well as Simcha Rothman, the chair of the law and justice committee who is an architect of the judicial reforms and has been pressing the case for them with U.S. Jews. The two most controversial members of Prime Minister Benjamin Netanyahu's cabinet, the far-right ideologues Betzalel Smotrich and Itamar Ben-Gvir, are not scheduled to attend.
Israeli New Yorkers who have been protesting the government's judicial overhaul plans have already objected to the government officials' inclusion. Shany Granot-Lubaton, the organizer of the UnXeptable-Saving Israeli Democracy activist group, said they expect more than 400 of their supporters to follow the Israeli ministers and Simcha Rothman, a member of the Knesset for the far-right Religious Zionist Party, as they travel throughout the city in the coming days for the parade and a conference the same day organized by the nationalist news agency Arutz Sheva.
UnXeptable issued an open letter urging the organizers "to refrain from allowing Israeli government ministers to march at the head of the parade," saying the lawmakers "have not earned the respect of your allies and friends in Israel, and many of your own community members, here in America."
"They will not have a peaceful vacation in New York City," Granot-Lubaton told the New York Jewish Week. "We served our time in the army and are fighting for Israel because we love it and care for it and not for any other reason. Nobody loves Israel more than us."
Rabbi Rachel Ain, the rabbi of the Conservative Sutton Place Synagogue, was one of the 15 rabbis who signed the letter urging participation in the parade. Her synagogue has presented programs to explain the complexities of the political struggle in Israel today, but she said the unrest has "not affected our support for Israel; my synagogue is happy to participate in the parade."
Ain added, "You can love and support the Jewish state and also understand that things are complicated."
Ammiel Hirsch, rabbi of the Reform Stephen Wise Free Synagogue and former head of ARZA, the Reform movement's Zionist organization, also signed the statement.
"It is more important than ever to participate in the Celebrate Israel Parade because it represents our commitment not to elements of this government but to our relationship with the people, the state of Israel, and the Zionist ideal," said Hirsch. "The best response is not to walk away but to double down with those in Israel who are as distressed as we are and want to see a more representative Israeli government."
The parade has received an endorsement from Israeli President Isaac Herzog, who in March warned that political divides in Israel could lead to "a real civil war."
The parade, he said in a video message shared by the JCRC, "promises to be a powerful reminder of everything that holds us together as one proud people. … I marched myself as a student in Ramaz [High School] and it was a terrific experience."
The largest funder of the parade is UJA-Federation of New York, which contributes $200,000. (UJA-Federation is also a funder of 70 Faces Media, the New York Jewish Week's parent company.) This year for the first time it is contributing an additional $75,000 to sponsor a Celebrate Israel "Block Party" on 63rd Street that will run during the day. Vendors will sell kosher food, and there will be Jewish and Israeli crafts and various children's activities.
There will be participation from "every part of the Jewish community," according to Howard Pollack, director of the parade. "I've been getting emails from people asking how they can march and where can they sit to enjoy the parade. The enthusiasm is like nothing I have ever seen before. We normally have groups from out-of-state, but this year for the 75th anniversary, we have a lot more. They are coming from Florida, California, Ohio, Pennsylvania, Maryland, New Jersey and Connecticut."
The parade will include 20 floats, 13 marching bands and the same number of dance groups. Musicians Matisyahu, the Maccabeats and Harel Skaat will each be performing from different floats.
Mindy Perlmutter, executive director of the Jewish Community Relations Council-Long island, said 22 groups with about 500 marchers will take part under the JCRC-LI banner — what she called the largest number in at least a decade.
Ameinu will be marching under the banner of the American Zionist Movement. They are among about a dozen of AZM's 41 affiliated organizations, including Hadassah and Young Judaea, that will be marching together. Other affiliates will march under their own banners, according to Herbert Block, AZM's executive director.
Also marching under the AZM banner for the first time will be the Baltimore Zionist District, which heeded the AZM's call for members to make a special effort to join the parade to celebrate Israel's 75th birthday. Also coming for the first time will be representatives from the Druze Zionist Organization in Israel, representing a non-Jewish minority living primarily in Israel's north.
"There will be one or two from Israel and a couple who live in New York," Block said. "They will march with the Druze flag in our contingent."
Members of the Givati Brigade Association, which supports the elite unit of the Israel Defense Forces, will also marching for the first time. Some members of the unit were among the hundreds of Israeli reservists who announced they would boycott reserve duty before the judicial reforms were suspended this spring.
"We hope people will understand how important it is to support not only the Givati Brigade but the IDF in general," said Itzhak Levit, chair of the GBA. "The Givati Brigade has been involved in all military operations since 1948. Former members of the brigade who live in New York will join us in the parade; we expect around 25."
Over the decades some have noted that the parade, launched in 1964, gradually drew less grassroots support than it did large contingents of children bused in from various Jewish day schools. And there have been political disputes: In 2015, in addition to guidelines saying that all groups marching must "recognize Israel as the homeland of the Jewish people," parade organizers banned groups that advocate for the boycott against Israel. A decade ago there were calls from the right to ban the New Israel Fund and other left-wing groups from marching. And in 2012, LGBTQ Jews marched for the first time under the banner of Manhattan's Congregation Beit Simchat Torah, after decades in which LGBTQ Jews were prevented from marching with signage identifying them as gay and lesbian.
Gideon Taylor, CEO of JCRC-NY, the UJA-Federation agency that runs the parade, said there were no new guidelines issued this year concerning the unrest in Israel or any other topic.
The parade has also attracted small groups of pro-Palestinian protesters, as well as a small contingent from Neturei Karta, the anti-Zionist Hasidic sect.
Kenneth Bob, the Ameinu president, told the New York Jewish Week that this "is an important year to be marching. Israel is celebrating its 75th birthday and with all that is going on in Israel we thought this is the time to march for Israel and in support of the protestors. Once we came up with the idea to combine our love for Israel with support for the demonstrators [in Israel], it was a quick and easy decision to decide to march; it's a good fit for us."
The Celebrate Israel Parade kicks off on Sunday, June 4, at 11:30 a.m. at Fifth Avenue and 57th Street and will march to 74th Street. The Celebrate Israel Block Party will take place on 63rd Street between Madison and Fifth Avenues from 11 a.m. until 4:30 p.m. The parade will be televised on Channel 9 in New York and livestreamed on the website celebrateisraelny.org.
—
The post NYC's Celebrate Israel Parade set to draw big crowds — and protests — amid Israel's political turmoil appeared first on Jewish Telegraphic Agency.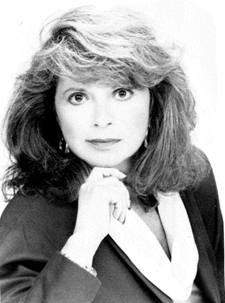 Phyllis Pollock died at home Sunday September 3, 2023 in Winnipeg, after a courageous lifetime battle with cancer.
Phyllis was a mother of four: Gary (Laura), daughter Randi, Steven (deceased in 2010) (Karen), and Robert. Phyllis also had two grandchildren: Lauren and Quinn.
Born in Fort Frances, Ontario on February 7, 1939, Phyllis was an only child to Ruby and Alex Lerman. After graduating high school, Phyllis moved to Winnipeg where she married and later divorced Danny Pollock, the father of her children. She moved to Beverly Hills in 1971, where she raised her children.
Phyllis had a busy social life and lucrative real estate career that spanned over 50 years, including new home sales with CoastCo. Phyllis was the original sales agent for three buildings in Santa Monica, oceanfront: Sea Colony I, Sea Colony II, and Sea Colony. She was known as the Sea Colony Queen. She worked side by side with her daughter Randi for about 25 years – handling over 600 transactions, including sales and leases within the three phases of Sea Colony alone.
Phyllis had more energy than most people half her age. She loved entertaining, working in the real estate field, meeting new and interesting people everyday no matter where she went, and thrived on making new lifelong friends. Phyllis eventually moved to the Sea Colony in Santa Monica where she lived for many years before moving to Palm Desert, then Winnipeg.
After battling breast cancer four times in approximately 20 years, she developed metastatic Stage 4 lung cancer. Her long-time domestic partner of 27 years, Joseph Wilder, K.C., was the love of her life. They were never far apart. They traveled the world and went on many adventures during their relationship. During her treatment, Phyllis would say how much she missed work and seeing her clients. Joey demonstrated amazing strength, love, care, and compassion for Phyllis as her condition progressed. He was her rock and was by her side 24/7, making sure she had the best possible care. Joey's son David was always there to support Phyllis and to make her smile. Joey's other children, Sheri, Kenny, Joshua and wife Davina, were also a part of her life. His kids would Facetime Phyllis and include her during any of their important functions. Phyllis loved Joey's children as if they were her own.
Thank you to all of her friends and family who were there to support her during these difficult times. Phyllis is now, finally, pain free and in a better place. She was loved dearly and will be greatly missed. Interment took place in Los Angeles.
Gwen Centre Creative Living Centre celebrates 35th anniversary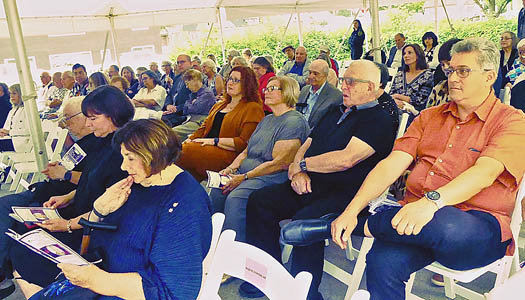 By BERNIE BELLAN Over 100 individuals gathered at the Gwen Secter Centre on Tuesday evening, July 18 – under the big top that serves as the venue for the summer series of outdoor concerts that is now in its third year at the centre.
The occasion was the celebration of the Gwen Secter Centre's 35th anniversary. It was also an opportunity to honour the memory of Sophie Shinewald, who passed away at the age of 106 in 2019, but who, as recently as 2018, was still a regular attendee at the Gwen Secter Centre.
As Gwen Secter Executive Director Becky Chisick noted in her remarks to the audience, Sophie had been volunteering at the Gwen Secter Centre for years – answering the phone among other duties. Becky remarked that Sophie's son, Ed Shinewald, had the phone number for the Gwen Secter Centre stored in his phone as "Mum's work."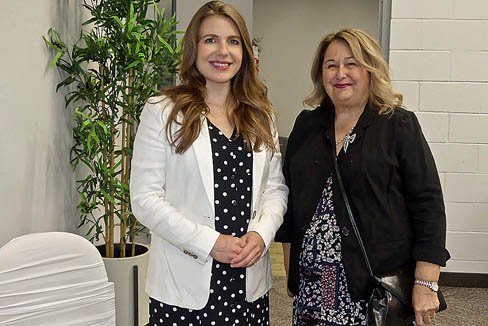 Remarks were also delivered by Raquel Dancho, Member of Parliament for Kildonan-St. Paul, who was the only representative of any level of government in attendance. (How times have changed: I remember well the steadfast support the former Member of the Legislature for St. John's, Gord Mackintosh, showed the Gwen Secter Centre when it was perilously close to being closed down. And, of course, for years, the area in which the Gwen Secter Centre is situated was represented by the late Saul Cherniack.)
Sophie Shinewald's granddaughter, Alix (who flew in from Chicago), represented the Shinewald family at the event. (Her brother, Benjamin, who lives in Ottawa, wasn't able to attend, but he sent a pre-recorded audio message that was played for the audience.)
Musical entertainment for the evening was provided by a group of talented singers, led by Julia Kroft. Following the concert, attendees headed inside to partake of a sumptuous assortment of pastries, all prepared by the Gwen Secter culinary staff. (And, despite my asking whether I could take a doggy bag home, I was turned down.)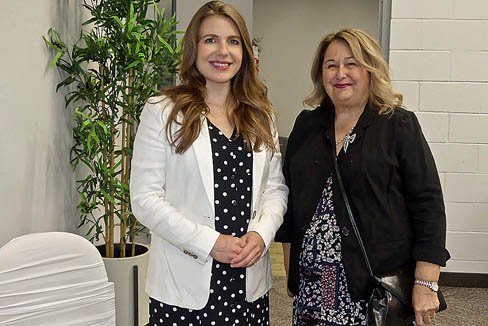 Palestinian gunmen kill 4 Israelis in West Bank gas station
This is a developing story.
(JTA) — Palestinian gunmen killed four people and wounded four in a terror attack at a gas station near the West Bank settlement of Eli, the Israeli army reported.
An Israeli civilian returning fire at the scene of the attack on Tuesday killed one of the attackers, who emerged from a vehicle, and two others fled.
Kan, Israel's public broadcaster, said one of those wounded was in serious condition. The gunmen, while in the vehicle, shot at a guard post at the entry to the settlement, and then continued to the gas station which is also the site of a snack bar. A nearby yeshiva went into lockdown.
Israeli Defense Minister Yoav Gallant announced plans to convene a briefing with top security officials within hours of the attack. Kan reported that there were celebrations of the killing in major West Bank cities and in the Gaza Strip, initiated by terrorist groups Hamas and Palestinian Islamic Jihad. Hamas said the shooting attack Tuesday was triggered by the Jenin raid.
The shooting comes as tensions intensify in the West Bank. A day earlier, Israeli troops raiding the city of Jenin to arrest accused terrorists killed five people.
The Biden administration spoke out over the weekend against Israel's plans to build 4,000 new housing units for Jewish settlers in the West Bank. Israeli Prime Minister Benjamin Netanyahu also finalized plans to  transfer West Bank building decisions to Bezalel Smotrich, the extremist who is the finance minister. Smotrich has said he wants to limit Palestinian building and expand settlement building.
Kan reported that the dead terrorist was a resident of a village, Urif, close to Huwara, the Palestinian town where terrorists killed two Israeli brothers driving through in February. Settlers retaliated by raiding the village and burning cars and buildings.
—
The post Palestinian gunmen kill 4 Israelis in West Bank gas station appeared first on Jewish Telegraphic Agency.