Queer yeshiva to publish first-ever collection of Jewish legal opinions written by and for trans Jews
(JTA) — In the midst of writing a 13-page analysis of a complex area of Jewish law, Rabbi Xava De Cordova found something she wasn't expecting to see in the medieval-era sources: flexibility.
De Cordova is transgender and had long wondered whether she could feel a sense of belonging while studying reams of rabbinic writings on halacha, or Jewish law, which stretch back thousands of years and often prescribe different practices for men and women.
The laws of ritual purity, for example, prescribe specific behaviors for women on the assumption that they all menstruate. Trans women do not. De Cordova said that gap and others had her thinking, "I don't really know if I can find a place for myself in this literature."
But after digging into Jewish texts on the topic, De Cordova realized she'd sold the sages short: Medieval European rabbis were asking many of the same questions she was — and their answers reflected real-world complexity.
"I just found that the rabbis and the early halachic authorities' understanding of niddah was so much more conceptual and vague and fluctuating than I ever realized before I started this particular work," De Cordova said, using the Hebrew term for purity laws. Her conclusion: "Wow, there's so much space for me within this literature."
De Cordova's realization is one of many that a dozen Jewish scholars and rabbis have had over the last year as they have scoured Jewish texts for guidance on how transgender Jews can adapt traditional rituals to their lived experience. Now, the group is preparing to release a batch of their essays, analyses of Jewish law called teshuvot, in hopes that they can inform the experiences of trans Jews who seek to live in accordance with traditional Jewish law.
The release of the essays comes at a time when lawmakers in dozens of states are targeting trans people and their rights, in some cases instigating fights that have heavily involved rabbis and their families.
In that climate, writing trans Jews into Jewish tradition "becomes an act of resistance because it's about celebrating lives that are being demeaned and celebrating people who are being dehumanized in the public sphere," said Rabbi Becky Silverstein, co-director of the Trans Halakha Project at Svara, the yeshiva founded in Chicago two decades ago to serve the queer community. The dozen rabbis and scholars are based at Svara and collectively form the Teshuva Writing Project.
Among the questions they have tackled: How could a trans man converting to Judaism have a bris, required for male converts? Is the removal of body tissue after gender-affirming surgery a ritual matter, given Jewish legal requirements for burying body parts? And is there a Jewish obligation, in certain cases, to undergo gender transition?
Just how widely their answers will be consumed and taken into account is a question. Most Jews who consciously adhere to halacha throughout their daily lives are Orthodox, and live in communities that either reject trans Jews or are reckoning with whether and how to accept them. Non-Orthodox Jewish denominations have made efforts to embrace trans Jews, but halacha is less often the starting point for most of their members. The Reform movement, the largest in the United States, expressly rejects halacha as binding.
Still, a growing number of Jews and Jewish communities strive to be inclusive while staying rooted in Jewish law and tradition. There are also a growing number of trans Jews who are connected to traditional communities, or who want to live in accordance with Jewish law.
"I think individual trans Jews who are not part of communities could use these teshuvot to guide their own decision-making," said Silverstein, who was ordained at the pluralistic Hebrew College seminary. "We live in a time of religious autonomy in Jewish life, and where trans Jews actually are hungry for connection to tradition. And so they could use these teshuvot to help inform their own conversations."
Organizations and initiatives such as the Jewish LGBTQ group Keshet; Torah Queeries, a collection of queer commentaries on the Bible; and TransTorah.org have created rituals, readings, blessings and customs for trans Jews, and Svara runs a Queer Talmud Camp as well as intensive Jewish study programs throughout the year. But until now, no collection of Jewish legal opinions has been published by and for trans people.
"Halacha has to be informed by the real lived experiences of the people about whom it is legislating," said Laynie Soloman, who helps lead Svara and holds the title of associate rosh yeshiva, in an approach that they said the group had adopted from the disability advocacy community. "That is a fundamental truth about halacha that we are holding as a collective and taking seriously in the way we are authoring these teshuvot."
The teshuvot will be published later this month, and follow a long tradition of rabbis setting halachic precedent by answering questions from their followers. Those answers are traditionally based on an analysis of rabbinic texts throughout history. They can address questions ranging from whether smoking cigarettes is permissible to the particulars of making a kitchen kosher for Passover.
Some Jewish legal questions tackled by the group at Svara had not previously been answered, such as how to mark conversion for someone who is male but does not have a penis. In other cases, accepted Jewish law pertaining to gender can be painful for those who are nonbinary or trans, either because the answer is not clear or because the law does not match up with contemporary understandings that gender and sex are distinct.
"[Those are] areas where trans people are sort of most likely to either feel lost themselves or be interrogated by their community. … And so they're sort of these urgent halachic needs," said De Cordova, who was privately ordained by a rabbi from the Renewal Judaism movement. "And 99.9% of the literature about them so far has been written by cis people, about us."
De Cordova concluded that trans women are obligated in niddah, the ritual purity laws. In her teshuva, she provides several approaches to emulate the complicated counting cycle that tallies the days a woman is considered ritually impure following menstruation. She suggests using a seven- and 11-day cycle originally proposed by Maimonides, the 12th-century scholar and philosopher. De Cordova also suggests that the imposition of a cycle not based in biology means ancient and medieval rabbis had some understanding of womanhood as a social construct.
"There's many cases in which the rabbis sort of choose to orient niddah around their understanding of women, which I would call the social construction of womanhood by rabbis, rather than observable physical phenomenon or actual women's experience," she said.
For De Cordova, the experience of writing about niddah provided her with new insights about some of the oldest Jewish legal texts on the subject.
"They're flexible enough and sort of responsive enough that I can really find a lot of freedom and space in working with them," she said of the ancient sources. "And that was just a really sort of wonderful and freeing transition to go through."
Last year, the Conservative Movement approved new language for calling up a nonbinary person to various Torah honors. The rabbis behind the opinion consulted with groups serving LGBTQ Jews and synagogues centered on them, but acknowledged that they were imperfect authors.
"When my coauthors and I published the teshuva, we wrote in it that we are all cisgender rabbis and that we hope that, increasingly, halachic work dealing with nonbinary and trans and queer Jewish life and identity and practice will… come from queer rabbis and scholars themselves," said Guy Austrian, the rabbi of the Fort Tryon Jewish Center, a synagogue in upper Manhattan. "And I think the publication of the first batch of teshuvot from the Trans Halakha Project shows that that process is underway, and I think that that can only be a good thing for the Jewish world."
Adding to the question-and-answer tradition of Jewish legal opinions means trans Jews will now have new texts to guide their religious practice, Silverstein said. Trans Jews, the writers of the opinions acknowledge, already have their own ways of performing Jewish ritual that accords with their lived experience. But they say that when it comes to Jewish law, informal custom without a sourced legal opinion is not enough.
"I want cis[gender] clergy to realize that there are resources written by and for trans people that they can turn to when they're trying to help a member of their congregation," De Cordova said.
The authors of the legal opinions applied to be part of the collective and come from a religiously pluralistic group, ranging in affiliation from Orthodox to Conservative to Jewish Renewal. They have varying expectations for how far-reaching the impact of the new legal opinions will be.
Mike Moskowitz, an Orthodox rabbi and the scholar-in-residence for trans and queer Jewish studies at Congregation Beit Simchat Torah, which serves the LGBTQ community, said the teshuvot could provide a model for observant Jews who are also trans.
"I think it's significant in modeling what an informed conversation can look like, which hasn't really happened in Orthodox publications," said Moskowitz, who was not part of the collective that composed the teshuvot on trans Jews' practice. "I hope this models what can be done in other movements. What's been tricky is that every movement has a different understanding of what halacha means."
Even within Orthodoxy, conflicting opinions already exist, in a reflection of how halacha has always operated. For example, Talia Avrahami, a transgender Orthodox woman, follows the opinion of the late Rabbi Eliezer Waldenberg, known as the Tzitz Eliezer, who ruled that a trans woman who undergoes gender affirmation surgery is a woman according to Jewish law. But Avrahami was told she could not sit in the women's section of her synagogue, because the rabbi who the synagogue follows does not accept Waldenberg's opinion. Months earlier, Avrahami had also been asked to leave her teaching job at an Orthodox day school after students and parents learned that she was transgender.
Avrahami declined to comment on the new teshuvot, citing restrictions set by her current employer.
Silverstein says some Conservative rabbis have expressed interest in using the opinions to guide practice in their own congregations. But he is less sure if they will be adopted in the Orthodox community, which is the target audience for most traditional literature on Jewish law.
"When it comes to the Orthodox community, I'm not sure I am bold enough to dream that these teshuvot specifically are going to be adopted," Silverstein said. "I'm not even sure I know what that means. But it is my hope that they will permeate throughout the Jewish community, at least through the Modern Orthodox community."
The scope of the opinions written by the collective extends beyond the trans community. The first batch of answers, for example, includes an opinion about how to increase physical accessibility to a mikvah, ritual baths used to fulfill some requirements of Jewish law.
"Judaism thrives and Torah thrives when people are bringing their life experiences to the text and asking their questions of the text," Silverstein said. "That's how new Torah is uncovered in the world. And that's how Judaism and Torah has stayed alive through so much of Jewish history."
—
The post Queer yeshiva to publish first-ever collection of Jewish legal opinions written by and for trans Jews appeared first on Jewish Telegraphic Agency.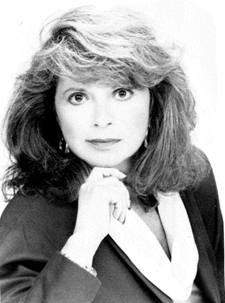 Phyllis Pollock died at home Sunday September 3, 2023 in Winnipeg, after a courageous lifetime battle with cancer.
Phyllis was a mother of four: Gary (Laura), daughter Randi, Steven (deceased in 2010) (Karen), and Robert. Phyllis also had two grandchildren: Lauren and Quinn.
Born in Fort Frances, Ontario on February 7, 1939, Phyllis was an only child to Ruby and Alex Lerman. After graduating high school, Phyllis moved to Winnipeg where she married and later divorced Danny Pollock, the father of her children. She moved to Beverly Hills in 1971, where she raised her children.
Phyllis had a busy social life and lucrative real estate career that spanned over 50 years, including new home sales with CoastCo. Phyllis was the original sales agent for three buildings in Santa Monica, oceanfront: Sea Colony I, Sea Colony II, and Sea Colony. She was known as the Sea Colony Queen. She worked side by side with her daughter Randi for about 25 years – handling over 600 transactions, including sales and leases within the three phases of Sea Colony alone.
Phyllis had more energy than most people half her age. She loved entertaining, working in the real estate field, meeting new and interesting people everyday no matter where she went, and thrived on making new lifelong friends. Phyllis eventually moved to the Sea Colony in Santa Monica where she lived for many years before moving to Palm Desert, then Winnipeg.
After battling breast cancer four times in approximately 20 years, she developed metastatic Stage 4 lung cancer. Her long-time domestic partner of 27 years, Joseph Wilder, K.C., was the love of her life. They were never far apart. They traveled the world and went on many adventures during their relationship. During her treatment, Phyllis would say how much she missed work and seeing her clients. Joey demonstrated amazing strength, love, care, and compassion for Phyllis as her condition progressed. He was her rock and was by her side 24/7, making sure she had the best possible care. Joey's son David was always there to support Phyllis and to make her smile. Joey's other children, Sheri, Kenny, Joshua and wife Davina, were also a part of her life. His kids would Facetime Phyllis and include her during any of their important functions. Phyllis loved Joey's children as if they were her own.
Thank you to all of her friends and family who were there to support her during these difficult times. Phyllis is now, finally, pain free and in a better place. She was loved dearly and will be greatly missed. Interment took place in Los Angeles.
Gwen Centre Creative Living Centre celebrates 35th anniversary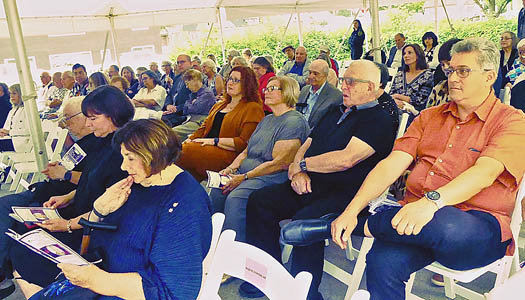 By BERNIE BELLAN Over 100 individuals gathered at the Gwen Secter Centre on Tuesday evening, July 18 – under the big top that serves as the venue for the summer series of outdoor concerts that is now in its third year at the centre.
The occasion was the celebration of the Gwen Secter Centre's 35th anniversary. It was also an opportunity to honour the memory of Sophie Shinewald, who passed away at the age of 106 in 2019, but who, as recently as 2018, was still a regular attendee at the Gwen Secter Centre.
As Gwen Secter Executive Director Becky Chisick noted in her remarks to the audience, Sophie had been volunteering at the Gwen Secter Centre for years – answering the phone among other duties. Becky remarked that Sophie's son, Ed Shinewald, had the phone number for the Gwen Secter Centre stored in his phone as "Mum's work."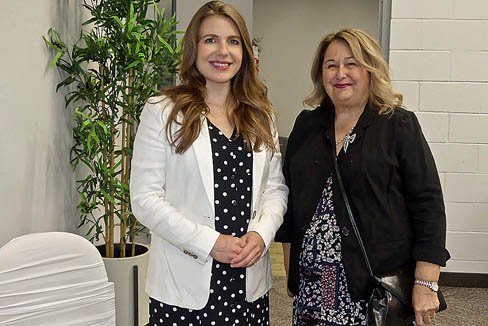 Remarks were also delivered by Raquel Dancho, Member of Parliament for Kildonan-St. Paul, who was the only representative of any level of government in attendance. (How times have changed: I remember well the steadfast support the former Member of the Legislature for St. John's, Gord Mackintosh, showed the Gwen Secter Centre when it was perilously close to being closed down. And, of course, for years, the area in which the Gwen Secter Centre is situated was represented by the late Saul Cherniack.)
Sophie Shinewald's granddaughter, Alix (who flew in from Chicago), represented the Shinewald family at the event. (Her brother, Benjamin, who lives in Ottawa, wasn't able to attend, but he sent a pre-recorded audio message that was played for the audience.)
Musical entertainment for the evening was provided by a group of talented singers, led by Julia Kroft. Following the concert, attendees headed inside to partake of a sumptuous assortment of pastries, all prepared by the Gwen Secter culinary staff. (And, despite my asking whether I could take a doggy bag home, I was turned down.)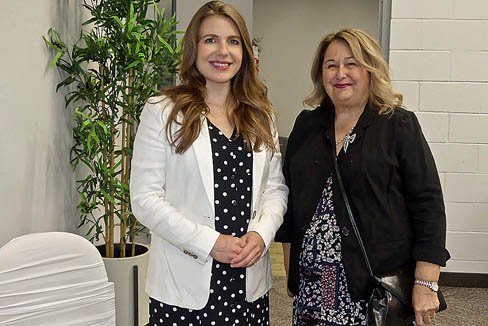 Palestinian gunmen kill 4 Israelis in West Bank gas station
This is a developing story.
(JTA) — Palestinian gunmen killed four people and wounded four in a terror attack at a gas station near the West Bank settlement of Eli, the Israeli army reported.
An Israeli civilian returning fire at the scene of the attack on Tuesday killed one of the attackers, who emerged from a vehicle, and two others fled.
Kan, Israel's public broadcaster, said one of those wounded was in serious condition. The gunmen, while in the vehicle, shot at a guard post at the entry to the settlement, and then continued to the gas station which is also the site of a snack bar. A nearby yeshiva went into lockdown.
Israeli Defense Minister Yoav Gallant announced plans to convene a briefing with top security officials within hours of the attack. Kan reported that there were celebrations of the killing in major West Bank cities and in the Gaza Strip, initiated by terrorist groups Hamas and Palestinian Islamic Jihad. Hamas said the shooting attack Tuesday was triggered by the Jenin raid.
The shooting comes as tensions intensify in the West Bank. A day earlier, Israeli troops raiding the city of Jenin to arrest accused terrorists killed five people.
The Biden administration spoke out over the weekend against Israel's plans to build 4,000 new housing units for Jewish settlers in the West Bank. Israeli Prime Minister Benjamin Netanyahu also finalized plans to  transfer West Bank building decisions to Bezalel Smotrich, the extremist who is the finance minister. Smotrich has said he wants to limit Palestinian building and expand settlement building.
Kan reported that the dead terrorist was a resident of a village, Urif, close to Huwara, the Palestinian town where terrorists killed two Israeli brothers driving through in February. Settlers retaliated by raiding the village and burning cars and buildings.
—
The post Palestinian gunmen kill 4 Israelis in West Bank gas station appeared first on Jewish Telegraphic Agency.