The historian who uncovered the ADL's secret plot against the far-right John Birch Society
(JTA) — A historian leafing through files in an archive discovered how a Jewish organization helped bring down an influential far-right extremist movement in the United States in the 1960s and '70s by going undercover and acting as self-appointed spies. 
The discovery of the Anti-Defamation League's covert operation targeting the John Birch Society is the basis of a chapter in a new book by political historian Matthew Dallek of George Washington University. Published in March, "Birchers: How the John Birch Society Radicalized the American Right" is Dallek's fourth book. It examines the roots of today's emboldened conservative movement in the United States.
"Birchers" is a history of a group that at its height numbered as many as 100,000 members and "mobilized a loyal army of activists" in a campaign against what it saw as a vast communist conspiracy. He also examines how the Birchers' mission to defend Christianity and capitalism morphed into a radical anti-civil rights agenda that groups like the ADL saw as an existential threat. 
Dallek, who grew up in a Reform Jewish household in Los Angeles, recently sat with the Jewish Telegraphic Agency to discuss the rise of the Birchers, how the ADL infiltrated their ranks and whether such tactics are justified in the name of fighting extremism.
The conversation has been edited for clarity and brevity. 
JTA: Before we get into the Jewish aspect of the book, meaning the chapter on the Anti-Defamation League's relationship with the John Birch Society, let's take a step back. Who are so-called Birchers? Why do they matter? 
Mathew Dallek: The John Birch Society was a household name in the 1960s, becoming the emblem of far-right extremism. It didn't have huge numbers, but it did penetrate the culture and the national consciousness. Its leader, Robert Welch, had argued at one point that President Dwight Eisenhower was a dedicated agent of a communist conspiracy taking over the United States. Welch formed the John Birch Society to educate the American people about the nature of the communist threat. 
In its heyday, the group had about 60,000 to 100,000 members, organized into small chapters. They sent out literature trying to give members roadmaps or ideas for what they could do. They believed a mass education of the public was needed because traditional two-party politics was not going to be very effective at exposing the communist threat. They would form front groups such as Impeach Earl Warren [the Supreme Court's chief justice] or Support Your Local Police. They tried to ban certain books that they viewed as socialistic from being used in schools. Some Birchers ran for school board seats and protested at libraries. 
Critics feared that the Birchers were a growing fascist or authoritarian group and that if they were not sidelined politically and culturally then the country could be overrun. The Nation magazine wrote that Birchers essentially had given their followers an invitation to engage in civil war, guerrilla-style. Those fears sparked a big debate about democracy. How does one sustain democracy and, at the height of the Cold War and in the shadow of World War II, Nazi fascist Germany, and the Holocaust?
As you were researching, you came across a trove of historical internal documents from the ADL in the archives of the American Jewish Historical Society in New York. Why did you devote a chapter to what you found in those documents? What did those files reveal to you about the John Birch Society?
These papers are a goldmine. They're this incredible and often detailed window into the far-right and, in particular, the John Birch Society. They show the ADL had an extensive, multi-dimensional counterintelligence operation that they were running against the Birch Society. 
People knew at the time that the ADL was attending events where Birchers were speaking. But the ADL also had undercover agents with code names, who were able to infiltrate the society's headquarters in Belmont, Massachusetts, and various chapter officers. They dug up financial and employment information about individual Birchers. And they not only used the material for their own newsletters and press releases, but they also fed information to the media.
Another layer is about a debate that's been going on: Were the Birchers racist and antisemitic? The Birch Society always insisted that they did not tolerate white supremacy and didn't want any KKK members. They said they accepted people of all faiths and races. And it's true that they did have a handful of Jewish and Black members. 
But what the ADL found was that a lot of hate was bubbling up from the grassroots and also leaking out from the top. The ADL was able to document this in a systematic way. 
Some critics of the ADL today say the organization has strayed from its mission by focusing not just on antisemitism but on a wider array of causes. But from reading your work, it sounds like the ADL even then took an expansive view of its role, examining not just direct attacks on Jews but also how the political environment can jeopardize Jews. Am I getting that right, and why did the ADL devote so many resources to a group like the John Birch Society?
So, a few things: It's the late '50s and '60s, and a civil rights coalition is emerging. Benjamin Epstein, the national director of the ADL, was friendly with Thurgood Marshall, the Supreme Court justice, and Martin Luther King. John F. Kennedy went to an ADL event and praised the ADL for speaking out very strongly in defense of democracy and pushing for the equal treatment of all Americans. 
Isadore Zack, who helped lead the spy operation, at one point wrote to his colleagues that it was only in a democracy that the Jewish community has been allowed to flourish and so, if you want to defend Jewish Americans, you also have to defend democracy. 
There certainly were other threats at the time, but the Birch Society was seen by liberal critics, including the ADL, as a very secretive group that promoted conspiracy theories about communists who often became conflated with Jews. 
Would you consider the ADL successful in its campaign against the Birchers?
They were successful. They used surreptitious and in some cases underhanded means to expose the antisemitism and the racism and also interest in violence or the violent rhetoric of the Birch Society in the 1960s.
The ADL was at the tip of the spear of a liberal coalition that included the White House, sometimes the Department of Justice, depending on the issue, the NAACP, Americans for Democratic Action, labor unions, the union-backed Group Research Inc., which was tracking the far-right as well. The ADL was one of the most, if not the most effective at constraining and discrediting the society.
Clearly, however, the Birchers' ideas never died. They lived on and made a comeback. 
It's somewhat ironic that you reveal the existence of this spying apparatus devoted to targeting an extremist and antisemitic group in the 1960s given the infamy the ADL would earn in a later era, the 1990s, for allegations that they colluded with police agencies in San Francisco to spy on and harass political activists. They eventually settled with the Arab American, Black and American Indian groups that brought a federal civil suit. I know you didn't study these revelations, which are outside the scope of your book, but could you perhaps reflect on why undercover tactics were seen as necessary or justified?
It's important to remember that in the mid-20th century, law enforcement in the United States was often led by antisemites or people who were much more concerned with alleged internal communist threats — the threat from the left. 
From the ADL's vantage point, one could not rely on the government entities that were by law and by design supposed to protect Jewish Americans. There was a sense that this work had to be done, at least in part, outside of the parameters of the government. 
When I first discovered the ADL's spying, I didn't quite know what to make of it. But I realized they weren't just spying to spy, they exposed a lot of scary things, with echoes in our own times — like easy access to firearms, a hatred of the government, a denigration and defamation of minority groups. And this was all happening in the shadow of the Holocaust and World War II. I became much more sympathetic; they were very effective, and they had a vision of equality of treatment for all Americans.
It's obviously controversial. I try not to shy away from it. But they had a lot of good reasons to fight back right and to fight back in this nonviolent way.
That last thought brings to mind another, right-wing Jewish group that existed in this era of taking things into our own hands, that did use violence, explosives even. 
You mean the Jewish Defense League, led by Meir Kahane. 
Yes, exactly. 
He was a Bircher. Toward the end of my book, I mention that he was a member for a while, under his alias Michael King.
Antisemitism is on the rise, and lots of initiatives are being organized to address it, both by existing groups like the ADL and new ones. The ADL's budget has almost doubled over the past seven years. I am seeing Jews talk of fighting back and taking things into their own hands. And we are in this politically precarious movement in American history, all of which suggests parallels to the era you examined. What kind of wisdom can we glean from examining the ADL's secret and public fight against the John Birch Society as people who care about the issues affecting Jews today?
A lot of liberals in the 1960s and a lot of the leadership at the ADL grasped the axiom that things can always get worse. 
In 2015-2016, you'll recall, there was Trump's demonization of Mexican immigrants, and the so-called "alt-right" around him and his campaign and expressions of vitriol by people like Steve Bannon. 
There was an assumption among a lot of Americans and among a lot of Jewish Americans that the fringe right — the antisemites, the explicit racists, the white supremacists — that there's not a majority for them and they can never achieve power. 
If you go back and you look at Trump's closing 2016 campaign ad, it's textbook antisemitism. He flashes on screen these wealthy Jewish international bankers, and he argues that basically, there's a conspiracy of these global elites who are stealing the wealth of honest Americans. There's also 2017, the white supremacists in Charlottesville, who said "Jews will not replace us" and Trump saying there are fine people on both sides.
The sense that democracy is incredibly fragile is not just a theory or a concept: It's an actuality, the sense as well, that the United States has only been a multiracial democracy for not very long and a haven for Jews for not that long either. 
The work that the ADL and the NAACP and other groups did to try to constrain and discredit as fringe and extremist still goes on today. It's harder to do for all sorts of reasons today including social media and the loss of faith in institutions. But it still goes on. You see the importance of institutional guardrails including the Department of Justice that is prosecuting 1,000 Jan. 6 insurrectionists. 
The last thing I'll say is that one of the admirable things in the 1960s about the ADL and the liberal coalition it belonged to is that it built support for landmark legislation like the Immigration Act of 1965, the Civil Rights Act of 1964, and the Voting Rights Act of '65. And a coalition eventually fell apart, but it was powerful, reminding us why Jewish American groups should care about or focus on issues that don't directly affect Jewish people. 
—
The post The historian who uncovered the ADL's secret plot against the far-right John Birch Society appeared first on Jewish Telegraphic Agency.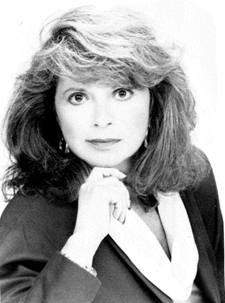 Phyllis Pollock died at home Sunday September 3, 2023 in Winnipeg, after a courageous lifetime battle with cancer.
Phyllis was a mother of four: Gary (Laura), daughter Randi, Steven (deceased in 2010) (Karen), and Robert. Phyllis also had two grandchildren: Lauren and Quinn.
Born in Fort Frances, Ontario on February 7, 1939, Phyllis was an only child to Ruby and Alex Lerman. After graduating high school, Phyllis moved to Winnipeg where she married and later divorced Danny Pollock, the father of her children. She moved to Beverly Hills in 1971, where she raised her children.
Phyllis had a busy social life and lucrative real estate career that spanned over 50 years, including new home sales with CoastCo. Phyllis was the original sales agent for three buildings in Santa Monica, oceanfront: Sea Colony I, Sea Colony II, and Sea Colony. She was known as the Sea Colony Queen. She worked side by side with her daughter Randi for about 25 years – handling over 600 transactions, including sales and leases within the three phases of Sea Colony alone.
Phyllis had more energy than most people half her age. She loved entertaining, working in the real estate field, meeting new and interesting people everyday no matter where she went, and thrived on making new lifelong friends. Phyllis eventually moved to the Sea Colony in Santa Monica where she lived for many years before moving to Palm Desert, then Winnipeg.
After battling breast cancer four times in approximately 20 years, she developed metastatic Stage 4 lung cancer. Her long-time domestic partner of 27 years, Joseph Wilder, K.C., was the love of her life. They were never far apart. They traveled the world and went on many adventures during their relationship. During her treatment, Phyllis would say how much she missed work and seeing her clients. Joey demonstrated amazing strength, love, care, and compassion for Phyllis as her condition progressed. He was her rock and was by her side 24/7, making sure she had the best possible care. Joey's son David was always there to support Phyllis and to make her smile. Joey's other children, Sheri, Kenny, Joshua and wife Davina, were also a part of her life. His kids would Facetime Phyllis and include her during any of their important functions. Phyllis loved Joey's children as if they were her own.
Thank you to all of her friends and family who were there to support her during these difficult times. Phyllis is now, finally, pain free and in a better place. She was loved dearly and will be greatly missed. Interment took place in Los Angeles.
Gwen Centre Creative Living Centre celebrates 35th anniversary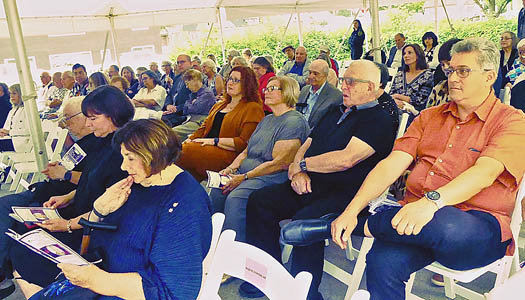 By BERNIE BELLAN Over 100 individuals gathered at the Gwen Secter Centre on Tuesday evening, July 18 – under the big top that serves as the venue for the summer series of outdoor concerts that is now in its third year at the centre.
The occasion was the celebration of the Gwen Secter Centre's 35th anniversary. It was also an opportunity to honour the memory of Sophie Shinewald, who passed away at the age of 106 in 2019, but who, as recently as 2018, was still a regular attendee at the Gwen Secter Centre.
As Gwen Secter Executive Director Becky Chisick noted in her remarks to the audience, Sophie had been volunteering at the Gwen Secter Centre for years – answering the phone among other duties. Becky remarked that Sophie's son, Ed Shinewald, had the phone number for the Gwen Secter Centre stored in his phone as "Mum's work."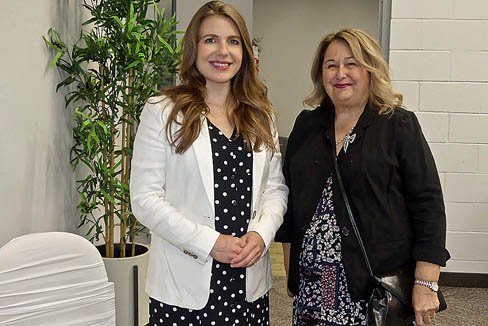 Remarks were also delivered by Raquel Dancho, Member of Parliament for Kildonan-St. Paul, who was the only representative of any level of government in attendance. (How times have changed: I remember well the steadfast support the former Member of the Legislature for St. John's, Gord Mackintosh, showed the Gwen Secter Centre when it was perilously close to being closed down. And, of course, for years, the area in which the Gwen Secter Centre is situated was represented by the late Saul Cherniack.)
Sophie Shinewald's granddaughter, Alix (who flew in from Chicago), represented the Shinewald family at the event. (Her brother, Benjamin, who lives in Ottawa, wasn't able to attend, but he sent a pre-recorded audio message that was played for the audience.)
Musical entertainment for the evening was provided by a group of talented singers, led by Julia Kroft. Following the concert, attendees headed inside to partake of a sumptuous assortment of pastries, all prepared by the Gwen Secter culinary staff. (And, despite my asking whether I could take a doggy bag home, I was turned down.)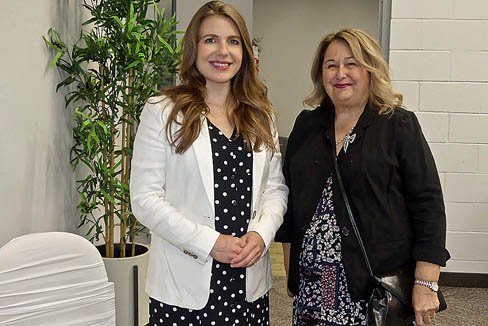 Palestinian gunmen kill 4 Israelis in West Bank gas station
This is a developing story.
(JTA) — Palestinian gunmen killed four people and wounded four in a terror attack at a gas station near the West Bank settlement of Eli, the Israeli army reported.
An Israeli civilian returning fire at the scene of the attack on Tuesday killed one of the attackers, who emerged from a vehicle, and two others fled.
Kan, Israel's public broadcaster, said one of those wounded was in serious condition. The gunmen, while in the vehicle, shot at a guard post at the entry to the settlement, and then continued to the gas station which is also the site of a snack bar. A nearby yeshiva went into lockdown.
Israeli Defense Minister Yoav Gallant announced plans to convene a briefing with top security officials within hours of the attack. Kan reported that there were celebrations of the killing in major West Bank cities and in the Gaza Strip, initiated by terrorist groups Hamas and Palestinian Islamic Jihad. Hamas said the shooting attack Tuesday was triggered by the Jenin raid.
The shooting comes as tensions intensify in the West Bank. A day earlier, Israeli troops raiding the city of Jenin to arrest accused terrorists killed five people.
The Biden administration spoke out over the weekend against Israel's plans to build 4,000 new housing units for Jewish settlers in the West Bank. Israeli Prime Minister Benjamin Netanyahu also finalized plans to  transfer West Bank building decisions to Bezalel Smotrich, the extremist who is the finance minister. Smotrich has said he wants to limit Palestinian building and expand settlement building.
Kan reported that the dead terrorist was a resident of a village, Urif, close to Huwara, the Palestinian town where terrorists killed two Israeli brothers driving through in February. Settlers retaliated by raiding the village and burning cars and buildings.
—
The post Palestinian gunmen kill 4 Israelis in West Bank gas station appeared first on Jewish Telegraphic Agency.