The real Jewish history in 'History of the World: Part II': Part I
Spoilers for "History of the World: Part II" follow.
(JTA) – Finally fulfilling the promise Mel Brooks made in 1981, the long-belated "History Of The World: Part II" brings us … "Hitler on Ice."
For a sketch first teased during the end credits of Brooks' film "History Of The World: Part I," the leader of Nazi Germany can be seen attempting to land some difficult moves (perhaps a triple Axis?) at an Olympics-like skating competition. 
Needless to stay, Hitler wasn't known as a figure skater. But some aspects of the sketch — such as why collaborationist Vichy France would give the Nazi leader's routine a perfect score — might benefit from a more detailed understanding of the real history that's being pilloried. 
The same goes for the sendups of Christianity, the Russian Revolution and Henry Kissinger — all historical events and figures depicted in the first episodes of the series, which landed on Hulu on Monday. Produced by Brooks and offering up its share of his Catskills-style Jewish humor, the eight-episode, four-night romp through history stops frequently on items of Jewish interest. Some sketches  recur throughout the series.
So here is your guide to the real-life Jewish history of "History of the World: Part II," to be updated daily as new episodes drop.
The Russian Revolution
In a longer narrative first introduced in Episode 1, the show's depiction of the fall of the Russian Empire is a high-wire blend of parodies and stylistic influences, as well as a crash course on Russian antisemitism. 
It begins with a grody depiction of early-1900s Jewish shtetl life borrowing heavily from "Fiddler on the Roof." Mud-pie dealer and patriarch Shmuck Mudman, played by Jewish actor Nick Kroll, uses a truncated song-and-dance number ("Submission") to encourage his feisty son to follow Jewish traditions and stay away from cosmopolitan life in Moscow. But his son is unconvinced: "The shtetl stinks, it's no place for a Jew." Like Anatevka, the tiny Jewish village from "Fiddler," the Jews are heavily implied to be living in the "Pale of Settlement," the only region of the Russian Empire where Jews were permitted to live starting in the early 19th century and lasting until the Russian Revolution in 1917. State-backed schooling and "Russianization" programs sought to erode Jewish communal identity and replace it with a Russian national identity; a small number of Jews were allowed to work or study beyond the Pale if they had special skills. 
In "History," the Mudmans, including a mother played by Jewish comic Pamela Adlon, are menaced by the Cossacks, the Ukrainian mercenaries and feared horsemen who carried out a series of pogroms agains the Jews often at the behest of the Russian state. Meanwhile, the gilded Romanov family are depicted as Kardashian-like beauty influencers headed up by Tsar Nicholas II (Danny DeVito), who discovers their empire is on the brink of collapse.
In real life, the Russian Revolution liberated the state's Jewish population with the fall of the tsar in 1917, and a large percentage of Communist party members at the time were Jewish. (Like DeVito, Nicholas II in real life was a short man, around five-foot-six.) In the decades to follow, Communist rule would come to have a devastating effect on the Jews of the Soviet Union, suppressing their religion and culture, and purging many of the Jewish party members.
Hitler on ice
It's hard to impress a team of international judges when you're the genocidal maniac who tried to conquer them.
In the skit, Hitler is despondent when judges from the countries in which he waged war all give him zeroes — with the exception of Vichy France, which awards him a perfect score, and Poland, which awards him an expletive. (It's an uneasy restaging of the line "Winter for Poland and France," from "Springtime for Hitler," the musical highlight in Brooks' "The Producers.") 
The scores reflect Nazi Germany's relationship with the countries: It conquered France and installed a puppet government that acquiesced to Hitler's orders to round up and denationalize the country's Jews. Meanwhile, the Nazis invaded Poland in 1939, dividing up its rule with the Soviets and murdering much of its Jewish population in the Holocaust. Unlike the French government, which signed an armistice with Germany after heavy losses to clear the path for Vichy rule while preserving the Republic in name, Poland does not acquiesce to a collaborationist narrative; decades later, it is illegal in Poland to suggest that the country was complicit in Nazi atrocities.
But these wartime victories make Hitler the loser of "Hitler on Ice." Accompanied by his "coach" Joseph Goebbels (the Nazis' propaganda minister) and partner Eva Braun, this Hitler hangs his head in shame as he trudges away to the jeers of the crowd, intending to go shoot himself in his Berlin bunker in a repeat of his actual death by suicide at the end of World War II. 
"If you put concentration camps in people's countries," offers one of the sportscasters (played by Jewish comic Ike Barinholtz), "you better be flawless on the ice."
The betrayal of Jesus Christ
Titled "Curb Your Judaism," the show's dramatization of the events following the Last Supper is styled in the manner of Larry David's long-running HBO comedy "Curb Your Enthusiasm." Kroll plays Judas like he's Larry David, and his betrayal of Jesus is depicted as a series of comic misunderstandings — which, like the original "Curb," often revolve around questions of Jewish identity. "Curb" regulars play supporting roles as disciples, with J.B. Smoove as Luke and Richard Kind as Peter.
Besides aping the "Curb" mannerisms, including Judas' grumblings about foot-washing and the size of the portions at the Last Supper, much of the comedy of the Jesus segments revolves around to what degree Jesus himself (Jay Ellis of "Insecure") has formally renounced his Judaism. The segment depicts how Christ endeared himself to his followers, and introduced Christianity, by relaxing many of the requirements of Jewish tradition, including kosher laws and circumcision. "Something's off with this Jesus guy. He's trying to phase out his Judaism," Judas remarks.
Jewish scholars have generally viewed Jesus Christ as a teacher, but not as a prophet or messiah as Christians believe. Jews have granted differing levels of respect to Jesus depending on Jewish-Christian relations at any given point throughout world history (Jews weren't such big fans of Jesus during the Spanish Inquisition, so memorably depicted in "Part I"). 
Whether Jesus really did instruct his followers to disregard kosher laws and other Jewish practices is disputed by New Testament scholars and interpreters of the Gospel of Mark; other scholars believe Jesus intended to live as any other Jew. But "Curb Your Judaism" does depict Jesus as ultimately perishing at the hands of the Roman Empire, with whom Jews had a contentious relationship at the time, rather than at the hands of Jews, which was a popular belief used to justify antisemitism among various Christian denominations for centuries. "Nostra Aetate," the influential 1965 papal decree, finally "absolved" the Jews for Christ's murder, at least according to official Catholic doctrine.
Henry Kissinger
A sketch that imagines Shirley Chisholm, the first Black female member of Congress, as the star of a 1970s sitcom modeled on "The Jeffersons" includes a role for Kroll as Henry Kissinger, Richard Nixon's Jewish secretary of state. (Kroll is also an executive producer on the entire series, which helps explain his regular onscreen appearances.)
Historians generally view Kissinger, a refugee from Nazi Germany, as the lead architect of the Nixon administration's most controversial decisions, including prolonging the Vietnam War and orchestrating a secret bombing campaign on Cambodia. Some call him a war criminal.
The Kissinger of "History" catches some of that criticism. A throwaway line further suggests he is an immortal demon.
Check back in throughout the week as JTA brings you Jews in space… the history space, that is.
—
The post The real Jewish history in 'History of the World: Part II': Part I appeared first on Jewish Telegraphic Agency.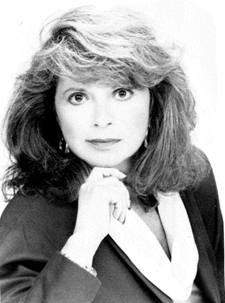 Phyllis Pollock died at home Sunday September 3, 2023 in Winnipeg, after a courageous lifetime battle with cancer.
Phyllis was a mother of four: Gary (Laura), daughter Randi, Steven (deceased in 2010) (Karen), and Robert. Phyllis also had two grandchildren: Lauren and Quinn.
Born in Fort Frances, Ontario on February 7, 1939, Phyllis was an only child to Ruby and Alex Lerman. After graduating high school, Phyllis moved to Winnipeg where she married and later divorced Danny Pollock, the father of her children. She moved to Beverly Hills in 1971, where she raised her children.
Phyllis had a busy social life and lucrative real estate career that spanned over 50 years, including new home sales with CoastCo. Phyllis was the original sales agent for three buildings in Santa Monica, oceanfront: Sea Colony I, Sea Colony II, and Sea Colony. She was known as the Sea Colony Queen. She worked side by side with her daughter Randi for about 25 years – handling over 600 transactions, including sales and leases within the three phases of Sea Colony alone.
Phyllis had more energy than most people half her age. She loved entertaining, working in the real estate field, meeting new and interesting people everyday no matter where she went, and thrived on making new lifelong friends. Phyllis eventually moved to the Sea Colony in Santa Monica where she lived for many years before moving to Palm Desert, then Winnipeg.
After battling breast cancer four times in approximately 20 years, she developed metastatic Stage 4 lung cancer. Her long-time domestic partner of 27 years, Joseph Wilder, K.C., was the love of her life. They were never far apart. They traveled the world and went on many adventures during their relationship. During her treatment, Phyllis would say how much she missed work and seeing her clients. Joey demonstrated amazing strength, love, care, and compassion for Phyllis as her condition progressed. He was her rock and was by her side 24/7, making sure she had the best possible care. Joey's son David was always there to support Phyllis and to make her smile. Joey's other children, Sheri, Kenny, Joshua and wife Davina, were also a part of her life. His kids would Facetime Phyllis and include her during any of their important functions. Phyllis loved Joey's children as if they were her own.
Thank you to all of her friends and family who were there to support her during these difficult times. Phyllis is now, finally, pain free and in a better place. She was loved dearly and will be greatly missed. Interment took place in Los Angeles.
Gwen Centre Creative Living Centre celebrates 35th anniversary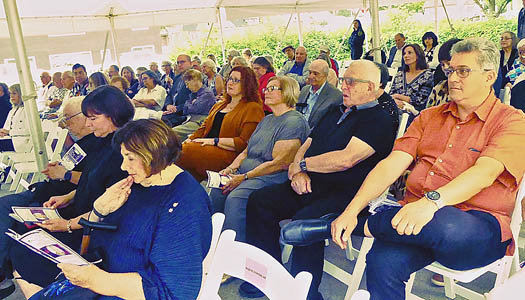 By BERNIE BELLAN Over 100 individuals gathered at the Gwen Secter Centre on Tuesday evening, July 18 – under the big top that serves as the venue for the summer series of outdoor concerts that is now in its third year at the centre.
The occasion was the celebration of the Gwen Secter Centre's 35th anniversary. It was also an opportunity to honour the memory of Sophie Shinewald, who passed away at the age of 106 in 2019, but who, as recently as 2018, was still a regular attendee at the Gwen Secter Centre.
As Gwen Secter Executive Director Becky Chisick noted in her remarks to the audience, Sophie had been volunteering at the Gwen Secter Centre for years – answering the phone among other duties. Becky remarked that Sophie's son, Ed Shinewald, had the phone number for the Gwen Secter Centre stored in his phone as "Mum's work."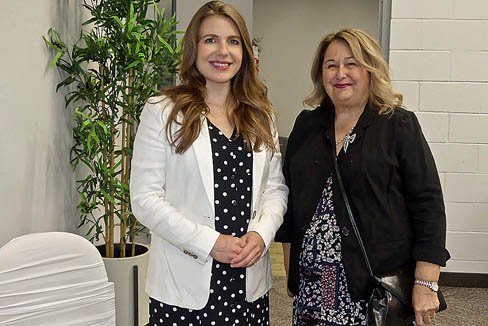 Remarks were also delivered by Raquel Dancho, Member of Parliament for Kildonan-St. Paul, who was the only representative of any level of government in attendance. (How times have changed: I remember well the steadfast support the former Member of the Legislature for St. John's, Gord Mackintosh, showed the Gwen Secter Centre when it was perilously close to being closed down. And, of course, for years, the area in which the Gwen Secter Centre is situated was represented by the late Saul Cherniack.)
Sophie Shinewald's granddaughter, Alix (who flew in from Chicago), represented the Shinewald family at the event. (Her brother, Benjamin, who lives in Ottawa, wasn't able to attend, but he sent a pre-recorded audio message that was played for the audience.)
Musical entertainment for the evening was provided by a group of talented singers, led by Julia Kroft. Following the concert, attendees headed inside to partake of a sumptuous assortment of pastries, all prepared by the Gwen Secter culinary staff. (And, despite my asking whether I could take a doggy bag home, I was turned down.)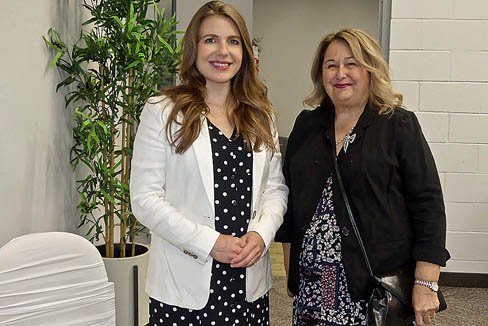 Palestinian gunmen kill 4 Israelis in West Bank gas station
This is a developing story.
(JTA) — Palestinian gunmen killed four people and wounded four in a terror attack at a gas station near the West Bank settlement of Eli, the Israeli army reported.
An Israeli civilian returning fire at the scene of the attack on Tuesday killed one of the attackers, who emerged from a vehicle, and two others fled.
Kan, Israel's public broadcaster, said one of those wounded was in serious condition. The gunmen, while in the vehicle, shot at a guard post at the entry to the settlement, and then continued to the gas station which is also the site of a snack bar. A nearby yeshiva went into lockdown.
Israeli Defense Minister Yoav Gallant announced plans to convene a briefing with top security officials within hours of the attack. Kan reported that there were celebrations of the killing in major West Bank cities and in the Gaza Strip, initiated by terrorist groups Hamas and Palestinian Islamic Jihad. Hamas said the shooting attack Tuesday was triggered by the Jenin raid.
The shooting comes as tensions intensify in the West Bank. A day earlier, Israeli troops raiding the city of Jenin to arrest accused terrorists killed five people.
The Biden administration spoke out over the weekend against Israel's plans to build 4,000 new housing units for Jewish settlers in the West Bank. Israeli Prime Minister Benjamin Netanyahu also finalized plans to  transfer West Bank building decisions to Bezalel Smotrich, the extremist who is the finance minister. Smotrich has said he wants to limit Palestinian building and expand settlement building.
Kan reported that the dead terrorist was a resident of a village, Urif, close to Huwara, the Palestinian town where terrorists killed two Israeli brothers driving through in February. Settlers retaliated by raiding the village and burning cars and buildings.
—
The post Palestinian gunmen kill 4 Israelis in West Bank gas station appeared first on Jewish Telegraphic Agency.