These Jews are defending Drag Story Hour against far-right protestors. Here's why.
(New York Jewish Week) — As right-wing protestors descend upon Drag Story Hour events across New York, they have frequently been met by a loosely connected movement of counter protestors that includes many progressive Jewish groups.
Since September, right-wing activists have routinely protested Drag Story Hour events, where a person dressed in drag reads to children. The aim of these story times, according to the founder of the Drag Story Hour New York chapter, is to promote literacy while giving children positive queer role models. 
At the Queens Public Library in Jackson Heights on Dec. 29, at least five members of the Proud Boys, a far-right extremist group, showed up to harass people attending a story session. Those protestors were met by hundreds of activists from the other side, many of whom are Jewish. They included members of Jews For Racial and Economic Justice, Outlive Them, United Against Racism and Fascism and other other organizations.  
"We're out here," said Sharona Farber, 32, who is a member of the Jewish anti-fascist group Outlive Them, which formed in response to the 2018 Pittsburgh Tree of Life shooting and has since become involved with other forms of activism across New York such as fighting for the homeless and against U.S. Immigration Customs and Enforcement (ICE) raids.  
Those protesting Drag Story Hours claim the events are harmful to children, calling parents who are bringing their kids to the event "groomers" and "pedophiles" to their face. Demonstrators have breached library doors in the city on three separate occasions. They have also vandalized the homes and offices, using anti-LGBTQ slurs, of three New York City Council members who have shown support for Drag Story Hour.
Protestors have targeted 10 Drag Story Hour events in New York, according to independent reporter Talia Jane, who has been documenting the group on Twitter since September.
This group of protestors, which calls itself the Guardians of Divinity, started as an anti-vaccine movement in the pandemic. "We have lost our jobs and been arrested for protesting this madness," a statement on the group's Twitter said. "Now they are coming for your kids with programs like Drag Queen Story Hour, where they steal your tax money to pay grown men in dresses to read gender questioning books."
Farber told the New York Jewish Week that last Thursday there were at least 300 people defending Drag Story Hour at the Queens library branch, from all ages and backgrounds. Farber added that "there are a lot of Jews" doing the behind-the-scenes work, the organizing and the outreach that goes into "pulling these defenses off."  
"Jews are so heavily represented in the left," Farber said. "There's been a reinfusion of energy on what people call the Jewish Left. There are people getting self organized into small groups that do take political action into what they believe is needed to create a better world." 
Sophie Ellman-Golan, communications director for Jews for Racial & Economic Justice, another prominent activist group that's defending Drag Story Hour, told the New York Jewish Week that it's important "to drown out fascists and neo-Nazis" by showing up in solidarity.  
"When there's a threat of neo-Nazi violence against synagogues, the idea is not that we should stop going to synagogue," Ellman-Golan said. "We actually deserve to be able to gather and pray or engage in whatever culture and ritual we want to. We believe that a community of diverse New Yorkers coming together to ensure that can happen, that's the best way to do that, with community defense." 
She described the scene as "two sides": one that included colorful rainbow signs, glitter and Disney songs, while the other side included a neo-Nazi giving a "Heil Hitler" salute while talking about "a future for white children." 
A man seen throwing a 'Nazi Salute' outside of NYC Drag Queen Story Hour event was confronted by both sides "If you are doing a Roman Salute get the fuck out of here, you are worse than them"
4/10 pic.twitter.com/8TgAQbz1Ft
— Oliya Scootercaster (@ScooterCasterNY) December 30, 2022
"It's a violent attempt to stamp out trans people," Ellman-Golan said, adding that there is "a very clear link between antisemitism and transphobia that is increasing at a terrifying rate."

Ariela Rothstein, a queer Jewish parent who took her 6-month-old child to the Jackson Heights Drag Story Hour last Thursday, told the New York Jewish Week that these shouldn't be controversial events. "It's people sharing stories with kids," Rothstein said. "There were people shouting all kinds of names. Things that are really disgusting, that I don't really want to repeat or put in print. All we wanted to do was go into the library and hear some stories for our child." 
Rothstein's partner, Lauraberth Lima, told the New York Jewish Week that the right-wing protestors are "embarrassing themselves." 
"It's actually sad," she said. "What we're actually doing is talking about love and spreading representation of different types of people." 
After last Thursday's event, a video circulated online showing members of the Proud Boys being led by members of the New York Police Department into the 74th Street-Broadway subway station in Jackson Heights without paying.
"We don't feel like the NYPD is there to actually protect or defend or anything like that," Ellman-Golan said. "If their goal is to make sure that Drag Story Hours can continue in peace, they are failing." 
NYPD help Proud Boys commit fare evasion & then tell journalists to go back and pay for the fare. Everyone should see this video. pic.twitter.com/wrkPjFhQoq
— Brenna Lip (@LipBrenna) January 2, 2023
The NYPD said in a statement on Monday that it was trying to "to deescalate the situation and prevent further violence a decision was made to escort one group to the Jackson Heights subway station to remove the group from the area."
According to Lima, however, the video of the police letting the Proud Boys into the subway showed them getting "a literal free pass for what they were doing." 
"The police never protected families like ours," Lima said. "That's not who we turn to for safety. We are protecting ourselves. The queer community understands very well what it means to be ostracized or hated, and knows how to show up for people." 
Miriam, a queer Jewish activist who regularly shows up to defend Drag Story Hour, told the New York Jewish Week that she was only comfortable giving out her first name out of fear of being doxxed — having her private information made public — by the right-wing protestors. "This can result in significant stress, but also loss of unemployment, housing and in some cases physical attacks," Miriam said. "If your employers get 50 calls a day from people telling them that you are a pedophile, that may make your life hard. It's a significant concern." 
Miriam said that these protests are a personal attack on her queer identity, but "it doesn't mean I'm there as a queer person rather than a Jew."

"I'm there as both things," Miriam said. "Jews have to be opposed to fascism because fascism is opposed to Jews. Jewish history and Jewish culture gives us ample reasons to oppose fascism. We should never be letting fascists in the streets unopposed, no matter what they are doing." 
Rabbi Rachel Goldenberg of Malkhut, a progressive congregation in Jackson Heights, showed up at a Drag Story Hour defense on Oct. 28 at the library. She told the New York Jewish Week that "it was a pretty unnerving experience, to be facing such right-wing vitriol."

"The hatred feels like it's coming from the same place of white supremacist activism, which holds hands with antisemitism," Goldenberg said. "It was really painful and shocking to hear the language that was being used." 
She recalled how a large man burst into her group while they were singing in front of the library. "He was very loud, hostile and violent," Goldenberg said. "Not by throwing punches, but he had a violent vibe. You get the sense that they have been riled up by lies and conspiracy theories. They have no qualms about getting in our faces and accusing us of wanting to groom children." 
Goldenberg surmised that so many Jews are showing up to protect Drag Story Hour because they're inspired by the emphasis Judaism places on education. "We value learning," Goldenberg said. "We value being open to multiple opinions, we value open discussion — that's what Torah is about. Drag Story Hours and public libraries are then all very much tied into Jewish values."
"These are our family members," she added. "These are our friends. These are our neighbors. This is us as Jews."
—
The post These Jews are defending Drag Story Hour against far-right protestors. Here's why. appeared first on Jewish Telegraphic Agency.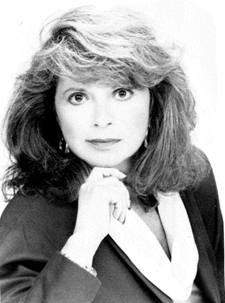 Phyllis Pollock died at home Sunday September 3, 2023 in Winnipeg, after a courageous lifetime battle with cancer.
Phyllis was a mother of four: Gary (Laura), daughter Randi, Steven (deceased in 2010) (Karen), and Robert. Phyllis also had two grandchildren: Lauren and Quinn.
Born in Fort Frances, Ontario on February 7, 1939, Phyllis was an only child to Ruby and Alex Lerman. After graduating high school, Phyllis moved to Winnipeg where she married and later divorced Danny Pollock, the father of her children. She moved to Beverly Hills in 1971, where she raised her children.
Phyllis had a busy social life and lucrative real estate career that spanned over 50 years, including new home sales with CoastCo. Phyllis was the original sales agent for three buildings in Santa Monica, oceanfront: Sea Colony I, Sea Colony II, and Sea Colony. She was known as the Sea Colony Queen. She worked side by side with her daughter Randi for about 25 years – handling over 600 transactions, including sales and leases within the three phases of Sea Colony alone.
Phyllis had more energy than most people half her age. She loved entertaining, working in the real estate field, meeting new and interesting people everyday no matter where she went, and thrived on making new lifelong friends. Phyllis eventually moved to the Sea Colony in Santa Monica where she lived for many years before moving to Palm Desert, then Winnipeg.
After battling breast cancer four times in approximately 20 years, she developed metastatic Stage 4 lung cancer. Her long-time domestic partner of 27 years, Joseph Wilder, K.C., was the love of her life. They were never far apart. They traveled the world and went on many adventures during their relationship. During her treatment, Phyllis would say how much she missed work and seeing her clients. Joey demonstrated amazing strength, love, care, and compassion for Phyllis as her condition progressed. He was her rock and was by her side 24/7, making sure she had the best possible care. Joey's son David was always there to support Phyllis and to make her smile. Joey's other children, Sheri, Kenny, Joshua and wife Davina, were also a part of her life. His kids would Facetime Phyllis and include her during any of their important functions. Phyllis loved Joey's children as if they were her own.
Thank you to all of her friends and family who were there to support her during these difficult times. Phyllis is now, finally, pain free and in a better place. She was loved dearly and will be greatly missed. Interment took place in Los Angeles.
Gwen Centre Creative Living Centre celebrates 35th anniversary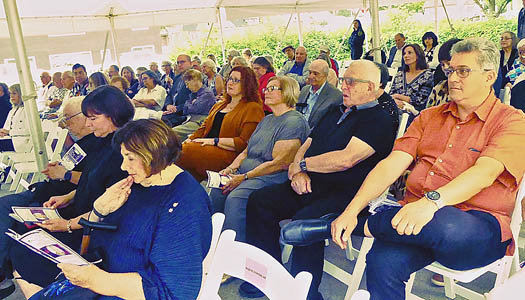 By BERNIE BELLAN Over 100 individuals gathered at the Gwen Secter Centre on Tuesday evening, July 18 – under the big top that serves as the venue for the summer series of outdoor concerts that is now in its third year at the centre.
The occasion was the celebration of the Gwen Secter Centre's 35th anniversary. It was also an opportunity to honour the memory of Sophie Shinewald, who passed away at the age of 106 in 2019, but who, as recently as 2018, was still a regular attendee at the Gwen Secter Centre.
As Gwen Secter Executive Director Becky Chisick noted in her remarks to the audience, Sophie had been volunteering at the Gwen Secter Centre for years – answering the phone among other duties. Becky remarked that Sophie's son, Ed Shinewald, had the phone number for the Gwen Secter Centre stored in his phone as "Mum's work."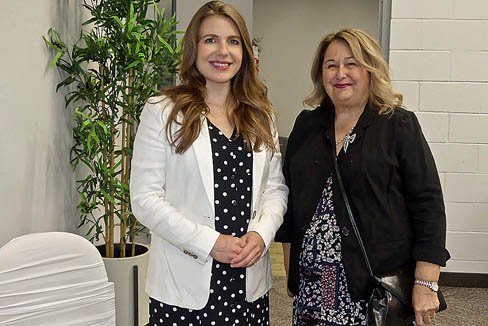 Remarks were also delivered by Raquel Dancho, Member of Parliament for Kildonan-St. Paul, who was the only representative of any level of government in attendance. (How times have changed: I remember well the steadfast support the former Member of the Legislature for St. John's, Gord Mackintosh, showed the Gwen Secter Centre when it was perilously close to being closed down. And, of course, for years, the area in which the Gwen Secter Centre is situated was represented by the late Saul Cherniack.)
Sophie Shinewald's granddaughter, Alix (who flew in from Chicago), represented the Shinewald family at the event. (Her brother, Benjamin, who lives in Ottawa, wasn't able to attend, but he sent a pre-recorded audio message that was played for the audience.)
Musical entertainment for the evening was provided by a group of talented singers, led by Julia Kroft. Following the concert, attendees headed inside to partake of a sumptuous assortment of pastries, all prepared by the Gwen Secter culinary staff. (And, despite my asking whether I could take a doggy bag home, I was turned down.)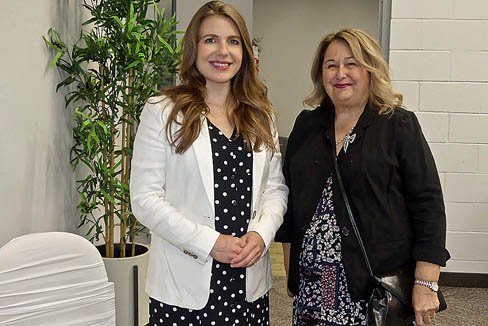 Palestinian gunmen kill 4 Israelis in West Bank gas station
This is a developing story.
(JTA) — Palestinian gunmen killed four people and wounded four in a terror attack at a gas station near the West Bank settlement of Eli, the Israeli army reported.
An Israeli civilian returning fire at the scene of the attack on Tuesday killed one of the attackers, who emerged from a vehicle, and two others fled.
Kan, Israel's public broadcaster, said one of those wounded was in serious condition. The gunmen, while in the vehicle, shot at a guard post at the entry to the settlement, and then continued to the gas station which is also the site of a snack bar. A nearby yeshiva went into lockdown.
Israeli Defense Minister Yoav Gallant announced plans to convene a briefing with top security officials within hours of the attack. Kan reported that there were celebrations of the killing in major West Bank cities and in the Gaza Strip, initiated by terrorist groups Hamas and Palestinian Islamic Jihad. Hamas said the shooting attack Tuesday was triggered by the Jenin raid.
The shooting comes as tensions intensify in the West Bank. A day earlier, Israeli troops raiding the city of Jenin to arrest accused terrorists killed five people.
The Biden administration spoke out over the weekend against Israel's plans to build 4,000 new housing units for Jewish settlers in the West Bank. Israeli Prime Minister Benjamin Netanyahu also finalized plans to  transfer West Bank building decisions to Bezalel Smotrich, the extremist who is the finance minister. Smotrich has said he wants to limit Palestinian building and expand settlement building.
Kan reported that the dead terrorist was a resident of a village, Urif, close to Huwara, the Palestinian town where terrorists killed two Israeli brothers driving through in February. Settlers retaliated by raiding the village and burning cars and buildings.
—
The post Palestinian gunmen kill 4 Israelis in West Bank gas station appeared first on Jewish Telegraphic Agency.