This Jewish studies professor won $60,000 on "Jeopardy!" — despite missing out on a question about Yom Kippur
(JTA) — The most notable message Melissa Klapper got during her four-night run this week on "Jeopardy!" didn't come because the Jewish studies scholar was unable to answer a question about Yom Kippur. It also wasn't an unkind note from a game-show stickler who believed she'd gotten credit for a wrong response.
Instead, it was an email from a past student who recognized herself in the story Klapper told as part of her self-introductory stage banter — a staple of the game show. Klapper, who teaches history at Rowan University in New Jersey, described accusing a student of having plagiarized her paper.
The student then replied, Klapper recalled, that she "didn't know [it] was plagiarized when she bought it." The anecdote yielded laughs from host Ken Jennings and the two co-contestants whom Klapper later defeated to notch her third win.
After the episode aired Wednesday night, Klapper heard from the former student, whose name she had previously forgotten.
"She watches 'Jeopardy!' and when she was watching that interview, she thought to herself, this is about me," Klapper told the Jewish Telegraphic Agency. "And she wrote to me to apologize. She's a teacher now and, I think, is more understanding of why what she did was really not good. And I really appreciated it. It was kind of brave of her to get in touch with me after all these years."
The experience was a fitting highlight of Klapper's run on the show, which ended Thursday with a third-place finish and total winnings of $60,100. She said it was her training as an educator — not her education in Modern Orthodox schools or her scholarship on Jewish women, immigrant children and more — that prepared her for success on the show.
"I'm up in front of people all the time," said Klapper, who is active in the Association for Jewish Studies and whose most recent book, "Ballet Class: An American History," was published in 2020. "I do not have stage fright."
Klapper spoke with JTA about her Jewish background, her research interests and how her most religiously observant friends managed to watch her on TV.
This interview has been condensed and lightly edited for clarity.
JTA: First, I have to ask: Last night, did you end up with $1,800 on purpose? That's a very Jewish number.
Klapper: No! That's so funny. It didn't even occur to me.
How are you feeling this morning? Any initial reflections on your appearance now that it's over?
These shows were recorded in January, so I've had time to come to peace with what happened. I was disappointed not to win another game — or two. But Alec, the guy who won last night, was just unstoppable on the buzzer. Knowing the answers is not enough to do well in "Jeopardy!" You also have to have good hand-eye coordination, which I do not. I would say I knew the vast majority of answers but I often just could not get the buzzer in time. Once I knew I was going to be on the show, I did sort of sit at home and practice with a ballpoint pen, but it's not the same.
I will say the fact that I couldn't be fast enough to answer the Yom Kippur clue was pretty frustrating. [The clue was about a Jon Stewart quip about the Jewish day of atonement.] And I heard about that — I got a lot of fun teasing from some of my Jewish friends who were sending me helpful emails with links to the dictionary.com definition of Yom Kippur.
Can you share a little bit about your relationship with "Jeopardy!", how you came to be on the show and your general reflection about your experience?
I grew up in a household where we watched "Jeopardy!" when I was kid. We had a "Jeopardy!" board game that I would play with my parents and my sister and I actually tried out for the teen tournament when I was in high school. Those were the days that you had to go in person, so my parents very kindly drove me into D.C. when we heard that there would be a tryout. I didn't get past the first round — I didn't know anything about sports, and I still don't know that much, although I answered a surprising number of sports questions.
In the last few years I started to watch more regularly and it occurred to me, you know, I really think I could do OK on this show. I made it into the contestant pool the first time I took the online test, but I did not get called. The day after my 18 months [in the pool] ended, I started the process again, but I sort of assumed I would never hear from them again — especially because they asked you to write down dates when you can't come and I had to write that I was not available during the semester — and, oh, also on Jewish holidays. But they called me for winter break.
They record five shows in a day, and all of mine were on one day. There's about 10 minutes between shows when you change your top and can have a drink and then go right back onstage. It was just — really, it was all a blur. If you'd asked me at the beginning of this week what any of the categories were I would have been very hard-pressed to tell you.
You got some clues that seemed ready-made for a Jewish contestant such as one about Philip Roth's "Portnoy's Complaint" and another about Jack Antonoff, the Jewish musician and producer. What is your Jewish background like and were there moments where you felt like that gave you some kind of advantage?
Now I live in Lower Merion, Pennsylvania, which has a large observant Jewish community. My husband and I belong to a Modern Orthodox synagogue and we are involved in a partnership minyan, Lechu Neranena.
I went to Jewish day school my whole life, kindergarten through 12th grade, first at Akiba Academy of Dallas and then Bais Yaakov of Baltimore, which was the only girls high school and where I got a very solid education and was encouraged to pursue my intellectual ambitions. I went to Israel right after high school before I started college. So I have a very intensive Jewish educational background, and throughout my education and all the schools that I went to, I found a lot of encouragement for my innate nerdiness.
So I'm not sure I could draw a direct line, but what I will say is that in the Jewish educational environment I grew up in, matched by an extremely Jewish traditional home, there was just a huge, enormous value on reading and books and learning, and I think that makes a difference.
I will say I don't think I knew about Jack Antonoff because he's Jewish — I knew him because of Taylor Swift.
Were there Jewish highlights of your experience, either on the show or behind the scenes? 
They do not pay for you to go out to L.A. You're responsible for your own travel, but they do provide lunch. I asked if it would be possible to get me a kosher lunch, and they immediately said yes, which I appreciated. There was no question or back and forth about it. I got a salad with a ton of protein that could take me through the day.
And then this is a little funny, but I have friends from across the spectrum of Jewish practice, or lack thereof. Some of my more traditionally observant friends don't own TVs and wouldn't have TVs in their houses — but they have been watching the show on YouTube every day because they have no other way to watch.
Your scholarship in American history and Jewish studies has been wide-ranging, and you've written books about American Jewish women's activism, American Jewish girlhood and, most recently, ballet. How did your work as a scholar and a teacher prepare you for your appearance or dovetail with it?
I'm a teacher. I'm up in front of people all the time. I do not have stage fright. I give a lot of public talks of various kinds, in academic venues or community settings. And so I did not have any problems speaking or talking to Ken [Jennings] during the short interview period — that is not a problem for me. And for some contestants, it really is. They're not used to just speaking in public at all like that. My professional background prepared me very well.
I have to ask about the big controversy. [Some viewers believed Klapper offered "Gregor" rather than "McGregor" as the response to a clue about the actor Ewan McGregor.]  What did you make of that, and what do you think it means for the "Jeopardy!" viewership to have such intensity of passion that they referee a professionally refereed show?
First, it's not a controversy. It's clear to everyone that I said McGregor on stage, including to my co-contestants who have spoken about this. There should not have been and there should not be any controversy.
That said, I don't personally sort of participate in any kind of fandom, so the way that this sort of took off is a little alien to me. But I know not just in the "Jeopardy!" community people are really, I guess, just very invested. It's hard for me to explain.
Has the response been hard for you?
I'm sure that everyone who appears on "Jeopardy!" gets some nasty emails because unfortunately fandom can be vicious and I'm very easy to find. But I do know that women who are on "Jeopardy!", especially women who do well, really can be targeted. And I do think that is part of what happened. Some of the — most of the emails I got from strangers were extremely nice and positive and, you know, full of good wishes. And I appreciated that, but I also got some really misogynistic, nasty gendered messages.
It's disappointing because in my mind the "Jeopardy!" community is one of the last nice spaces that exists. I've talked about that with other contestants over the years, who have said it's a congenial space. And I've asked them — and now I'll ask you — what do you think the Jewish community can learn from the "Jeopardy!" community?
As a historian, it's sort of not in my nature to comment on the contemporary Jewish community. I do think there are shared values around knowledge and education.
I do think there's a nice community of contestants. Even though we were all each other's competitors, everybody was just really friendly and encouraging. It'd be nice if all communities would just be like that.
You teach women's and gender studies. You mentioned one big gender dynamic related to being a "Jeopardy!" contestant. Were there others, or other connections to your scholarship, that jumped out during your time as a contestant?
Not so much gender, but my current research project is about American Jewish women who traveled abroad between the Civil War and World War II. It's a research interest — I noticed as I was working on all my other projects that the Jewish girls and women I was writing about traveled a lot, way more than you would expect for the late 1800s and early 1900s — but it's also because I love to travel myself. And that's another way to learn. There were definitely questions on "Jeopardy!" that I knew because I've been there — like about the sculpture in the harbor in Copenhagen of the Little Mermaid. I thought: I've been there and I've seen that.
So you like traveling and you just won a little over $60,000. Do you have any specific plans for the winnings?
Well, first, I'll have to deal with the IRS. I'm involved with a bunch of different charities and so I will certainly be giving some of this money to them. And my husband and I already have our big trip for the year planned in May — to the north of England, to Newcastle and Hadrian's Wall — and so we are going to upgrade some parts of that experience a little bit.
And then let's go back to the student who reached out to you. What do make of that?
Whatever they're teaching, teachers really matter, for better or for worse, and that's where my real impact is. I teach a lot of students a lot of different things and I really value my relationship with them. And as it says in Proverbs, right, I have learned a lot from my students, just like I hope they learned from me. Seeing how excited some of my students have been this week, I do think that, in a way, being on "Jeopardy!" was sort of part of my teaching practice and that it just shows, again, this value of education and knowledge. Yes, it's trivia, but still it just makes you a better-rounded person. And it was nice to be able to demonstrate that.
—
The post This Jewish studies professor won $60,000 on "Jeopardy!" — despite missing out on a question about Yom Kippur appeared first on Jewish Telegraphic Agency.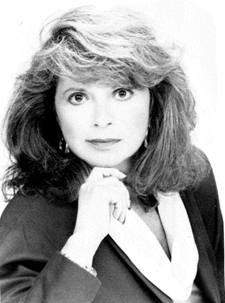 Phyllis Pollock died at home Sunday September 3, 2023 in Winnipeg, after a courageous lifetime battle with cancer.
Phyllis was a mother of four: Gary (Laura), daughter Randi, Steven (deceased in 2010) (Karen), and Robert. Phyllis also had two grandchildren: Lauren and Quinn.
Born in Fort Frances, Ontario on February 7, 1939, Phyllis was an only child to Ruby and Alex Lerman. After graduating high school, Phyllis moved to Winnipeg where she married and later divorced Danny Pollock, the father of her children. She moved to Beverly Hills in 1971, where she raised her children.
Phyllis had a busy social life and lucrative real estate career that spanned over 50 years, including new home sales with CoastCo. Phyllis was the original sales agent for three buildings in Santa Monica, oceanfront: Sea Colony I, Sea Colony II, and Sea Colony. She was known as the Sea Colony Queen. She worked side by side with her daughter Randi for about 25 years – handling over 600 transactions, including sales and leases within the three phases of Sea Colony alone.
Phyllis had more energy than most people half her age. She loved entertaining, working in the real estate field, meeting new and interesting people everyday no matter where she went, and thrived on making new lifelong friends. Phyllis eventually moved to the Sea Colony in Santa Monica where she lived for many years before moving to Palm Desert, then Winnipeg.
After battling breast cancer four times in approximately 20 years, she developed metastatic Stage 4 lung cancer. Her long-time domestic partner of 27 years, Joseph Wilder, K.C., was the love of her life. They were never far apart. They traveled the world and went on many adventures during their relationship. During her treatment, Phyllis would say how much she missed work and seeing her clients. Joey demonstrated amazing strength, love, care, and compassion for Phyllis as her condition progressed. He was her rock and was by her side 24/7, making sure she had the best possible care. Joey's son David was always there to support Phyllis and to make her smile. Joey's other children, Sheri, Kenny, Joshua and wife Davina, were also a part of her life. His kids would Facetime Phyllis and include her during any of their important functions. Phyllis loved Joey's children as if they were her own.
Thank you to all of her friends and family who were there to support her during these difficult times. Phyllis is now, finally, pain free and in a better place. She was loved dearly and will be greatly missed. Interment took place in Los Angeles.
Gwen Centre Creative Living Centre celebrates 35th anniversary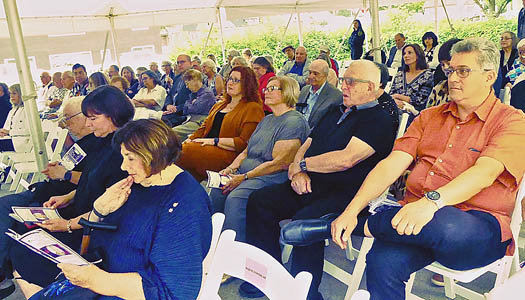 By BERNIE BELLAN Over 100 individuals gathered at the Gwen Secter Centre on Tuesday evening, July 18 – under the big top that serves as the venue for the summer series of outdoor concerts that is now in its third year at the centre.
The occasion was the celebration of the Gwen Secter Centre's 35th anniversary. It was also an opportunity to honour the memory of Sophie Shinewald, who passed away at the age of 106 in 2019, but who, as recently as 2018, was still a regular attendee at the Gwen Secter Centre.
As Gwen Secter Executive Director Becky Chisick noted in her remarks to the audience, Sophie had been volunteering at the Gwen Secter Centre for years – answering the phone among other duties. Becky remarked that Sophie's son, Ed Shinewald, had the phone number for the Gwen Secter Centre stored in his phone as "Mum's work."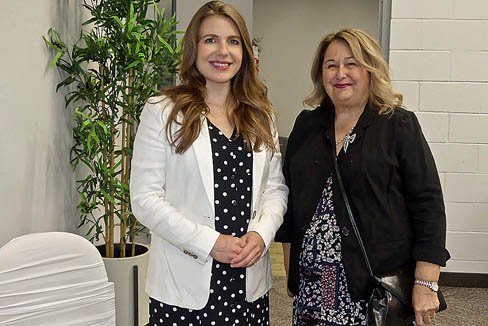 Remarks were also delivered by Raquel Dancho, Member of Parliament for Kildonan-St. Paul, who was the only representative of any level of government in attendance. (How times have changed: I remember well the steadfast support the former Member of the Legislature for St. John's, Gord Mackintosh, showed the Gwen Secter Centre when it was perilously close to being closed down. And, of course, for years, the area in which the Gwen Secter Centre is situated was represented by the late Saul Cherniack.)
Sophie Shinewald's granddaughter, Alix (who flew in from Chicago), represented the Shinewald family at the event. (Her brother, Benjamin, who lives in Ottawa, wasn't able to attend, but he sent a pre-recorded audio message that was played for the audience.)
Musical entertainment for the evening was provided by a group of talented singers, led by Julia Kroft. Following the concert, attendees headed inside to partake of a sumptuous assortment of pastries, all prepared by the Gwen Secter culinary staff. (And, despite my asking whether I could take a doggy bag home, I was turned down.)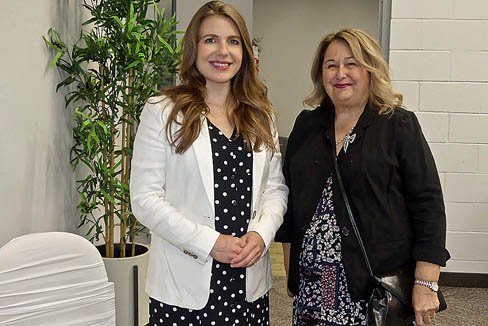 Palestinian gunmen kill 4 Israelis in West Bank gas station
This is a developing story.
(JTA) — Palestinian gunmen killed four people and wounded four in a terror attack at a gas station near the West Bank settlement of Eli, the Israeli army reported.
An Israeli civilian returning fire at the scene of the attack on Tuesday killed one of the attackers, who emerged from a vehicle, and two others fled.
Kan, Israel's public broadcaster, said one of those wounded was in serious condition. The gunmen, while in the vehicle, shot at a guard post at the entry to the settlement, and then continued to the gas station which is also the site of a snack bar. A nearby yeshiva went into lockdown.
Israeli Defense Minister Yoav Gallant announced plans to convene a briefing with top security officials within hours of the attack. Kan reported that there were celebrations of the killing in major West Bank cities and in the Gaza Strip, initiated by terrorist groups Hamas and Palestinian Islamic Jihad. Hamas said the shooting attack Tuesday was triggered by the Jenin raid.
The shooting comes as tensions intensify in the West Bank. A day earlier, Israeli troops raiding the city of Jenin to arrest accused terrorists killed five people.
The Biden administration spoke out over the weekend against Israel's plans to build 4,000 new housing units for Jewish settlers in the West Bank. Israeli Prime Minister Benjamin Netanyahu also finalized plans to  transfer West Bank building decisions to Bezalel Smotrich, the extremist who is the finance minister. Smotrich has said he wants to limit Palestinian building and expand settlement building.
Kan reported that the dead terrorist was a resident of a village, Urif, close to Huwara, the Palestinian town where terrorists killed two Israeli brothers driving through in February. Settlers retaliated by raiding the village and burning cars and buildings.
—
The post Palestinian gunmen kill 4 Israelis in West Bank gas station appeared first on Jewish Telegraphic Agency.