When a breast cancer diagnosis knocked me down, a network of Jewish women lifted me up
(JTA) — On the way home from the hospital where I was given my diagnosis of grade 2 invasive lobular breast cancer, I directed my husband, through my tears, to stop at the kosher store.
"I don't want to see anyone right now," I said, knowing the inevitability of running into someone we knew in the small Jewish community where we live, "so can you go in?" He pulled into the parking lot. "We need challah," I reminded him. It was Thursday, after all. The next evening was Shabbat. Time doesn't stand still for cancer.
My hospital appointment took place two days after the front page of the New York Times declared: "When Should Women Get Regular Mammograms: At 40, U.S. Panel Now Says." I was 48. Breast cancer has long been the second most common cancer for women, after skin cancer. It is also the most lethal after lung cancer. Statistically, though, most women affected are postmenopausal, so unless there was a specific reason to test early, women were screened regularly from the age of 50. Now, the advice has changed. Breast cancer is rising in younger women. For women in their 40s, the rate of increase between 2015 and 2019 doubled from the previous decade to 2 per cent per year.
Why is this happening? Air pollution? Microplastics? Chemicals in our food? We don't know.
In the days following my appointment, there was a proliferation of articles about the topic. Importantly, doctors explained that the cancer women are diagnosed with in their 40s tends to be a more aggressive type of cancer. Cancers in premenopausal women grow faster; many breast cancers, like mine, are hormone sensitive. (Got estrogen? Bad luck for you.)
When I posted the news about my diagnosis — on Facebook, because I'm an oversharing type — I was stunned by the number of friends my age, more discreet about their lives, who sent me messages to tell me they had recently gone through the same thing. Everyone had advice. "If you can do a lumpectomy, you're very lucky. It's not a major operation, and you'll preserve your breast." "Cut it all off! Immediately! Just get rid of all it and you'll never worry again! Do you want to spend the rest of your life in mammogram scanxiety?" "Ask plastic surgeons for pictures, and pick the cutest new boobs out there. You won't regret it." "The radiation burns—that's something no one ever tells you. Get yourself some Lubriderm and lidocaine, mix into a slurry, slap it on a panty liner, and tuck it in your sports bra."
I'm not sure why I thought I was immune. Or maybe I didn't — maybe I just never gave it much thought. Even when I found the lump on my breast, I was dismissive. I went to the doctor, and she asked if anyone in my family had had breast cancer. "Oh, who knows? They were all murdered," I said blithely. Her eyes bugged. "In the Holocaust," I added. "Your…mother? Grandmother? Sisters?" "Oh! No, no history of breast cancer in my immediate family."
Add to that, my mother and sister both tested negative for the BRCA gene mutations, and that's my Ashkenazi side. The thing is, though, most women who test positive for breast cancer have no family history of it.
But also, I'd done everything right! If you look through the preventative measures, I took all of them. I had three kids by 35, and I breastfed them. I have a healthy, mostly plant-based diet; I walk and cycle everywhere. I'm not a drinker or smoker. I eat so many blueberries!
Several of the articles that have been published in recent days are emphasizing the particular danger for Black women, with good reason: They have twice the mortality rate of white women. But as I did my research, I realized that Jewish women should also be on high alert. We've long known that one in forty Ashkenazi women has the BRCA gene mutation, significantly raising the risk of breast cancer (50% of women with the gene mutation will get breast cancer) as well ovarian cancer, which is much harder to detect and far more deadly. So many of my friends who reached out to me to tell me of their breast cancer experiences are Jewish; interestingly, not one has the BRCA mutation. Are these high numbers indicative or anecdotal? Are Jewish women generally more susceptible to breast cancer? This seems to be an important area of future research.
For me, that research will come too late — as did the guidance. For now, I have to accept that this cancer diagnosis is part of my life, that just as I will pick up challah every Thursday, I will wake every morning and take my hormone-blocking Tamoxifen. I will lose sleep every night about which surgery to have until I have the surgery, and then I will lose sleep every night about whether it was fully successful. And there's plenty more in store for me that isn't pretty; so it goes.
But here's a good thing that's already come out of this diagnosis: When the responses to my Facebook post flooded in, they were not only along the lines of "Refuah shleimah" and "I've just been through this too," but also, "Thank you for sharing! I'm going to book my mammogram right now!"
—
The post When a breast cancer diagnosis knocked me down, a network of Jewish women lifted me up appeared first on Jewish Telegraphic Agency.
Focus group Oct. 11 at Simkin Centre for people concerned about personal care homes

As Manitobans have gone to the polls and with a new legislative assembly about to begin a new four-year term, the challenges of long-term and continuing care homes need to be communicated.
MARCHE, the Manitoba Association of Residential and Community Care Homes for the Elderly will be holding a focus group on Wednesday, October 11 that is intended to provide the community at large a forum to express thoughts and provide ideas and recommendations for the future.
Please join us on Wednesday, October 11th at the Saul & Claribel Simkin Centre. We look forward to hearing from you.
See poster below for more information and how to register to attend.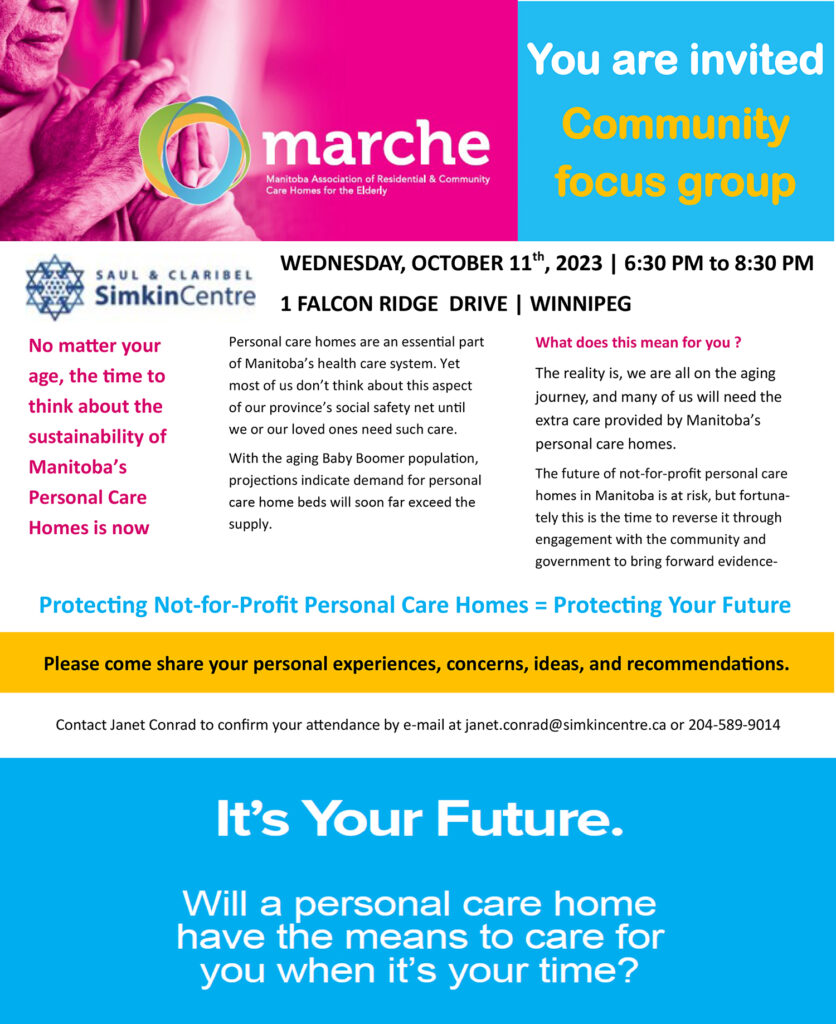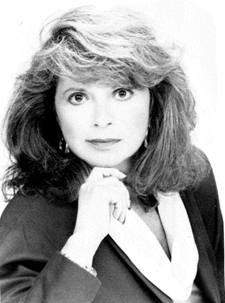 Phyllis Pollock died at home Sunday September 3, 2023 in Winnipeg, after a courageous lifetime battle with cancer.
Phyllis was a mother of four: Gary (Laura), daughter Randi, Steven (deceased in 2010) (Karen), and Robert. Phyllis also had two grandchildren: Lauren and Quinn.
Born in Fort Frances, Ontario on February 7, 1939, Phyllis was an only child to Ruby and Alex Lerman. After graduating high school, Phyllis moved to Winnipeg where she married and later divorced Danny Pollock, the father of her children. She moved to Beverly Hills in 1971, where she raised her children.
Phyllis had a busy social life and lucrative real estate career that spanned over 50 years, including new home sales with CoastCo. Phyllis was the original sales agent for three buildings in Santa Monica, oceanfront: Sea Colony I, Sea Colony II, and Sea Colony. She was known as the Sea Colony Queen. She worked side by side with her daughter Randi for about 25 years – handling over 600 transactions, including sales and leases within the three phases of Sea Colony alone.
Phyllis had more energy than most people half her age. She loved entertaining, working in the real estate field, meeting new and interesting people everyday no matter where she went, and thrived on making new lifelong friends. Phyllis eventually moved to the Sea Colony in Santa Monica where she lived for many years before moving to Palm Desert, then Winnipeg.
After battling breast cancer four times in approximately 20 years, she developed metastatic Stage 4 lung cancer. Her long-time domestic partner of 27 years, Joseph Wilder, K.C., was the love of her life. They were never far apart. They traveled the world and went on many adventures during their relationship. During her treatment, Phyllis would say how much she missed work and seeing her clients. Joey demonstrated amazing strength, love, care, and compassion for Phyllis as her condition progressed. He was her rock and was by her side 24/7, making sure she had the best possible care. Joey's son David was always there to support Phyllis and to make her smile. Joey's other children, Sheri, Kenny, Joshua and wife Davina, were also a part of her life. His kids would Facetime Phyllis and include her during any of their important functions. Phyllis loved Joey's children as if they were her own.
Thank you to all of her friends and family who were there to support her during these difficult times. Phyllis is now, finally, pain free and in a better place. She was loved dearly and will be greatly missed. Interment took place in Los Angeles.
Gwen Centre Creative Living Centre celebrates 35th anniversary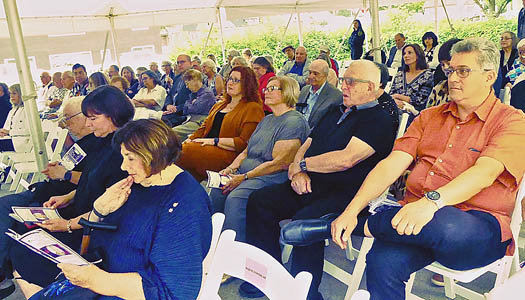 By BERNIE BELLAN Over 100 individuals gathered at the Gwen Secter Centre on Tuesday evening, July 18 – under the big top that serves as the venue for the summer series of outdoor concerts that is now in its third year at the centre.
The occasion was the celebration of the Gwen Secter Centre's 35th anniversary. It was also an opportunity to honour the memory of Sophie Shinewald, who passed away at the age of 106 in 2019, but who, as recently as 2018, was still a regular attendee at the Gwen Secter Centre.
As Gwen Secter Executive Director Becky Chisick noted in her remarks to the audience, Sophie had been volunteering at the Gwen Secter Centre for years – answering the phone among other duties. Becky remarked that Sophie's son, Ed Shinewald, had the phone number for the Gwen Secter Centre stored in his phone as "Mum's work."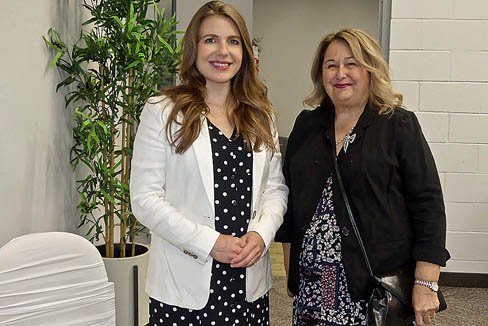 Remarks were also delivered by Raquel Dancho, Member of Parliament for Kildonan-St. Paul, who was the only representative of any level of government in attendance. (How times have changed: I remember well the steadfast support the former Member of the Legislature for St. John's, Gord Mackintosh, showed the Gwen Secter Centre when it was perilously close to being closed down. And, of course, for years, the area in which the Gwen Secter Centre is situated was represented by the late Saul Cherniack.)
Sophie Shinewald's granddaughter, Alix (who flew in from Chicago), represented the Shinewald family at the event. (Her brother, Benjamin, who lives in Ottawa, wasn't able to attend, but he sent a pre-recorded audio message that was played for the audience.)
Musical entertainment for the evening was provided by a group of talented singers, led by Julia Kroft. Following the concert, attendees headed inside to partake of a sumptuous assortment of pastries, all prepared by the Gwen Secter culinary staff. (And, despite my asking whether I could take a doggy bag home, I was turned down.)