As 'The Marvelous Mrs Maisel' ends, will its Jewish legacy be more than a punchline?
(JTA) — After five seasons, 20 Emmy awards and plenty of Jewish jokes, "The Marvelous Mrs. Maisel" airs its final episode on Friday.
The lauded Amazon Prime show from Amy Sherman-Palladino has enveloped viewers in a shimmering, candy-colored version of New York during the late 1950s and early 1960s — a world in which "humor" has meant Jewish humor and "culture" has meant Jewish culture.
But as it comes to an end, the show's Jewish legacy is still up for debate: Did its representation of Jews on mainstream TV make it a pioneer of the 2010s? Or did it do more harm than good in the battle for better representation, by reinforcing decades-old comedic tropes about Jews?
The comedy-drama followed the vivacious Midge Maisel (Rachel Brosnahan) on a journey from prim Upper West Side housewife — left in the lurch after her husband has an affair with his secretary — to ambitious, foul-mouthed comic fighting her way through the male-dominated standup comedy industry. Her New York Jewishness colored her jokes, her accent, her mannerisms and much of her daily life.
That's because the whole landscape of the show was Jewish, from the well-to-do, acculturated intelligentsia (such as Midge's parents) to the self-made garment factory owners (such as her in-laws). Even the radical Jewish comic Lenny Bruce, a countercultural icon of the midcentury, appeared as a recurring character who propels Midge's success.
Henry Bial, a professor specializing in performance theory and Jewish popular culture at the University of Kansas, said the emergence of "The Marvelous Mrs. Maisel" in 2017 exemplified a shift to more overt portrayals of Jews on TV — especially on streaming services. Although Jewish characters featured in TV shows throughout the 20th century, such as "The Goldbergs" in the 1950s, "Rhoda" in the 1970s and "Seinfeld" in the 1990s, their Jewishness was often more coded than explicit. Network television, seeking to attract the majority of Americans coveted by advertisers, feared alienating audiences who couldn't "relate" to ethnic and racial minorities.
"If there are only three things you can put on television at 8 o'clock on Tuesday night, then there's a lot more incentive for networks and advertisers to stay close to the herd, because you're competing for the same eyeballs," said Bial. "But when people can watch whatever they want whenever they want, then it opens up for a much wider range of stories."
Other shows such as "Transparent," "Broad City" and "Crazy Ex-Girlfriend," which debuted in 2014 and 2015, are often cited alongside "Mrs. Maisel" as part of a new wave of Jewish representation.
Riv-Ellen Prell, a professor emerita of American studies at the University of Minnesota, argued that Midge subverts the stereotype of the "Jewish American princess." At the start of the show, she appears to embrace that image: She is financially dependent on her father and husband and obsessive about her appearance, measuring her body every day to ensure that she doesn't gain weight. Despite living with her husband for years, she always curls her hair, does her makeup and spritzes herself with perfume before he wakes up.
"She looks for all the world like the fantasy of a Jewish American princess," said Prell. "And yet she is more ambitious than imaginable, she is a brilliant comic who draws on her own life. You have Amy Sherman-Palladino inventing the anti-Jewish princess."
Bial said that Midge's relationship with her Jewishness defies another stereotype: That identity is not a source of neurosis or self-loathing, as it often appears to be in the male archetypes of Woody Allen and Larry David, or in Rachel Bloom's "Crazy Ex-Girlfriend." Through the spirited banter, the pointed exclamations of "oy," the titillation over a rabbi coming for Yom Kippur break fast — Midge's Jewishness is a source of comforting ritual, joy and celebration.
"She has anxieties and issues, but none of them are because she's Jewish," said Bial.
Some critics argue the show's depiction of Jewish culture relies on shallow tropes. In a 2019 review, TV critic Paul Brownfield said "The Marvelous Mrs. Maisel" repurposed stereotypes to appear "retro chic." He pointed to a consistent contrast between the Weissmans (the assimilated, cultured Jews of the Upper West Side) and the Maisels (the boorish, money-focused Jews of the Garment District), arguing that these superficial types replace an exploration of what the period was actually like for American Jews.
"However 'Jewish' Sherman-Palladino wants the show to be, 'Maisel' fails to grapple with the realities of the moment in Jewish American history it portrays," Brownfield wrote. "Which is ultimately what leaves me queasy about its tone — the shtick, the stereotypes, the comforting self-parody."
Meanwhile, Andy Samberg took a jab while co-hosting the 2019 Golden Globes with Sandra Oh. "It's the show that makes audiences sit up and say, 'Wait, is this antisemitic?'" he joked.
Others have criticized the show's casting: Its titular heroine, her parents Abe and Rose Weissman (Tony Shalhoub and Marin Hinkle) and Lenny Bruce (Luke Kirby) are all played by non-Jews. A debate over the casting of non-Jewish actors in Jewish roles has heated up in recent years, taking aim not only at Brosnahan as Midge Maisel, but also at Felicity Jones as Ruth Bader Ginsberg in "On The Basis of Sex," Helen Mirren as Golda Meir in "Golda" and Gaby Hoffmann and Jay Duplass as the Pfefferman siblings in "Transparent." Comedian Sarah Silverman popularized the term "Jewface" to critique the trend.
"Watching a gentile actor portraying, like, a Jew-y Jew is just — agh — feels, like, embarrassing and cringey," Silverman said on her podcast in 2021.
Midge's rise as a comedian is interlocked with her ally and one-time fling, the fictionalized Lenny Bruce. His character has a softened glow in the show, but in reality, Bruce was branded a "sick comic" for his scathing satire that railed against conservatism, racism and moral hypocrisy. Between 1961 and 1964, he was charged with violating obscenity laws in San Francisco, Los Angeles, Chicago and New York, and he was deported from England. At his Los Angeles trial in 1963, Bruce was accused of using the Yiddish word "shmuck," taken as an obscenity to mean "penis." He incorporated the charge into his standup, explaining that the colloquial Jewish meaning of "schmuck" was "fool."
Driven to pennilessness by relentless prosecution, police harassment and blacklisting from most clubs across the country, he died of a morphine overdose in 1966 at 40 years old. The real Lenny Bruce's tragedy lends a shadow to the fictional Midge Maisel's triumphs.
The United States that he struggled with until his death also looks comparatively rosy through the lens of "The Marvelous Mrs. Maisel," whose protagonist battles misogyny but takes little interest in other societal evils — including still-rampant antisemitism. Some critics have noted that she is oblivious to segregated facilities when she tours with Black singer Shy Baldwin, then nearly outs him as gay during her set.
"'Mrs. Maisel' takes place in a supersaturated fantasy 1958 New York, one where antisemitism, racism, homophobia and even sexism are barely a whisper," Rokhl Kafrissen wrote in 2018.
Reflecting on the criticism that had piled up by 2020, Sherman-Palladino and her husband Daniel Palladino, also an executive producer and a lead writer for the show, told the Jewish Telegraphic Agency that trying to appease every Jewish viewer was a futile exercise.
"We knew that if we show a Jewish family at temple — if we show them and talk about Yom Kippur and all those kinds of things — there are going to be people who are going to nitpick at specifics that maybe we didn't get exactly right," said Palladino, who is not Jewish. "But a lot of the feedback that we've gotten has been 'Thank you. Thank you for leaning into it and showing Jews being Jewish, as opposed to just name checking them as Jewish.'"
Sherman-Palladino added: "[T]here are many different kinds of Jews! To say, 'oh, Jewish stereotypes,' well, what are you talking about? Because we have an educated Jew, we have a woman who was happy to be a mother, we have another woman striking out as a stand up comic, and, you know, Susie Myerson's [Alex Borstein's character] a Jew! We've got a broad range of Jews in there."
However "The Marvelous Mrs. Maisel" is assessed in the future, it will remain significant for thrusting a new kind of Jewish heroine into the mainstream consciousness, said Bial.
"Because of its popularity, its longevity and frankly its quality, it's going to be the example," Bial said. "In the history of Jews and TV, this is going to be the chapter for the late 2010s and early 2020s — you have to mention 'Mrs. Maisel.' It is very clearly a landmark in Jewish representation, particularly for Jewish women."
—
The post As 'The Marvelous Mrs Maisel' ends, will its Jewish legacy be more than a punchline? appeared first on Jewish Telegraphic Agency.
Focus group Oct. 11 at Simkin Centre for people concerned about personal care homes

As Manitobans have gone to the polls and with a new legislative assembly about to begin a new four-year term, the challenges of long-term and continuing care homes need to be communicated.
MARCHE, the Manitoba Association of Residential and Community Care Homes for the Elderly will be holding a focus group on Wednesday, October 11 that is intended to provide the community at large a forum to express thoughts and provide ideas and recommendations for the future.
Please join us on Wednesday, October 11th at the Saul & Claribel Simkin Centre. We look forward to hearing from you.
See poster below for more information and how to register to attend.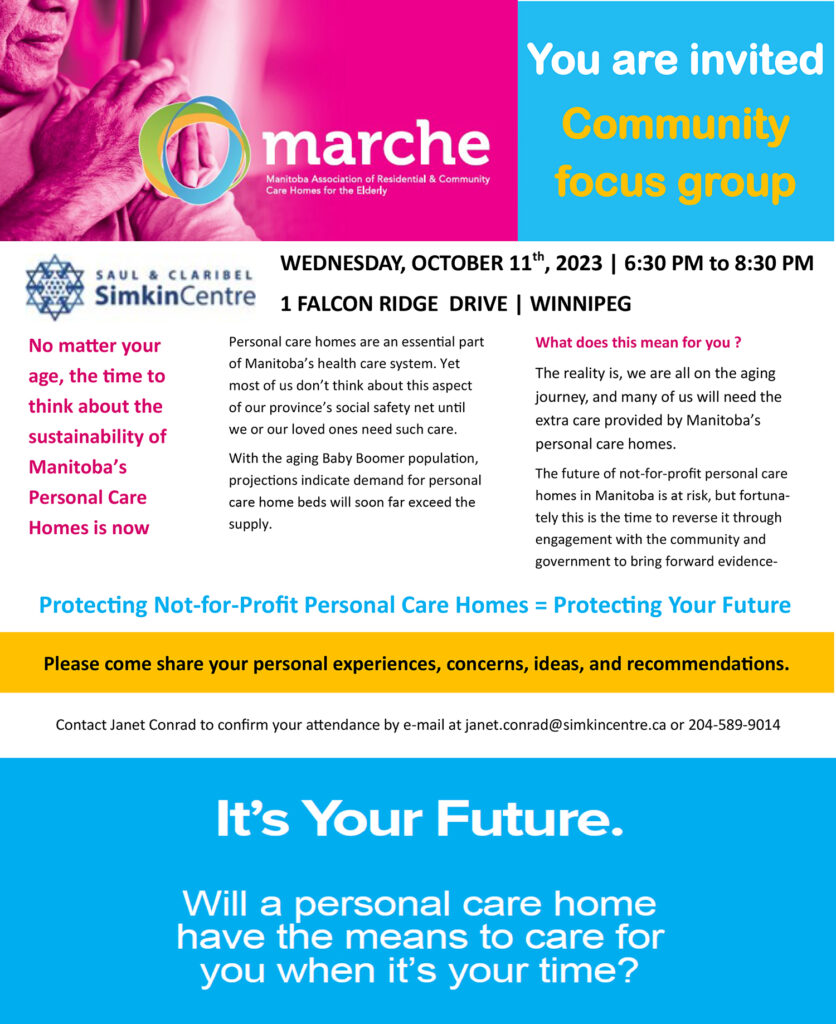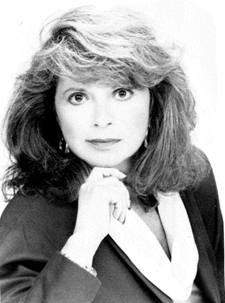 Phyllis Pollock died at home Sunday September 3, 2023 in Winnipeg, after a courageous lifetime battle with cancer.
Phyllis was a mother of four: Gary (Laura), daughter Randi, Steven (deceased in 2010) (Karen), and Robert. Phyllis also had two grandchildren: Lauren and Quinn.
Born in Fort Frances, Ontario on February 7, 1939, Phyllis was an only child to Ruby and Alex Lerman. After graduating high school, Phyllis moved to Winnipeg where she married and later divorced Danny Pollock, the father of her children. She moved to Beverly Hills in 1971, where she raised her children.
Phyllis had a busy social life and lucrative real estate career that spanned over 50 years, including new home sales with CoastCo. Phyllis was the original sales agent for three buildings in Santa Monica, oceanfront: Sea Colony I, Sea Colony II, and Sea Colony. She was known as the Sea Colony Queen. She worked side by side with her daughter Randi for about 25 years – handling over 600 transactions, including sales and leases within the three phases of Sea Colony alone.
Phyllis had more energy than most people half her age. She loved entertaining, working in the real estate field, meeting new and interesting people everyday no matter where she went, and thrived on making new lifelong friends. Phyllis eventually moved to the Sea Colony in Santa Monica where she lived for many years before moving to Palm Desert, then Winnipeg.
After battling breast cancer four times in approximately 20 years, she developed metastatic Stage 4 lung cancer. Her long-time domestic partner of 27 years, Joseph Wilder, K.C., was the love of her life. They were never far apart. They traveled the world and went on many adventures during their relationship. During her treatment, Phyllis would say how much she missed work and seeing her clients. Joey demonstrated amazing strength, love, care, and compassion for Phyllis as her condition progressed. He was her rock and was by her side 24/7, making sure she had the best possible care. Joey's son David was always there to support Phyllis and to make her smile. Joey's other children, Sheri, Kenny, Joshua and wife Davina, were also a part of her life. His kids would Facetime Phyllis and include her during any of their important functions. Phyllis loved Joey's children as if they were her own.
Thank you to all of her friends and family who were there to support her during these difficult times. Phyllis is now, finally, pain free and in a better place. She was loved dearly and will be greatly missed. Interment took place in Los Angeles.
Gwen Centre Creative Living Centre celebrates 35th anniversary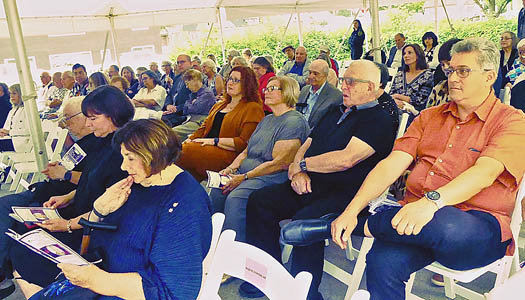 By BERNIE BELLAN Over 100 individuals gathered at the Gwen Secter Centre on Tuesday evening, July 18 – under the big top that serves as the venue for the summer series of outdoor concerts that is now in its third year at the centre.
The occasion was the celebration of the Gwen Secter Centre's 35th anniversary. It was also an opportunity to honour the memory of Sophie Shinewald, who passed away at the age of 106 in 2019, but who, as recently as 2018, was still a regular attendee at the Gwen Secter Centre.
As Gwen Secter Executive Director Becky Chisick noted in her remarks to the audience, Sophie had been volunteering at the Gwen Secter Centre for years – answering the phone among other duties. Becky remarked that Sophie's son, Ed Shinewald, had the phone number for the Gwen Secter Centre stored in his phone as "Mum's work."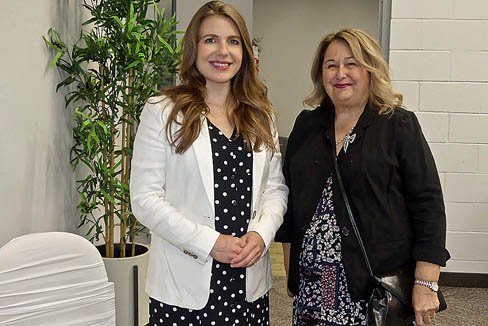 Remarks were also delivered by Raquel Dancho, Member of Parliament for Kildonan-St. Paul, who was the only representative of any level of government in attendance. (How times have changed: I remember well the steadfast support the former Member of the Legislature for St. John's, Gord Mackintosh, showed the Gwen Secter Centre when it was perilously close to being closed down. And, of course, for years, the area in which the Gwen Secter Centre is situated was represented by the late Saul Cherniack.)
Sophie Shinewald's granddaughter, Alix (who flew in from Chicago), represented the Shinewald family at the event. (Her brother, Benjamin, who lives in Ottawa, wasn't able to attend, but he sent a pre-recorded audio message that was played for the audience.)
Musical entertainment for the evening was provided by a group of talented singers, led by Julia Kroft. Following the concert, attendees headed inside to partake of a sumptuous assortment of pastries, all prepared by the Gwen Secter culinary staff. (And, despite my asking whether I could take a doggy bag home, I was turned down.)