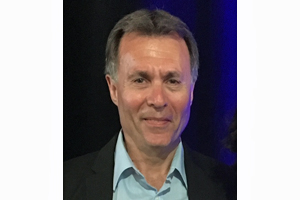 By BERNIE BELLAN
There was an interesting message sent out recently from Joel Lazer, President of the Jewish Federation, in which he offered special praise for Becky Chisick, Executive Director of the Gwen Secter Centre, for the incredibly important effort Becky and her tiny staff have been making in getting meals out to Jewish seniors during this entire period of isolation.
I've been writing repeatedly about how fantastic a job Becky and her two kitchen staff workers, Galina Melenevska and Cathy Koltowski, have been doing turning out those meals. Just to give you an idea how much Galina and Cathy have stepped up to fill a vital need in our community, here's what I wrote in our May 13 issue: "In our April 15 issue we had reported that the kitchen staff at Gwen Secter had produced 60 meals for Jewish seniors from March 30-April 3, all delivered free of charge. Since then, the staff has increased production of meals to the point where they sent out 194 meals the week of May 4-8."
Now, here's the most recent update we have on how much more Gwen Secter has been doing – in the form of a series of emails I received from Becky Chisick on May 21, in response to questions about how the meal program has been going:
First, here's what I asked Becky: "Have you received any extra funding from either the Foundation or the Federation beyond whatever the Foundation gave you in that initial cheque the Foundation sent you – along with all the other organizations?"
Becky responded: "Both JFM and JFW recently opened their emergency application grants so it will be a little while until we hear back."
I then asked her how the meal program has been going of late?
Becky answered: "The meal program is going very well. I have hired a part- time volunteer meal program coordinator, Laurel Cogan, to help with the organization of routes, volunteers and clients. She also calls all of the clients twice a week to help continue more personal connections. A HUGE help! We are now delivering over 270 meals weekly. I thought we'd be eventually up to (around) 120 meals!!"
I then sent Becky the following email: "Of the 270 meals you're delivering, how many times a week would someone get a meal? For instance, is it 270 seniors getting one meal a week or 135 seniors getting 2 meals a week?
"Also, is it still volunteers from the GROW program who are delivering the meals?
"What you're doing is absolutely fantastic Becky. I hope you're getting extra funding from the Jewish Foundation for what you're doing. Frankly, a lot of the organizations they're helping do not need help and some do not deserve any help at all.
Becky answered: "On the 'full' program 2 meals are delivered twice per week. Some opt to only receive meals once per week. As of today, we have 73 people on our list with 3 taking meals once per week. So in fact we will be sending 286 meals out this week. GROW Participants are delivering on 3 of the routes. We now have 7 routes. I have student volunteers and a couple board members delivering. Some volunteer both days and some one day/week.
"I'm very excited that we are confirmed to receive $25,000 of government funding allotted to seniors via the United Way. These funds have been specifically earmarked for the meal program."
While the Gwen Secter Centre certainly stands out as having risen to the occasion and filled a desperately needed role in our community, one might well wonder just why it was that the Jewish Foundation necessary to rush out cheques to 28 differerent "Jewish" organizations (and I put quotation marks around the name Jewish because one would think that the Canadian Institute for the Study of Antisemitism would be considered an "academic" organization, not a Jewish organization, per se).
There are other organizations that have found themselves under incredible pressure – and we have written about those organizations, but  you have to wonder about the approach the Foundation has taken in providing financial assistance to so many different organizations.
It took a while to receive a list of all the organizations that received emergency funding from the Foundation, but when I asked how much was given to each organization, I was told "due to a variety of unique circumstances currently faced by individual organizations, at this point, we will leave the disclosure of the amount they received to their discretion. Soon we will be positioned to paint a clear picture of the impact these distributions are making in the community with the imminent onset of Phase 2."
Notwithstanding the Foundation's reluctance to make public how much it has given to each organization, that information should be disclosed. The Foundation has been supported by thousands of different individuals and organizations over the years and the Foundation owes it to the public to be more transparent with what it is doing during this emergency situation – and will be continuing to do as it hands out more money to organizations.
There are 11 different synagogues listed among the recipients of emergency funding from the Foundation. Are they all in emergency situations?
As well, two organizations – The Canadian Institute for the Study of Antisemitism and the National Council of Jewish Women would hardly seem to be needing emergency assistance – for what? To pay salaries? That should hardly qualify as an emergency. The Gwen Secter Centre, the Rady JCC, Camp Massad, and BB Camp are all in dire straits. Was it really necessary to send cheques out to every conceivable Jewish organization? Of course, since we don't know how much any one organization has received (other than what I've been told anecdotally by directors of certain organizations), it's really difficult to know what criteria the Foundation used in providing the initial stage of financial assistance.
At the same time, if something like the The Canadian Institute for the Study of Antisemitism is worthy of financial assistance, then why not an organization like the Group for Yiddish Heritage? (I was told that in order to qualify for financial assistance an organization would need to be a registered charity, but The Group for Yiddish Heritage is a registered charity – and they have received funding from the Foundation in the past, so if the criteria that are necessary to receive emergency funding from the Foundation are that you need to have received funding from the Foundation in the past and that you are a registered charity, then why not the Group for Yiddish Heritage – whether they need "emergency funding"or not? I'm sure that other readers can think of other organizations that would also be equally deserving.)
By the way, I had approached the Foundation with a proposal that would have satisfied their criteria and would have enabled it to provide our paper with some assistance – not through direct funding, but in a different way. I was told that unless our newspaper were a "not for profit business", then we couldn't receive any help from the Foundation. I've always been prepared to transform this newspaper into a not for profit corporation, but I'm not going to spend a lot of time pursuing that avenue. If someone wants to take the initiative to turn the JP&N into a not for profit corporation without share capital, and appoint a board of directors to run the corporation, then you would receive my full cooperation.
I might note, however, that the Canadian Jewish News was a not for profit corporation – twice, and that didn't turn out too well for them. I actually had a conversation with the former president of the CJN – Elizabeth Wolfe, during which I asked her whether she'd ever consider getting back into helping to revive a Jewish newspaper in Toronto and she quite quickly demurred, saying she'll leave that to others now.
It still puzzles me that a city with the size of Toronto's Jewish community can't sustain a Jewish newspaper, but I'll leave that to Torontonians to figure out.
I see too that the Jewish Federation is still working out the details of how it will provide emergency assistance to Jewish organizations.
On May 19 I asked Adam Levy, Public Relations & Communication Manger of the Federation, "Are you able to provide any new information re the emergency campaign, such as how much you've raised so far and where the money is going?
"Has any of what you've raised thus far been distributed to anyone?"
Adam responded: "As of now, we've raised about $50,000 and we have some donors who are still figuring out how much they'd like to give to this campaign.
"So far we've received 5 applications with a total of over $200,000 requested. With allocations happening next week many of our beneficiaries are focused on that, and we are expecting more applications to come in following that."
I asked Adam a follow-up question: "Are these requests coming from beneficiaries who have also received grants from the Jewish Foundation?
"If so, do you know whether the Foundation be taking that into account in its next round of grants?"
Adam responded: "As part of the application process, we have asked for information on all of the other grants that organizations have applied for.
"We are working closely with the Foundation to ensure that we are responding to the needs of Winnipeg's Jewish organizations together."
Given that there's going to be a fair bit of money continuing to flow to Jewish organizations (some of which probably didn't need money as a result of the pandemic, but hey, let's be honest: Who's going to turn down mannah from heaven?) one might well ask: How rigorous are the Jewish Foundation and the Jewish Federation going to be going forward when it comes to scrutinizing requests from organizations for financial assistance? Let's hope that it's not a case of which organizations have the most powerful supporters lobbying on their behalves – which is often the way things work in our community.