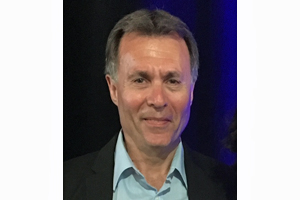 By BERNIE BELLAN
Well, it's been two months since most of us went into lockdown – and it's still totally unclear when life might resume some sort of normalcy.
If you're reading this now, you're reading it either on a computer or a mobile device. That is one of the many new realities we're having to deal with, as the sudden jolt that we took here at The Jewish Post & News continues to reverberate.
But, I haven't sat still all this past while – simply waiting for things to improve.
The first thing I did was close our office at the Herzlia Synagogue (and I know it's the Herzlia Adas-Yeshurun, to be exact but, just as almost no one refers to the Gwen Secter Centre as Sid Glow's Place at the Gwen Secter Centre, it's just too much of a mouthful to refer to some places by their official names).
What I've done is move our entire operation to our home in River Heights. As with so many others who have been working from home, it hasn't been a difficult adjustment at all. In fact, in many ways it's quite a bit more convenient being able to work from home all the time instead of just some of the time.
One of the most satisfying aspects of having to do everything myself now (since I was forced to lay off my one full-time employee) is that I've been speaking with so many people who, in the ordinary course of events, I wouldn't be contacting myself.
In the past six weeks I've probably spoken to well over 100 individuals who have placed memoriams in the paper in the past – to see whether they would want to do that again. Our April 15 issue contained memoriams for four different weeks because I had already decided not to put out an issue on April 29, which would normally have been a regularly scheduled date for publication.
But then, as I wondered whether it made sense to try and put out a print issue for May 13 – and decided against that since there just wasn't sufficient ad revenue to warrant printing a paper, I began to call individuals who would normally have memoriams in the May 13 issue.
As much as these are extraordinarily difficult times I must say it was very rewarding being able to talk with so many people, not all of whom are regular readers of this paper, but for most of whom placing a memoriam in this paper is something important for them to do.
I know I've written several times before about the role that memoriams – and obituaries in this paper play in keeping Winnipeg Jews and Jews who no longer live in Winnipeg connected. In speaking with many ex-Winnipeggers these past few weeks, I was reminded over and over again just how much having lived in Winnipeg continues to resonate for so many Jews who no longer live here.
Sure – there's a certain amount of looking at the past through rose-coloured glasses that goes on, but in speaking to so many ex-Winnipeggers, I've heard the same observations made over and over again, such as when two ex-Winnipeggers run into one another, there's an immediate bond formed – unlike the experience that coming from any other city imparts.
As well, when I would tell people that we're having to take a break from printing the paper, the usual reaction that would elicit would be: "Bernie, you can't stop doing The Jewish Post & News."
And no, I'm not stopping "doing The Jewish Post & News". I said in our April 15 issue that we would be back printing, although at that point I didn't know quite when.
I've now made the decision to resume printing the paper as of the May 27 issue. It's not that I've received any solid assurances of financial support that led me to decide that – although we did receive a nice boost from one source that will come in handy, it's more a case of feeling an obligation to put out a product for subscribers who have paid for subscriptions and deserve to get something for their money – beyond getting this e-mailed version of the paper.
I should also explain that we haven't deposited any subscription payments since the end of March. I felt it would be dishonest to continue taking payments when we didn't know when we would be printing again. But, now that I've made the decision to resume printing the paper on a regular basis, we will be depositing the many payments we've received since the end of March, along with sending out subscription renewal cards that have just been sitting in a pile waiting to be mailed out.
But, if times have been tough for us – compared with the situation that other businesses, including many other newspapers across Canada are in, we're not in nearly as tough a situation as those other businesses.
I still can't get over the fact that the Canadian Jewish News folded completely in April. As many people with whom I've spoken these past few weeks have wondered: How can as affluent a community as Toronto's Jewish community not be able to support a Jewish newspaper?
Good question. I did get in touch with one of the former writers at the CJN to ask whether there would be any interest there in my expanding The Jewish Post & News website to start catering to the Toronto market? I was told that a group in Toronto is just about to launch a new website to do exactly that, to be called the "Canadian Jewish Record", which is set to launch May 21. (I still perceive a certain degree of arrogance though, in Toronto Jews thinking that any media platform they might create would immediately serve all of Canada, thus the "Canadian Jewish News" and soon to be the "Canadian Jewish Record". Why not just call it the Toronto Jewish Record – until we see whether it's really going to be truly national in scope?)
As for our own website – jewishpostandnews.ca, many of you would have been aware by now that it's been totally revamped – and opens up quite quickly (as opposed to what happened with the old site, which had slowed down considerably in recent times). I've received good reaction to the new site, but again, I'm faced with the same problem with which any newspaper has to deal when it creates a website: How much content can you provide free of charge to readers before you end up undercutting what you offer subscribers to the paper?
And, while there were a whole batch of fresh new stories on our website when the revamped version was unveiled Friday, May 1st, I've been reluctant to add new stories on a regular basis. It would be unfair to readers of this paper who have paid for subscriptions to find that they can get anything they see in the paper just as easily on our website.