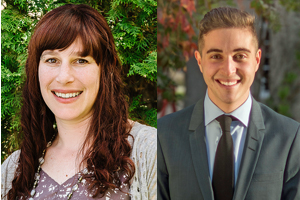 By MYRON LOVE In the (Saturday) April 17 edition of the Winnipeg Free Press, the Manitoba Medical Service Foundation (MMSF) took out a half page ad to highlight the organization's 2021 grant recipients. Among the 12 researchers approved for grants this year were two members of our Jewish community – Drs. Aleeza Gerstein and Zach Raizman.
Raizman received funding to continue his research into the different types of insulin and the risks each poses of causing hypoglycemia – low blood sugar – with resulting deleterious health effects.
Gerstein and her team received funding to study recurring yeast infections – which, she notes, only affect women. "Essentially, there currently is no cure for this recurring problem," she points out. "We are trying to understand the biological basis for these fungal infections. That is the first step to finding a way to prevent them. We will soon begin enrolling patient referred from gynecologists."
Gerstein and Raizman are at different stages of their medical careers. While Raizman has still to complete his studies, Gerstein is already well established as an Assistant Professor in the Faculty of Science at the University of Manitoba where she is cross-appointed in the Departments of Microbiology and Statistics.
The daughter of Paul and Sherri Gerstein happily returned to her hometown to assume her current position after almost 20 years away. After high school, she relocated to Western University (formerly the University of Western Ontario) in London where she earned a B.Sc. in Ecology and Evolution. She followed up with a move to the West Coast – UBC – where she received her MSc. and Ph.D. in Zoology.
"I am an ecologist and evolutionary biologist by training," she says. "I am fascinated by microbes. They grow everywhere, in every ecosystem. Yet, unlike plants and animals, we can't see them with the naked eye. In the lab, however, we can do controlled experiments to try to understand how they work."
Prior to returning to Winnipeg, she was a post-doctoral Fellow for four years at the University of Minnesota. During that period, she also spent a couple of months in the Faculty of Life Sciences at Tel Aviv University.
The position at the University of Manitoba just happened to become available at the same time that she was looking for a job. "I am very fortunate that a full time, tenure track position became available here," she says. "Now that I have children (a five-year-old and a newborn), I wanted to be back in Winnipeg. My entire family is here."
Zach Raizman, on the other hand, is just completing his Internal Medicine residency program and will soon be on his way to Calgary to receive specialty training in endocrinology. (The endocrine system controls hormones.)
The study for which Raizman received funding, he reports, is almost done. "We did a study of the data of 30,000 patients with Type 2 diabetes who are taking insulin," he explains. "We studied several different types of insulin to determine which ones carry a greater risk of causing hypoglycemia. We are in the process of writing the final report."
The son of Ali and Louisa Raizman attended Gray Academy for Elementary School, and Shaftesbury High School for high school. He received his undergraduate degree from the University of Winnipeg and medical degree at the University of Manitoba.
For Raizman, medicine is his second career. Growing up, he forged a career as an actor, musical theatre performer and singer/songwriter who released his first CD in February of 2007 when he was 12 (a feat that was documented in the pages of The Jewish Post & News).
Medical school, however, hasn't left much time for other endeavours, he notes.
He says that he hopes to return to Winnipeg in a couple of years after his further training in Calgary.