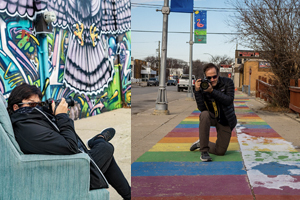 By BERNIE BELLAN Back in the fall – when our brief dalliance with the relatively loose Covid restrictions that had been in place over the summer started to come to an end, Kayla Gordon found herself with time on her hands.
Now, for anyone who knows Kayla, she's constantly buzzing with ideas – whether it's to create a new theatre project or, as has been more recently the case, to take her camera out somewhere and start taking photos.
As a matter of fact, under the tutelage of expert photographer Keith Levit, Kayla herself has fashioned quite a reputation as a photographer. She could often be seen at Jewish events, such as past Negev Galas, working taking photographs in tandem with Keith.
Thus, for someone who's always been positively bursting with energy, having to hunker down again during the reimposed social distancing rules in the fall, Kayla says that "if I didn't have a creative outlet of some sort, I would have gone crazy."
Because travel was difficult during Covid, Keith and Kayla set out to take photos of buildings close to home. While they were out shooting it hit her, she explains: "There are literally hundreds of murals all over Winnipeg walls. Why not take photos of the incredible art around the city…."and so they did.
Thus began a project that has now culminated in a beautiful hardcover 80-page coffee table book titled "The Murals of Winnipeg".
Kayla says that she first emailed Bob Buchanan, who runs a website devoted entirely to murals in Winnipeg, known appropriately enough as www.themuralsofwinnipeg.com. He wrote her back saying and there was no way a book like this could be created unless several organizations were involved. One of the main organizations was Take Pride Winnipeg. So, Kayla did some research and found out she knew the president of the board and he put her in touch with Tom Ethans, the executive director of Take Pride Winnipeg. Tom loved the idea and Kayla convinced him that it could be a fundraising book to raise money for emerging artists and for future murals. In addition, to help defray the printing costs. Kayla approached two Winnipeg financial companies: Lawton Partners and Sigurdson Financial Group, to become sponsors of the project.
While only 110 copies of the book have been printed thus far, as Kayla says, "If they sell out, we can always order more."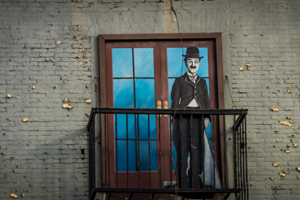 So, what did Kayla and Keith do to get the photos for the book?
Beginning in October they went out looking for every possible mural they could find. The website themuralsofwinnipeg.com steered them in the right direction, but as Kayla points out, "Between the two of us we took almost 2000 photos of about 500 murals in and around Winnipeg".
The next step was to narrow it down to 300 photos of a variety of murals and then, with the help of Bob and Tom on many Zoom sessions, they narrowed it down to 170 photos that made it into the book… a small percentage of all the murals in the city perhaps- but it was important that the murals had some connection to Take Pride Winnipeg or to one of the Biz's in the city – either by way of a commissioned project, or a project that was created through Take Pride Winnipeg, also or through the West End BIZ, Transcona BIZ, etc. That was key.
When it came to creating and producing the book, Kayla explains that it was important that they obtain the permission of the artists. All the murals reflect work done by living artists, and each mural represented is included with the permission of the artist or artists – who were thrilled to have their work represented, Kayla says. "We wish we could have included more." she adds, "but it would have made the book too large".
Probably the best-known mural artist in this city is Charlie Johnston, whose works are almost instantly recognizable, and whose murals certainly form a major part of the book. Other well-known mural artists such as Mandy van Leeuwen and Jennifer Mosienko also have their works prominently featured in the book.
Each photograph is accompanied by the name of the artist or artists who were responsible for producing that mural.
In speaking with Kayla, I wondered whether anyone had ever attempted to produce a similar book in the past.
The answer, perhaps surprisingly, was "no".
She added this comment: "This book has been a labour of love. We had no idea there were so many wonderful murals in our city. It has been a pleasure photographing the work of so many incredibly talented artists. We were thrilled to collaborate with Take Pride Winnipeg on all the many components of the book. We look forward to seeing more new murals in the future, and we hope you enjoy the book as much as we enjoyed photographing the art.
"Thank you to all the artists as well as the following:
"Tom Ethans – Executive Director, Take Pride Winnipeg
"Bob Buchanan and the Murals of Winnipeg website
"(Bob also contributed some of the photos.)"
As someone who has had the opportunity to preview the project (albeit only online), I must say that it's a gorgeous looking book. And, for only $50 (which will also fetch you a tax receipt to boot), the book is a steal of a deal.
The book is now available from Take Pride Winnipeg.
Here is how you can order your copy of the book:
"With a tax deductible $50.00 donation to Take Pride Winnipeg, you will receive a free copy of "The Murals of Winnipeg".
"Visit the website takepride.mb.ca and click the "Donate Now" button. In the "Message for Take Pride Winnipeg Inc" section, indicate that your donation is for the mural book, and include your address/phone number for delivery. A charity receipt will be sent by CanadaHelps.