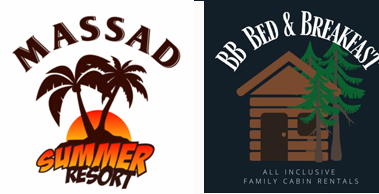 By BERNIE BELLAN After a summer in 2020 that saw our two Jewish sleepover camps have to cancel all overnight stays for campers, this summer, our community's camps are preparing for the worst and hoping for the best.
While some children may be unable to attend camp with their friends – which undoubtedly comes as a huge disappointment once again, this year both camps had prepared contingency plans quite some ago in anticipation of the possibility of not being allowed to have regular overnight camps.
In some instances, instead of children attending camp on their own, this summer families are being invited to come out to both camps and spend a few days together either on Town Island (BB Camp) or Sandy Hook (Massad).
Recently I spoke with the directors of both camps to find out what they have planned for the summer and whether there is any possibility that there may be a normal sleepover camp at all this coming summer.
Jacob Brodovsky and Lexie Yurman are Co-Executive Directors of BB Camp, having assumed their official duties on January 1 this year (and, as we noted in an article in our Feb. 3 issue – are the first married couple to be in charge either of BB Camp or Massad).
Jacob and Lexie said that, while they aren't optimistic that the Ontario government will lift all restrictions that have been imposed as a result of Covid, there are still reasons to be hopeful that they will be able to run some form of Second Session, AC and LTP programs at the camp this summer. When I asked them whether there is any chance the popular day camp program – which sees children brought out to camp each day by boat from Kenora, could be offered, the answer was, "We're still waiting to see how things will look in June and July."
As well, I asked what would happen if the Ontario government keeps the border closed to visitors from other provinces – as is currently the case, and while Jacob and Lexie indicated that is a huge concern, the planning process began long ago, long before the border was closed – so naturally the hope is that by July the border will be reopened.
In the meantime though, Jacob and Lexie have developed a program known as "BB Bed & Breakfast", which has already garnered a terrific response, they said. As of May 5, 140 individuals were on the waitlist for 3-night stays at BB Camp with registration slated to launch at the end of May, hopefully once there is some clarity re the border. On hand to work with families will be almost a full complement of BB Camp staff, Jacob said, which will be from 60-70 in number. "The idea is to get our staff trained, and our island open so if and when the time comes that we can pivot back to our conventional overnight camp programming, we'll be ready to do so at a moment's notice".
Here is material taken from the BB Camp website that describes what BB Bed & Breakfast will offer:
Treat your family to an all inclusive getaway where you will learn new skills, immerse yourself in the outdoors, and grow closer as a family. We've taken the best parts of a traditional sleep-away summer camp program to offer a unique and unforgettable family cabin rental experience.
Parents are welcome to join their kids in camp activities, or catch up on remote work while our camp staff buddy up with their children for the day. There will also be adult-only programming offered throughout your stay.
Enhance your stay at camp with a family canoe trip following your family camp session! Choose from a 2 or 4-night canoe trip. Our staff will lead you through the whole process from packing out your own food and equipment, to navigating, cooking, and properly setting up a camp site.
Conquer the climbing tower, learn to stern a canoe, or play on our giant water inflatables, the choice is yours! Families will sign up for activities and be able to customize their stay to their liking. Our friendly staff will be there every step of the way to ensure you leave camp rejuvenated and reconnected to the wilderness!
Take advantage of our beautiful island location by adding a fishing excursion, or enrol your children in Swimming Lessons taught through our partnership with Aqua Essence. Again, the choice is yours to make BB Camp everything your family is looking for in a summer escape!
Available activities will include:
Nature Hikes
Paddle Around the Island
Outdoor Cooking Lessons
Judaic Programming
+
Shabbat
Fishing Excursions*
Aqua Essence SwimmingLessons*
*Additional fees
The all-inclusive package that BB Camp is offering includes:
Breakfast, Lunch, and Dinner
Plus 3 Daily Snacks
Daytime Childcare
Access to 'Work from Camp' Spaces + WIFI
Adult and Youth Programming
Staff-led Cookout & Bonfires
Traditional Burning of the Bs
Camp Activities:
Ropes Course – Climbing Wall -Water Toys – Canoeing -Kayaking – Swimming – Arts &Crafts – Sports – Tripping –Archery
For more information on BB Bed & Breakfast check out the BB Camp website – www.bbcamp.ca, call 204-477-7512 or email info@bbcamp.ca
Danial Sprintz is Executive Director of Camp Massad (now in his 11th year in that position), while Drew McGillawee is Director of Planning & Programming (in his third year in that position).
While the camp may not have held either of its normal two sessions last year, work at the campsite has continued apace nonetheless to improve facilities, in large part due to a grant from the Jewish Foundation earmarked for infrastructure improvements.
Of course, with the hope that vaccinations would allow some semblance of normal camp activity to resume, Danial Sprintz said that the camp board had been in constant consultation with Manitoba Health and various government officials to see whether there was any way sleepover camp could resume this summer.
The decision was made to cancel normal camp because there just wouldn't be enough time to allow for proper planning even if Covid restrictions were to be lifted by the summer, Danial says.
I asked him though whether the cancellation of camp applied to Massad's day camp as well (about which I had written last summer). And, although the day camp did prove successful – and complied with all provincial requirements for maintaining proper social distancing, Danial said it was very expensive to have to adhere to all the regulations that the province required – so the decision was taken not to go ahead with a day camp this summer.
However, just as BB Camp is offering an attractive alternative for families, Massad is also offering its cabins for families to rent – anywhere from a weekend (Friday – Sunday) to a weekday experience (which can vary in length).
According to the Massad website, "Family rentals will include all the activities that Camp Massad has to offer as well as food and a personal family cabin equipped with comfortable amenities."
Those amenities include: Tennis Courts, Basketball Court, Soccer Field, Volleyball Court, Archery Range, Tetherball, Nature Trails, Canoe and Kayaking on Lake Winnipeg, Fire Pits and Art Studio, as well as swimming in the Heated Outdoor Pool, Daily Adult and Youth Programming, Optional Child Care, Judaic Programming, and Wifi. Breakfast, Lunch, Dinner, and 3 snacks each day will be provided.
But, rather than attempt to offer a second session for regular campers in August – which is still BB Camp's hope, Danial says that August will be devoted to providing training for camp staff. "We'll have gone on for two years without staff getting the chance to get any training," he says. "We want to make sure that they get that training for next year's camp."
Both camps have received a great deal of financial support, both from government and from non-governmental organizations.
Danial pointed to two specific programs from which Massad was able to receive funding: The "Green Team" program and the "Canada Summer Jobs" program. Both programs will enable Massad to pay their entire staff complement for at least part of the summer.
As well, both BB and Massad received funding from the Jewish Federation that will help to keep their camps operating this summer.
Danial also pointed out that both camps are able to offer financial help to families that might not be able to afford their family programs this summer. Some money, as it has in the past, is available through the "Sunshine Fund", while other financial assistance has been made available from other sources as well. Interested parties should contact either camp about subsidies that might be available.
While July has already been heavily booked by families looking to spend some time together at Massad, the camp will actually be available to families beginning June 11.
When I asked whether it's possible for a family to spend more than five days at Massad at one time, Drew McGillawee said that one family has actually booked two consecutive weeks at the camp.
And, despite all the hardship that Covid has caused both camps, Danial said that the difficult situation in which both Massad and BB Camp have been put has let to what he described as an "unprecedented level of cooperation and planning" between the directors of both camps (which helps to explain why both camps came up with almost identical family camp programs for the coming summer).
As Danial noted, it's not only the camps that have been working together, "all Jewish community organizations" have been working together closely in ways that they had never done before.
For more information about Camp Massad's summer rental program for families either call 204-477-7487 or email info@campmassad.ca .
Both camps have detailed information about their upcoming summer family programs on their websites.