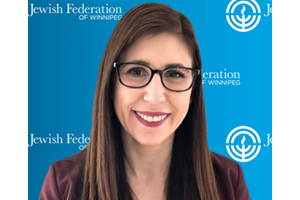 By BERNIE BELLAN When we saw the announcement in our print edition by the Jewish Federation of Winnipeg that the Combined Jewish Appeal's final tally for 2020 was $6,439,994, we were pleasantly surprised. After all, no one needs to be reminded how difficult a year 2020 had been for most people. So, we decided to ask Rebecca Brask, who is Chief Development Officer at the Federation, if she could answer some questions about last year's campaign.
Here are the questions we posed, along with Rebecca's answers:
JP&N: What was the actual target of the CJA campaign (or was there even a target?)
Brask: Heading into this campaign in September we were very unsure of what to expect and so we decided to not increase the goal from the previous year and remain at a $6 million goal.
JP&N: Remind me how much you raised in 2019.
Brask:The 2019-2020 CJA Campaign raised $6,005,140
JP&N: Was there an increase in the number of donors? If so, by what number?
Brask: The 2019 CJA Campaign had 2101 donations (or household donations) and the 2020 Campaign had 2097 donations, so a difference of 4 donations. However, what is also notable is that there was an average increase of 8% per donation this year, meaning that many donors decided to increase their support of the CJA in 2020.
JP&N: I assume large donors stepped up their contributions. Was that typically the case?
Brask: There were a few factors that went into this year's campaign having such a large increase, one of which was the Covid-19 Social Services Matching Fund we were able to access through the Jewish Federations of North America. Through this fund, and three extremely generous local donors, we were able to raise an additional $230,000 in directed donations, which has already been distributed to Jewish Child and Family Service and the Gwen Secter Creative Living Center for specific community needs related to Covid-19. We also received an incredible one-time gift of over $150,000 specifically for this year's campaign and community needs. We don't expect either of these gifts to renew next year and so will base our targets for the 2021-2022 campaign excluding these amounts.
Large donors did contribute more to the Campaign this year with 97 donors of $10,000 or more compare with 90 in 2019.
JP&N: How does Winnipeg's campaign compare with what you know about other cities' campaigns?
Brask: We believe it was mixed. Some other Federations maintained a status quo but had successful Campaigns.
JP&N: While it may seem unusual that the CJA campaign saw an increase in donations during a pandemic, I'm not at all surprised. Do you want to say something about what it says about our Jewish community here?
Brask: We have always said we have a very generous community, that always punches above its weight for a city of our size. We have all been humbled by the generosity and care our community has shows for each other during this time.
This is a quote from our CJA Co-Chair Neil Duboff:
"The response to the COVID-19 pandemic has shown our Jewish community at its best. From the launch of our community-based response fund, to the increases in donations to the Combined Jewish Appeal, our community's generosity is showing up both to help the community organizations challenged by the pandemic and recognize the ongoing need for support of our beneficiary agencies. Confronted with the pandemic individual Jewish community charity has been responsive and engaged. We could not be more grateful."