BB Camp undertakes fundraising campaign to raise $2.85 million by August 2022 to buy back part of Town Island from City of Kenora on behalf of the Nature Conservancy of Canada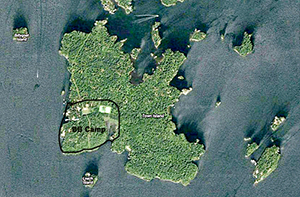 Introduction: Readers may recall past reports in this paper about the precarious situation existing with regard to Town Island – home of BB Camp.
While we reported in early 2020 that the City of Kenora had agreed to sell the part of the island that does not already belong to BB Camp to an organization known as the Nature Conservancy of Canada, there is now a deadline for the Nature Conservancy to come up with $2.85 million by August next year or else Kenora will once again look for private developers to buy either all or parts of the island.
As a result the Nature Conservancy has turned to BB Camp for help in raising the necessary funds. Following is part of a communication received from BB Camp which outlines the situation:
BB Camp has called Town Island home since 1954. The Island and BB Camp's use have been threatened on several occasions over the past few decades. The City of Kenora has finally agreed to sell the "back side" of Town Island to the Nature Conservancy of Canada ("NCC"). BB Camp is partnering with the NCC to help raise the funds for the purchase. We are reaching out to you to ask for your financial support in our efforts.
 Background and History of Town Island
Over the last six decades, BB Camp has been fortunate to use this beautiful property.
Historically, BB Camp leased Town Island from the City of Kenora and the land's primary use arrangement continued until the mid-2000s. Since that time, this arrangement has been threatened with potentially negative consequences for BB Camp.  The proposed partnership with the NCC provides a unique opportunity to protect Town Island in perpetuity for the continued use of BB Camp and its campers.
 In 2008, the City of Kenora proposed a potential development plan to subdivide the approximately 200 acres on Town Island into cottage properties or other developments. In 2014, through the efforts of the BB Camp Board of Directors and countless friends of the Camp, the Camp was able to secure and purchase our footprint on the Island (approximately 30 acres) while the remaining 200 acres of the Island would become Crown-owned land as the proceeds of a land swap program with the Province of Ontario, allowing BB Camp to continue operations as we had been for almost 60 years.  
In the fall of 2019, the City of Kenora was once again looking to use the approximately 200 acres of undeveloped land to generate revenue for the City. Though our main campsite will remain unharmed as of the 2008 purchase, the remaining land, including the nine camping areas on the "back side" of the Island, which are instrumental to our program and history, were being considered to be sold and redeveloped as cottage properties. These nine camp sites populate the Northern, Southern, and Eastern shores of Town Island and are as vital to the Camp program as the main site. Our 9-year-old campers hike to one of these sites to sleep in a tent for the first time, and our 15-year old campers paddle back to spend their final night of a four-week canoe trip on Town Island. Every camper who attends BB Camp will spend at least one night at one of these nine sites as they experience the feeling of living remotely in the backcountry while knowing that our beloved Camp is only a short hike or paddle away.
 
In the early months of 2020, the hard work and tireless efforts of the Friends of Town Island, an advocacy group made up of concerned and committed cottagers, and camp alumni (from both BB Camp, and our neighbours at YMCA's Camp Stephens), resulted in a deal struck between the City of Kenora and the NCC for the NCC to purchase the land from the City. The NCC is Canada's largest environmental NGO with a main mission to conserve and protect natural lands by their purchase or by the establishment of conservation easements. 
 
Purchase of Town Island
The agreement between the City of Kenora and the NCC is contingent on the NCC raising the $2.85m required for the purchase and associated administrative costs, which include funds for long-term maintenance of the property and payment of property taxes.  These funds are required before August 2022 or the lands revert back to the City of Kenora. It is unlikely that the agreement can be completed without the support and assistance of BB Camp, especially in this case given the short timelines. The NCC and BB Camp are entering into a memorandum of understanding to confirm the mutual commitment and intent to work together to raise funds and protect BB Camp's access to the Island. In the event the purchase from the City of Kenora is not completed, the NCC will return any and all donations made as part of this fundraising effort.
 
The successful purchase of the Town Island property will allow us to maintain and expand our current programs, allowing us to offer the community Jewish wilderness programming, which we believe is programming of the highest value.  Because BB Camp relies on Town Island more than any other user group, we also feel that it is important for our supporters to lead in this fundraising effort.  In addition, our core values of Tikkun Olam and Shomrei Adamah are aligned with the NCC's values, and our collaboration shows our campers, staff, and community how vital environmental conservation work is to the survival of our Camp that continues to be an important fixture in Jewish lives.
Your Support
We have launched a fundraising campaign to support the NCC's efforts in purchasing the Island this summer and ask that you consider making a contribution to BB Camp with an understanding that the funds will be directed to the NCC's efforts to secure Town Island. Our commitment will send a message to other potential donors of the importance of Town Island to BB Camp and will greatly assist in securing the required funds for this purchase.   We are grateful to our Camp community for the continued support over the years and feel this is a unique opportunity to demonstrate the importance of environmental stewardship, a commitment to core Jewish values, and experiential learning for our community's youth.
 Please visit https://www.bbcamp.ca/townisland to pledge your support and donate to this important campaign. All donations over $18.00 will be issued a tax receipt. 
 We would be happy to answer any questions you may have and we are available to set up personalized meetings with one or both of the co-chairs of this campaign. We sincerely thank you for your consideration.
  
Anita Wortzman and Leah Leibl
BB Camp Co-chairs,
Town Island Campaign Committee
Winnipeg Jewish Theatre to open season with world premiere of "Pals"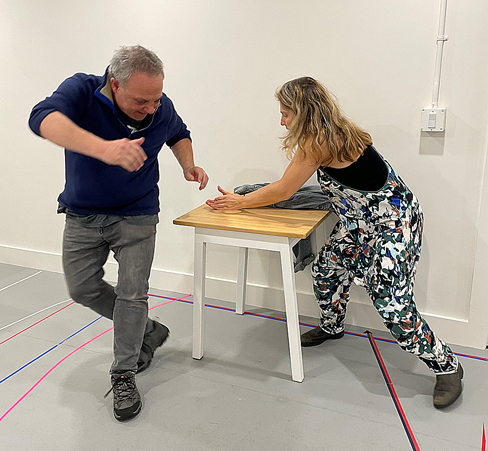 By BERNIE BELLAN The opening show of Winnipeg Jewish Theatre's 2023-24 season promises to be a clever and poignant take on relationships between men and women, when "Pals" makes its world premiere on November 9 in the Berney Theatre, running until November 19.
"Pals" is the third two-person show created by the team of Diane Flacks and Richard Greenblatt. Interestingly, when I spoke with Flacks and Greenblatt while they took a break from rehearsing the play in Toronto, they told me that their previous two two-person plays also had one word titles – with four letters in both: "Sibs" and "Care."
"Pals" is the story of two friends, told over a 25-year time period. Their friendship survives many tribulations, including both characters entering and exiting many other relationships. The play uncovers the underlying tensions that permeate all friendships.
"Pals" opens with the two characters meeting for the first time. I asked Diane and Richard whether the notion of their having sex ever enters into the plot, but Richard was quick to exclaim, "We don't have sex."
Diane also noted that, in the case of her character, she is married to another woman. (Diane is a lesbian in real life.)
The fact that the characters maintain a friendship though becomes a source of friction within their respective relationships. It raises the question: Can you have an intimate, albeit platonic, relationship, with a member of the opposite sex all the while you're in a physical relationship with someone else?
I asked whether the characters in "Pals" are Jewish (which both Diane and Richard are), and the answer was "yes."
Both Diane and Richard have had past associations with the Winnipeg Jewish Theatre. Richard's goes back a very long time – when he directed the critically acclaimed "League of Nathans" in 1995.
Diane Flacks appeared in a one-night performance of a show in 2021 called "25 Questions for a Jewish Mother," which was a part of that year's Tarbut festival. There were no in-person events that year, due to Covid, but "Jewish Mother" was available on Zoom and had a huge audience.
In addition to writing for the stage, Diane Flacks has written for TV, including Working the Engels, Baroness Von Sketch Show, Young Drunk Punk, PR, and The Broad Side.
Richard Greenblatt has performed in theatres across Canada and abroad, as well as in feature films, television and radio. He co-wrote 2 Pianos 4 Hands, which played on five continents and in over 150 cities since it opened in 1996.
Pals is directed by the internationally acclaimed director Jillian Keiley. More information, tickets and 5-show subscriptions can be found at: www.wjt.ca. You can also reach WJT by phone at (204) 477-7478.
To watch a preview video from Pals, click here: https://www.youtube.com/watch?v=z2W0VmHHFbA
Simkin Centre introduces Friday afternoon Shabbat services – open to all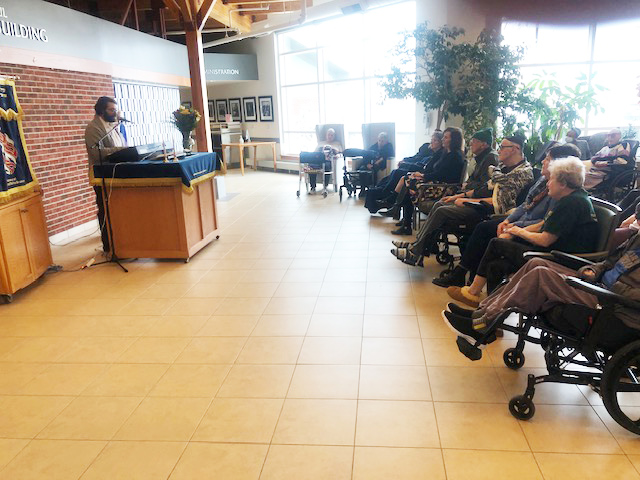 By BERNIE BELLAN (Posted Oct. 31) The Simkin Centre held its first ever Friday afternoon Erev Shabbat service this past Friday (Oct. 27), led by Rabbi Matthew Leibl.
There were more than 30 residents in attendance, along with various other outside guests. The service was approximately 45 minutes long and was filled with stories and songs associated with Friday evening Shabbats – some from Rabbi Leibl's own childhood and some from more recent years.
The Friday afternoon Erev Shabbat services are now to become a regular features at the Simkin Centre and are open to anyone to attend.
To watch a short clip of Rabbi Leibl introducing his first Friday afternoon service click https://youtu.be/hLSrV18K58o
The complete text of MP Marty Morantz's speech at the community vigil for Israel on October 10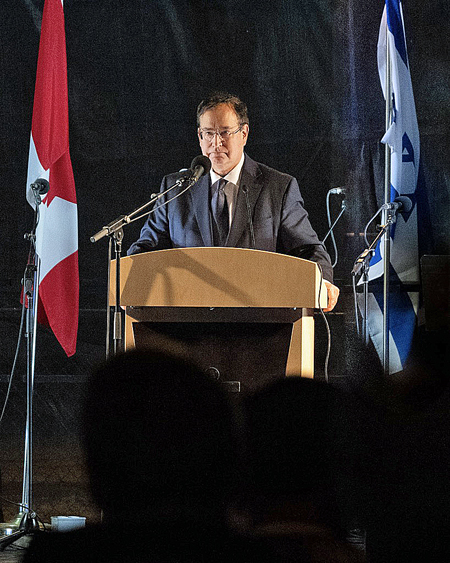 Tonight we are all Israelis!
Conservatives stand with Israel.
Pierre Poilievre stands with Israel.
On Saturday we woke up to unspeakable images.
We must stand shoulder to shoulder with Israel as it defends itself from these criminal and barbarous acts.
On Shabbat, Hamas brutally invaded Israel, invaded homes, killing hundreds, taking hostage hundreds.
More Jews were killed in Saturday's attack than in any single day since the Holocaust.
Some 1500 human beings killed in a single day would be like 6000 Canadians being murdered in a single attack.
They were children, babies, men, women.
They were young people just out listening to music at a dance party.
This was an unprecedented brutal attack.
As we speak Hamas is threatening to execute innocent hostages.
This outrage cannot, must not stand.
Don't let anyone tell you Hamas is the legitimate voice of the Palestinian people. It is not a government.
They are a genocidal murderous and evil death cult and they must be defeated.
But friends, we have seen evil before.
Jews have been persecuted for millennia, but we have survived.
Conservatives unequivocally condemn the invasion of Israel by Hamas terrorists and the sadistic violence that Hamas has carried out against innocent civilians.
Now is the time for moral clarity. There is no moral equivalency between democratic Israel and the butchers of Hamas.
There is no response, no matter how strong, that would be disproportionate to the crimes Hamas has committed.
Israel has the right to defend itself against these attacks and respond against the attackers – as any other country would.
Theodore Herzl, the father of modern Zionism, said, "If you will it, it is no dream."
In 1948 that dream became a reality – a homeland in Israel, the promised land.
Working together Israelis turned a desert into an oasis.
An island of democracy surrounded by a sea of autocracy.
A Jewish state where Jews could live in peace free from fear and persecution.
Let there be no doubt. Israel is the ancient and indigenous homeland of the Jewish people.
We will not let the butchers of Hamas take that dream, long realized, away from us.
Many politicians will stand with Israel when it is easy.
But listen to what they say when it is hard.
They will talk about "both sides."
I'm here to tell you that there is only one side.
The side of morality.
The side of democracy.
The side of Israel.
We see too often politicians at the United Nations unfairly singling out Israel for criticism.
I will always stand against the unfair singling out of the Middle East's only democracy.
Already there are calls for Israel to deescalate.
I ask you.
Would any country deescalate after having its people slaughtered in cold blood?
I wish the people of Israel and its brave soldiers Godspeed on their mission to defend the promised land from pure evil.
As Prime Minister Stephen Harper said:
Through fire and water Canada will stand with you.
Am Yisrael Chai!