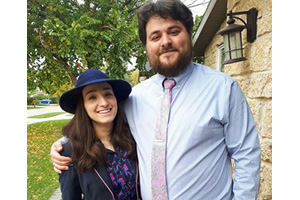 By MYRON LOVE Ten years ago or so, Cameron Poitras was at loose ends. He had just dropped out of university and, as with many young people entering their 20s, wasn't sure what he wanted to do with the rest of his life.
"I had heard some radio ads for the Academy of Broadcasting" (which used to be located in the vicinity of Polo Park), he recalls. "I had always been an avid radio listener. I thought a radio career might be something I would enjoy."
So he enrolled in the program in 2010 – and has never looked back.
Poitras' road to CJOB however was somewhat long and winding. His practicum and first on-air posting was at CKDM in Dauphin, where he read the news and covered local sports news. After just seven months in Dauphin, he headed west to Alberta to a community called Drayton Valley and a station which goes by the name of "Big West Country".
"There were three of us on staff," he recounts. "I had my own show and did the play by play for the local hockey team."
After nine months in Drayton, it was on to Merritt, B.C. (one of the communities which have recently suffered catastrophic flooding).
"It was in Merritt where I really learned the radio business," he says. "I was putting in 75-80 hours a week. I learned how to dig up stories and also how to recognize when people are trying to scam you. The work was demanding but I loved it."
The next rung on the ladder to success came from radio station CHQR in Calgary – CJOB's sister station. "I had been in Merritt for just over a year when CHQR called and offered me a position as evening news anchor," he recalls. "That was my big break."
Four years ago, he decided to move back to Winnipeg. "I was feeling homesick," he explains.
After leaving Calgary, he notes, he took some time off to spend a month travelling around Europe. "I thought that I would come back home, work for a while and resume travelling," he says.
But that was not to be.
Shortly after being hired to produce and read the evening news at CJOB, he met Skye Kneller. "Skye had also just started at CJOB as a producer," he recounts. "And she was a graduate of Herzing Academy which had absorbed the Academy of Broadcasting. We had had some of the same teachers.
"We hit it off right away."
Cameron and Skye married last summer, about a year after he completed his conversion to Judaism. The couple both are on the board of the Chevra Mishnayes Synagogue, to which the Kneller Family has strong and deeply-rooted ties. (Skye's father, Marshall, served as president of the congregation for many years before his untimely passing early last year.)
Meanwhile, back at CJOB, among Poitras' responsibilities have been producing content at the station for Geoff Currier and Hal Anderson, news broadcasts and Bomber games. Last year, the station also acquired the rights to Jets broadcasts.
(Skye, he notes, is the producer for Richard Cloutier's Afternoon program as well as the Jets and Bombers games.
"The station decided to launch a daily, one hour Jets report at noon," says Poitras – and the diehard sports fan was delighted to be tapped to host the show, also to read the sports news at 25 past the hour.
Poitras channels the late, great sportscaster Howard Cosell (who famously always promised to "tell it like it is") in promising to provide honest reporting and in-depth analysis. The emphasis, though, he adds, is to provide entertainment and have some fun. I want to make this the kind of show that I would want to listen to."
He further reports that sports radio veteran Jim Toth has recently been added to the broadcast. With his 25 years in the business, Jim has been a great addition to the broadcast," Poitras comments. "He makes our show so much better. We have formed a good partnership. It feels right."
Poitras speaks of the importance of listener involvement with the program. "Almost everybody has a smart phone which makes it easy to interact with us on air and be heard," he observes. "I believe that radio will always have a place but we have to continually adapt to the times."
And Cameron Poitras is exactly where he wants to be – as an integral part of one of our city's dominant radio stations and in the thick of the sports world.
He and Skye would still like to travel – including visiting Israel some time – but for the young couple, for the immediate future, their career focus is paramount.