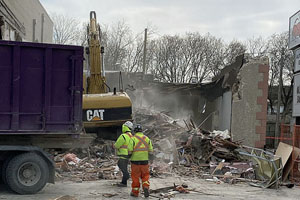 By BERNIE BELLAN
It was just over a little more than a year ago that the Chesed Shel Emes (the Winnipeg Jewish community's burial society) launched a capital campaign, with the intent to build "a new facility to meet the needs of the Jewish community for many years to come," an announcement in the May 10, 2019 issue of this paper said.
That announcement went on to say that "Chesed Shel Emes's south building is 114-years-old. It was built in 1905 as a private residence, and was purchased by the newly established Chesed Shel Emes in 1930. The building has met the needs of thousands of families over the years, and is showing its age. The attached chapel, built in 1947, is in good repair and will be a beautiful complement to the new building.
"The new building will provide a better and more comfortable experience for mourners and other visitors," says Rena Boroditsky, Executive Director of the Chesed Shel Emes. "And for our volunteers, we are designing this new space with safety top of mind."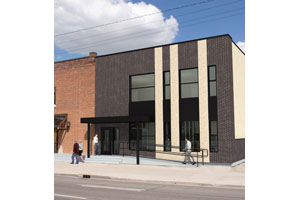 "Having an effective and dignified infrastructure to prepare the deceased for burial and to support mourners is something a strong community does for itself.
"The funds raised will be used to: demolish the existing south building; build the new structure; protect the north building during demolition and construction; and furnish the new building with new equipment. The vision is of a building that is handsome, durable, and comforting and that includes state-of-the-art equipment for the care of the deceased. "The new 4,000-square-foot building will include the following features:
"A new, larger tahara room with stainless steel counters and more room for volunteers to perform their work safely ("tahara" is the ritual washing and dressing of a Jewish person in preparation for burial);
"new, state-of-the-art refrigeration units;
"new mechanical lifts for transferring bodies more safely;
"enhanced safety features to improve the experience of volunteers and ensure the dignity of the deceased;
"expanded storage space for caskets, shrouds, and supplies;
"an elevator for guests and volunteers with mobility issues;
"wheelchair access to the building;
"private meeting spaces for mourners, extended family, and friends to gather (currently, mourners use the boardroom);
"more comfortable accommodations for shomrim ("shomrim" are guards who watch over the deceased, so that they are never alone);
"a safer, more accessible back staircase and entrance way;
"enhanced washroom facilities;
"refurbished office space;
"state-of-the-art heating and cooling systems; and other features to create better conditions for mourners, staff, and volunteers, and to ensure the dignity of the deceased."
The capital campaign is still ongoing – although it has taken a pause during this unprecedented time of global emergency. This past week I spoke with Rena Boroditsky and with Bob Freedman, former CEO of the Jewish Federation, and now a fundraising consultant to Jewish organizations.
During our phone conversation we talked about how the capital campaign has gone. As well, we talked about the history of the Chesed Shel Emes. Following are some excerpts from our conversation:
Bob began the conversation by noting that the "Chesed didn't come into existence as an organization until 1930 when they bought the house. Up until 1930 when someone passed away they would be prepared in the Jewish tradition – in someone's home.
"Come 1930 they had a building where the bodies of the deceased would be prepared – up until a few months ago when that operation was moved over to Chapel Lawn" Funeral Home.
As far as the move to Chapel Lawn goes, Rena had this to say: "They have a new 25,000 square foot funeral home that they built on their property, so we have a dedicated room; we are not sharing their prep room. That's where we are doing tahara; our supplies are kept there.
"We have a dedicated office space, where the shomer sits."
I asked how the capital campaign has gone to date?
Bob said: "The capital campaign has raised $2.8 million – that's pretty darn good. Remember, in a capital campaign donors may honour their pledges over a number of years; this campaign has had about half the pledges paid in full, so we have the money to begin the project now.
"By the way, we've successfully connected with about 400 donors that have already concluded pledges and there are hundreds more that we haven't even connected with. This is very much a community organization that serves every aspect of the community and we want everyone in the community to participate at whatever level they're able to. We're probably going to extend the campaign because of different circumstances, including COVID-19. We probably would have been more active in the past month or two, but for obvious reasons, took a pause – and so, ending the campaign around the end of May or June, it's more realistic now to end it around the end of 2020."
I asked how many individual donors there have been?
Rena answered: "I'd say about 400 (including families)."
I said: "That means the average donation works out to about $7,000."
Bob noted though that "But, we've had donations of $18 and we've had a donation of $500,000 – so it varies. Unlike other capital campaigns we've had (like the Campus), there are no dedication opportunities."
Rena added: "Donors will be recognized on a donor wall in the new building."
Bob: "By the way, Bernie, do you know when was the last time the Chesed ran a dedicated campaign in the community? 1945. That was to raise money for the chapel, which opened in November 1947.
"The Chesed does have charitable status and people have given money, but has the Chesed gone out and raised money? No.
"When we got started on the project we had to develop a donor database because, except for those people who have given money from time to time, the donor base primarily consists of people who are now deceased."
I asked whether, once the building is done, people "are going to be able to walk through and see where the money has gone?"
Rena: "We will still have a shomer space for families. I've been giving tours of the house for the past 20 years – and I'll still be doing that.
"It's going to be a two-storey building. It's going to be a little narrower than what we currently have but a little bit longer from the front to the back…We expect to have it done in about a year."
Bob: "With COVID-19 there's certainly been a slowdown in construction activity in the city. We retained Akman Construction as a general contractor. We're pretty satisfied that the numbers (from the various sub trades) that came in are pretty good."
I noted the Chesed has to keep going – no matter what the situation.
Rena said: "The Chesed Shel Emes never closes. We had 17 people pass away in April."
I asked: "How has it been going to Chapel Lawn? Has it been a fairly smooth transition?"
Rena: "We haven't been down even one day. We had a tahara the day after we moved. It's been a bit of a learning curve. Their staff is amazing; they are so accommodating. It's spotless there. They've been wonderful.
"That being said, we are not in our own space; there's some accommodation that needs to be made – just in the way we do things, so we will be happy to get back to our own space – but it's been a very smooth transition."
We talked about the effect that COVID-19 has had on synagogues here when it comes to arranging funerals. Rena observed that funerals are limited to the pallbearers and the grave diggers now. As well, there are no meals of consolation, she pointed out.
Still, I wondered whether the relatively large number of funerals in April might have led to a fairly significant infusion of money into the synagogues.
Rena pointed out that the likelihood was that many of those funerals had been prepaid, so that wouldn't have added to the synagogue's cash flows. "They may be busy but that doesn't mean they have any cash flow," she observed.
Bob said: "We'd like to raise between $400-500,000 more. We're confident we'll do it, although we're quite aware the current situation is not the best of times for many donors. In May and June we're going to reconnect with people that have already been spoken to and, if we can conclude some of those pledges earlier rather than later, we'll try to conclude everything by the end of the year. Because of the Federation's emergency campaign we're not going to connect with people who have not been spoken to yet."
Rena: "Anything we might collect over and above what we need for the building will go into our endowment fund, which we established at the Jewish Foundation."
At this point Bob Freedman interjected an interesting bit of history:
Bob: "Bernie, have you seen the safe? It must weigh 500 pounds."
"So, what's in the safe?" I asked.
"Not cash, unfortunately. When I first opened the doors, I opened a bunch of little books. People who passed away were recorded – by pencil or pen, by name – their Hebrew name, the date they died. So I looked up my mum, I looked up my dad. It's really a history of the Jewish community. There was a big picture of the machers from the 1930s – all men, of course. There was a big picture of the ladies' auxiliary – all looking very stern.
"By the way, if those men knew that the place was being run by a woman, they'd all be spinning in their graves.
"When you ask someone how do you define a Jewish community, as opposed to a community with Jews living in it, there are three things: A shul, a school, and a chevra kadisha – a burial society.
"Burial is one of the first things people thought about when they came from the old country. They looked for a place to bury people."
Rena: "Chesed Shel Emes Inc. was formalized in 1930, when they purchased the house. Before that they may have called it chevra kadisha. My information came from Mr. (Ike) Permut, of blessed memory (who was President of the Chesed board in the 70s, 80s, and half the 90s).
Bob "And the original bylaws were written in Yiddish"
One final note: If you would like to make a contribution to the Chesed Shel Emes capital campaign, go to www.ourtradition.ca