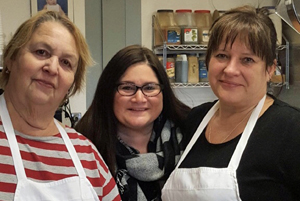 By BERNIE BELLAN
The impact that COVID-19 has had on Jewish organizations in Winnipeg has taken many forms.
Arguably the most immediate impact was felt by staff at the Rady JCC when all activities came to a crashing halt there in the middle of March. Over 160 staff were laid off as a result, although 30 members of the day care staff were rehired when the Province ordered the Rady JCC to reopen the Kaufman Early Years Centre, which the Rady JCC operates at the Asper Campus.
When I spoke with Rady JCC Executive Director Rob Berkowits the third week in March he told me that he and staff who work in the finance department has just finished processing 1900 refunds of various sorts, including tickets for the sports dinner and registration payments for various programs – all of which had been canceled.
I asked Rob whether the "financial hit that the Rady was taking could be measured in the hundreds of thousands of dollars" and he agreed that was the case.
The news hasn't got much better, although when I spoke with Rob again recently he did tell me that the provincial government has given permission for the summer day camp program to go ahead, but with tight restrictions involving social distancing. (There will be no swimming in the pool, for instance – which has always been a highlight for most of the kids in the day camps.)
As far as operating the day camp program goes, Rob said that "We're pleased to offer a service to the community – and not just the Jewish community."
When asked how many campers attended the day camp last summer, Rob said it was from 800-900, but since many of the kids were enrolled in more than one session, he wasn't able to say how many individual kids were enrolled in the day camp altogether.
What he did say though, was that losing the sports dinner would deal a huge blow to the day camp program, since one of the principal benefits of the dinner was that much of the profit has flowed into camperships for families that otherwise might not be able to send their kids to camp.
Turning to the day care program, Rob was glad to report that the daycare at the Campus had once again reached its maximum capacity of 50 and, as a result, the David and Ruth Asper Early Learning Centre on Grosvenor had now also reopened (on Monday, May 4). At the time that I spoke with Rob (which was on May 7), he said there were now 10 kids at the day care on Grosvenor.
As far as any other programming at the Rady JCC goes, like just about everything else, it's all up in the air. "We are planning our programming for the fall," Rob said, but whether it will proceed as planned, of course, is totally unknown.
While the Rady JCC has seen an almost total shutdown of all activities, the Gwen Secter Centre has found itself in a situation where it is being called upon to serve an unexpectedly vital role in the Jewish community.
As I noted in our April 15 issue (which was our last printed issue), "the Gwen Secter Centre has stepped up to fill a void left by the inability of Meals on Wheels to take on any new applicants.
"Gwen Secter Executive Director Becky Chisick told me that the kitchen staff (which consists of only two women, Galina Melenevska and Cathy Koltowski) had been busy all week the week of March 30-April 3 preparing some 60 meals for seniors who had been unable to register for Meals on Wheels."
When I contacted Becky again on May 5 to ask her whether the kitchen staff was turning out as many meals as it had been when I last spoke with her, she sent me the following email response:
This week we are sending out 194 meals (emphasis mine, Ed.) – a huge increase from the first week of 6 meals. When I started organizing this initiative I figured that we would eventually get to around 120 meals weekly. The recipients of the meals are beyond grateful. I get regular phone calls expressing appreciation not only for the meals but the friendly wave (and smile if someone isn't in a mask) from outside their windows. We are so happy to be a part of something so special during these unpredictable times.
Currently it is still Cathy & Galina in the kitchen. The numbers have increased so rapidly that we are considering a part-time kitchen assistant.
"We did receive support from JFM and we are very grateful. Additional support is coming from:
The Azrieli Foundation
The Winnipeg Foundation
Seniors Can!
Foodrescue
"Starting this week we are including challahs every Friday so everyone will have the opportunity to celebrate Shabbat in their homes."
And, although I did ask the directors of every Jewish organization that is a beneficiary agency of the Jewish Federation to send me a brief description what the major impact has been upon their organization as a result of COVID-19, I received only one response from the director of a Jewish organization, who asked that their response not be quoted.
I'm sure, like many of you though, you received an email from a synagogue describing the difficulties that synagogue is now facing. Here is an excerpt from an email sent out by the Shaarey Zedek to its members:
"Over the last number of weeks, we have been working to mitigate as much as possible the impact on our congregants and community during this pandemic. The need to still be your synagogue during these times was paramount in all our decision making. Our Executive was very mindful in terms of the financial impact this was and continues to be on the well-being of our institution. Obviously, our revenue streams have been affected in many areas. With the closure of the building many events scheduled to take place in our synagogue have either been postponed to later dates or cancelled outright. All Bar / Bat Mitzvahs for May & June have been postponed. Rabbi Leibl, the head of our B'nai Mitzvah program has been working directly with the families impacted by this decision, to reschedule to a more suitable date. Major Dinners, Galas and celebrations scheduled to take place at the shul have been postponed. This includes the Gray Academy Graduation Dinner and Dance, which we were all looking forward to hosting. All the above translates into significant reduced revenues to our Catering department.
"Some of our other revenue streams, such as Membership Dues, Donations, Programming Registrations, etc., have all been drastically reduced with the shutdown of the building.
"To offset a great deal of this loss in revenues, we have significantly reduced many of our ongoing expenses. It was decided and agreed that rather than layoff some staff with uncertainties as to their expected return, for the short term all staff would have their salaries drastically reduced. We will also be applying to the CEWS (Canada Emergency Wage Subsidy) which should help retain our staff, at least until Mid-June. We have created new, albeit reduced, revenue streams through our catering department. Joel Lafond and staff prepared and supplied significant Passover meals to many of our congregants. After this, he developed a Takeout Menu with Friday pickups, which has been greatly received by many. Thank you to all who are supporting us in this initiative. I encourage you to check out our Takeout Menu on our website if you have not already done so.
"Our cemetery operations have not been affected as much by Covid19, as we are still able to perform funerals. However, with the coming of spring it remains to be seen as to how we maintain our cemetery over the summer due to reduced resources. All major projects at the cemetery, which include maintenance and repair of concrete stripping and borders, and headstone repairs are done in the summer months when warm weather better allows for the work. Also, the main tasks of cutting the grass and removal of weeds and diseased trees account for much of the labour expense incurred over the summer. An area yet to be determined will be the planting of flowers on our graves, as this requires a significant amount of money, time and manpower. The Board of Directors in conjunction with the Cemetery committee will need to determine whether this should be a consideration for this year.
"With the closing of our building to the public, our expenses have dropped significantly. We want you to know that overall, we are doing okay and are preparing for the safe return to activities in our synagogue and community. Our Executive Committee and senior staff have been working on scenarios and preparing various budgets based upon when and how we emerge from these most unusual times. We are beginning to plan for scheduled B'nai Mitzvahs in the Fall and Spring and have rescheduled many of the earlier events that were postponed. We are now in the planning stages for our upcoming High Holy Days and want you to know that we will do everything possible to ensure we are able to celebrate together in a healthy, safe environment."
In an email sent out by Congregation Etz Chayim to members, much the same sentiment as was expressed in the Shaarey Zedek email was present:
"…And so, we adapt, we learn, and we serve our congregation—our community—in unconventional ways. Unfortunately, our new reality—though temporary—has put us in a precarious situation financially. Many of our programs and events have been cancelled or postponed, including B'nai Mitzvah, community events, the annual golf tournament, and other catered functions that typically generate substantial revenue. To be blunt, there is very little money coming in.
"We have already made some tough decisions to adjust our staffing and cut other expenses, and we continue to look for additional savings. We have applied for funding from government and community programs, but there is still uncertainty around the nature and timing of this possible funding.
"We will emerge from this challenging period a stronger, healthier, and more tightly knit community deeply committed to enriching Jewish life. Imagine the joy we will all experience the first time we gather in person at Etz Chayim for a simcha or for Shabbat. And imagine the comfort we will bring to each other in times of sorrow when we can meet face-to-face in our sanctuary.
"These days will come, but we need your help to weather the storm until we can start generating new revenue again."