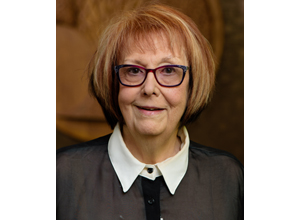 By MYRON LOVE Claudia Sarbit is retiring as the longest serving member on the Seven Oaks School Board.  Her fellow trustees and the Superintendent's team planned a surprise for her at the last official meeting of the board on Monday, October 17th, prior to the upcoming civic election.
A motion was passed at that meeting "that the board donate $14,000 to the Seven Oaks Education Foundation Inc. for scholarships in Claudia Sarbit's name at Garden City Collegiate and West Kildonan Collegiate in honor of her dedicated service to the students, parents and community of Seven Oaks School Division."
Among other things, the meeting was followed by a lovely reception in her honor.
Looking back on her lengthy career in public service, she expressed pride in her work on behalf of the students enrolled in the division." Seven Oaks is one of the most progressive school divisions in the province," she notes. "Some of our programs have even received recognition for excellence beyond Canada."
"I believe that all students should be able to achieve their full potential" she told Free Press reporter Derek Dabee in a recent interview.  In this regard, she has advocated and supported many award-winning programs during her tenure such as the MET School Internships, the Wayfinders free after school tutoring program, the Sistema orchestra program, music, sports and the arts. She has also advocated and supported co-operative vocational programs and the establishment of the Seven Oaks Performing Arts Center (SOPAC) at Garden City Collegiate.
During her tenure, Sarbit received the Governor General's 125th Commemorative Medal for her vast community service, some of which include: Chair of the Heart and Stroke Winnipeg Residential Fundraising Campaign; founding board member of the Kildonan Youth Activity Centre; and founding board member and Past President of the Seven Oaks Education Foundation.
A one-time teacher herself, her initial decision to run for school trustee was last minute. "We had enrolled our older son, Avram, in kindergarten in the French immersion program", she recalls. "I had an interest in early childhood education and felt that the school division's French immersion program was not being operated the way I thought it should."
"Several of my friends encouraged me to run for school trustee in Ward 3." Despite having filed her nomination papers just 3 weeks before the election that year, she and her supporters were able to canvass the entire division twice.
Before the 2018 civic election, Sarbit was considering retirement. She told the Jewish Post & News in an interview at that time that she was encouraged by supporters to continue for at least one more term. "I really enjoyed being a school board member" she said. "Supporters were telling me that I made a difference. I began to think that I would miss being a trustee. I still had a lot of ideas I would like to work on. There is always room for improvement. I made a last-minute decision to run again" she said in that earlier interview.
 However, this time Sarbit concluded that retirement was the right decision to make.
While after this election she will no longer be a school trustee, Sarbit pointed out that it doesn't mean that she is planning to fade into the background. "I still intend to be involved in school division events and committees as a volunteer." 
One of those commitments she is making is to  continue to be involved in the Antiracism Committee. "I am particularly concerned about the growing number of incidents of antisemitism. We also need to continue to combat the Holocaust deniers and those who distort the Holocaust.  As well, the students in our division come from a wide variety of ethic backgrounds, many of whom also face incidents of racism", she added.
Sarbit also intends to continue running her successful real estate business, a business she started 16 years ago.  She has been selected by the Winnipeg Real Estate Board several times to travel to Ottawa to lobby Members of Parliament for changes to federal legislation that would benefit both buyers and sellers.
As well, Sarbit says she is looking forward to spending time travelling with her husband Sam, a retired lawyer, and spending more quality time with their sons, Avram and Matthew.