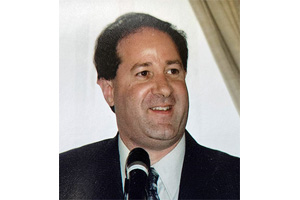 By BERNIE BELLAN Jeff Klasser was only 57 years old when he died in 2020, but for almost half his life he devoted a considerable amount of time to Shalom Residences.
Jeff joined the board of Shalom Residences in 1995 and throughout the rest of his life filled a variety of volunteer positions with Shalom Residences, including serving as president of the board.
 On October 20th a small group gathered together in the newly refurbished multi purpose room of one of the Shalom Residences – at 224 McAdam Avenue, to dedicate that room in Jeff Klasser's memory. 
What had been an unfinished basement has now been transformed into a beautiful multi purpose room, complete with new flooring, LED lights, exercise equipment, a sink, and an arts and craft table. In addition, a stairlift has now been installed which will allow any resident of the home to easily access the multi purpose room.
The $35,000 renovation of the basement was made possible thanks to a gift from the Ian and Rochelle Laing Family Foundation. (Jeff was Rochelle's brother.)
 In speaking of Jeff, Ian Laing said that "Jeff was the perfect, caring person. He was very gentle. He was just like his father, who I knew for 35 years."
Former Shalom Residences executive director Nancy Hughes noted that, prior to joining the Shalom Residences board, Jeff  "had already done some volunteering. He was always concerned with the rights of residents and wanted them to have fun."
I asked Nancy whether Jeff had any relatives who were residents of Shalom Residences – which is often the motivation for individuals to join the board, but she said he didn't. He was simply "a really good person," she said.
Another board member, Charles Tax, said of Jeff: "We served on the management committee together for 12 years. He was a 'mentsch'. When he talked, we listened."