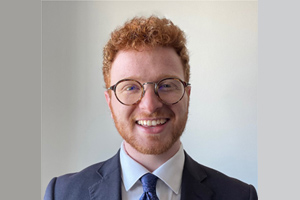 By BERNIE BELLAN Twenty-year-old Jaron Rykiss is the newly elected president of the University of Manitoba Students Union. The results of the election, which was held online, were announced on April 1. (Voting began March 31 and was completed April 1.)
According to the university student newspaper, The Manitoban (which is now also entirely online), Jaron secured 63.6 percent of the votes cast. His only opponent, Savannah Szocs, received the other 34.6 percent.
The number of votes cast, not surprisingly, since very few students actually attend classes in person these days, was only 3, 453 out of 23,300 eligible voters.
Jaron Rykiss is the son of Lara London and Les Rykiss. He is also a graduate of Gray Academy (class of 2019).
In October 2020 I wrote a story about Jaron's "gap" year in Jerusalem (http://jewishpostandnews.ca/8-features/598-jaron-rykiss-s-half-year-spent-on-exciting-kivunim-program-in-israel-cut-short-by-covid), which unfortunately was cut short by the advent of Covid late in 2019. The idea of spending a year in Israel was largely the result of a suggestion that former Gray Academy teacher Avi Posen had made to Jaron in his final year at the school, he told me in 2020.
Although Jaron was supposed to have spent eight and a half months in Israel in a program called "Kivunim", he ended up returning to Winnipeg in March 2020 rather than completing the entire program, which would not have ended until May under normal circumstances.
Still, Jaron regarded his time spent in the program as extremely fulfilling. "We ended up going to Greece and Bulgaria for two weeks," Jaron explained, after which the group returned to Israel for a month and a half, then India, but trips to Spain, Portugal, Italy, Germany, Hungary and Morocco were all canceled due to the outbreak of COVID.
"We were supposed to end up in Morocco and meet the king there," Jaron noted. "It's too bad that never happened."
(Jaron added that they were also supposed to visit Turkey at the same time as they visited Greece and Bulgaria, but that didn't happen either. As he explained, "there were a lot of political issues" – what with the heightened civil unrest in Turkey at that time.)
At the time I wrote that story I asked Jaron what his plans were now that he was back in Winnipeg. He said that he was enrolled at the University of Manitoba and was planning on majoring in Political Studies or Philosophy.
When I learned that Jaron had been elected UMSU president (as a result of an email I received from his grandfather, Jack London), I contacted Jaron to see whether he would be amenable to my interviewing him about what led him to want to attain that position.
Jaron explained during our phone conversation that it was during his first year in university (beginning that same fall when I initially spoke with him) that a friend of his in one of his classes who herself was a representative on the UMSU council "had reached out and said, 'Hey, are you looking to join student politics?' and of course, being the person that I am, I jumped at the opportunity."
Subsequently, Jaron met with members of the executive of the Arts council and was asked to serve as the representative of the Arts council on the UMSU Board of Directors.
This past fall though, along with the continued disruption in normal student life that had already been caused by Covid, another event happened that proved to be influential in Jaron's decision to seek the UMSU presidency, and that was the faculty strike at the university (which ended up lasting 35 days).
Jaron became quite involved in supporting striking faculty members, he told me. "I was constantly picketing and helping organize protests," he said.
Even though Jaron's campaign for the UMSU presidency officially began only two weeks before the actual election, he noted that he and his team had been heavily involved, as he explained, for five months prior to the actual official campaign. From the moment that he realized, primarily as a result of the faculty strike, that he wanted to run for UMSU president, Jaron observed that "it just became a five-month process of meetings, Zoom calls, planning, Google documents – just the entire nine yards."
When it comes to discussing what Jaron's campaign was all about, he said that there were "five pillars" to his campaign: "Community, advocacy, accountability, financial transparency, and sustainability."
But, more than mouthing what seem to be well-worn clichés that any politician would feel comfortable in using, Jaron sounded passionate when he discussed the devastating effects that Covid has had on campus life. Considering that it's only been in the past few months that some students have actually been returning to campus, the isolation that so many students have been experiencing (and not just at the U of M) has had a terrible effect on students' mental equilibrium.
As Jaron said, "I made the choice to run for president because I wanted to be able to help to bring back that passion in campus life that students have been missing out on."
Another issue which Jaron mentioned is important to him is the plight of international students – who are not eligible to receive health care coverage from the Manitoba government.
"If you're a student here (and you're working) you pay taxes," Jaron explained, "but you're not entitled to health care. I want to start lobbying to change that."
As for his own academic career, Jaron said now that he's president, he'll be taking one course this summer and one in the fall," and then he should be graduated. (As an aside, I should explain that Jaron was able to obtain 24 hours of credit for courses he took in the Kivunim program. Thus, while this is only his second full year at the U of M, he should have enough credits to graduate by next winter.)
I asked him whether his plan is still to go into law following completion of his undergraduate program (which is something he told me was his ambition when I interviewed him in the fall of 2020).
"That's still the plan," Jaron says.
I couldn't help noting that the president of the University of Manitoba is also a graduate of Winnipeg's Jewish school system. Michael Benarroch graduated from the former Joseph Wolinsky Collegiate in 1977. I asked Jaron whether he's met President Benarroch yet.
"I haven't had a chance to sit down with him yet," Jaron noted, "but I'm very excited to sit down with him as soon as the opportunity presents itself." (And, if they need a mediator to sit between them, I can't think of a more suitable candidate than Jaron's grandfather, Jack.)