Jerry Cohen: better the second time around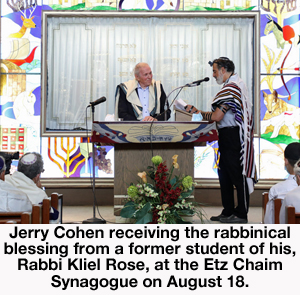 By GERRY POSNER Cohen, Shell, Margolis, Diamond, Coodin, Slayen, Bloomfield, Simkin and many more family names all were in attendance on Thursday, August 18, 2022 at the Etz Chaim Synagogue for the second Bar Mitzvah of Jerry Cohen. In truth, the Bar Mitzvah was to have taken place last year in Cohen's 83rd year, but Covid interfered with the event at that time so the simcha was postponed a year. But even with a year's delay, the joy of the moment was everywhere, Covid or not. What was present was happily, not Covid, but Kavod.
Cohen of course is not the first person to have a go at a second Bar Mitzvah. One can recall not that long ago, the late Mel Neumann and Lou Cogan also had their respective second Bars. And no doubt there have been many others. The inspiration for Cohen occurred 17 years ago when Cohen was a mere 66. His uncle, Abe Simkin, chanted a Haftorah at his then second Bar (Abe would live long enough to try for a third if he wanted to do so), also at Etz Chaim and that memory stayed with Jerry.
Now Cohen is not exactly a stranger to the synagogue; his Jewish roots were and are strong. He was after all, a graduate of the Peretz School, a kind of a disciple of the late Rabbi Zalman Schachter and, later in his life, the principal of Joseph Wolinsky Collegiate. Yet, this was a big step to take and it was one that gave Cohen pause. He planned the event carefully. One of the reasons for the careful planning was that there were many people who wanted to be present for this major moment for Jerry, not the least of whom was Jerry's sister, Saralyn Greenblatt who, along with her husband Jim, came from Israel to Winnipeg with their children and grandchildren, consisting of 23 out of a 24 possible relatives. Perhaps that was not a surprise given that family has played a large role in Jerry Cohen's 83 years.
As it turned out, there were about 140 people who gathered at the former Rosh Pina Synagogue to hear Jerry read from the Torah, chant the Haftorah and then give a D'var Torah. My sources (and there were many) all confirmed that, on each count, Jerry was not just on key musically, but that he hit the right note in everything he did and said. Moreover, he managed to find a way to include all of his children, their spouses, grandchildren, and a collection of in-laws into becoming integral parts of the service, which was held on a Thursday morning. In addition to those in the building who watched Jerry in person, there were countless others who were glued to the screen as the service was available on Zoom. All that was missing were the advertisers.
Because the service was on a Thursday and, as a result on Zoom, although I was unable to see it live, I was able to watch it after the fact. It was clear to me, what a wonderful simcha this was. One of the significant moments for me was being able to watch Cantor Tracy Kasner, a former student of Jerry's bless – in a musical way, her former principal.
Later the Rabbi, Kliel Rose, also another former student, gave his blessings to the Bar Mitzvah boy. At one point- after the chanting of the Haftorah, Jerry threw out candy to the congregation, which was a reverse of the usual tradition. And, what about the conclusion, when Canadian Klezmer legends, Shayla Fink and Kinzy Posen, broke out into Simmon Tov, Mazel Tov from the bimah, to the delight of everyone gathered for this big day. Most of all, what stood out was the message Jerry delivered in his D'var Torah arising from his Torah portion and Haftorah, emphasizing the need to listen to each other and also to take joy and happiness from what is around us, even in these times of turmoil.
The synagogue service was not the only part of the celebrations as, at the kiddish later, Kinzey and Shayla entertained the guests. Some of their music included Cohen descendants singing along with them, including 11 grandkids who performed a special tribute to Jerry. In that respect for sure, "the willingness to get up on stage gene" is very much alive in the next generation of the Cohen Mishpacha. The festivities continued with a gathering on Thursday night plus a kosher Shabbat dinner at the Convention Centre on Friday August 20 for the family and out of town guests.
For Cohen, it was a meaningful reaffirmation of his Judaism allowing him to reflect on his place and time and to do it with many of his family and friends. I say a hearty Mazel Tov to Jerry Cohen and indeed his whole family for making the effort to create such a significant moment for all of them. Cohen admits with all of that behind him now, he can truthfully say he was better on his second Bar Mitzvah than the first. Of course, he did receive lots of cuff links for presents at his first Bar Mitzvah, but greater fulfillment from the second one. A couple of Cohen's old friends even presented fountain pens to him to honour the occasion. I expect Jerry to use the pens to write his thank you notes.
Kudos to Cohen!
Congregation Etz Chayim says good bye to 123 Matheson Ave.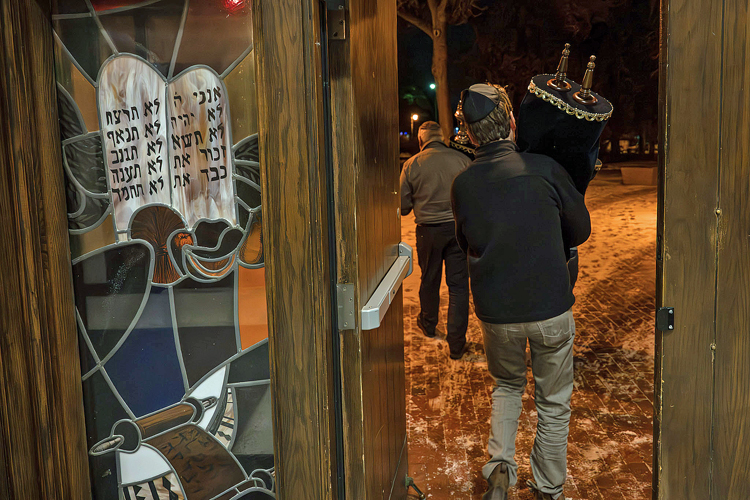 By BERNIE BELLAN After 71 years of serving as the home for first the Rosh Pina Synagogue, then for the past 21 years as the home for what was the merger of three different congregations – Rosh Pina's, along with the Bnay Abraham and Beth Israel, the Etz Chayim Congregation held its final service on Wednesday, November 29.
You can read the story by CJN writer John Longhurst elsewhere on this site (https://jewishpostandnews.ca/rss/congregation-etz-chayim-in-winnipeg-says-a-bittersweet-farewell-to-their-old-building-as-they-prepare-to-move/) along with our earlier story about the sale of the building to an Eritrean Church (https://jewishpostandnews.ca/faqs/rokmicronews-fp-1/former-congregation-etz-chayim-synagogue-building-to-become-eritrean-orthodox-church/), but here are some pictures from the final service.
(Photos courtesy of Keith Levit)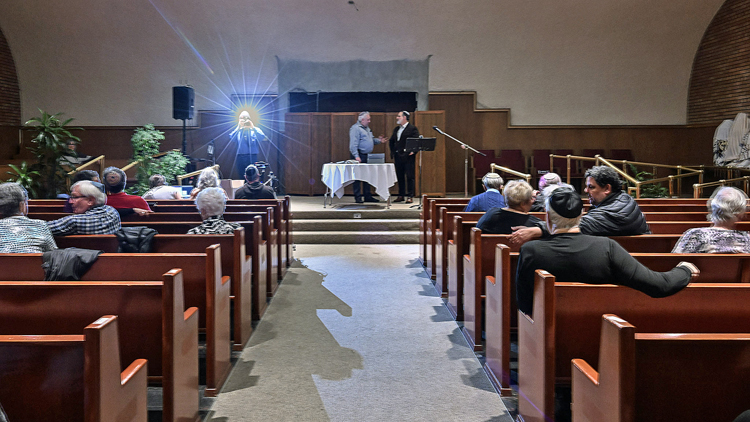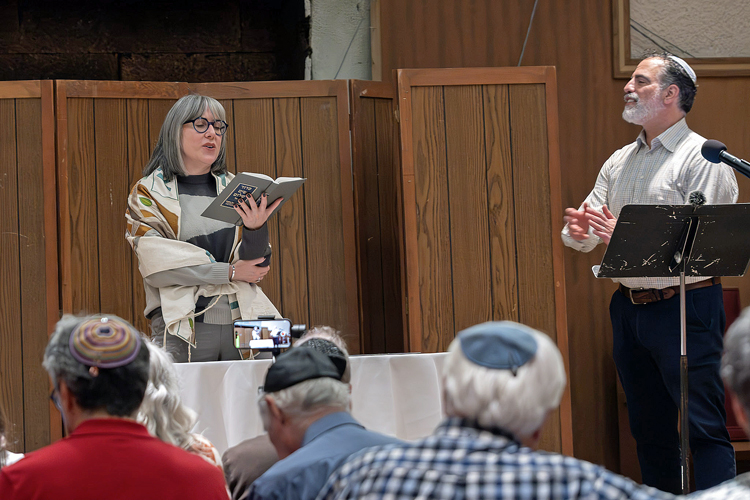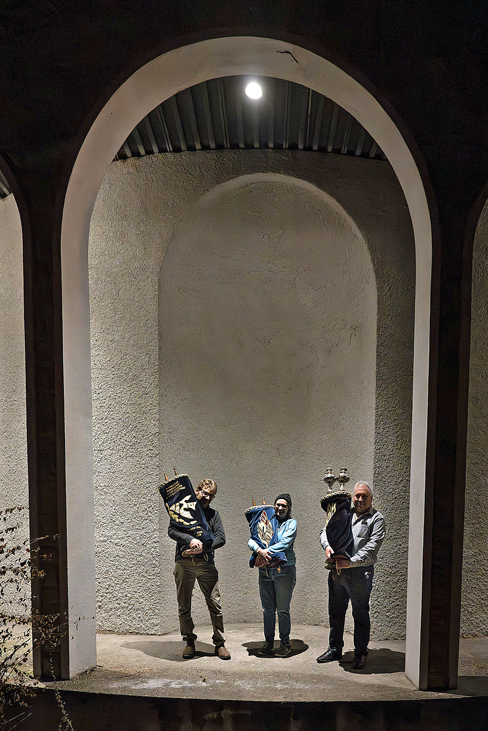 Israel report by former Winnipegger Bruce Brown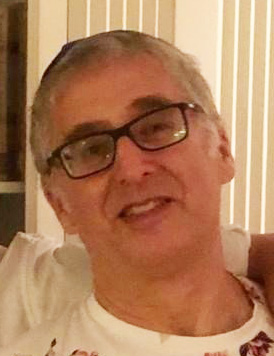 By BRUCE BROWN (posted Nov. 28/23) Was driving home from work the other day.  Pre-ceasefire.  Left the office early to reduce driving time in the evening hours.  Hamas likes their 6PM missile barrage and I'm honing my missile-avoidance routine.
 
Was listening to talk-radio… but kind of had enough of the news.  Too much war talk and its getting a bit overwhelming.  So switched to Spotify and up popped Supertramp – the Logical Song.  For sure how 'wonderful, beautiful, magical' life once felt.  Before Oct 7th.  Before Hamas. 
 
Then, as if on cue.  I gaze towards the sky.  And saw missiles flying overhead.  At first it didn't really click. And then.  Yikes!  I quickly switched back to the news.  Where, in a very calming voice, they were announcing areas under missile attack.  Which is another reason to listen to the radio while driving during war – real-time information.  Lesson learned.
 
Suddenly my smartphone's flashlight started flashing.  Which was pretty darn cool!  And there I was, on Star Trek.  Standing on the bridge.  Even recalled the vessel number – NCC-1701. There I was with Captain Kirk.  No!  I was Captain Kirk.  Dr. McCoy by my side.  Sulu and Chekov at the controls.  The Klingons were attacking.  And Mr. Spock -standing to the side- was calmy advising the attack coordinates.  No Wait!  That was the radio announcer.  Seriously.  This all took place within a split second in my over-active imagination.
 
The flashing continued.  Then I realized my cellphone was communicating with me.  Warning of danger.  I have the Home Front Command application which sounds an amazingly loud alarm during a missile attack in my area.  But changing between the radio and Spotify prevented the siren from going off.  So instead, the phone activated my flashlight.  Sending out an S.O.S.  Now how neat is that!  In a geeky sort of way.  Like for someone who imagines himself on Star Trek during a real-life missile attack.
 
Then.  Reality set in.  There were Home Front Command instructions to follow.  Momentary-panic set in.  Where was my wife.  To tell me what to do.  Like she always does…but that's another story.  This time I wanted her there, instructing me. 
 
All these thoughts racing through my mind in milliseconds.  As I calmly slowed the car and veered to the shoulder.  Like other cars around me.  I put on the blinkers.  More flashing lights but the bridge of the U.S.S. Enterprise now a distant thought.  Looking both ways I left the car and hopped over the road- barrier.  Moving away from the car.  Although probably not far enough.  Because there was a steep decline just below.  It was getting dark and, suffering from poor night vision, I didn't want to trip and hurt myself.  I heard my son laughing at me. "Nerd!" he called out.  But that was just my imagination.
 
I should have laid flat.  Prostrating myself for maximum protection.  But it rained earlier that day, the ground was wet and I didn't want to get muddy.  '"Nerd!"  This time it was my daughter in my mind's eye.  "Okay," I said to no one in particular.  "I'll squat."  Good enough…but not really.
 
The family in the car ahead were huddling together but too close to their vehicle.  I shouted for them to move further away.  But they didn't react.  Probably didn't understand me, especially given my still heavily accented Canadian Hebrew.  This time I heard both my kids.  Teasing me – thirty years and still talk like an immigrant!  "Hey, they just don't hear me."  I said to the darkness.  Otherwise it was very moving seeing the father crouching down on top of his brood, in a protective sort of way.  "Isn't that touching." I said to my wife.  "For sure." She said somewhat sarcastically in the back of my mind, "I know you'd do the same."  
 
Then it was over.  The sky went quiet.  People returned to their cars.  The nestled family broke apart and entered theirs.  We should have stayed in place several more minutes.  Ten minutes is the recommended time.  But it was dark.  Getting late.  Also a bit cold.  I just wanted to get home.  Back to the real chiding of my kids and to my wife… somehow longing for her ordering me about.
 
A few minutes later my wife called.  Making sure I was safe.  And then routine set in.  "Don't forget to pick up some milk and bread from the corner store."  She instructed me.
 
Um Israel Chai
 
Bruce Brown.  A Canadian. And an Israeli.  Bruce made Aliyah…a long time ago.  He works in Israel's hi-tech sector by day and, in spurts, is a somewhat inspired writer by night.  Bruce is the winner of the 2019 American Jewish Press Association Simon Rockower Award for excellence in writing.  And wrote the 1998 satire, An Israeli is….  Bruce's reflects on life in Israel – political, social, economic and personal.  With lots of biting, contrarian, sardonic and irreverent insight.
 
Jewish community holds solidarity rally November 25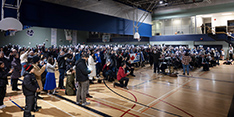 The Jewish Federation of Winnipeg held a rally in support of Israel on Saturday evening, November 25.
A number of speakers addressed the crowd of 800, including Rabbi Yosef Benarroch of Adas Yeshurun-Herzlia Congregation; Members of Parliament Ben Carr & Marty Morantz; Yolanda Papini-Pollock of Winnipeg Friends of Israel; Paula McPherson, former Brock Corydon teacher; and Gustavo Zentner, President of the Jewish Federation.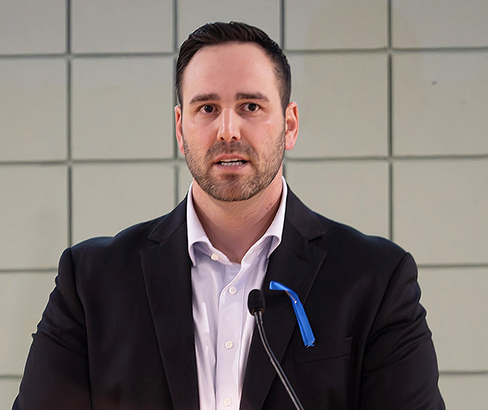 Click here to watch Ben Carr's remarks: https://www.youtube.com/watch?v=crfREGNRKfg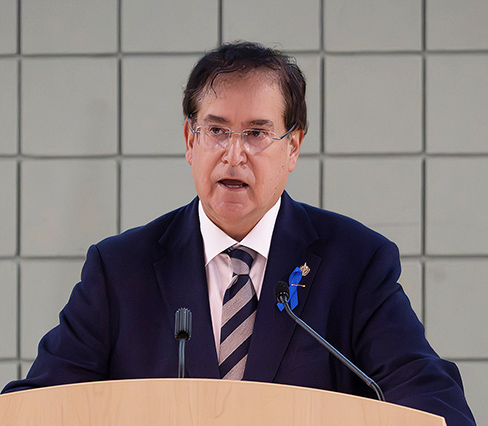 Click here to watch a video of Marty Morantz's remarks: https://studio.youtube.com/video/zHzC-iaqivg/ed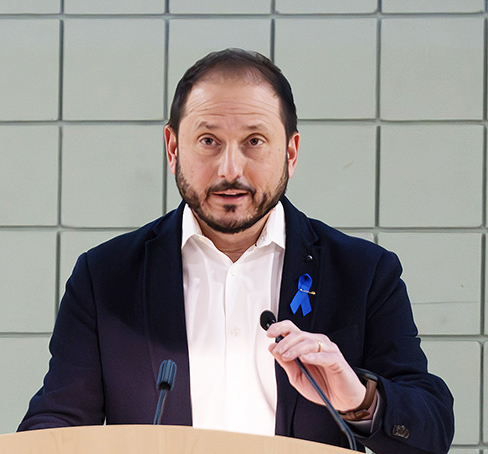 Click here to watch a video of Gustavo Zentner's remarks: https://www.youtube.com/watch?v=L3M_cCYuLgs