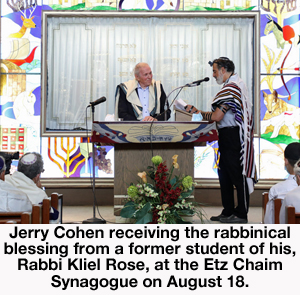 By GERRY POSNER Cohen, Shell, Margolis, Diamond, Coodin, Slayen, Bloomfield, Simkin and many more family names all were in attendance on Thursday, August 18, 2022 at the Etz Chaim Synagogue for the second Bar Mitzvah of Jerry Cohen. In truth, the Bar Mitzvah was to have taken place last year in Cohen's 83rd year, but Covid interfered with the event at that time so the simcha was postponed a year. But even with a year's delay, the joy of the moment was everywhere, Covid or not. What was present was happily, not Covid, but Kavod.
Cohen of course is not the first person to have a go at a second Bar Mitzvah. One can recall not that long ago, the late Mel Neumann and Lou Cogan also had their respective second Bars. And no doubt there have been many others. The inspiration for Cohen occurred 17 years ago when Cohen was a mere 66. His uncle, Abe Simkin, chanted a Haftorah at his then second Bar (Abe would live long enough to try for a third if he wanted to do so), also at Etz Chaim and that memory stayed with Jerry.
Now Cohen is not exactly a stranger to the synagogue; his Jewish roots were and are strong. He was after all, a graduate of the Peretz School, a kind of a disciple of the late Rabbi Zalman Schachter and, later in his life, the principal of Joseph Wolinsky Collegiate. Yet, this was a big step to take and it was one that gave Cohen pause. He planned the event carefully. One of the reasons for the careful planning was that there were many people who wanted to be present for this major moment for Jerry, not the least of whom was Jerry's sister, Saralyn Greenblatt who, along with her husband Jim, came from Israel to Winnipeg with their children and grandchildren, consisting of 23 out of a 24 possible relatives. Perhaps that was not a surprise given that family has played a large role in Jerry Cohen's 83 years.
As it turned out, there were about 140 people who gathered at the former Rosh Pina Synagogue to hear Jerry read from the Torah, chant the Haftorah and then give a D'var Torah. My sources (and there were many) all confirmed that, on each count, Jerry was not just on key musically, but that he hit the right note in everything he did and said. Moreover, he managed to find a way to include all of his children, their spouses, grandchildren, and a collection of in-laws into becoming integral parts of the service, which was held on a Thursday morning. In addition to those in the building who watched Jerry in person, there were countless others who were glued to the screen as the service was available on Zoom. All that was missing were the advertisers.
Because the service was on a Thursday and, as a result on Zoom, although I was unable to see it live, I was able to watch it after the fact. It was clear to me, what a wonderful simcha this was. One of the significant moments for me was being able to watch Cantor Tracy Kasner, a former student of Jerry's bless – in a musical way, her former principal.
Later the Rabbi, Kliel Rose, also another former student, gave his blessings to the Bar Mitzvah boy. At one point- after the chanting of the Haftorah, Jerry threw out candy to the congregation, which was a reverse of the usual tradition. And, what about the conclusion, when Canadian Klezmer legends, Shayla Fink and Kinzy Posen, broke out into Simmon Tov, Mazel Tov from the bimah, to the delight of everyone gathered for this big day. Most of all, what stood out was the message Jerry delivered in his D'var Torah arising from his Torah portion and Haftorah, emphasizing the need to listen to each other and also to take joy and happiness from what is around us, even in these times of turmoil.
The synagogue service was not the only part of the celebrations as, at the kiddish later, Kinzey and Shayla entertained the guests. Some of their music included Cohen descendants singing along with them, including 11 grandkids who performed a special tribute to Jerry. In that respect for sure, "the willingness to get up on stage gene" is very much alive in the next generation of the Cohen Mishpacha. The festivities continued with a gathering on Thursday night plus a kosher Shabbat dinner at the Convention Centre on Friday August 20 for the family and out of town guests.
For Cohen, it was a meaningful reaffirmation of his Judaism allowing him to reflect on his place and time and to do it with many of his family and friends. I say a hearty Mazel Tov to Jerry Cohen and indeed his whole family for making the effort to create such a significant moment for all of them. Cohen admits with all of that behind him now, he can truthfully say he was better on his second Bar Mitzvah than the first. Of course, he did receive lots of cuff links for presents at his first Bar Mitzvah, but greater fulfillment from the second one. A couple of Cohen's old friends even presented fountain pens to him to honour the occasion. I expect Jerry to use the pens to write his thank you notes.
Kudos to Cohen!