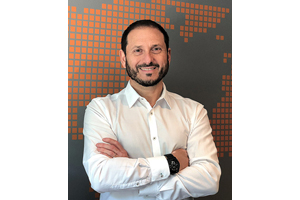 By MYRON LOVE You might say that community involvement is part of Gustavo Zentner's DNA. 
The new president of the Jewish Federation of Winnipeg – who originally hails from the city of Corrientes in northeastern Argentina – notes that his great-grandfather –
among the earliest Jewish immigrants to the city, was one of the founding members of the organized Jewish community and its cemetery – and his mother was the first (and thus far still the only) female to lead the community.
"My earliest memories are of my mother always chairing meetings of the Federation," he recalls.
Thus, it is no surprise that Zentner threw himself into volunteering with the Jewish Federation of Winnipeg very soon after he arrived in our community – among the wave of Jews from Argentina who immigrated here 20-25 years ago.
"I was delighted to come to Winnipeg," the new Federation president says. "I found a warm and welcoming community and was happy to contribute in any way I could." Zentner adds, "This is a wonderful community and I believe that everyone counts, every person has a story to tell and something to contribute, let's make sure everyone is part of the conversation".
As a board member, Zentner has, over the past 15 years, chaired first the Human Resources Committee – followed by the Community Planning, Allocations Committee, and most recently served as Treasurer, chairing the Finance and Audit Committees. He has volunteered with many other organizations; no doubt that experience will serve him well as he builds bridges throughout the community.
In his business career Zentner is the president of InterPOC (International Point of Commerce), an international business consultant, and Honorary Consul of Brazil in Manitoba. Zentner places a lot of emphasis on consultation and planning. "As president, I have asked our board and staff to focus on Hindsight, Oversight, and Foresight: This will help us reflect on our past and values, oversee our community affairs and finances, and have the ability to anticipate future community needs."
"As president, I am looking forward to taking a more global view rooted on Jewish values and leading through inclusion and diversity as ways of building a closely integrated community. We continue to welcome newcomers to the community from many more regions of the world," he observes. "We have to reach out to them as well as locally-born youth and strengthen their ties to the community. I also want to encourage more younger members of the community who move elsewhere to complete their education and to come back to Winnipeg to build their professions and lives, raise their families here and contribute to the community."
"The world is changing rapidly around us and must evolve and change with the times – or we run the risk of losing touch with what people care about most. As the representative body of Winnipeg's Jewish community, it is up to us to initiate and lead that change with specific care for seniors in our community and those in need of help, whatever that might be".
Zentner adds that he recently met with Heather Stefanson, our new Premier, to discuss key issues for our local Jewish community. Not surprisingly, immigration was part of the discussion. "We (Stefanson and the Federation) are on the same page with immigration, we want newcomers to integrate throughout our community organization, to bring different cultures, and to add to the professional and economic activities in the province." he reports.
"I took the opportunity to share with the Premier the important work needed to support seniors and those in need and to advocate for summer camps and youth programs. We are also having discussions about the increasing antisemitism in Canada and in Manitoba, and the need to provide security to our institutions."
He further spoke of the imperative to continue to reinforce engagement with Israel – a process which the use of modern technology can enhance. Zentner completed leadership training in Israel and visualizes the Federation working more closely with Jewish business and cultural leaders and philanthropists to promote social change through the prism of Jewish values. "Members of our Jewish community – and our Jewish organizations – play important roles in all aspects of society in Manitoba and Israel be it business, health, the arts and philanthropy," he observes.
With his strong business background, Zentner emphasizes the importance of re-examining governance procedures around the boards of the Federation and its beneficiary agencies, with an eye on preparing for whatever the future may hold.
The new president expresses his appreciation for the support and advice he has received from several of his predecessors, as well as Federation staff.
"These last couple of years have been challenging and hard on many people," Zentner comments. "I encourage everyone to be mindful of each other. At the Federation, we are working hard to ensure that we have a safe, secure and engaged Jewish community."
Gustavo is married to Fanny, a lawyer who is also from Argentina. The couple have two daughters, Emma, 18, who, in February of last year, became the first Winnipegger to be elected international president of the BBYO (Bnai Brith Youth Organization) – and 13-year-old Abby, a Grey Academy student, who is preparing for her bat-mitzvah.