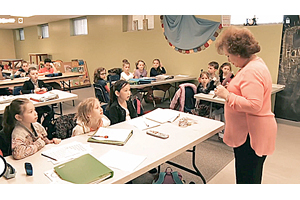 By BERNIE BELLAN In our August 17, 2019 issue we featured an article by Rebeca Kuropatwa about a program that had been in place for several years, run by Dina Raihman. Here's part of what Rebeca wrote back then (with updates from Dina provided on January 28, 2022):
Since educator Dina Raihman, moved with her family from Israel to Winnipeg in 2008, she has had an incredible impact on many Winnipeggers.
Raihman has been a teacher for 34 years and has successfully crossed many barriers in her own life. As she adjusted to her new life in Canada, Raihman found it increasingly difficult to find work in Canadian schools, deemed "overqualified" for entry level positions.
Searching far and wide from northern Manitoba to Saskatchewan, Raihman realized that leaving her family behind in Winnipeg was not something she could bear.
Keeping busy by taking on substitute teaching roles to pay the bills, Raihman learned that there was a significant gap between the level of math and sciences she taught in Israel and the level taught in Winnipeg.
With this newfound knowledge, Raihman decided to develop a solution, opening a private after school math program.
Becoming acclimatized to the Canadian curriculum, in both private and public schools, Raihman began identifying key strengths she could provide from both sectors into her classroom.
Raihman found a steady stream of mathematically-inclined kids who were under-achieving, as they were not being sufficiently challenged.
"In 2014, I opened my private evening school," said Raihman. "I have my own program. I started with 17 kids and, this year, the program has grown to over 250."
Not a day goes by without calls from parents asking Raihman about her school, wanting to register their children in her classes.
As her school grows larger and larger, Raihman recognized the need to increase the space to accommodate the ever-growing demand. She decided to offer classes in River Heights, St. Vital, and two locations in Transcona.
"Many people who have immigrated from the Ukraine and Russia live in Transcona and want to have their kids in these classes," said Raihman.
Fluent in Russian, Hebrew, and English, many of Raihman's students at her Mathematics and Physics Integral School are from Winnipeg's Jewish community/ former Russian Israelis, with a smaller portion of Russian, Ukrainian, and other newcomers. (January 28 update: Dina says that her school now includes students of many more different backgrounds, including Filipino and Vietnamese. She adds that many other students are now second and third generation Canadians.)
The school accepts all interested students, regardless of background or language.
The curriculum is based on the "Mofet" model, a highly successful learning model in Israel (http://www.reshetmofet.org/en/). Raihman is looking ahead to next collect enough funds to open a full-time private school that will be on par with the best Ivy League schools in Canada.
Fast forward to 2022 and Dina Raihman now says that her dream is about to become a reality: Beginning in September 2022 Dina will be opening a full-time daily elementary private school for students in Grades 1-8, to be titled "Integral Academy".
According to Raihman the school will be opened either in River Heights or in St. Vital, depending upon where the most registrations come from.
The curriculum will be in full accordance with the Manitoba Department of Education although, as Rebeca pointed out in her article, students will also be taking advanced levels of math and sciences. When it comes to languages, students will be able to study French, Russian, and Hebrew, in addition to English.
At the same time as Dina will be opening her new daytime "Integral Academy" between the hours of 9 am and 3:45 pm, she will be continuing to offer before and after classes for students coming from other schools in different locations, as she has since 2014.
In anticipation of the keen interest that Dina expects this new school will draw from parents wanting to give their children a very good math and science orientation, Dina says she will be holding an open house for prospective parents sometime this month. At the current time, she says, a new website is about to be launched, but anyone interested in finding out more information about Integral Academy is asked to contact Dina Raihman herself at 204-230-9519 or integralschool2014@gmail.com. We will have more information about this new school once that information is available.
One more thing: Dina asked me to note that she is looking both for possible investors in the new school or for individuals who might be interes