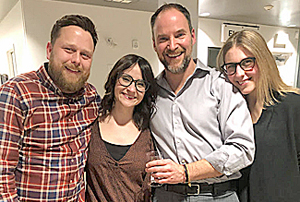 By REBECA KUROPATWA
In early February, Fling Before the Ring, geared to newly engaged and married couples, and the community as a whole, was put on by the Jewish Federation of Winnipeg.
The event was the brainchild of the Federation's Madeline Lopez Ficher. It was held at the Audi Dealership with 14 couples in attendance.
Of Lopez Ficher, the Federation's engagement manager, Florencia Katz, said, "She was I think inspired a bit by the Shalom Baby Shower Event that we offer twice a year for new parents who just had babies…So, based on this concept, she came up with this idea and we started thinking of how to reach out to the young adult demographic who tend to be drawn to live stage events.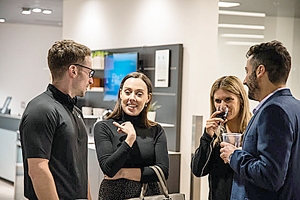 "We thought it was a good idea to reach out to them, to bring them together for an event, just for them. For couples who are just engaged and as this was the first time we'd done this, we thought also of inviting newlyweds…so, it was for any couple who got married in the last year."
Picking the Audi dealership as the location was the first step in creating a young vibe that would stand out, with the bonus of making it possible for participating couples to test drive a car.
"Whoever came earlier or right at the event start, Audi offered them a test drive," said Katz. "Besides that, the event was mainly welcoming and schmoozing, and we had Kosher wine, cheese, and olive oil tasting. There were appetizers and a bar and photo booth that offered free, professional engagement photos. We offered some cool drinks that were named 'Mazal Tov' and 'L'chaim.'"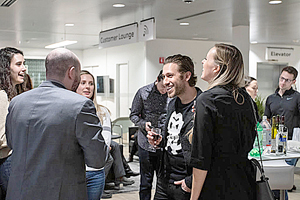 The main event was led by Rabbi Matthew Leibl of Congregation Shaarey Zedek who shared some information about Jewish traditions that couples can incorporate into their weddings and homes if they so choose.
Following the rabbi came the comedy of Benji Rothman, including a piece about Jewish marriage and engagement. The event ended off with a Kosher dessert and gift baskets given out to couples.
One of the couples who came out for the event was Lindsey Leipsic and Daniel Moscovitch.
"Daniel [Moscovitch] proposed in August on the dock at the Lake," said Leipsic. "He played our favourite song by Tina Turner, got down on one knee with the dogs right beside us, and asked me to marry him.
"My parents were in on the surprise and packed party sandwiches from Shaarey Zedek to celebrate. Daniel's brother and sister-in-law were hiding behind a tree taking pictures. It was a moment to remember."
Leipsic received a Fling Before the Ring invitation for her and Moscovitch from Lopez Ficher. "I was emailed the invitation and, even before I checked with Daniel, I signed us both up," she said. "I knew this was going to be a fun event, to meet newly married or engaged couples. And, the location of the Audi dealership was also a draw."
Recalling the special touches and degree of organization of the event, Leipsic was impressed – from the cookies with each couples' names on them, to a framed photograph of all the couples (which Moscovitch and Leipsic now have displayed above their fireplace), and a guest signing book.
"Also, Benji Rothman did stand up comedy and, as usual, had us in stitches," said Leipsic. "A memorable moment was when Rabbi Mathew Leibl spoke about Jewish customs and traditions, both for during a wedding ceremony and for newlyweds.
"He explained how Jewish couples get married under a Chuppah, the importance of Tikkun Olam, and how, as a newly married couple, we have a special power to give back, make change, and make a difference."