QDoc: a new venture that promises to change the way patients interact with doctors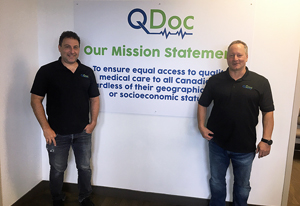 By BERNIE BELLAN It was in May of this year when I read an article in the Winnipeg Free Press by business reporter Martin Cash which told of a new venture that was going to provide an entirely new way for people who needed to see a doctor for urgent care. The venture was known as QDoc and it was the brainchild of two members of our local Jewish community: Dave Berkowits and Dr. Norm Silver.
As Cash wrote at the time, "it is being designed as the Uber for medical clinics to help link local patients, especially the elderly, parents with young children and people in remote locations far from a hospital or medical centre easily and quickly — and at no cost — with local physicians using an innovative patent-pending technology."
Fascinated as I was by Cash's story – and subsequent stories in other news media, including on Global TV and CTV News, I thought it was early days and, rather than contact Silver and Berkowits immediately to write a story of my own, I would wait a few months to see how QDoc had evolved in that time.
Recently I sat down with Berkowits and Silver at their downtown Winnipeg office to find our more about how QDoc has progressed – and to try to obtain a better understanding of just who it is that QDoc is most likely to help.
As it was explained to me during the course of the lengthy conversation I had with Silver and Berkowits, QDoc is "designed for episodic care" – similar to what is available at the groundbreaking Minor Illness and Injury Clinic on Corydon, the concept for which both Silver and Berkowits helped develop.
I asked Berkowits and Silver to tell me about their respective backgrounds prior to becoming involved with QDoc.
Berkowits said that he's long been involved "on the technical side. I've spent my whole career mostly in diagnostic imaging. Recently I spent 15 years commuting from Winnipeg to Calgary. This is very exciting because now it's a chance to be at home – and a chance to work with Norm. Norm is very passionate about medical technology."
Silver jumped in at that point to say that he had recently retired from his position as an emergency room paediatric physician – "as of July 1st," he explained. "I really did only five or five shifts the past year," he noted, as he's been devoting his full time to developing QDoc.
Silver added that "Dave has loads of experience in technology, but a huge amount of his experience is medical related as well, and my area is medical, but I'm familiar with programming as well."
I asked how long they've known each other?
"Many years," Silver answered.
I asked how old they were?
Berkowits said he's 60, while Silver said he's 50, adding that "Dave looks younger while I look older."
I asked whether Norm is the oldest of the three very well known Silver brothers (the other two being dermatologist Shane and financial planner Michael).
Silver said that he is – older than Shane by a year and a half, and six years older than Michael.
Dave Berkowits's younger brother, by the way, is Rady JCC Executive Director Rob Berkowits. Dave Berkowits's sister, Heather, is actually married to Norm Silver. There is also another sister in the Berkowits family: Heather. Dave is the oldest of the four Berkowits siblings, he said, with 10 years between him and Heather, who is the youngest of the four.
Silver noted that he and Berkowits have become especially close the past 10 years – often working out together at the Rady JCC, "where we try to solve the world's medical technology problems."
I wondered where the idea for QDoc came from?
Silver said that "one of us would come up with an idea – and we basically had no ego about these things – and one of us would say, 'Here's a great idea,' and the other would say, 'Yah, but maybe we should do it this way instead,' and in the end we would come up with a way better idea than either one of us would have come up with on his own."
It was just about a year ago that QDoc did what is known as a "soft launch". Silver and Berkowits had received help from a variety of sources, of which key assistance came from something known as North Forge Technology Exchange. North Forge is an organization supported by a number of private businesses that provides support and advice for start-ups in the technology sector. QDoc began with $1 million in capital, all of which was raised in Manitoba. Both Silver and Berkowits poured a lot of their own money into the venture.
At that point I wanted to explore just how it is that QDoc works. Silver and Berkowits suggested that I actually go online and register on QDoc to see how easy it is to access their system.
Subsequently, I did that following my conversation with them. I went to the QDoc home page and filled out the information needed to register and complete a patient profile. It was simply a matter of giving some very basic data, including name, address, phone number, and medical numbers (both the 6 digit number and the 9 digit number that all Manitobans have).
Once that was completed there is an optional area in which you can give information about allergies, your family doctor's name, and the name and address of a pharmacy to which you might want a prescription sent – if that is a result of your online visit with a doctor.
At that point you are asked to fill out information explaining why you would like to see a doctor. If you have pictures that might be useful to a doctor in understanding your situation, you are asked to upload them.
Then, you would click on a button that says "I am ready for the doctor."
That's where QDoc works like Uber, as Martin Cash noted in his May article. At any given time there are doctors available to speak with you. Given the information you've just provided, QDoc will determine which available doctor is best suited to respond to your query and, within minutes you should be contacted by a doctor.
Berkowits explained: "We look at things like geographic location. Then the doctors who are available will get text messages on their phone – and, just like Uber, the first one to answer the text will connect with you."
Silver also noted that "95% of the patients who contact QDoc have been 'self-triaging'" and have had experience explaining their symptoms when they've presented in person either to a doctor's office, an urgent care centre, or an emergency room.
During the course of our conversation though, several times Silver and Berkowits remarked upon the fact that, as QDoc has grown rapidly in terms of the number of patient visits, it's become apparent that the vast majority of users are rural based – upwards of 75% at the present time, Silver said.
"In the rural areas, it's hard to see a doctor," he noted. And, although there has been quite a bit of publicity about QDoc in media, as I noted at the outset, it's been primarily through word of mouth that people have become aware of QDoc.
Others "have said their pharmacists told them about QDoc," Silver added. "Or someone else might have called a quick care clinic, but were told they couldn't be seen and were suggested to try QDoc instead. Health Links has recommended us. So have emergency rooms."
Looking back to his own education in medical school, which was over 25 years ago, Silver said that, long before "virtual care" became a reality (and which really came into its own as a result of Covid), "70-90% of diagnoses were shown to be able to be made by history alone; that's without seeing the patient. When you look at adding video and talking to the patient, we know from our own metrics that 95% of diagnoses can be done without having to touch the patient."
He added that studies in BC and Ontario have shown that when people were asked what they thought of virtual care, "98% thought it was as good as, if not better than in-person care."
I was curious though, as to what the doctors who were standing by to receive texts from QDoc would be doing when they're not actually working with QDoc.
"They all have other jobs," Silver explained. "I'd say 80% of them are emergency physicians – because they do shift work."
I wondered how many QDoc visits require referrals to other doctors? (In the Free Press article, Martin Cash told the story of a woman who contacted QDoc when her seven-year-old son was hit with a baseball bat. The doctor who responded to her query arranged for her son to see an ear, nose, and throat specialist the next day.)
But, as Silver explained, that would have been the exception rather than the rule when it comes to consultations with a doctor on QDoc, saying that "95% of our patients are taken care of without any other help" needed from any other doctors.
Also, since those first reports of QDoc in various media appeared in May, QDoc has been able to assemble quite a bit more information about how the program is being utilized. For one, there's been a monthly volume increase of 70% month over month each of the past four months. (There were 144 visits to QDoc in May, but well over 1,000 in August.) As a result of all the new data that's been gathered based on who's been using QDoc It's been a constantly evolving learning curve, Silver explained, but they've now arrived at some interesting observations, including: "15% of our patients would have gone to the emergency department if we didn't exist and, (as has already been noted) 76% of our patients are from outside of Winnipeg – that's where the need is."
As far as how patients interact with the doctors, I wondered about the software that's used?
"We have our own software that we've built from scratch," Berkowits explained. "It's an end to end encrypted video conversation. The audio side of it is recorded and kept as part of a medical record."
"So it protects the doctor – and the patient," Silver added.
In terms of what the patient would actually see on their computer screen, here is how it was explained to me: The screen would show: "We are searching for a doctor for you." Then, "when the doctor accepts the call, they would hit the link on their computer or mobile device and doctor and patient would be connected together, with both audio and video. The doctor would be writing notes and ordering prescriptions, if necessary, while the patient might be asked to upload pictures or, with video, show the doctor if they have, for instance, skin lesions or, say, it's your son who's having trouble breathing, the doctor could examine him on camera.
Then, the doctor could fax a prescription to a pharmacy of your choosing. (It may seem archaic but prescriptions are still faxed into pharmacies in Manitoba, rather than sent digitally.) If lab tests are needed, the patient can receive an order for tests that can be printed out and taken to a lab.
The results of those tests will be sent to the doctor who ordered the tests, but if, for instance, the patient didn't actually go for the tests that the doctor might have ordered, QDoc will send a follow-up communication to the patient saying "You forgot."
What QDoc also does, at the end of every interaction between a doctor and patient, is ask the patient whether QDoc can send a copy of the report prepared by whichever doctor has treated that particular patient to that patient's family doctor.
I asked whether QDoc is available 24/7?
The answer was "Yes. We don't always have coverage 24/7," but the system will respond 24/7 and, if there is no doctor available at a particular moment you'll be told that.
Currently, according to Silver, there are "34" doctors in the QDoc system. "We want it be as attractive as possible for doctors working with us, so we want to give them a lot of work. Most of them are pretty motivated. Eighty percent of our paediatric patients right now are seen within five minutes of logging on."
Another benefit of QDoc is that the 34 doctors who presently make up the total number of physicians on call at present are all connected through WhatsApp, where they share information and can discuss particular cases.
Silver gave this example: "A doctor who's seeing a patient who happens to be in Brandon and who should really be seen by a doctor in person can ask on WhatsApp: "Is there anyone in Brandon who can see such and such patient tomorrow?" and a physician in Brandon can respond, "Yes, I can see your patient." (Since the likelihood is that Brandon doctor is an emergency room physician, he or she will also likely say: "Tell your patient to come to emergency and tell the nurse that I've agreed to see your patient."
As Berkowits observed, "virtual health care – since the pandemic, has become widely accepted, but the platform that we've built is widely collaborative."
Something that Silver added – about emergency room physicians, is that quite often they'll deal with a case such as a car accident or a drug overdose where a patient may present in an unconscious or semi-conscious state, the doctor treats them, the patient wakes up – and can be quite belligerent. But treating a patient virtually, where the doctor is able to give immediate and effective treatment – and the patient is very much appreciative – well, that's very rewarding for emergency doctors – and is one of the reasons so many of them are flocking to join QDoc.
I suggested to Silver and Berkowits though, that someone would have to have either a computer or a mobile device in order to contact Doc.
While they didn't totally disagree, Silver gave an example of a new initiative that's been taken in cooperation with the public sector as an example how QDoc can be used to help patients who have no access to a computer:
"We have a partnership with something called the Downtown Community Safety Partnership," he explained. "They're relatively new and they're funded by government. They're working with homeless people. If they can get the money, they're going to be carrying tablets and then they can help homeless people contact us. A lot of these people don't go to a doctor, they don't go to a hospital, they don't trust authority." But, as Silver noted, a doctor from QDoc might be in the best position to provide help – through a worker from this downtown organization.
Similarly, QDoc will also be working with one personal care home by installing a large screen TV through which residents, with the help of an aide, will be able to communicate with a doctor.
I wondered though, whether an initiative of that sort wouldn't be perceived as taking the place of a visit to a family doctor?
Silver said that wouldn't be the purpose, but where it would make sense would be, for example, if a resident suddenly developed a rash – and it might take weeks to see a family doctor.
Again, it occurred to me that there could often be a language barrier between patients and doctors on QDoc. I wondered whether QDoc had any contingencies in place that might help to resolve difficulties of that sort.
Berkowits said that "there are translation services that are free from the government and we're going to try and partner in real time so that we'll have three people involved in a virtual call: the patient, the doctor, and the interpreter," but, he admitted that's not on the immediate horizon.
I asked how much QDoc could conceivably grow, especially if it continues at its current rate of 70% expansion every month?
Silver answered that "we'd like to get to one per cent market share."
I asked what he meant by that?
He said it "translates into $15 million of revenue."
I asked how many patients would have to use QDoc's service to reach that goal?
He said it "would be 150,000 patient contacts a year."
In the long term the goal is to open up in every province in Canada, Silver added.
As far as how much money QDoc makes on every call, they take 15% of whatever amount the physician would bill Manitoba Health Services.
Considering that Berkowits and Silver have some pretty serious ambitions to grow their company, starting first in Manitoba, then in all of Canada, with the possibility of licensing their software to other countries as well, I asked whether they're looking for additional investors?
"We've talked about that a little bit," Silver said. "But, we don't think we need investors. We've been able to get a lot of grants so far ($200,000 worth, he specified). "We should be cash flow neutral by early next year – if we don't keep hiring more programmers." (He explained that currently QDoc has 10 programmers.)
I asked Berkowits, who's the software guru behind QDoc, what more needs to be done with the existing software powering QDoc?
"We have a list of features that we want to keep introducing," he explained. "When we started out initially we were pretty happy for just a patient and doctor to connect. But, as we built this out we started taking a look at other electronic medical record systems and how they do things, we also want to make it easier and better for the physician. We want to work on our platform."
Berkowits then went on to describe some of the enhancements that DocQ would like to make, including incorporating: "Artificial intelligence, natural language processing, ambient listening, conscription services." (There's not enough room to expand upon each of those subjects here. Suffice to say that this is an entirely new world of virtual medicine that Berkowits and Silver are planning on entering.)
At the end of our conversation Silver suggested that, in addition to trying the QDoc portal to see how easy it is to register as a patient, I take a look at the reviews QDoc has received from patients. Now, while I'm always a little bit sceptical of online reviews, the number of Google reviews that I was able to see (69 as of the date I looked at them – Sept. 4) showed unanimous praise for QDoc. While this article was not intended as an endorsement of QDoc – although it might certainly be perceived that way, the high praise QDoc has received thus far from patients is certainly an indication that Berkowits and Silver have hit upon something that promises to fill a desperate need within our health care system.
Norm Silver had also suggested that I might want to talk with at least one of the doctors who is working with QDoc to get a sense of what a doctor's perspective is on the QDoc platform.
I spoke with Dr. Taft Micks, who is an emergency room physician based out of Brandon. As I expected – given that Dr. Micks had volunteered to speak with me after having been contacted by Dr. Silver, he was quite enthusiastic about his experience with QDoc thus far. He told me that he's been with QDoc from the very beginning – which goes back to last October.
As an emergency physician, Dr. Micks said that he's constrained by several of the limitations that apply to the delivery of emergency medicine in this province. He noted that "I don't fee like I can take the time to address people's needs in emergency," but when he's on QDoc, "I'm able to connect with a patient almost instantaneously" and "from a physician's perspective, I'm able to arrange treatment."
Micks added that he's like to see emergency services expanded, but he's quite aware that's not realistic at this point. And, even though he'd be prepared to put in more hours in the emergency ward in Brandon, where he's currently working 32 hours a week, Micks is quite aware that expanding emergency services will require hiring more nurses – a problem that won't be resolved in the short term.
As a result, he's been spending increasing amounts of time working with QDoc and, he added, he's hoping to scale back the amount of time he'll be spending in the emergency department as a result.
Micks observed that what QDoc is doing "is the future of medicine."
"The software is designed to be as physician friendly as possible – as opposed to other software" that he and other physicians have struggled to learn, he said.
His only concern, he noted, is that as QDoc becomes increasingly popular, wait times to interact with a physician might take longer, but in the meantime he said he's been quite impressed with how the system has been working thus far.
Beneficiary agencies of the Jewish Federation have received $210,000 less this year than last year as of September 1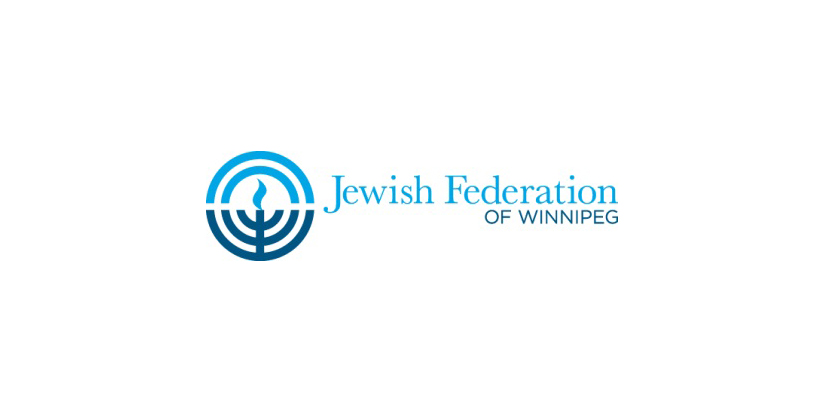 By BERNIE BELLAN
For the first time in at least 10 years the Jewish Federation of Winnipeg has reduced the amount distributed to its 12 beneficiary agencies from what had been distributed the previous year. The funds were distributed September 1 for 2023-24.
The total amount distributed this year was $210,000 less than what was distributed in both 2022 and 2021 and is actually $500,000 less than the total that was requested by the beneficiary agencies. (The amount distributed last year was $216,000 less than what the beneficiary agencies had requested.)

In explaining why allocations are being reduced this year, the Federation reported that "Over the past few years, the Federation and community have collectively faced significant challenges, placing a strain on our financial resources. In response to these challenges, the Federation stepped in during our community's time of need, dedicating over $200,000 from our reserves to sustain our beneficiary agencies." (In a later explanation it was clarified that $100,000 was taken from Federation reserves in each of 2022 and 2021.)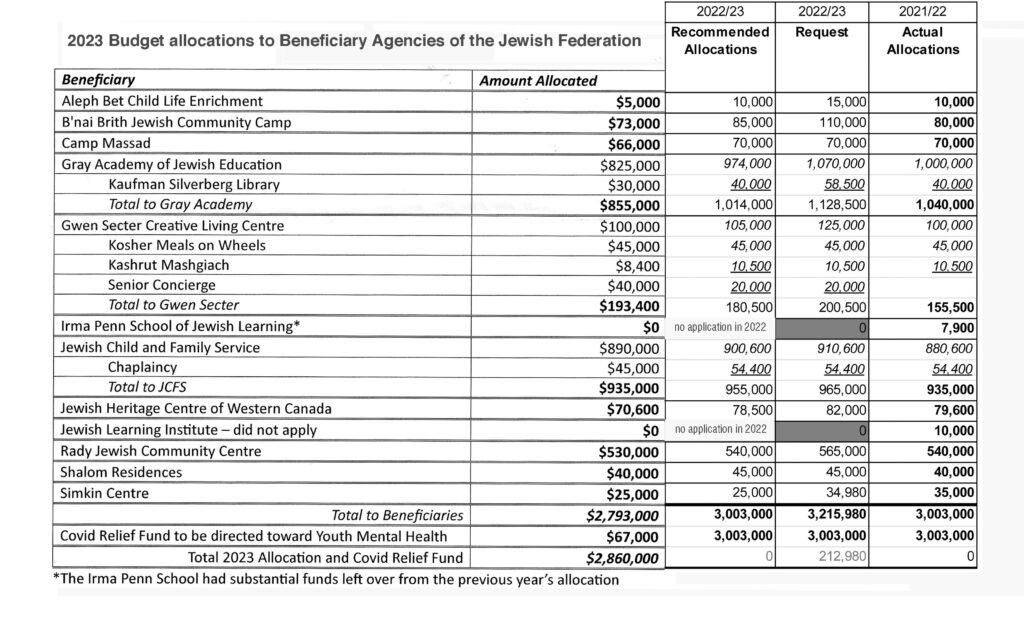 It was further noted that the decrease in funds to be allocated to agencies represents a 7% decrease over the previous year. Dipping into reserves was described as an "unsustainable practice." It was also noted that the Federation "notified our beneficiaries of a probable reduction in the amount of funding available well ahead of the allocation request deadline.
In describing the pressures that the Federation's Allocations Committee faced this year in coming up with its allocations, committee chair Brent Schacter said that "We knew after the budget process last year we were going to be in a bind." Schacter further elaborated that the two whammies that hit this year were the ongoing repercussions of Covid along with the rapid increase in inflation.
In discussing the pressures that the Allocations committee faced this year, it should also be noted that although the amount raised by the Combined Jewish Appeal – while not much more than the previous year ($6.3 million as opposed to $6.25 million), the negative effects of the drop in allocations are somewhat mitigated by two things:. A good portion of the amount raised by the CJA is in the form of "designated funds," given by large donors and, while those funds are not available to the B & A committee to distribute, many of the beneficiary agencies did receive large distributions from those "designated funds."
As well, the Jewish Foundation of Manitoba increased its total distributions this year by $1.3 million over the previous year. While the Foundation's gifts were spread among a very wide number of recipients, a number of the Federation's beneficiary agencies did benefit from the increase in Foundation distributions.
Still, the challenges facing the Federation in meeting the needs of the community are leading to a major reassessment of how Federation planners are implementing budgetary planning.
A number of new innovations have now been adopted by the B & A committee, including:
New application forms – one for agencies requesting more than $250,000 and one for agencies requesting less
Beneficiaries were asked to state the anticipated outcomes of projects/programs that receive Federation funding, and to develop indicators so that they can measure those outcomes.
Site visits took place along with periodic meetings with agencies as a whole throughout the year to ensure that the committee gets a more complete picture of beneficiaries' activities, challenges, and plans.
In describing the process that the Federation undertook to "streamline" the budget allocation process, Federation President Gustavo Zentner said "Lay leadership and management had a responsibility to look at the business model."
It was determined that the Federation needed "a more effective way of managing the allocations process," Zentner stated, including "more meaningful communication with the agencies to bring to light their projects."
Not only does the Federation want to improve its own fundraising process, Zentner continued, "We also want to help agencies to raise funds on their own."
Despite the reductions in allocations available to agencies this year, Zentner stressed that "we wanted to address the needs of those members of the community who are most in need."
Brent Schacter added: "We want to see people dig a little bit deeper" when it comes to giving. The Combined Jewish Appeal is now into its fundraising campaign for the 2023-24 fiscal year.
Six members of the community receive King's Counsel appointments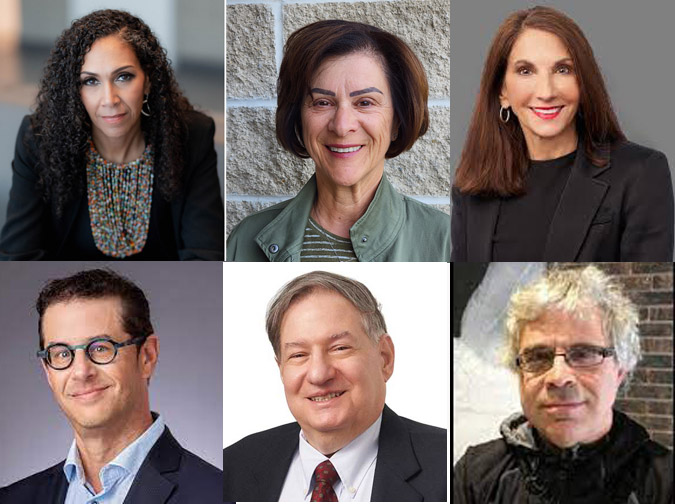 A total of 17 lawyers were appointed King's Counsel by Order in Council on August 29. Six members of our Jewish community were among those appointed. Although appointments as King's Counsel are usually accompanied by biographical information about those appointed, there was no press release issued by the Manitoba Government announcing the appointments. When we contacted the Manitoba Government news room to ask why there was no biographical information available, the response we received referred to KC appointments announced in February (no surprise there – these are bureaucrats we're dealing with). When we asked again why there was no biographical information available about the most recent batch of KC appointments we were told "the Province of Manitoba is in the middle of an election blackout and department communications are limited as a result. News Room has nothing further to add."
As a result, we present here photos of Jewish recipients of KC appointments, but without any further information.
Kayla Gordon inducted on to Rainbow Stage's Wall of Fame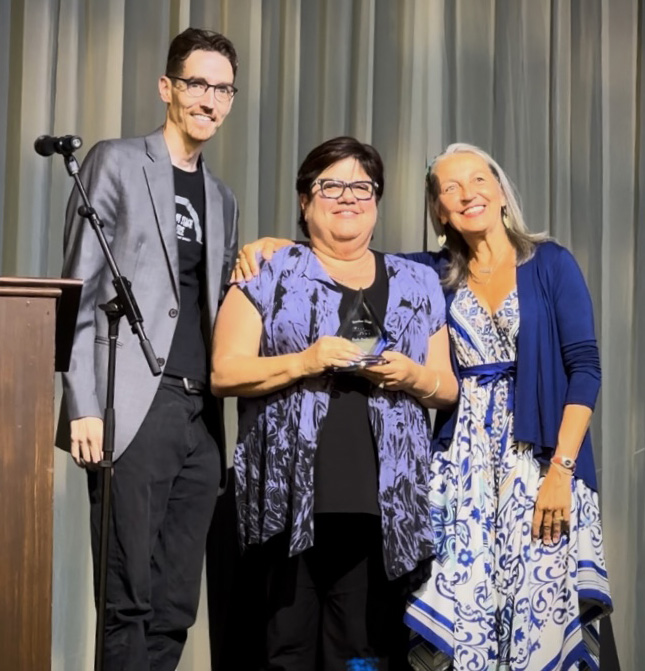 Myron Love It was in the summer of 1984 when Kayla Gordon was appearing in the Rainbow Stage production of "Kismet," that the long time actor/director/producer/photographer found herself doing her make-up sitting next to Nia Vardalos, the writer and star of "My Big Fat Greek Wedding" fame, who was also appearing in the production.
"We both were playing opposite each other in the comic roles as the Ayahs to the Wazir (the main lead), and we began talking about our plans for the future," Gordon recalls. "Nia was talking about moving to Toronto and joining the Second City company. As for me, I was in a comedy troupe in Winnipeg and just found out I was pregnant with my first child. My plan was to stay in Winnipeg, even though I was a bit jealous that she was going off to pursue her dream and I was staying put. That was my 'Kismet' and I never looked back."
Rainbow Stage is where Gordon began her career in musical theatre at the age of 17 in a production of "Fiddler on the Roof." After a career of more than 40 years, both on stage and behind the scenes – it is fitting that one of the leading lights of community theatre in our city has been recognized for her contributions by Winnipeg's longest-running theatre company. On Wednesday, August 17, Gordon was one of the five inductees to Rainbow Stage's Wall of Fame under the "Builder" category. The award is given to someone who has been part of nurturing and building our theatre community.
"It was a wonderful surprise," says the honoree. "It brings my career full circle." Previous honours for Gordon include the Leadership Award from the Canadian Friends of the Hebrew University of Jerusalem and the Theatre Educator's Award from the Winnipeg Theatre Awards for her long-time leadership within the arts community.
Gordon reports that the induction ceremony, attended by about 100 friends and family members of the inductees and Rainbow Stage staff, was held just prior to the opening night performance of "The Little Mermaid,",the second of three shows the company is putting on this summer and early fall.
"It was also special to have one of my grandchildren, my husband Art Maister, my mom Ethel, and my aunt Evelyn Hecht at the induction ceremony," she adds. (Evelyn also performed at Rainbow Stage in the 1950s.)
Gordon notes that while she appeared onstage in seven Rainbow Stage productions – from 1977 to 1993, she was honoured not for her acting, but for her role as a nurturer of talent through teaching acting and musical theatre at the University of Winnipeg for 18 years, as well as teaching at the University of Manitoba, Prairie Theatre Exchange and The Manitoba Theatre for Young People – also, later as the Artistic Director of Winnipeg Jewish Theatre for over 10 years and Winnipeg Studio Theatre, which she founded in 2006.
"I get a lot of satisfaction watching actors I've directed and students I have taught and nurtured performing at Rainbow Stage and other venues in the city," Gordon notes. Many of them have gone on to work professionally and have appeared across Canada, as well as in Broadway productions. Some of them include: Alexandra Frohlinger (Soul Doctor/Broadway), Samantha Hill (Phantom of the Opera/Broadway), Jaz Sealey (Aladdin/Broadway), Andrea Macasaet (Six/Broadway), and Nyk Bielak (Book of Mormon/Broadway).
Gordon was an actor and high school drama teacher at West Kildonan Collegiate for the first 15 years of her career. By the mid-1990s she found herself becoming more interested in working behind the scenes as a director/producer. In 1994, she became the Winnipeg Jewish Theatre's second artistic director – succeeding WJT founder Bev Aronovitch – a role she played until 2006. Following her time at WJT Gordon observed that local theatres were not hiring many female theatre directors.
"I realized that if I wanted to work as a director, I would have to create my own projects," she recalls. So, she started Winnipeg Studio Theatre (WST) in 2006. Soon after forming the company, she invited her longtime theatre associate Brenda Gorlick to run the StudioWorks Academy, a program for emerging artists.
In 2021 she stepped down from her position at WST. "I am still interested in directing – but without the added pressures of being a producer or the full-time responsibility of running a professional theatre company," she observes. "I like having the freedom to pick and choose the projects I want to work on." I still plan to work on independent contracts directing theatre and creating entertainment for special events or fundraising activities in the community.".Last year she produced and directed the Jewish Federation of Winnipeg's Negev Gala tribute honouring Gail Asper and Michael Paterson. As well, stepping down from her responsibilities with WST has also allowed Gordon to devote more time to her other passion – photography. "I have been interested in photography since I was 15," she recounts. "My father Ralph had a dark room in our basement."
Over the past couple of years, she has achieved accreditation with the Professional Photographers of Canada in four different areas of photography: street photography (her favourite), portraiture, performing artists, and figure study. And, last year, she co-authored a coffee table book – "The Murals of Winnipeg," with fellow photographer Keith Levit as a fundraiser for Take Pride Winnipeg, with 80 pages of photos, which sold out in two weeks and the funds will go to emerging mural artists. (That story can be found on the jewishpostandnews.ca website.)
Kayla is grateful to have stayed in Winnipeg and she sums up her career, and how and why she managed to work in theatre all these years with a quote from Henry Winkler (aka 'The Fonz') "I live by tenacity and gratitude. Tenacity gets you where you want to be, and gratitude allows you not to be frustrated along the way".