Rady JCC reports deficit of $377,994 for 2022 fiscal year
By BERNIE BELLAN As someone who has attended my fair share of Annual General Meetings over the years, my impression is that an AGM is not meant to serve as a forum where management is subjected to scrutiny over its performance.
 I especially recall attending AGMs of the Crocus Fund, during which management did its level best to conceal the true performance of the fund. It was at the 2002 AGM of the Crocus Fund, however, that I stood up and, undoubtedly much to the chagrin of the members of the management team who were there, I said that I thought the Crocus Fund was in deep trouble and that unitholders were being kept in the dark about the true picture of the Crocus Fund.
Even though it took another year and a half for my assessment to be proven true, eventually the Crocus Fund was forced to halt sales of its shares, and was subsequently placed into receivership.
So, when I attended the most recent AGM of the Rady JCC on November 28 I went in determined to ask some pointed questions, regardless what other individuals who were there thought of the temerity of someone disrupting what had been, to that point, an evening of self-congratulation.
Now, as anyone who has attended any Jewish organization's AGM would well understand, the main part of the proceedings is to get through the very boring financial report as quickly as possible and move on to a celebration of volunteers and employees who are to be recognized for their contributions to those organizations. And, until Covid entered the picture, the highlight of every AGM was the pastry table where attendees could feast following the AGM. 
Serious affairs – those AGMS.
Well, for anyone who's been paying attention the past two and a half years though, the Rady JCC has undergone what is undoubtedly the most harrowing period since it first opened its doors in 1997. Covid dealt a terrible blow to the Rady JCC, with a huge drop in memberships and a severe reduction in programming that began in March 2020 and which has continued through to the present day, although the situation has improved considerably in the past year.
That's why, as I entered the multipurpose room of the Asper Campus on Monday evening, November 28,  I was anxious to see whether anyone else was interested in asking any questions about the true state of the Rady JCC. Without going into every little detail of that report, here's the nutshell: The Rady JCC showed a loss of $377,994 in 2022 (year end August 31, by the way).
That compares with a profit of $1,124,950 for the 2021 fiscal year. How is that possible, you might ask, when 2021 saw the Rady JCC absolutely shellacked as a result of Covid? Consider this: Membership revenue in 2021 dropped to $706,823. In 2019, which was the last year before Covid, membership revenue was $2,090,933. That's a 66% drop in membership revenue! The explanation, if you read on, is quite simple: Government assistance is what kept the Rady JCC alive in 2021.
So, when the 2022 financial report showed that membership revenue had climbed somewhat over the 2021 figure – to $1,152,489, but was still a long way off from the pre-Covid figure, I was anxious to ask this question of the person who was delivering the financial report, whose name was Kyle Ibbetson: 
"Just how many members does the Rady JCC actually have?" I asked.
As an aside, I was the only one to ask any questions at the AGM. I was told afterwards that if I had any questions I would have been better off to send them to Barry Miller, who is the Rady JCC's Director of Finance and Administration.  Right – as I noted previously, an AGM is no place to ask serious questions. It destroys the levity of the moment during which everyone is looking forward to a celebration, not a serious probing of what's really going on.
In any event, I was somewhat surprised that Ibbetson actually had some figures to report in response to my question: The Rady JCC has 1700 members, he said, down from 2500 pre-Covid. (In a subsequent email Rady JCC Executive Director Rob Berkowits clarified that the correct figure is "1750" units. By the way, a unit can refer to anything from an individual to a family. If you read on you'll see that I've always had difficulty with that term.)
Be that as it may, however, as I pored over the financial report while everyone else was watching a series of awards being handed out, a major discrepancy occurred to me as I did some quick calculations: If the membership had dropped from 2500 to 1700, that represented a 32% drop in membership, but what was the actual membership revenue prior to Covid – not the number of member units?
For that I had to wait until I was able to get home and Google previous financial reports of the Rady JCC. That was when I found the figure for membership revenue for 2019, as noted earlier, was $2,090,933. Membership revenue for 2022, according to this year's financial report, was $1,152,489. That represents a 45% drop in membership revenue from 2019. So, if member units were down 32% but membership revenue was down 45%, what could explain that fairly large discrepancy, I wondered? 
That same evening I penned a fairly long email to Barry Miller, which was also addressed to Rob Berkowits, in which I asked that question, along with several others.
Here is what I asked about membership revenue:
"In the area of membership, according to what Kyle Ibbetson said, you're down from 2500 to 1700 pre-Covid – a 32% drop. But when I look at revenues from membership in 2019 they were $2,090.933, while in 2022 they were only $1,152,489. That represents a 45% drop in membership revenue from 2019. Can you explain the discrepancy between a 32% drop in member units and a 45% drop in membership revenue?"
Here is the response I received: 
"The impact that the pandemic had on our membership and corresponding membership revenues has been drastic.
"When we were required to close the first time in March 2020, our membership units were at 2,628.  We hit a low of 1,232 in October 2021.  This represents a decline of 53%.  The climb back up was very slow at the beginning as people were not comfortable coming to a gym or congregating and there were still many restrictions on gathering sizes, gym capacity, etc put on by the provincial government.
"We have slowly climbed since that date and we are now aggressively marketing new memberships and win backs.  As of today, we are at 1,750 membership units, which is still down 33%.
"The revenue stream does not coincide with the drop in membership numbers.  As you stated, membership revenue for 2022 is down 45% from 2019.  As you are aware, we have memberships that range from $250 to $1,367 per year.  The pandemic more greatly affected our higher membership fee categories (families, adult and senior couples, one parent family etc).  If you lose a family membership as opposed to a child membership, yes, you are down one membership.  But you are down 5.5 times the revenue.  That is why it is very difficult to use the two statistics comparatively."
I asked about the actual number of members, writing that "referring to membership units is rather vague. I know that's the term that has always been applied when I've had discussions both with Gayle and with you, Rob, about memberships, but can you put it in actual terms of members, i.e., how many members were there in 2022 in comparison to 2019?"
The answer (and it is clear this was from Rob) was: "We have always referred to membership as a unit.  That is the manner that we budget and report.  The variables make it easier that way as each family unit or one parent family unit can have multiple individuals on it, non of which affect revenue.
"Just as information, the 1,750 membership units that we have today represents 3,076 individuals.  I am not able to obtain that statistic historically, it is a live data file."
Another area of the financial report that stood out for me had to do with fundraising. Elsewhere in the Rady JCC annual report, Rob Berkowits wrote that the 2022 sports dinner was "the most financially successful event in its history, raising $400,000 after all bills were paid."
Yet, while the financial report did say that total fundraising for the Rady JCC raised $976,763, as compared with $401,214 in 2021 (when there was no sports dinner), fundraising expenses in 2022 were $563,856, while they were only $77,7987 in 2021. As a result I asked this question in my email to Barry and Rob: "The total profit from fundraising was only $79,480 more in 2022 than in 2021. If the sports dinner raised $400,000 after all bills were paid,' according to Rob's report, why was there only $77,787 more raised in fundraising in 2022 than in 2021?"
The answer I received was fairly detailed – and quite complex, but here is the most salient point, written, I assume by Barry Miller: "In the areas of other fundraising, our costs associated with the donations were considerably higher this year than in 2021 ($156,000 in 2022 as opposed to $36,000 in 2021)."
 I suppose I might like to explore why that was at another point in the future – and by now, anyone reading my ongoing reports about the 2021 census would know that I like to crunch number, but for the moment, we'll leave that aside.
Finally though, one figure in the 2022 financial report just jumped off the page, and that was the amount of government assistance the Rady JCC received in 2021: $1,690,109. (It dropped to $434,898 in 2022.)
I took a look at the 2020 financial report and saw that the Rady JCC also received a huge amount of government funding in 2020: $750,605. As a result the total amount of government funding the Rady JCC has received the past three years is $2,885, 612. 
I think it's fair to say that, without that government funding, the Rady JCC would have had to close its doors permanently – and I suggested that in my email to Barry and Rob.
Here is the response I received and again, I assume it was written by Rob: "If it wasn't for government assistance, there are many many many businesses and organizations, both for profit and not-for-profit that may not be around today.  Whether Rady would be one of them is very open to conjecture and opinion.  We went into the pandemic in a strong financial position and we have many very loyal members, donors and third party funders to support us."
That may indeed be true, but looming over this entire discussion of Rady JCC finances is this question: How many of the Rady JCC's members who have not renewed their memberships (which, I submit, is evidenced by the 45% drop in membership revenue much more clearly than the 32% drop in "membership units") may return to the Rady JCC at some point? Further, despite the notion that Covid is behind us, if at least one-third of Rady JCC members have not returned to the Rady JCC since Covid (and, as I would argue, the figure is likely much more than one-third based on the total drop in membership revenue), are former members staying away because they don't feel sufficiently safe at the campus or are there other reasons? Perhaps some members have joined other facilities, while others installed home gym equipment. Regardless the reasons, there is no doubt that the drop in membership revenue is having a huge impact on the Rady JCC's bottom line. 
Finally, if there should have been special awards handed out at this year's AGM for service above and beyond, it should have gone to representatives from the provincial and federal governments for the assistance both levels of government delivered to the Rady JCC over the past three years. 
Congregation Etz Chayim says good bye to 123 Matheson Ave.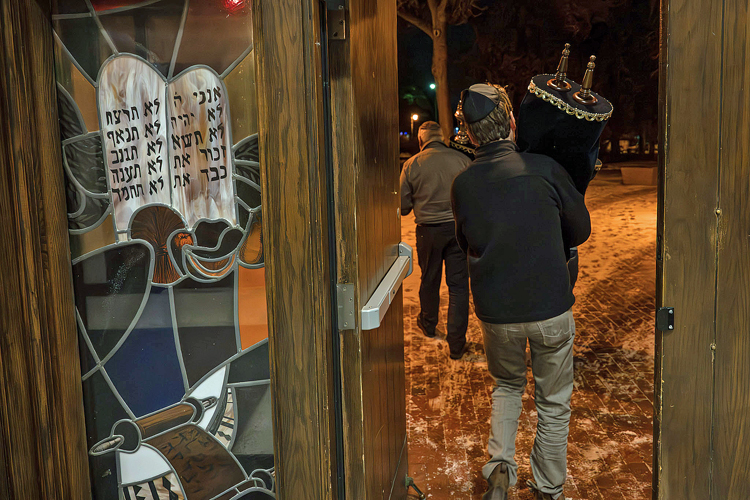 By BERNIE BELLAN After 71 years of serving as the home for first the Rosh Pina Synagogue, then for the past 21 years as the home for what was the merger of three different congregations – Rosh Pina's, along with the Bnay Abraham and Beth Israel, the Etz Chayim Congregation held its final service on Wednesday, November 29.
You can read the story by CJN writer John Longhurst elsewhere on this site (https://jewishpostandnews.ca/rss/congregation-etz-chayim-in-winnipeg-says-a-bittersweet-farewell-to-their-old-building-as-they-prepare-to-move/) along with our earlier story about the sale of the building to an Eritrean Church (https://jewishpostandnews.ca/faqs/rokmicronews-fp-1/former-congregation-etz-chayim-synagogue-building-to-become-eritrean-orthodox-church/), but here are some pictures from the final service.
(Photos courtesy of Keith Levit)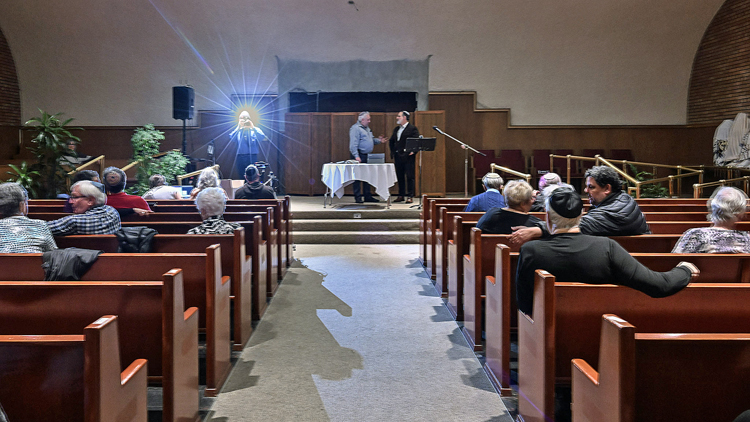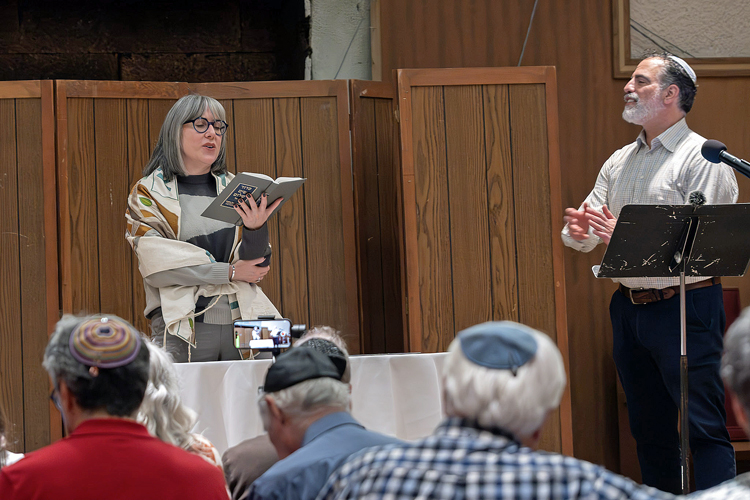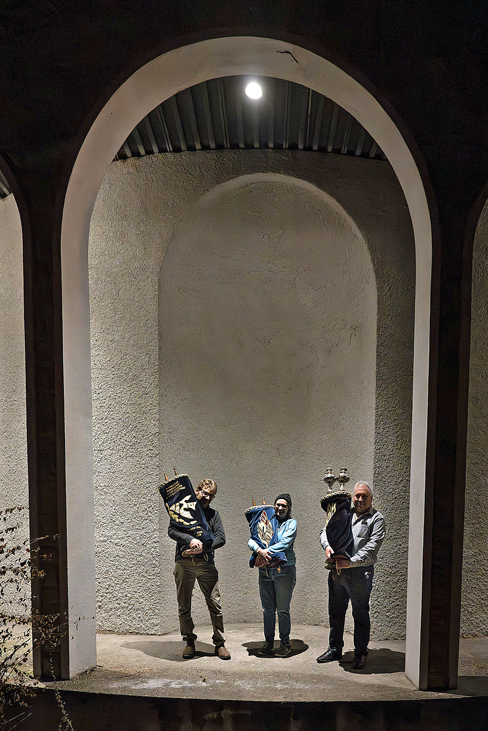 Israel report by former Winnipegger Bruce Brown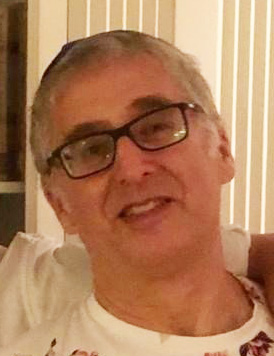 By BRUCE BROWN (posted Nov. 28/23) Was driving home from work the other day.  Pre-ceasefire.  Left the office early to reduce driving time in the evening hours.  Hamas likes their 6PM missile barrage and I'm honing my missile-avoidance routine.
 
Was listening to talk-radio… but kind of had enough of the news.  Too much war talk and its getting a bit overwhelming.  So switched to Spotify and up popped Supertramp – the Logical Song.  For sure how 'wonderful, beautiful, magical' life once felt.  Before Oct 7th.  Before Hamas. 
 
Then, as if on cue.  I gaze towards the sky.  And saw missiles flying overhead.  At first it didn't really click. And then.  Yikes!  I quickly switched back to the news.  Where, in a very calming voice, they were announcing areas under missile attack.  Which is another reason to listen to the radio while driving during war – real-time information.  Lesson learned.
 
Suddenly my smartphone's flashlight started flashing.  Which was pretty darn cool!  And there I was, on Star Trek.  Standing on the bridge.  Even recalled the vessel number – NCC-1701. There I was with Captain Kirk.  No!  I was Captain Kirk.  Dr. McCoy by my side.  Sulu and Chekov at the controls.  The Klingons were attacking.  And Mr. Spock -standing to the side- was calmy advising the attack coordinates.  No Wait!  That was the radio announcer.  Seriously.  This all took place within a split second in my over-active imagination.
 
The flashing continued.  Then I realized my cellphone was communicating with me.  Warning of danger.  I have the Home Front Command application which sounds an amazingly loud alarm during a missile attack in my area.  But changing between the radio and Spotify prevented the siren from going off.  So instead, the phone activated my flashlight.  Sending out an S.O.S.  Now how neat is that!  In a geeky sort of way.  Like for someone who imagines himself on Star Trek during a real-life missile attack.
 
Then.  Reality set in.  There were Home Front Command instructions to follow.  Momentary-panic set in.  Where was my wife.  To tell me what to do.  Like she always does…but that's another story.  This time I wanted her there, instructing me. 
 
All these thoughts racing through my mind in milliseconds.  As I calmly slowed the car and veered to the shoulder.  Like other cars around me.  I put on the blinkers.  More flashing lights but the bridge of the U.S.S. Enterprise now a distant thought.  Looking both ways I left the car and hopped over the road- barrier.  Moving away from the car.  Although probably not far enough.  Because there was a steep decline just below.  It was getting dark and, suffering from poor night vision, I didn't want to trip and hurt myself.  I heard my son laughing at me. "Nerd!" he called out.  But that was just my imagination.
 
I should have laid flat.  Prostrating myself for maximum protection.  But it rained earlier that day, the ground was wet and I didn't want to get muddy.  '"Nerd!"  This time it was my daughter in my mind's eye.  "Okay," I said to no one in particular.  "I'll squat."  Good enough…but not really.
 
The family in the car ahead were huddling together but too close to their vehicle.  I shouted for them to move further away.  But they didn't react.  Probably didn't understand me, especially given my still heavily accented Canadian Hebrew.  This time I heard both my kids.  Teasing me – thirty years and still talk like an immigrant!  "Hey, they just don't hear me."  I said to the darkness.  Otherwise it was very moving seeing the father crouching down on top of his brood, in a protective sort of way.  "Isn't that touching." I said to my wife.  "For sure." She said somewhat sarcastically in the back of my mind, "I know you'd do the same."  
 
Then it was over.  The sky went quiet.  People returned to their cars.  The nestled family broke apart and entered theirs.  We should have stayed in place several more minutes.  Ten minutes is the recommended time.  But it was dark.  Getting late.  Also a bit cold.  I just wanted to get home.  Back to the real chiding of my kids and to my wife… somehow longing for her ordering me about.
 
A few minutes later my wife called.  Making sure I was safe.  And then routine set in.  "Don't forget to pick up some milk and bread from the corner store."  She instructed me.
 
Um Israel Chai
 
Bruce Brown.  A Canadian. And an Israeli.  Bruce made Aliyah…a long time ago.  He works in Israel's hi-tech sector by day and, in spurts, is a somewhat inspired writer by night.  Bruce is the winner of the 2019 American Jewish Press Association Simon Rockower Award for excellence in writing.  And wrote the 1998 satire, An Israeli is….  Bruce's reflects on life in Israel – political, social, economic and personal.  With lots of biting, contrarian, sardonic and irreverent insight.
 
Jewish community holds solidarity rally November 25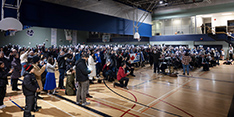 The Jewish Federation of Winnipeg held a rally in support of Israel on Saturday evening, November 25.
A number of speakers addressed the crowd of 800, including Rabbi Yosef Benarroch of Adas Yeshurun-Herzlia Congregation; Members of Parliament Ben Carr & Marty Morantz; Yolanda Papini-Pollock of Winnipeg Friends of Israel; Paula McPherson, former Brock Corydon teacher; and Gustavo Zentner, President of the Jewish Federation.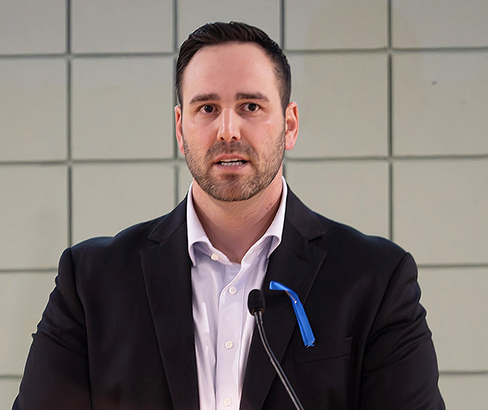 Click here to watch Ben Carr's remarks: https://www.youtube.com/watch?v=crfREGNRKfg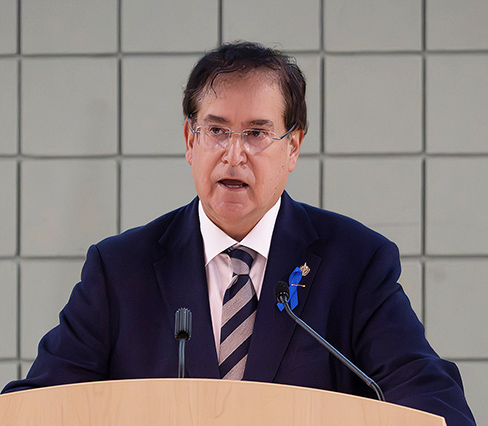 Click here to watch a video of Marty Morantz's remarks: https://studio.youtube.com/video/zHzC-iaqivg/ed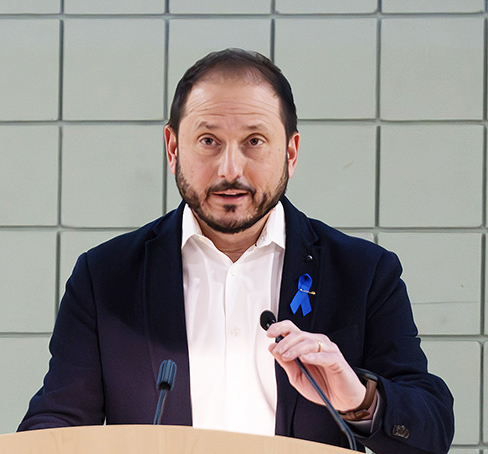 Click here to watch a video of Gustavo Zentner's remarks: https://www.youtube.com/watch?v=L3M_cCYuLgs