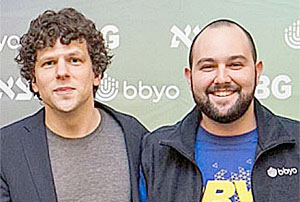 By REBECA KUROPATWA
When Ian Baruch accepted the position of Youth Program Coordinator at the Rady JCC – in charge of BBYO, back in August 2019, he was excited to be leading a program in which he himself had been a member only a few years previously.
Born in Buenos Aires, Argentina, Baruch moved to Israel with his family as a baby, then seven years later to Winnipeg.
"I moved to Winnipeg and essentially grew up here," said Baruch. "Since I moved here, I've been pretty involved in the Jewish community. From 2003 to 2019, I went to Camp Massad, either as a camper, counsellor, or, this past summer, as assistant director. I attended Gray Academy of Jewish Education all through elementary and high school. From Grades 9-12, I was part of BBYO here in Winnipeg and was in a chapter called 'Alophim,' so it feels like I've come full circle – which is a great feeling."
While BBYO offers four conventions a year, three of them are local and the fourth is the international one. The Red River Region (essentially Winnipeg) has six chapters, three of which are for girls and three for boys, with some 130 teens registered, from Grades 9-12.
This year's international convention took place in Dallas, TX from February 11th-17th.
"Every year, BBYO International puts on this international convention to bring together all the BBYO regions of the world, so they can share meaningful experiences with fellow Jewish young leaders," said Baruch. "This year, we had over 5,000 people from over 50 different countries."
As far as any effects felt on the convention due to the Corona virus, Baruch said, "When the convention was happening, there were only the flying restrictions of China into the U.S., so it was still pretty new. I'm sure if the convention were to be planned now, it would be much harder to actually execute it properly.
"This year, we had 19 people from the Red River Region (RRR) attend. Four of them were internationally recognized for their work in BBYO within RRR, and received awards.
"Another two of our members planned a program that the international boards of teens noticed. And they had them put on this program for other regions at the convention."
The highlights for Baruch included meeting young leaders from the rest of the Jewish world and learning ideas and tips which he hopes to incorporate into his future programming.
The BBYO formal dance happened on March 7th at the Rady JCC, when BBYO members had a chance to come out with their (non-member) friends, dress up, dance, and have food.
From March 13th-15th, the RRR will host its final convention of the year, holding friendly competitions between the chapters that include, "Before I die, I want to _____."
"Every year, the theme is in that style," said Baruch. "They fill in the blank with what they want and make that their theme. They make it as serious or as foolish as they like, as long as it's appropriate."
Toward the end of the convention, time is spent on allowing the Grade 12 members to share about their time with BBYO. "This is also a good opportunity for the new members who have never attended this specific convention, to see what they have to look forward to and get an idea of programs that have been run over the years, and things of that nature," said Baruch.
On March 22nd, the teens will participate in J-Serve, an international day of Jewish service. (Ed. note: As of the time of publication, this event will likely be canceled.)
This year, they will have a variety of stations set up at the Rady JCC with each station led by a BBYO team with an adult representative from various organizations. "For example, we'll have a sandwich making station, a soup making station, a food sorting station, and more," said Baruch. "It's mostly geared to teens, but everyone is welcome."
……..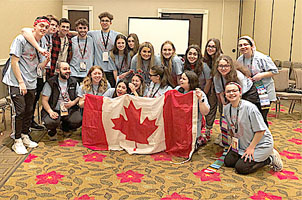 BBYO member Adelle Bloom's report on the convention
By ADELLE BLOOM
This year, I had the opportunity to attend one of the world's biggest Jewish youth conventions: BBYO's International Convention, commonly referred to as I.C. I met with over 3,000 delegates from around the world in Dallas, Texas, USA. The convention ran from February 12th to 17th. To say I was overwhelmed would be an understatement! There were teens from over 40 countries, including 19 people from Winnipeg, all meeting in one place. I met so many people from around the world and made friendships that would have never been possible otherwise. There were chances to go sightseeing, including, The Modern Art Museum of Fort Worth, The Dallas Aquarium, The Dallas Zoo, and so much more!
I got to hear so many amazing speakers, including Chris Ulmer, founder of "Special Books by Special Kids"' and David Dobrik, YouTuber and influencer. Ted Cruz, Senator of Texas, and Prime Minister Trudeau made video statements as well!
Jesse Eisenberg, award winning actor and playwright, talked about his Jewish upbringing, the role mental health plays in our lives, and his activism with domestic violence and sexual assault.
Bari Weiss, writer and editor for the New York Times, and author of How To Fight Anti-Semitism, talked about her experiences with anti-Semitism and growing up at the Tree of Life Synagogue in Pittsburgh. She mentioned some questions she had heard as she travelled across the world, speaking to Jewish communities, such as: "Who are we, why are we here, and what are we fighting for, and what is the Jewish future."
But, the best part was actually seeing how we each come together, to make this community what it is today. It was truly an unforgettable experience, and I would recommend it to anyone looking for a place to make lifelong memories, and lifelong friends!