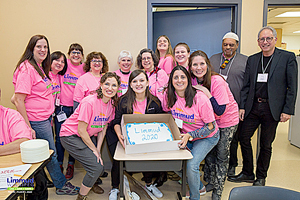 By MYRON LOVE
Limmud Winnipeg celebrated its tenth anniversary on the weekend of February 29/March 1 with quite possibly its best attendance to date. Close to 400 members of our community had more than three dozen sessions to choose from, with presenters from across Canada, New York and Israel joining local speakers and facilitators in providing a smorgasbord of topics both secular and religious, cultural and culinary.
As usual, this writer indulged in a representative sampling of what was on the menu, balancing local and Israeli issues with some religious study as well as delving into Jewish history. And, while each session could make for an entire feature on its own, space considerations leave me to focus on the highlights.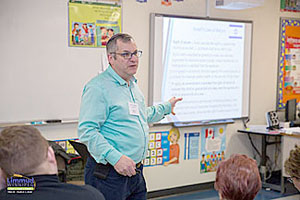 So let us begin the journey.
The first session that I attended was a presentation by former Winnipegger Jack Frohlich, who made a aliyah in 1989 and who, for the past 18 years, has been teaching conversion classes under the auspices of the National Centre for Conversion. He also works closely with the Beta Israel (Ethiopian) community.
Frohlich delivered two presentations – the first discussing the challenges facing Ethiopian Israelis and the second talking about the controversial issue of conversion in Israel. There is much misinformation concerning conversion in Israel, Frohlich pointed out.
My own understanding was that Reform and Conservative conversions are not recognized in Israel and – much to my surprise, there have been Orthodox conversions in North America that also aren't recognized in Israel. The reality is that the only conversions officially recognized in Israel are those which are approved by the Dayanim (rabbi/judges) associated with the National Centre for Conversion.
As Frohlich noted, even a conversion by a rabbi in solidly Haredi Bnai Brak would not be recognized.
He pointed out that while Reform and Conservative conversions may not be recognized or the converts considered Jewish, they are still welcomed under the Law of Return with all the benefits that come with it.
Then there is the occasional report that converts have to vow to observe all the Mitzvot both during the conversion process and forever after on pain of having the conversion rescinded. Not true, Frohlich said. Once one is accepted into the Jewish community, the individual can life his or her life the same way those who are born Jewish do.
"Becoming a Jew is a two-sided coin," he said. "It is a two-for-one deal. You are adopting a new religion and you become part of the Jewish People."
While the original Law of Return applied only to Halachic Jews born of a Jewish mother, he noted, in 1970, the government expanded the Law of Return to include anyone with at least one Jewish grandparent – even though the individual would not be considered Jewish per se.
Of the Russian immigrants who came to Israel in the 1990s, Frohlich pointed out, about 50% were not halachically Jewish.
He reported that Israel registers about 2,500 conversions a year with most of the converts being women. "Weddings often follow," he said.
Quite a number of Filipinos (Filipinas?) and Arab Moslems are among the converts, he noted.
And the government and the rabbinate continue to make the conversion process easier, he added. In recent years, all fees have been removed and a more flexible approach has been adopted for the learning process.
"Most students are pleasantly surprised by their ulpan/educational experiences," Frohlich said.
He reported that about 80% of conversion applicants are approved the first time they appear before the Bet Din with the remainder often approved following a few more months of studying.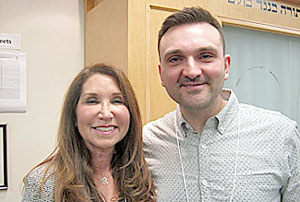 From Israel, we travel back to Winnipeg to hear the story of Shimon Segal. The 33-year-old criminal lawyer began life with the deck stacked against him. He has succeeded in life through his own inner strength and the love and support of David and Glenda Segal and their sons, Devin and Ryan.
Segal was born into a strictly Orthodox – but dysfunctional family. Over his first few years, he was imbued with Orthodox practice and tradition and a strong Jewish identity. The middle of three children, he recalls a lot of arguing in the home.
He began his schooling in the Hebrew Bilingual program at Centennial School in the North End. After Grade 2, he recalled, the family moved south, where his parents became less and less observant and opened a grow-op in their home. "The house was always moldy and dirty," he remembered.
While attending Brock Corydon's Hebrew Bilingual program, he made some friends among his classmates -, in particular, Devin Segal.
The Jewish Child and Family Service first stepped into the family situation when he was seven. He noted that his mother was abusive and his father disinterested.
When he was ten, his parents split and he found himself back in the North End in a group home where he was the only Jewish kid. "I was living a double life," he recalled. "I was taking the bus to Brock Corydon every day. At the group home, I started smoking cigarettes and marijuana and wearing gang clothes to try to fit in. I would show up at school smelling of cigarettes. I didn't fit in anywhere. While I remained close to my friends at Brock Corydon, most of their parents didn't approve of their sons hanging out with me."
The exception was David Segal. "My dad (David Segal) began to be involved in my life when I was ten," Shimon said. "He took an interest in me. He would take me fishing sometimes. There was no sense of judgment. I relaxed when I was with him."
For a short time, Segal was housed with foster parents Barry and the late Marsha Weber, to whom he is also grateful. The Webers took in foster children for short periods of time.)
At the age of 12, he was returned to his birth mother for a time. That didn't work out. He spent some time in the Manitoba Youth Centre and with a Christian foster family who sent him to a bible camp. "They were only in it for the money," he said of those foster parents.
"I began spending more and more time with the Segals," Shimon said.
After several excruciating weeks with the Christian family, he was returned to his birth father who, after a short time, locked him out of the house.
That was when his life really took a turn for the worse. He ended up living on the street in Tuxedo. "I tried Osborne Village, but it felt too dangerous," he recalled. "In Tuxedo, I felt safer. I slept wherever I could – partially-built buildings, a friend's mother's station wagon, even in the Assiniboine Forest for a time."
It wasn't long after that David and Glenda Segal invited him to move in with them permanently and become a member of the family. "David and Glenda became my dad and mom and Devin and Ryan my new brothers."
He added that he has kept in touch with his own birth siblings – a brother and sister- and that the Segal family has included them in family gatherings.
The love and support from his new family, Shimon said, enabled him to rekindle his inner Jewishness and feel part of the Jewish community again.
Over the last ten years, Segal has been able to earn a law degree. He has married and become a father. And he has given back to the community and, through his legal work, other vulnerable people.
"Thanks to the Segal Family, I have been able to live a normal life," he said.
"What the Segal Family did for Shimon was amazing," said Randee Pollock, the Jewish Child and Family Service's Adoption, Fostercare and Rescue Co-ordinator. "Our goal is to keep families together – but that is not always possible where there are mental health or addiction issues or perhaps there has been a death in the family."
She reports that the JCFS currently has 15 Jewish children in care with nine foster homes and three places of safety available to house them. "We are always in need of more Jewish families who are willing to open their homes to children in our community who are in need of shelter," she noted.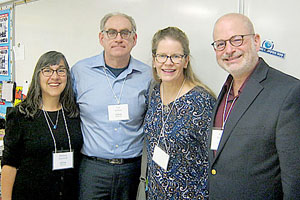 From Winnipeg, we again pack our bags for our third port of call as we follow Rabbi Mark Glickman, the spiritual leader of Reform Congregation Temple B'nai Tikvah in Calgary, as he travels the world in search of the lost story of the Cairo Genizah.
Glickman is the author of "Sacred Treasure – the Cairo Genizah: The Amazing Discoveries of Forgotten History in an Egyptian Synagogue Attic". (He also delivered a talk at Limmud in 2016 about his follow-up book, "Stolen Words: The Nazi Plunder of Jewish books".)
Glickman's research took him to archives at Cambridge University and the Jewish Theological Seminary in New York – the world's two largest repositories of Genizah documents – and, accompanied by his son, Jacob, to the Ben Ezra Synagogue in Cairo, which was the original repository of the Genizah.
So, you might be wondering what a "genizah" is? As Glickman pointed out, we are a People of the Book. Under Jewish Law, it is not allowed to throw out sacred books. The proper way to dispose of them is burial in a Jewish cemetery. But they have to be stored somewhere until they can be buried. In my own synagogue, the genizah – or storage space – is a cupboard downstairs. For many centuries in the old Ben Ezra Synagogue in Cairo, it was a space – a hole in the wall in the women's section upstairs.
The current Ben Ezra Synagogue, Glickman reported, was built in the 11th century on the banks of the Nile, replacing an earlier shul which was destroyed by flooding. In the Middle Ages, he noted, Egypt was home to a large and influential Jewish community one of whose most prominent members was the great Rabbi Moses Ben Maimon (aka Maimonidies aka the Rambam).
There are a number of Western characters associated with the discovery of the treasure trove of documents that were stored in the Ben Ezra genizah. The first outsider to appear on the scene was one Simon Von Geldern, a German Jewish adventurer and Orientalist who moved in Bedouin circles. He visited the Genizah, but took nothing from it.
Then there came a Rabbi Jacob Saphir, a dealer in Jewish documents in Jerusalem, who heard about the Genizah from Van Geldern, dropped in, and brought back about 1,000 documents for sale. Next was Abraham Firkovitch, a member of the breakaway Karaite sect – who came in search of documents of historical interest to the Karaite community.
In the 1880s, Elkan Nathan Adler, a prominent member of England's Jewish community – and son and brother of Chief Rabbis of England, visited and left with more than 6,000 documents (as possibly a Torah cover).
The scholarly interest in the Genizah, Glickman noted, began in 1996 when Rabbi Solomon Schechter – then teaching at Cambridge University, had an encounter with an unusual colleague. Twin sisters Agnes Smith Lewis and Margaret Dunlop Gibson were Semitic scholars and travellers who had recently returned from an expedition to St. Catherine's Monastery at Mount Sinai. Among the documents they brought back was one in a language that the two multi linguists didn't recognize. They asked Schechter if he could help. He recognized it as a tractate for the book Ben Sira, a book of wisdom that had not been included in the Talmudic canon. The book at that time was only known from a Greek translation.
"The last person to have seen that book in the original Hebrew was Saadia Gaon over 1000 years before," Glickman noted. "The document was from the Ben Ezra Genizah. Schechter – very excited by this find – quickly arranged to visit the genizah and subsequently transferred close to 200,000 documents to Cambridge for translation and study."
The documents – 300,000 in total – consisted not only of religious material but also letters, business records, medical prescriptions and the other detritus of every day life. Among the documents that Glickman highlighted was the oldest piece of Jewish sheet music (composed by an Italian Catholic priest who had converted to Judaism), an early Hebrew reading primer and the last letter that Maimonides received from his beloved younger brother, David, before the businessman was lost at sea en route to India.
Over the past 20 years, Glickman reported that advances in computer technology have made translating the documents and connected fragments much easier. He noted that the Freidberg Genizah Project was established in 1999 as a non-profit international humanities venture established by philanthropist Albert Friedberg of Toronto to promote and facilitate research of the material discovered in the Cairo Genizah. Under the aegis of the project, all of the genizah materials are in the process on being inventoried and put online.
Glickman completed his presentation with a video of himself peering into the now empty genizah.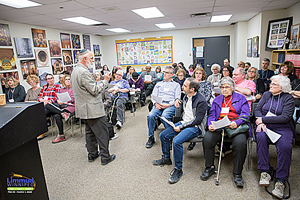 And we conclude with a little Torah study led by Rabbi Yosef Benarroch, spiritual leader of the Adas Yeshurun Herzlia Congregation. His question: Does being religious make you a better person?
In contemplating the question, Rabbi Benarroch first turned to the story of creation, noting that while the Lord commented after each of the first five days of creation that work was "good", He does not say the same about His creation of mankind. Rather, the Torah says that the Lord "created Man in his image".
So what does that mean? Benarroch quoted Torah and referred to several rabbanim – including Rabbi Akiva, Rambam and the late modern sages, Rabbis Joseph Soloveitchik and Abraham Joshua Heschel – as well as talmudic commentaries and their interpretations. One suggestion that Benarroch made is that of all G-d's creations, man is the only one that can also create.
And while G-d doesn't have an "image" in the way that man does, He does have attributes that can well be emulated – being slow to anger and quick to forgive, compassionate, gracious and merciful – attributes that are part of a prayer shul goers sing on Pesach, Shavuot and Sukkot before taking out the Torah and at Selichot in the days leading up to the High Holidays.
So, while engaging in regular religious practice itself doesn't determine good or bad behavior, Rabbi Benarroch concluded, attempting to model your life after the qualities exhibited by the Lord – in His image – will, without a doubt make one a better person.