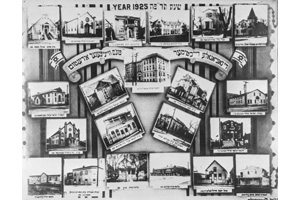 Further to our story about the Ashkenazie Synagogue proposing to repurpose itself, which you can read elsewhere on this site at http://jewishpostandnews.ca/local/983-ashkenazie-synagogue-sees-to-repurpose-itself-into-a-synagogue-museum, we were intrigued at the suggestion that there were, at one time, 14 (or 18, depending which Minuk brother was offering information), synagogues in the North End.
Apparently both Minuks were well short of the mark. If  you click on "Read More" you will find a complete list of synagogues that existed in Manitoba at one time or another, along with a caption giving the names of the synagogues in the montage at left.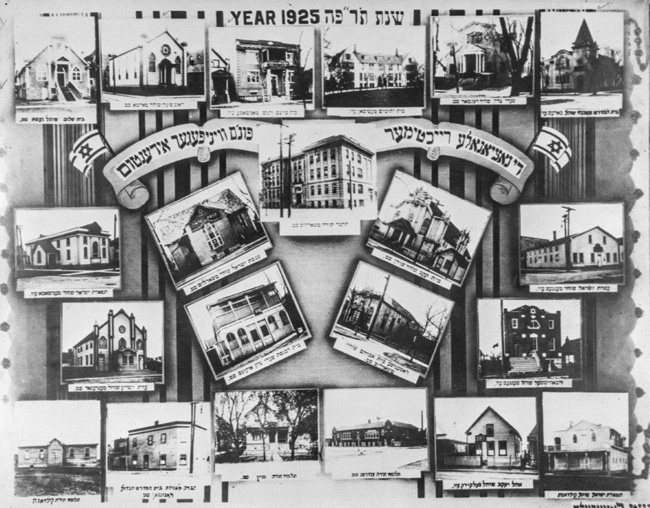 The above montage shows various synagogues and schools circa 1925 in Winnipeg. The montage is on display in the Adas Yeshurun – Herzlia Synagogue.
From top left: Beth Shalom, Nassau / Rosh Pina, Martha / Beth Moshav Zkenim / Jewish Orphanage / Shaarey Zedek, Dagmar / Ashkenazi ; Second Row: Tiferes Israel, Manitoba / Knesset Israel Shul, Charles / Talmud Torah, Flora and Charles / Beth Jacob Synagogue, Schultz / Shul, Burrows / Atereth Israel, Manitoba Ave.; Third Row: Adas Yeshurun, McGregor / Beit Haknesset Shaarey Zion, Aikins / Roumanian Beth Abraham Shul, Charles / Lubavitch Shul, 591 Magnus ; Bottom Row: Talmud Torah, Kildonan / Chevra Mishnayes, Robinson / Talmud Torah, Main St. / Small Talmud Torah, Andrews / Ohel Jacob, Selkirk / Tiferes Israel Shul, Kildonan/
(Thanks to Stan Carbone, curator of the Jewish Heritage Centre of Western Canada, for supplying the photo and caption.)
Many of the names in the following list are repeated, as they changed locations, sometimes several times. According to this list, there would have been 34 different synagogues or venues that offered facilities for services north of the CPR tracks at one time or another, not counting the Winnipeg Beach synagogue.
MANITOBA SYNAGOGUES PAST AND PRESENT
Beth El (Reformed) 1880s Princess Street (Harris Block)
Sons of Israel (Orthodox)(later Rosh Pina) 1884 Henry & Main
Milchige Synagogue (Milkmens' Shul) 1880s Higgins Avenue
Beth El of Israel 1890 King & Henry
Shaarey Zedek 1890 King & Common (now Henry)
Rosh Pina 1893 Martha Street
Bnay Abraham 1903 Schultz Avenue
Holy Blossom 1904 Maccabee Hall, 216 Pacific
Chevra Mishnayes 1906 Stella & Robinson
Bnai Zion 1906 Charles Street
Bnai Israel (Brandon) 1906 3rd and Princess Street
Shaarey Shomayim (later Shaarey Zedek) 1907 Dagmar Street
Adas Yeshurun 1907 McGregor Street
Beth Jacob 1907 Schultz Avenue
Hebrew Sick Benefit Association 1907 239 Selkirk Avenue
Beth David Synagogue 1908 3rd Street S.E. (Portage la Prairie)
Kildonan Synagogue 1912 Lillian Avenue
Talmud Torah 1912 Flora & Charles
Tiferes Israel 1913 Manitoba & Powers
Ohel Jacob 1913 685 Selkirk Avenue
Kildonan Synagogue 1915 Newton Avenue
Shaarey Zion 1917 Aikins Street
Aberdeen Synagogue 1917 Aberdeen Avenue
Ateres Israel 1918 469 Magnus
Jewish Orphanage 1920 Matheson Avenue
Knesset Israel 1920s 46 Charles Street
Romanian Beth Abraham 1920s Charles Street
Kildonan Talmud Torah 1920s
Main Street Talmud Torah 1920s
Andrews Street Talmud Torah 1920s 220 Andrews
Kildonan Tiferes Israel 1920s
House of Ashkenaze 1922 297 Burrows
Lubavitcher Synagogue 1922 555 Magnus
Beth Sholem (Fort Rouge Hebrew Congregation) 1922 232 Nassau Street
Merkarever Shul 1920s 413 Boyd Avenue
Tiferes Israel 1930s 428 Manitoba Avenue
Chesed Shel Emes 1933 1025 Main Street
Beth Judah (Butchers Shul) 1937 242 Manitoba Avenue
Sharon Home Chapel 1940 146 Magnus Avenue
Shaarey Zedek 1949 Wellington Crescent & Maryland
Hebrew Conregation of Wpg. Beach 1951 16 Grove Street, Wpg. Beach
Rosh Pina 1952 123 Matheson Avenue
Herzlia Academy/Adas Yeshurun 1955 Brock & Fleet
Talmud Torah-Beth Jacob 1955 427 Matheson Avenue
Bnay Abraham 1958 235 Enniskillen Avenue
Chevra Mishnayes 1965 700 Jefferson Avenue
Temple Shalom 1966 Grant & Wilton
Beth Israel Congregation 1976 1007 Sinclair Avenue
Chavurat Tefila 1978 McGregor & Hartford
Shul at Chabad 1980 2095 Sinclair Street
Haminyan (breakaway group from Adas Yeshurun – Herzlia Congregation) circa 1987, located in Ramah Hebrew School
The Chabad Torah Centre 1997 Grant & Beaverbrook
Talmud Torah-Beth Jacob 1998 1525 Main St. (former Hyland Theatre)
Hebrew Conregation of Wpg. Beach 1998 Camp Massad
Shir Tikvah (High Holiday services held in Viscount Gort) 2002-2018
Chabad – Lubavitch Jewish Learning Centre 2010 1845 Mathers Avenue
The New Shul 2011 services held at the Caboto Centre
(1055 Wilkes Avenue)
Historical records indicate that there were religious services/congregations in places such as Winkler, Plum Coulee, Bird's Hill and Camper. There may have been others as well.
The above list was largely supplied by Stan Carbone, curator of the Jewish Heritage Centre of Western Canada. It was orginally compiled by the late Harry Gutkin, a former president of the Jewish Historical Society of Western Canada, in an article he wrote for the Historical Society titled "Old Roots in New Soil – The Synagogues of Winnipeg".