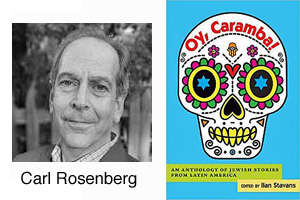 Oy, Caramba! Edited by Ilan Stavans. University of New Mexico Press, Albuquerque, 2016
Reviewed by CARL ROSENBERG The world of Jewish communities in Latin America has only become widely known in Canada and the U.S. in the last two decades or so, partly thanks to the pioneering work of writers and scholars such as Ilan Stavans, the editor of this anthology.
Stavans, a Jew born and raised in Mexico and now living in the U.S., notes that while many Latin American writers are widely read outside the region, the writings of its cultural minorities, including Jewish Latin Americans, have been virtually unknown.
This anthology is a revised version of an earlier anthology by Stavans, Tropical Synagogues: Short Stories by Jewish-Latin American Writers (Holmes & Meier, 1994), which I reviewed in Outlook Magazine in 1998. Some earlier stories were dropped, and new ones have been added–two/thirds of the original anthology are retained in the present version. Of the 28 selections, 18 are translated from Spanish, six from Yiddish, and two from Portuguese. Two stories were written in English–one by Stavans himself, the other by Chilean writer Ariel Dorfman, who like Stavans has lived in the U.S. for many years.
In his introduction, Stavans gives a useful historical overview. He stresses the often-overlooked cultural diversity of Latin Americans, whom many outside the region often assume to be entirely of Iberian or Indigenous descent. The first Jewish immigrants were Sephardic Jews escaping the Spanish Inquisition. Most were absorbed into the surrounding population, although there were later waves of Sephardic immigration. Most Latin American Jews today are Ashkenazi, stemming from Central or Eastern Europe like their Canadian and U.S. counterparts.
Stavans notes that since the 1950s, political turmoil, repression and economic crisis "have led many Jews to immigrate to Israel and the U.S. and Canada." He contrasts Jewish Latin American writers with their U.S. counterparts in that the latter "have acquired a wide international readership," whereas "most of the Jewish writers included in this anthology remain unknown, appreciated by a rather small audience, primarily Jewish."
These stories express various moods. The Argentine writer Alberto Gerchunoff, the first Latin American Jewish writer in Spanish (before him, Jews in Latin America wrote in Russian, Polish, Hebrew and Yiddish), represented here by "Camacho's Wedding Feast," expressed an idealized view of Jewish immigrant life in Argentina in the early twentieth century, seeing the country as a land of boundless opportunity.
Some stories describe experiences familiar to many Jews in Canada and the U.S., such as immigration, and being caught between two religious and cultural worlds. These are especially reflected in the stories translated from Yiddish, such as "Temptation," by Salomón Briansky (Colombia), "Solomon Licht," by Yoyne Obodovski (Chile), "The Bar Mitzvah Speech," by Salomon Zytner (Uruguay) and "Jesus" by Pinkhes Berniker (Cuba).
Other stories–although these themes overlap–also describe political violence, repression and anti-Semitism. Two examples are by Argentine writers: Aída Bortnik, in "Celeste's Heart," portrays a Jewish girl's act of defiance to fascism. Mario Szichman's "Remembrances of Things Future," set in 1939 Poland, could also be set in any one of various Latin American countries under military rule. The latter story makes use of a peculiarly deadpan gallows humour. Two other stories, also leavened with irony and humour, deal with these realities from a child's point of view: the Guatemalan Victor Perera's "Kindergarten," and the Brazilian writer Moacyr Scliar's "Inside My Dirty Head–the Holocaust."
Stavans appropriately concludes the anthology with three stories by a non-Jewish Argentine writer, the renowned fantasist Jorge Luis Borges, who often showed a strong interest in Jewish culture, as evinced by his stories here: "Death and the Compass," "The Secret Miracle," and "Emma Zunz," the latter occurring mainly within the Jewish community of Buenos Aires.
The book contains useful headnotes, as well as an extensive bibliography listing works by the authors and works on Jewish life in Latin America. Unfortunately, there is frequently no indication as to when each story was first written or published. Given their historical background, such information would shed greater light on many of these stories.
Nevertheless, this book–like many other works by Stavans–will be of great interest to anyone concerned with either Latin American or Jewish history, literature and experience. I share Stavans' hope that "Oy, Caramba! will once again attract a generation of readers eager to explore the vicissitudes of Jewish life south of the U.S.-Mexico border."
Carl Rosenberg, a lifelong resident of Vancouver, BC, edited Outlook: Canada's Progressive Jewish Magazine from 1998 to 2016. He has also written for Latin American Connexions, Quill & Quire and Jewish Independent, Vancouver's Jewish community newspaper