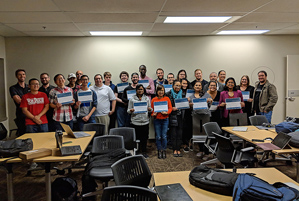 By REBECA KUROPATWA
Thanks to a $250,000 grant from Google Canada to develop and deliver online, entry level training in IT (Information Technology), a company known as ComIT will now be able to give 450 Indigenous people in Canada training in IT.
ComIT's CEO, Pablo Listingart, will be offering 150 of the graduates of the month-long basic training further training that will help them secure employment in the field of IT.
Listingart came to Winnipeg from Argentina with his wife, Solange Flomin, in 2015, sponsored by the Jewish Federation of Winnipeg. Both are IT professionals who decided to start a charity (ComIT) to help people get ahead by providing IT training free of charge.
"Back in Argentina, where I'm from, I created a charity to try to help people who are unemployed or underemployed be trained in IT and find a job," said Listingart. "A year after arriving, while talking with my wife, we realized that we could do something similar here in Canada.
"Because I already had this experience, helping people back in South America, we decided to give back to the country that took us in. So, I created a charity here in Canada.
"I started the first pilot project in Waterloo, Ontario, and then, the second one here in Winnipeg, in 2017."
The charity is run by Listingart and Flomin out of Winnipeg, and training is done by local teachers in each community – spanning five provinces.
"Last year, we had 19 programs across Canada," said Listingart. "This year, we are going to be running close to 30 and, besides that, we have instructors across Canada who will be working in many different cities."
While some of the training is generic, parts are area-specific, determined by what particular needs local employers might have. The current program allows any Indigenous person across Canada who is at least 15-years-old to attend for free.
"The courses are open to any Indigenous person in Canada," said Listingart. "So, that can be someone who is Metis, First Nations or Inuit."
"It has two phases: In the initial stage 300 people take basic IT courses. So, that means they learn about user experience – very basic web development technologies – during a one-month, part-time course. They will learn how to build a website using coding – not like using Wix or something like that for a pre build tool, but they learn the basics of IT.
"Once we finish that phase with 300 people, we are going to be working with 150 people – going into three months of more intensive programs, like the programs we have been running for these past years.
"The idea is that we want to have those 150 people get jobs by effectively training them for everything all the way up to be prepared for job interviews. We are going to bring volunteers to talk about how the IT development market is and all those kind of things."
Listingart is a strong believer that every person needs opportunities to be able to succeed. Once they have that opportunity, he said, "it's up to the person to take that opportunity or not.
"I tell my friends and my family that one of my main capabilities is to see potential in people, to see what people can become. Then, what happens from there is up to the person – to work hard to achieve that potential or not.
"We all have that possibility or that potential. It depends first on whether you get that opportunity to develop the potential, and then, if you take that opportunity or not."
For more information, visit comIT.org.