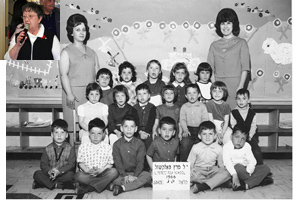 By PHYLLIS LIPSON DANA From 1941 until 1945 I lived on Mountain and Aikins and was a student from Kindergarten to Grade 4 at the Folk School, located in a 3 storey house at the corner of St Johns and Charles.
In my final year there the school merged with the I L Peretz School, which was then located in a large building on Aberdeen just west of Salter. We had moved to a house on Lansdowne Avenue east of Main so I attended Luxton School by day and went to Peretz evening classes for two years. By then our family had joined the Shaarey Zedek on Dagmar Street, so I continued my Jewish education there at the Sunday School, and began to sing with the synagogue choir.
As I recall, the Folk School had a strong Zionist perspective. Many older students were members of Habonim, which met in the building. There was emphasis on the land of Israel, though the Jewish curriculum was taught mostly in Yiddish, focusing upon language, with a little bit of Hebrew being taught, and there was a significant celebration of Jewish holidays and festivals. I retain many happy memories of my years there. The school population was quite small. In my class were only nine students (Pearl Ash, Elliot Berman, Victor Chernick, Ronald Ganetsky, Sheila Naimark, Hersh Shapera, Barbara Sherebrin, Shirley Schicher, and myself). I can't find any class pictures but I do have a picture of our kindergarten teacher, Esther Prasso sitting on the school's steps. Other teachers I remember were Miss Bulstein (who became Mary Yukelis), Miss Kranis (who became Yetta Grysman), Mr. Lapin, Mr. Zeitlin, and Mr. Cantor (who became the principal when the merger occurred.
Since I was no older than nine when the schools merged, I had no idea at the time why the change had taken place. In retrospect, however, I do remember my mother more than once assembling items from home to donate to the "rummage sale" to raise money to buy coal. I suppose that the larger economic base of the Peretz "shool Mispoche" allowed the smaller school to continue in some form. Peretz was secular in philosophy and there were no actual prayers as part of the curriculum in the early grades when I attended. Bible studies were presented as historia (Jewish history) and, although the holiday celebrations were important, I don't remember any mention of God in the commemorations. However, there were High Holiday services taking place in the school's basement, which featured my Zaida Nate Lifshitz as one of the cantors. I remember a huge celebration of the end of World War II for which we were transported to the Peretz building for an assembly.
At the Shaarey Zedek I was exposed to a totally different view of Jewish education. Hebrew language was taught through the prayers, and the Bible studies definitely focused on the miracles attached to many celebrations which gave the credit where it was due. At 11 I joined the choir, so of course that meant that I became familiar with the order of Friday evening services and holidays. The synagogue on Wellington Crescent was opened in 1950 and when a junior choir was formed I was required by the choir master, Jack Garland, to join. We performed at Saturday morning services for many years. My parents were regular attendees and my brother became a frequent Torah reader there. I continued in the Shaarey Zedek choir for many years as I married and had two children.
When each of our children were five years old, I truly believed that they were the perfect age. In my experience children at five were adventurous, inquisitive, totally honest, highly sociable, and eager to learn. I had begun taking upgrading classes with the goal of going into Education at university, when Fay Zipman asked me if I would be interested in assisting her in her four-year-old class at Peretz School on Jefferson. I met the principal and he decided to give me a chance. The year was 1965-66 and my career was launched. Fay left teaching a year after I joined her, so I assisted Sara Green until 1969, when she moved to Vancouver.
That fall I began as the Nursery teacher and I was to assist in the kindergarten; the teacher with whom I had been working was needed to take on another class, so I was upgraded to Kindergarten teacher, learning the curriculum at night while I taught all day. I was also continuing my university education at night. The Peretz atmosphere was very family oriented with a strongly Jewish cultural approach. There were many evening gatherings with music, plays, and lectures primarily in Yiddish and always highlighting student performances. While "Shabbes" celebrations were held in the classrooms, with candles, challah and juice distributed, there were no prayers chanted. Students were taught the Hebrew language, but synagogue skills were not part of the curriculum. Some boys had Bar Mitzvahs, but many did not, and initially I never heard of girls becoming "Bat Mitzvah". Over time the Ashkenazi pronunciations of Hebrew words was replaced by the more modern one and there was a strong focus upon Israel in celebration and song. Little by little Brachot were coming into the Friday candle-and-challah gatherings in classrooms. It seemed that most students were becoming Bar Mitzvah and some girls celebrated Bat Mitzvot.
For many years many kindergarten students rushed home for lunch and then proceeded to their neighborhood schools to attend afternoon kindergarten classes. TV did not provide much stimulation for children in the afternoon and our winters can be very cold. Over the years I met many public school teachers who complained that kids would frequently tell them they had done "that" in their morning school. In the school year 1976-77 an all-day kindergarten was begun at Peretz School and I had the privilege of initiating this concept. Soon other schools incorporated these classes as well.
In the early 80s a number of parents prevailed upon Seven Oaks School Division to begin providing a Hebrew-bilingual program. When it was implemented, registration at the north-end Jewish schools declined…there was no fee at public schools. At the same time the Board of Jewish Education was formed and when, by 1983 – as our school numbers were steadily decreasing (I had a class of only eight children that year), there was a strong movement to merge the I L Peretz Folk School with Talmud Torah.
As anticipated by the smaller school's most loyal supporters, the Yiddish component of the curriculum became reduced over time to an occasional song being taught and "optional" Yiddish language classes being offered. The teaching of synagogue skills and assemblies in the synagogue were a major component of the Judaic curriculum as well as Hebrew language, reading and writing skills and a strong emphasis upon the land of Israel. As happened with the merger of the Folk Shul with Peretz, the larger school ideology swallowed the smaller. With the burden of teaching full-time, going to university part time, and looking after my family, I had left the Shaarey Zedek choir. Over time I sang for several years in the Rosh Pina choir and in later years with the Temple Shalom choir for High Holiday services.
I have wonderful memories of my more than 30 years teaching in the Jewish day schools, and a photo album full of pictures of most of my classes. Having visited other schools over time to observe teachers and programs, I was glad to notice that the vast majority loved children and were happy to be in kindergarten. The odd time I encountered teachers who were in the wrong place, having little patience for their students and obviously wishing they were in a higher grade. Most teachers of early childhood try to convey a feeling that "school is a happy and safe place where I can succeed". I hope that children I have taught felt that way in my classrooms.
Ed. note: I had asked Phyllis to send me as many class pictures from her time at Peretz School as she could. She was able to send me eight pictures in total.