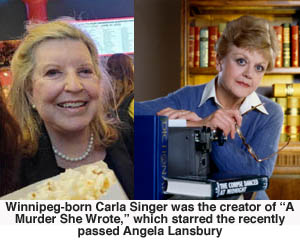 By GERRY POSNER What do the following TV shows have in common: " A Marriage Of Convenience, " The Truth About Edward Brannigan," "Taken Away," "Angel Flight Down, ""Cold Heart of a Killer," The Portrait," but most notably, "Murder She Wrote?" Well, the answer lies in a woman by the name of Carla Singer, who grew up at 578 Waterloo Street.
That block between Corydon and Fleet during the 1950s and 60s was home to a large number of baby boomers, including many of Carlas's friends.
For those of you who go back a distance, think back to Donald Drugs at Donald and Broadway. That was owned and operated by Martin Singer, father to Carla and her brother Harold, and husband to Betty Singer. For those readers who go even farther back, the names of Harry and Elizabeth Labovitch are part of the Carla Singer story as they were her maternal grandparents. The inclination to the arts was a natural for Carla as Harry Labovitch was a performer on the Orpheum circuit under the name of Professor Lorray.
Carla had a large network of friends, including the late Judy and Joyce Wolinsky, Rochelle Brownstone, Anna-mae Silver and cousin Maxine Fromkin. She attended River Heights School and later, Kelvin High School. After Kelvin, she was off to the University of Manitoba. Because her family always had the New York Times around, Carla soon became aware of universities in the states and before long, she was in Boston at Brandeis University, from where she graduated. She then spent a year in London, England and later spent time in Israel, where she obtained a master's degree. She even worked part time in Israeli TV as she was fluent in English and Hebrew. You could call that the beginning of Carla's career.
After 2 1/2 years in Israel, Carla moved to Toronto and soon was working as a production assistant at CFTO Television, an affiliate of CTV. At that time, she was a rare commodity, as women were not yet involved in the higher echelons of power in TV. And then, in what was likely her first real break, Carla was hired at the fledgling City TV, run by the well known Moses Znaimer (less well known then). She took a pay cut for that opportunity and became the only female TV director at the time in Canada. That was a pivotal step for Carla as she was exposed to top talent; her star really began to shine.
By then Carla was married and her husband at the time had an opportunity in London, so she was soon back to England, where she joined BBC Television for which she directed two TV series. After a couple of years her husband had an offer back in Canada, but Carla could not get a job in Toronto, so she accepted an offer from Westinghouse TV and moved to Pittsburgh, where she worked for KDKA TV. Next, Carla was sent to L.A. in 1979 to fix an afternoon TV series. Carla suggested to the producers that she create an alternative show and she did just that with a pilot called "Hour Magazine," an afternoon TV show in L.A. That show was a huge success. Carla Singer was at that point wll launched on her career and has never looked back.
Soon her agent (yes, by that time, Carla already had an agent), suggested she try some of the major TV networks and so, following up on that advice, she was soon hired by CBS as the director of drama development. It was not long before she was, at age 34, a vice-president of drama programming. Carla spent 5 years in that position, during which time she developed the very famous series "Murder She Wrote," starring Angela Lansbury. Perhaps the most interesting part of the story is that the idea for an older female detective came straight from Betty Singer, Carla's mother. When Carla had told her mother the idea for the show, which was inspired by "Columbo," Betty Singer suggested that an older woman as the detective would be a novel idea. The network resisted the idea at first, but Carla was relentless and when the pilot was first shown, those present gave it a standing ovation. Better yet, the ratings bore out the strength of Carla's certainty about the show.
After she left CBS, Carla went to Warner Brothers. Soon she formed her own company, called Carla Singer Productions. At that point she was able to be her own boss, delivering finished TV shows to CBS, Hallmark, Disney, TNT and PBS. In fact, it was Carla's production of " A Refusenik's Diary," a documentary for PBS Television, that earned her an Emmy. Carla was not one to forget her roots as she even had a TV movie, " A Marriage of Convenience" filmed in Winnipeg in 1998 using the Fort Garry Hotel for its main set. Most recently, Carla was involved as an executive producer on a documentary film titled "Four Winters: The story of Jewish Partisans in WWII." It is in distribution in commercial theatres as well as film festivals across North America. I was fortunate enough to see this film and, if it comes your way, I recommend this film whole heartedly.
Carla moved to New York about 20 years ago and is still active in the business, although only taking on productions that she is passionate about. She is also the single mother of a daughter who is a police officer in Oklahoma. Given where she began to where she has arrived, I would guess there is more ahead of Carla Singer in the TV world.