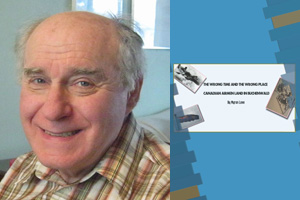 By MYRON LOVE In my nearly 45 years as a journalist, I have rarely been one to make my writing all about me. Rather, I enjoy telling other people's stories. However, this is a heartwarming story which actually very much includes myself.
As some JP&N readers may recall, last spring, my daughter, Avra, published her first book of short stories on Amazon. Over the past few months, I have been her unofficial marketing agent. I am happy to report that, thanks to family and many friends – as well as a few complete strangers, we have been able to sell over 100 books.
For my most recent birthday in August, Avra and my younger daughter, Elena, surprised me with a very special present. Usually, I receive chocolate and gift certificates to Chapters – which i always appreciate. This year, the present from my daughters was the draft copy of my first book which they arranged to also publish on Amazon.
I actually began working on "The Wrong Time and The Wrong Place: Canadian Airmen Land in Buchenwald", more than 40 years ago – shortly after I began my career as a journalist.
The gist of the book is the true story of 24 Canadian airmen – part of a larger group of 168 Allied flyers (only one of whom was Jewish) – who experienced first-hand the horrors of the Nazi concentration camp called Buchenwald.
The trajectory for all of them began with their being shot down over France shortly before or after D-Day, rescued by the French Resistance, betrayed to the Germans and imprisonmened in Fresnes prison just outside of Paris. Just before the Allies liberated the French capital, the Nazis emptied out Fresnes, transferring all the prisoners in sealed boxcars to Buchenwald.
After two months in Buchenwald, the POWs were moved to a regular POW camp.
I first became aware of this story again early in my writing career when I was introduced to Harold Bastable. Harold was a devoted member of the Royal Canadian Legion (St. James branch) and he was also friendly with several of the guys who belonged to the largely Jewish General Monash branch of the legion. Through the Monash friends, I was told about Harold's experience in Buchenwald.
I interviewed Harold for the Free Press (for which I was freelancing at the time). He told me about the other airmen – he had the names of all of them – and that they were planning a reunion in Victoria.
I immediately saw the opportunity for a book about the Holocaust from a different perspective. I (perhaps naively) believed that non-Jewish witnesses to the horrors might sway some of these Holocaust deniers (who were all right wing extremists at that time).
I paid my own way to that reunion in Victoria at the Empress Hotel – where I met and interviewed many of the Buchenwald group who were still alive. (Several had already passed away.) I interviewed by phone those I had missed at the reunion.
Then I began writing their story.
It took me several years to write the book. Recall that this was before computers. I was working with an electronic typewriter with one page of memory.
As well, I couldn't afford to take off a block of time from my day job as a journalist to work on a book which was not likely to provide much financial benefit. (I have interviewed enough authors over the years to know that generally you are not going to get rich from writing a book.)
I was also getting busier as a journalist as the number of magazines I was contributing to continued to grow.
I did apply early on – unsuccessfully – for a Canada Council grant. I thought it might be helpful for me to actually visit Fresnes prison and Buchenwald.
By 1989 or 1990, I had finished the book and was ready to try finding a publisher. I figured that being a successful journalist, I would have no problem getting the book published.
I figured wrong.
I received a number of rejections from publishers noting that they only published one or two books a year and good luck. One publisher's comment about the book was "too long for an article, too short for a book."
A couple of publishers offered to publish if I came up with $5000 towards publishing costs. I didn't have the money nor did I think I should have to pay for publishing.
So there it sat. Until now.
"The Wrong Time and the Wrong Place" is available on Amazon for $10 for the E-book version, $15 for the soft cover copy and $25US for hardcover.
Or interested readers can contact me at myjolove1@gmail.com  or 204- 334-4961 about buying a copy.