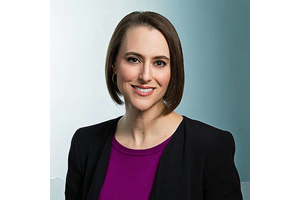 By MYRON LOVE
Caroline Kiva is of the belief that there is little point in becoming involved with charitable organizations whose causes don't resonate with you personally. The Thompson Dorfman Sweatman LLP, Associate Counsel specializing in Estate and Succession Planning is drawn to Jewish causes and healthcare.
"My parents (well-known former teacher Marianna Kiva and artist Leon Kiva) believed in giving back to the community," she says. "Even in retirement, my mother is still tutoring.
"Initially, it was a matter of being asked," Caroline Kiva says of her contributions to maintaining a strong community. "In more recent years, I have been looking for ways to contribute that resonate with me."
In her university days, Kiva was part of the Jewish Federation of Winnipeg's Young Adult Division (YAD). Over the past few years, she has been a member of the Board of the Jewish Foundation of Manitoba, where she is currently one of the Directors and on the Development Committee.
"Since I am a member of the Jewish community and use the services that the community has to offer, I feel that it is important to contribute to organizations such as the Foundation that is working to ensure that our community has a secure future," she says.
In the wider community, Kiva's primary volunteer efforts have been on behalf of the St. Boniface Hospital Foundation. She is currently a Director and the Board's secretary-treasurer and was previously on the Major Gifts committee.
It was Kiva's passion for healthcare that led her to join a climbing expedition to Mount Kilimanjaro in Tanzania three years ago. The Summit of Hope was started in 1999 with the goal of raising funds for the British Columbia Children's Hospital Foundation. To date, 138 climbers have participated in climbing eight different mountains and more than $2 million has been raised for medical research.
The most frequently-climbed peak has been Kilimanjaro.
In 2018, Kiva joined a group of six climbers from Manitoba.
"It was certainly a challenge," she says. "I trained for ten months to prepare."
Unfortunately for Kiva, the night the group arrived in Tanzania, she developed an eye infection which impeded her climb.
"I ended up twice visiting a hospital," she recalls. "The first time, I went to a village clinic/hospital. I had to miss out on some of our group's activities one of which was delivering clothing and sports equipment we brought to donate to an orphanage."
Kiva started the climb wearing an eye patch. "I climbed for a day and a half with the eye patch. I wasn't able to complete the climb. I came back down with a porter. On the way down, I was able to see what I missed on the way up."
One of the positives that she found in being alone with the porter was having the opportunity to learn a little from him about Africa, his life, his children and his experiences."
Following the climb, the group enjoyed a safari, which included pitching their tents on the edge of a crater. "It was really interesting seeing a different culture," she says. "And we raised $65,000 for the Children's Hospital Foundation in Winnipeg."
Would she do it again? "I would certainly be open to the possibility," she says. "I like new challenges."
She also enjoys the challenge of making sure that, as a lawyer, that her clients' needs are met. And particularly in this time of Covid, she notes, "we have really had to be on our toes."
She says that she is proud to be part of the TDS legal team. "I had wanted to be a lawyer as far back as I can remember," she says.
Kiva is a member of the bar in Ontario and Saskatchewan as well as Manitoba.
Never one to waste her time, Kiva spends her free time taking cello lessons and studying ballet with the RWB via Zoom. "I practice in my kitchen," she says.
She is also currently co-authoring the third edition of the legal tome, "Drafting Wills in Canada, a Practical Guide", which will be completed by late this year.